April 1989 Articles
Cover Story
Staff
Columns
Paul Moffett
Staff
Performance Reviews
Keith Clements
Dallas Embry
Jean Metcalfe
Paul Moffett
Jean Metcalfe
Calendar
Staff
Errata
Staff
LASC
Jean Metcalfe
Jean Metcalfe
Staff
Staff
Karen Le Van
Dallas Embry
Jean Metcalfe
Jean Metcalfe
Dallas Embry
Staff
Diana Black
Industry Review
Paul Moffett
Music Business News
Staff
Staff
Paul Moffett
Staff
Staff
KYANA Blues Society
Rocky Adcock
Cartoon
Dan Colon
Louisville Homefront
Dallas Embry
Staff
Sara Pratt
Staff
Staff
Staff
Staff
Blogs
Got Shows?
Send Them To Us
Bookmark Louisville Music News.net with these handy
social bookmarking tools:
Available RSS Feeds
- Top Picks
- Today's Music
- Editor's Blog
- Articles
Add Louisville Music News' RSS Feed to Your Yahoo!

Issue:
Louisville Orchestra Plus Victor Borge Equals Sell-Out
By Patricia E. Finger
Victor Borge is probably the greatest musician/conductor/comedian alive today, and the recent sold-out performance at Louisville Gardens proves that most folks think so. An evening with Borge and the Yellowstone SuperPops provided enough joy and laughter to help us all get through the winter.
It's hard to believe an eighty-three-year-old man can joke and carry-on with the audience for two and a half hours non-stop, but Borge acts and plays the piano like a young man. Of course, his material isn't exactly new either, and only Borge can pull off the same old routine and make an audience roar in laughter every time. In fact, we all look forward to it, and are disappointed if he leaves anything out.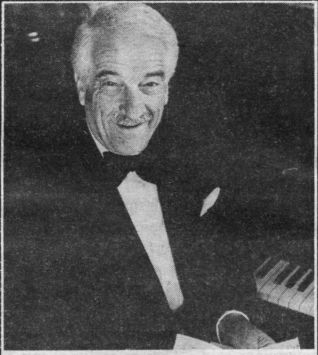 Victor Borge. Photo by Martin Rosenthal
Every song he plays turns into Happy Birthday to You, and every song title becomes another pun. A Midnummber Sights Dream, Mozart's First Concerto at Eight (or a few minutes after), or the William Tell Overture played backwards! Borge always has a few jokes on opera divas, such as, Isn't it a shame that big, fat opera singers lean against pianos and bend them? According to Borge, the difference between the violin and the viola is that the viola (slightly larger than the violin) burns longer. Also, since several people from Portugal are called Portuguese, then one person must be called Portugoose.
Borge handled the latecomers nicely, teasing and giving them a little of the grief they deserved. The informality of the Louisville Gardens lends an air of comfort and enjoyment; however, unfortunately, it also allows some folks to inconsiderately walk in late.
At the piano bench, Borge is constant delight. If you could get beyond all the jokes, you might even become totally lost in the romantic music he excels in performing. Debussy's Clair de Lune has been Borge's trademark piece for years, and fortunately for us he played the entire piece without it becoming Happy Birthday to You! One of the first pianists ever to perform Rachmaninoff's Second Piano Concerto as a young man in Denmark, Borge lovingly and sensitively played excerpts from this exquisite music for his finale. Leaving the audience with some sage advice, Borge said, Remember that it is a privilege to experience the miracle of the world. Don't waste a minute of your days on it!