April 1989 Articles
Cover Story
Staff
Columns
Paul Moffett
Staff
Performance Reviews
Keith Clements
Dallas Embry
Jean Metcalfe
Paul Moffett
Jean Metcalfe
Calendar
Staff
Errata
Staff
LASC
Jean Metcalfe
Jean Metcalfe
Staff
Staff
Karen Le Van
Dallas Embry
Jean Metcalfe
Jean Metcalfe
Dallas Embry
Staff
Diana Black
Industry Review
Paul Moffett
Music Business News
Staff
Staff
Paul Moffett
Staff
Staff
KYANA Blues Society
Rocky Adcock
Cartoon
Dan Colon
Louisville Homefront
Dallas Embry
Staff
Sara Pratt
Staff
Staff
Staff
Staff
Blogs
Got Shows?
Send Them To Us
Bookmark Louisville Music News.net with these handy
social bookmarking tools:
Available RSS Feeds
- Top Picks
- Today's Music
- Editor's Blog
- Articles
Add Louisville Music News' RSS Feed to Your Yahoo!

Issue:
Country music fans, save your pennies. October brings some of the brightests lights in the genre to Louisville for live performances.
The hay-and-honky tonk invasion begins with the honey-voiced Mark Chestnutt and his Louisville Gardens appearance on Oct. 2.
The following week, country-rocker Travis Tritt barely headlines a show with the quickly rising Joe Diffie. Lee Roy Parnell opens the Freedom Hall show, which is on Oct. 8.
The Mavericks hail from a most unlikely city for country music: Miami. While the band has Latin roots, the music of the Mavericks is more a mixture of rock and hang-dog 1950s honky tonk. Some critics are calling their current album "What a Crying Shame" one of the year's best country releases. Shenandoah opens the Oct. 11 show at Coyote's.
Though her roots are in pop-country, Sheryl Crow has been claimed by adult radio and alternative rock. No matter what genre she comes to you from, her voice and songs hit the same way. Crow's mix of Beatlesque pop and L.A. country is instantly bewitching. She opens for Blues Traveler, they of the endless improvisational jam and hot harmonica player, on a Oct. 11 show at the Palace Theatre.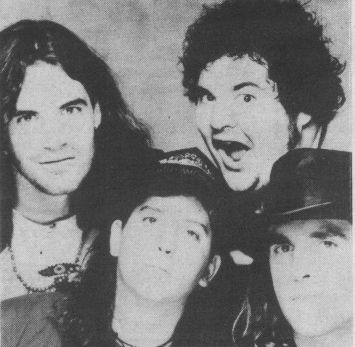 Blues Traveler will be at the Palace Theater on Tuesday, October 11. Sheryl Crow opens.
Mark Collie ends the country string with his "Ain't Nothin' Better" tour, which stops at Coyote's on Oct. 19.
The Free Tuesday series at the Butchertown Pub is now the only sure place in town to get alternative music. That's startling, but it would be worse if the folks behind it weren't in the know. Luckily, October's Tuesdays bring great acts in on a regular basis. Case in point: Letters to Cleo, a Boston band that is bewitching audiences along the East Coast and in the Midwest. While their album "Aurora Gory Alice" is getting positive reviews, it's their live show that has people raving. See them on Oct. 4; Morsel opens.
22 Brides have been described as an aggressive Indigo Girls, though that paints a somewhat limiting picture of this duo. (See review, page ??.) They wowed the audience with an appearance at some time back; 22 Brides return to the Rudyard Kipling on Oct. 4.
The next night, the Butchertown Pub nails down a big show -- the Silos, with supporting act the Dugans. The trio are touring in support of their new album "Hasta La Victoria!," reportedly a mixture of East Coast and West Coast, four-track rawness and 24-track polish, revived marriages and lousy love affairs. That show happens on Oct. 5.
A ways away, James Taylor strolls through his sparkling songs at the Palace Theatre. Taylor's last release was a live double album that proved his power as a performer. Stop by Oct. 5 and make your own measure of the Steamroller.
Their schtick may be a bit too much for some people, but ZZ Top spices it with enough irony to make redneck respectable. But what is up with their opening band selection? Jackyl? Puh-lease. Get a dose of blues, power rock and Texas funk with the Top on Oct. 6 at Freedom Hall. And do worry your head if you get there a little late.
The Kentucky Center for the Arts' Lonesome Pine Specials series hits this month with astro-vocal group the BOBs (Oct. 7), the bluesy Duke Robillard Band and John Hammond (Oct. 14) and Afro-pop deity Tabu Ley Rochereau (Oct. 28). It doesn't matter if you've heard of these people. Trust me, the Lonesome Pine Specials are always interesting and always feature talented performers.
Who will comprise the audience at the Steve Lawrence & Edie Gorme concert? They are best known to the current generation from old game shows and talk shows, plus the occasional "filler" performance on 1970s variety shows. If you're a proud ticket holder for this Oct. 7 concert at the Palace, God bless you, and drop us a note reporting on the show.
On the blues tip, Louisville has a visit from Lonnie Mack in store on Oct. 11. The legendary guitarist is best known for playing with the great Muddy Waters. Hot guitarists Kelly Richey opens the show at Coyote's.
Phish plays blues too, but theirs is liberally mixed with rock, folk, country and a little jazz. Improvisation is the name of the game at Phish shows, but it's safe improvisation; perhaps just a touch of adventure is all that's required for their often chemically-altered audience. They play the Palace on Oct. 11.
Thinking Feller's Union Local 282
Once a month, the Butchertown Pub seems to put together a night of great music -- no small feat considering they have three rooms to fill. October's hat trick consists of the accomplished guitar pop of the psychodots in the Dance Hall, the Midwest edge-pop of Starbilly in the Courtyard and local blues fave the Kelly Richey Band on the Old Pub Stage. Any of the three are worth venturing out for. This night of music happens on Oct. 15.
The Tony Bennett show at the Palace Theatre is sold out. Gnash your teeth on the 16th if you don't already own a ticket. (Or console yourself with a road trip to Cincinnatti the next day for a guitarfest featuring Eric Clapton and Jimmie Vaughan.)
Chicago's Blue Meanies are a fun mix of funk and alternative rock. Check them out with Louisville's own groove thang, Voodoo Love Taxi, on Oct. 19 at the Butchertown Pub.
If you like things a bit more cutting edge, venture over to the Brewery's Thunderdome for Hole, Courtney Love's rock-punk ensemble.
"You've Lost That Lovin' Feelin'," "Unchained Melody," "Ebb Tide," and "(You're My) Soul and Inspiration" are some of the hits of the Righteous Brothers, visiting the Palace Theatre on Oct. 21. If blue-eyed soul is your cup of joe, then this is your show, not Hole.
And probably not the Cows. The band visits Butchertown Pub on Oct. 25, one night before the pleasant Southern rock band Jupiter Coyote plays the same venue.
Performers who sit behind a piano are at a disadvantage. It limits their mobility and their stage presence.
But it has never prevented Marcia Ball from bowling away audiences with her Cajun-tinged blues music. An annual favorite at the Waterside blues festival, Ball returns to town for a concert at Jim Porter's Good Time Emporium on Oct. 27.
A guitar-mandolin combo called Duo Capriccioso is coming to the U of L School of Music on October 30. These folks were the closing act at the 1994 Bundesmusikfest in Shoneck, Germany last May. You may not be impressed, but Mike Schroeder, founder of the Louisville Mandolin Orchestra, sure is, so much so that the LMO is sponsoring the duo' appearance, which starts at 3 p.m. at the School of Music's recital hall. Schroeder calls them, "the world's premiere guitar and mandolin duo," and he knows about these things.