April 1989 Articles
Cover Story
Staff
Columns
Paul Moffett
Staff
Performance Reviews
Keith Clements
Dallas Embry
Jean Metcalfe
Paul Moffett
Jean Metcalfe
Calendar
Staff
Errata
Staff
LASC
Jean Metcalfe
Jean Metcalfe
Staff
Staff
Karen Le Van
Dallas Embry
Jean Metcalfe
Jean Metcalfe
Dallas Embry
Staff
Diana Black
Industry Review
Paul Moffett
Music Business News
Staff
Staff
Paul Moffett
Staff
Staff
KYANA Blues Society
Rocky Adcock
Cartoon
Dan Colon
Louisville Homefront
Dallas Embry
Staff
Sara Pratt
Staff
Staff
Staff
Staff
Blogs
Got Shows?
Send Them To Us
Bookmark Louisville Music News.net with these handy
social bookmarking tools:
Available RSS Feeds
- Top Picks
- Today's Music
- Editor's Blog
- Articles
Add Louisville Music News' RSS Feed to Your Yahoo!

Issue:
Capacity Audience Bravos 'Carmen' in Kentucky Opera Season Opener
By Henry Mayer
Synopsis: It is late morning in Seville.
A peasant girl, Micaela, comes into the town square looking for her hometown soldier, Jose. Not finding him, she leaves.
Lunch hour arrives and the girls from the nearby cigarette factory, including the Gypsy Carmen, come out into the square.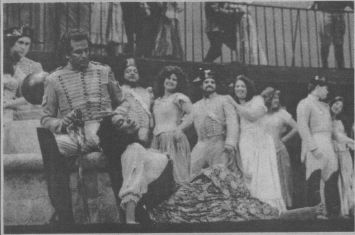 Adria Firestone in a scene from Carmen. Photo by Patrick Pfister
Carmen flirts with one and all of the soldiers, suddenly fixing her attention on Jose, throwing him a flower. As the girls return to work, Micaela returns and there is a tender scene between her and Jose. A quarrel inside the factory leads the soldiers to act as police, and Jose is given orders to take Carmen to jail. He lets her escape.
Jose goes to jail instead and upon his release they meet at a smuggler's haunt, a tavern, but before they do the bullfighter Escamillo shows up and his self-praising song charms Carmen. As he leaves, Jose returns for a love scene with Carmen. He overlooks the time to return to the barracks despite the arrival of his captain. He and the smugglers seize the, captain while Jose has to flee with Carmen and the smugglers to their mountain hideout.
There Carmen taunts Jose while day-dreaming of Escamillo, and a card-playing scene tells her of her impending death.
Escamillo arrives, discovers Jose as his rival, and a near fatal fight ensues. The smugglers intervene; Escamillo leaves for his coming encounter with the bull.
Micaela returns with news that. lose's mother is dying and they leave.
In the final scene at Seville's bullring, Carmen, in holiday finery, promises Escamillo her love and then her friends warn her of Jose's presence and menacing manner. She refuses to go with them. Jose returns and, after unsuccessfully pleading with Carmen to come back to him, stabs her.
The Performance: It was a grand night for singing...and a sell-out crowd at Whitney Hall for Kentucky Opera's 44th season opener, "Carmen" by George Bizet. They heard some of the most beautiful music prefaced by what is likely the most lively Prelude in all opera.
Adria Firestone, who told Louisville Music News that after 50 and more performances she is still learning about this role, captivates the audience with the beauty of her voice and a many-splendored acting talent. Beginning with her opening aria, "Love ls Like a Restless Bird," to her final and fatal rejection of Jose, she heard many a bravo.
Christine Akre was wonderfully cast as Jose's hometown sweetheart, Micaela. Miss Akre has a melodious voice and her performance left little, if any, to be desired.
Peter Riberi's talent glows and, as Jose, he added another to his list of triumphs with our local company.
Dan Nardueei was a dashing Escamillo, with all the self-confidence and macho spirit the role demands. He was especially impressive in the scene where he encounters Jose in the smugglers' lair.
Gregory Turay, who recently became the youngest winner of the Metropolitan Opera auditions at 22, made it quite clear why. As the Smuggler Remendado, he displayed bravado with remarkable vocal and acting talents.
Conductor Bob Bernhardt was in his element with his talented baton. He told us that the most challenging task for him in this opera is continuing attentiveness to the singers. The score gives them considerable discretion and woe to the conductor who would let his attention lag even briefly.
Actually, we could go on and on, from General Manager Thomson Smillie, Stage Manager John Hoomes, Lighting Manager H. Charles Schmidt to each supernumerary and chorus member. The younger members of the latter group sang and acted superbly. In a word, BRAVO!!!