April 1989 Articles
Cover Story
Staff
Columns
Paul Moffett
Staff
Performance Reviews
Keith Clements
Dallas Embry
Jean Metcalfe
Paul Moffett
Jean Metcalfe
Calendar
Staff
Errata
Staff
LASC
Jean Metcalfe
Jean Metcalfe
Staff
Staff
Karen Le Van
Dallas Embry
Jean Metcalfe
Jean Metcalfe
Dallas Embry
Staff
Diana Black
Industry Review
Paul Moffett
Music Business News
Staff
Staff
Paul Moffett
Staff
Staff
KYANA Blues Society
Rocky Adcock
Cartoon
Dan Colon
Louisville Homefront
Dallas Embry
Staff
Sara Pratt
Staff
Staff
Staff
Staff
Blogs
Got Shows?
Send Them To Us
Bookmark Louisville Music News.net with these handy
social bookmarking tools:
Available RSS Feeds
- Top Picks
- Today's Music
- Editor's Blog
- Articles
Add Louisville Music News' RSS Feed to Your Yahoo!

Issue: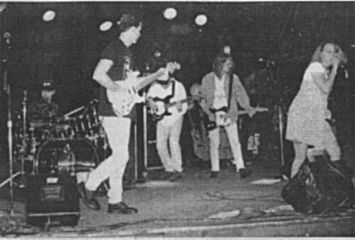 Mary Mary
"One guy in the band said I had such a big ego that they had to name the band after me twice to cover it."
That's how Mary Beth Van Meter, vocalist for the band Mary Mary, described the naming of the band. Then. she laughed.
Talking about what she says is "thefunnest job in the whole world," Van Meter clearly is not embarrassed to be working in a "cover band," a term used to disparage those musicianswho are playing songs the audience wants and expects to hear.
"There's a lot of work out there, if you play covers," Van Meter remarked. It also helps if you enjoy it, she says. "Mary Mary is a group of people who enjoy what they do and love playing for the crowd."
"It's amazing that they pay us."
It would not be amazing to the crowd gathered on a chilly December night in the Roof Garden at the Phoenix. While the other rooms in the club were quiet, the Roof Garden was hopping as Mary Mary reeled off cover tune after cover tune. Standing on the front edge of the stage, Van Meter bounced and pogoed and waved her arms and delivered for her audience. Dressed in a thin, baby-doll dress that was a bit revealing for a mother of two, she was oblivious to the cold as she wailed her way through "White Rabbit," the Grace Slick signature tune from the Sixties.
Mary Mary came together in 1991. The band has worked steadily since, taking off for two months earlier this fall to tend to some changes. T
We got a bunch of new equipment," Van Meter said.
Mary Beth and her husband, guitarist Mike Van Meter, have been playing together since 1982, when they formed New Twist at Assumption High School. The rest of the current lineup includes John Zangari, formerly with Goodnight Maxine and Candy Says on bass; Chris Brown, formerly with Thumper and the Plaid Rabbits, on guitar; and Matt Barnett, an original member of Mary Mary, on drums.
The main focus of the band has been to work, have a good time and entertain people.
"We like getting out with the audience," Van Meter said. "We've built up a following over the years."
She characterizes the music as WXNU pop; with a nod to college rock. Because Mary Mary has 'a chick singer," the group can cover tunes by male bands and female groups.
"We can do Pearl Jam and Stone Temple Pilot and lots of Melissa Etheridge [material]," she explained. "We do Letters to Cleo tunes, too." Those covers led to one of the high points in Van Meter's musical career, when several members of Letters to Cleo joined Mary Mary at the Butchertown Pub recently to do the Letters to Cleo hits "Awake" and "Here and Now."
Mary Mary has been successful enough to pick up a Budweiser Lite endorsement.
"We get strings and stuff like that," Van Metersaid. "I've been selected for the Scene/Phoenix Hill All Star Band for four years in a row."
Although "Mary Mary is my job," with two children aged 10 and 5, Van Meter does not really expect to be part of a touring band. Her parents and spouse's mother are supportive to her music, and provide baby sitting services, enabling her to sing with the band.
Mike Van Meter is a mechanic, now with his own shop. That frees him from the constraints of having to appear for a day job too early in the morning after a gig. Somewhat.
Mary Mary is writing new material, and they are shooting for spring as a date for a project.
Up on the Roof Garden, the "group of people who love what they do and love the crowd" are doing exactly what they say, delivering solid renditions of familiar records, from the Beatles' "Magical Mystery Tour" to Hootie and the Blowfish's "Hold My Hand" to a Liz Phair tune. Bassist Zangari has a smile permanently plastered on his face, guitarist Brown bounces in his sockfeet on the very front edge of the stage, and Mary Beth points dramatically at her husband, who's smoking — literally. With a cigarette in his mouth and the smoke making him squint, Mike Van Meter's fingers find their way to the right notes, and he manages a smile around the butt. The crowd likes it and so does Mary Mary, playing on into the night.