April 1989 Articles
Cover Story
Staff
Columns
Paul Moffett
Staff
Performance Reviews
Keith Clements
Dallas Embry
Jean Metcalfe
Paul Moffett
Jean Metcalfe
Calendar
Staff
Errata
Staff
LASC
Jean Metcalfe
Jean Metcalfe
Staff
Staff
Karen Le Van
Dallas Embry
Jean Metcalfe
Jean Metcalfe
Dallas Embry
Staff
Diana Black
Industry Review
Paul Moffett
Music Business News
Staff
Staff
Paul Moffett
Staff
Staff
KYANA Blues Society
Rocky Adcock
Cartoon
Dan Colon
Louisville Homefront
Dallas Embry
Staff
Sara Pratt
Staff
Staff
Staff
Staff
Blogs
Got Shows?
Send Them To Us
Bookmark Louisville Music News.net with these handy
social bookmarking tools:
Available RSS Feeds
- Top Picks
- Today's Music
- Editor's Blog
- Articles
Add Louisville Music News' RSS Feed to Your Yahoo!

Issue:

Second Thoughts
Kentucky Opera's 'Hansel And Gretel Has Something For All!
The writer wishes to thank from the U of L School of Music for special help.
Synopsis: Gertrude, wife of Peter, scolds her children, Hansel and Gretel, for playing instead of working and sends them into the woods to gather strawberries. Hearing this, Peter is alarmed and follows them. The children eat the strawberries they picked and as darkness fails, the Sandman sends them sleep while angels encircle them.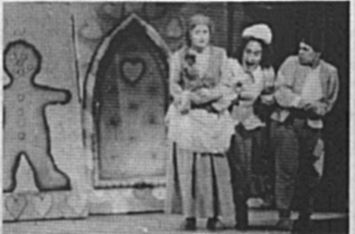 Left to right, Mary Elizabeth Kures (Gretel), Dean ANthony (the Witch) and Annette Daniels (Hansel). Photo by Patrick W. Pfister
On waking, the children espy a gingerbread house and nibble at it as the Witch emerges. She locks Hansel in a cage while setting Gretel to do her housework. Using the Witch's wand and her magic words, they trick the Witch into prying into her oven and then push her in it. It explodes and all the enchanted children return to life. Arriving on the scene, Peter and Gertrude join in the rejoicing.
Hansel and Gretel is an opera about and for children but adults can enjoy and learn from it
We refer to Kentucky Opera's innovative production for the Christmas season composed by (the real) Engelbert Humperdinck (1854-1921), General Manager Thomson Smillie hopes it will be a yearly Christmastime production.
We say innovative production" because for the first time, 'in opera, anywhere, a digitalized orchestra produces the music. (We will publish a separate article about this device in a later issue.) This sound is produced by the talented firm of Bianchi and Smith. Now back to the opera.
Hansel and Gretel first saw the theater as a Christmas season production in Weimar, Germany, two days before the holiday. Based on a Grimm fairy tale, it was a family affair, with Humperdinck composing the music and the libretto the work of his sister. It is somewhat unusual with the Witch's role being enacted by a man and Hansel by a young woman. I must say it seemed to go off very well but often it was difficult to hear the words sung. There were no English subtitles and the audience noted that.
Dean Anthony was a highly. believable Witch; his performance in Act II stole the show. Yet this observation does not belittle the other performances. Craig Priebe and Margaret Oates were a pair of believable parents and credit is due to Annette Daniel for her enactment of Hansel and Mary Elizabeth Kures' performance of Gretel. Donna Barnett's Children Chorus from St. Francis School went through their paces with poise, skill and apparent delight.
Humperdinck deserves to become better known and appreciated. Anyone who can elicit interest and employment from such a demanding and perfectionist personage as Richard Wagner wins recognition in his own right. Humperdinck's contributions to fairytale opera and incidental music for Shakespeare's plays are unique and skillful contributions to musical literature.
A final word — from the children. They were enchanted, and this is an ideal vehicle to introduce them to opera. Two of then, one only six and the other not quite ten, told Louisville Music News, "Oh, we really liked it." At least one child came 110 miles in subfreezing weather and that says more about the response to Kentucky Opera for what it is achieving than anything I could say.