April 1989 Articles
Cover Story
Staff
Columns
Paul Moffett
Staff
Performance Reviews
Keith Clements
Dallas Embry
Jean Metcalfe
Paul Moffett
Jean Metcalfe
Calendar
Staff
Errata
Staff
LASC
Jean Metcalfe
Jean Metcalfe
Staff
Staff
Karen Le Van
Dallas Embry
Jean Metcalfe
Jean Metcalfe
Dallas Embry
Staff
Diana Black
Industry Review
Paul Moffett
Music Business News
Staff
Staff
Paul Moffett
Staff
Staff
KYANA Blues Society
Rocky Adcock
Cartoon
Dan Colon
Louisville Homefront
Dallas Embry
Staff
Sara Pratt
Staff
Staff
Staff
Staff
Blogs
Got Shows?
Send Them To Us
Bookmark Louisville Music News.net with these handy
social bookmarking tools:
Available RSS Feeds
- Top Picks
- Today's Music
- Editor's Blog
- Articles
Add Louisville Music News' RSS Feed to Your Yahoo!

Issue:

Second Thoughts
Meet a Master Music Maker – Maestro Charles Dutoit of the Montreal Symphony.
The orchestra and I certainly enjoyed being in Louisville very much. You have a wonderful city; it has a great musical reputation. If you invite us back, we'll lose no time in accepting."
The speaker – M. Charles Dutoit, Music Director of the world-traveled and renowned Montreal Symphony. Despite the many and continuing demands of an unbelievable schedule, Louisville Music News recently conversed with this highly articulate gentleman, who is talented as he is courteous. This opportunity was also made possible through the gracious assistance of Mme. Dominque Dove, the Orchestra's creative and knowledgeable Director of Communications.
In an earlier conversation, M. Dutoit discussed the qualities required to conduct. "Above all, leadership – though not in a military sense. Also presence. And of course, theoretical knowledge supplemented by experience.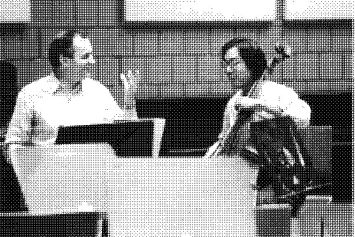 Maestro Charles Dutoit with cellist Yo Yo Ma.
One of my first jobs was to calibrate the orchestra's sound. It was necessary for each musician to be aware of the level of accomplishment to be attained, and I must say that in this respect, our recordings helped enormously, because this level was established with our first disc and thus became a point of reference."
According to M. Dutoit, it is also primary to know and understand, and, yes, appreciate one's audience. The following quote from M. Dutoit's Director's Letter about the coming season in Montreal can make it clear that he excels in doing this.
...Music in motion, this is the dream we strive to make reality."
A look at his nineteen years in Montreal can make it clear that he is not indulging in grandiose rhetoric. He and this cosmopolitan orchestra of 100 talented men and women has performed no fewer than 2,000 compositions, many of which have been written within the century. The orchestra has also produced 65 recordings and, in so doing, they have won more than forty national and international awards.
To describe M. Dutoit as "busy" hardly does justice to the multiple and myriad activities of this Swiss native. He not only wields the baton during many of the concerts in the five distinct series in Montreal, since 1990 he has been Music Director of the Orchestra National de France. He is also Artistic Director and Principal Conductor for two Philadelphia Orchestra summer festivals. In September, he began a turn as the Principal Conductor of Japan's premier orchestra, the NHK Symphony. He is also a guest conductor at the Metropolitan Opera and tours with the Montreal ensemble.
How does he do it?
I practice and stay fit."
Though he plays time-honored numbers, he also offers more recently composed pieces. He pointed out that "more music has been composed in this century than in any previous one."
He is well aware that audiences are changing: "today's younger music lovers are very much different from their parents." In the 1996-97 season at Montreal, he plans to do 35 pieces not previously heard in that city.