April 1989 Articles
Cover Story
Staff
Columns
Paul Moffett
Staff
Performance Reviews
Keith Clements
Dallas Embry
Jean Metcalfe
Paul Moffett
Jean Metcalfe
Calendar
Staff
Errata
Staff
LASC
Jean Metcalfe
Jean Metcalfe
Staff
Staff
Karen Le Van
Dallas Embry
Jean Metcalfe
Jean Metcalfe
Dallas Embry
Staff
Diana Black
Industry Review
Paul Moffett
Music Business News
Staff
Staff
Paul Moffett
Staff
Staff
KYANA Blues Society
Rocky Adcock
Cartoon
Dan Colon
Louisville Homefront
Dallas Embry
Staff
Sara Pratt
Staff
Staff
Staff
Staff
Blogs
Got Shows?
Send Them To Us
Bookmark Louisville Music News.net with these handy
social bookmarking tools:
Available RSS Feeds
- Top Picks
- Today's Music
- Editor's Blog
- Articles
Add Louisville Music News' RSS Feed to Your Yahoo!

Issue:
Prime Prine
By Paul Moffett
Had somebody asked me before the John Prine show if I was a Prine fan, I would have answered with, at best, a shrug. Count me a middling fan. I might find two of his albums somewhere in my CD/LP/cassette collection.
Prine put the lie to that belief. During the nearly two-and-a-half hours that he 'beat on his guitar and strut[ted] around the stage" at the Palace, there were perhaps two songs that I did not know all the words to. Take that, Bob Dylan.
In spite of the fact that Oak Ridge Boys were playing for free at the State Fair and the Wallflowers were performing at theGardens, Prine drew a near-capacity crowd to the Palace. The boisterous bunch did not have had any doubts about their ardor for Prine. From the opener, "Blow Up Your TV," to the closing "Paradise," Prine's fans were exuberant in their enthusiasm and applause.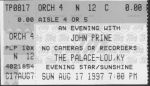 The Palace is the perfect venue for the Prine's kitchen and living-room style of performing. Audience members regularly hoisted themselves to their feet for a trip to the fridge for a beer, even though the lines for beer ran fifteen or so people deep all night long. They also whooped and hollered and sang along on most of the songs.
Despite the fact that Prine is aging right along with his audience, his hair graying at the sides, he performed with considerable energy, trading guitars on nearly every tune. He only broke one string all night.
He related the tale of his first appearance, on an open stage in Chicago, at which he played "Sam Stone," "Illegal Smile" and "Hello In There." Some three-and-off. The bar owner immediately offered him a gig — playing for half the cover charge of fifty cents. Perhaps not all bar owners are the dunderheads musicians think they are.
The first part of Prine's show featured a line-up of superb musicians, including Phil Parlapiano, dressed to kill in a burnt-orange suit and fedora. Parlapiano covered parts for mandocello, accordion, mandolin and piano, often switching instruments during each song. David Jakes kicked the material along on double bass and electric bass, while Bloomington's Jason Wilber, formerly of Mere Mortals, played restrained but elegant guitar.
The band took a break after forty-five minutes or so, but Prine kept right on cranking out tune after tune and,. after roughly another forty-five minutes, the band returned for the final "set."
R. B. Morris opened the show with a short set of good tunes, including "Devil Woman" and Robert Mitchum's "Thunder Road," which Morris recorded for his CD. In spite of the fact that he had not appeared in Louisville, the audience responded more enthusiastically than is the norm for opening act. His demeanor improved with the applause, so he might well return to Louisville, in a different venue.