April 1989 Articles
Cover Story
Staff
Columns
Paul Moffett
Staff
Performance Reviews
Keith Clements
Dallas Embry
Jean Metcalfe
Paul Moffett
Jean Metcalfe
Calendar
Staff
Errata
Staff
LASC
Jean Metcalfe
Jean Metcalfe
Staff
Staff
Karen Le Van
Dallas Embry
Jean Metcalfe
Jean Metcalfe
Dallas Embry
Staff
Diana Black
Industry Review
Paul Moffett
Music Business News
Staff
Staff
Paul Moffett
Staff
Staff
KYANA Blues Society
Rocky Adcock
Cartoon
Dan Colon
Louisville Homefront
Dallas Embry
Staff
Sara Pratt
Staff
Staff
Staff
Staff
Blogs
Got Shows?
Send Them To Us
Bookmark Louisville Music News.net with these handy
social bookmarking tools:
Available RSS Feeds
- Top Picks
- Today's Music
- Editor's Blog
- Articles
Add Louisville Music News' RSS Feed to Your Yahoo!

Issue:

Down On The Corner
Tanya Savory got a couple of her tunes recorded on the new Pam Gadd CD, The Long Road. Gadd covered "40 80 or 10" and "True Train," from Savory's Better Shade of Green CD, which reached the #10 spot on the Gavin Americana Chart last spring.
Savory has also been in a Nashville studio cutting her second album, set for an early November release.
• Tom Mabe's latest CD goofs (a la the Jerky Boys) on the telemarketers who call his house. Revenge on the Telemarketers has been selling 1,000 copies a week with no press, no MTV and no single; according to his record label. Mabe appears on local radio stations to plug the show. The CD, Revenge on the Telemarketers, was reviewed in the September issue of LMN.
The CD was recently reviewed on the front page of the New York Post and got four stars.
Way to go, Tom.
• The folks at Flying Hands/Media Beat music have released their seventh CD, Ear Paint, in their Production Music Library Series. The disc features Hispanic and ethnic styles, plus some light jazz pieces.
Fish N' Brook Records recently inked a deal with Priority Records in Hollywood, Ca., to license their song "Sentimental Park" for use on Priority's "Best of New Age Volume 6" compilation, which is due in stores on October 7, 1997. National distribution will be through Priority Records' parent company, EMI.
• Dawn and Jon Faget were chosen to be the featured performers at the next open stage at Hawley-Cooke Booksellers on the weekend of Oct. 10 at the Glenview Point store. Dawn Faget was recently featured on the "Louisville Music News" cable show.
The next Open Mike nights will be on Oct 10 & 11.
• The Velcro Pygmies have released a new CD, Dice. If you order one, they'll give you a free copy of their last CD 3.Call the Pygmie hotline at 502-569-1951 or e-mail at campyg@aol.com.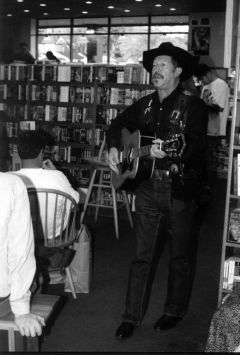 Kinky Friedman. a.k.a. the Kinksta, performed "Sold American" and other tunes from his country-singer days. He was at Hawley-Cooke Booksellers on Sept. 18, signing his latest novel, Road Kill. The cat, being absent, of course, said nothing.
• Catch G. E. Smith telling a few tales of his life in big time with Dylan and SNL, followed by a concert. His wife, Taylor Barton. will also perform. At the Guitar Emporium, Oct. 14. Admission is $10. Co-sponsored by Twice Told Coffeehouse.
• Tim Krekel is getting enough buzz these days to take care of a whole division of raw recruits. The word on his just-finished project at Allen-Martin is mostly jsut exclamation marks from everybody who has heard cuts from it. Krekel is shopping the project, so you have to know the right person to hear some of it as yet.
• Bassist Rick Harper, who has been out with Captain and Tennile, will be playing the occasional (and perhaps more frequently) gig with Winston Hardy and the Roadmasters. Guitarist Charlie Carmon and Harper played together in Texas Red and the Heartbreakers, which became Another Mule.
• Local songwriter and NSAI Coordinator Earl Meyers is running for leukemia research. You can help him raise money with a pledge. Call him at 502-584-8490.
• We know your favorite bluegrass musician can cook, but can he/she cook? Penny Parsons got an entire cookbook of favorite bluegrass recipes out of that idea: The Bluegrass Music Cookbook. Naturally, the book includes short biographical article and photos of the various contributors. (You could take the book to the IBMA events in October and get the signatures of the musicians on their receipes, hint, hint.)
Parsons will be signing the cookbook at Hawley-Cooke Booksellers, Shelbyville Rd., on Wednesday, Oct. 15, from 7-8 p.m. With Parsons will be up-and-coming bluegrasser Tina Adair and the Adairs, a family band.
• A note arrived from our long-time Shelbyville songwriting pal Marian Maxwell. She's in a new dulcimer group, the Kentuckiana Dulcimer Ensemble, formed out of members of the Louisville Dulcimer Society. They're playing various places, including at Stan's Restaurant in St. Matthews on the first Monday of the month, where they play for their supper.
Opportunities
• The Southern Arts Federation and the American Academy in Rome are offering up to four Visiting Artist Awards to Southern artists, including musicians and composers. Awards offer a three-month residency at the American Academy's facility in Rome, Italy.
The deadline for receiving applications is November 7, 1997.
For more information and an application form, contact the Southern Arts Foundation, 181 14th St. NE, Suite 400, Atlanta, GA 30309 or call 404-874-7244.
The Austin Songwriter Group's Ninth Annual Songwriting Contest is accepting entries, Deadline is November 1, 1997. For entry forms and info, write: ASG, P. O. Box 2578, Austin, TX 789768 or call 512-442-TUNE.
The Louisville Youth Orchestra has instrumental openings for interested students through age 21 for the 1997-98 season. Contact Melody Welsh at 502-582-0135.
Club News
The Borderline Lounge, on the Outer Loop has closed.
Codas
• Edward R. Adams, 56, died on Sept. 25, 1997. He was the New Albany-Floyd County school superintendent and played guitar with the Riverfront Ramblers.
Francis Wathen, 88, died on Sept 15. He played in the WHAS Studio Orchestra, the Johnny Long Band, the Clyde McCoy Band, the George Olson Band and the Henry Busse Band.
Words of Winston
You years, now, I've done what they wanted . . .
the CIA....the FBI...were so smugly pleased.
"Winston's getting high in the corner of the room
and all's well... he's lost his voice."
Hey, there, you with the stars
I'm back.
WRH 9/19/97