April 1989 Articles
Cover Story
Staff
Columns
Paul Moffett
Staff
Performance Reviews
Keith Clements
Dallas Embry
Jean Metcalfe
Paul Moffett
Jean Metcalfe
Calendar
Staff
Errata
Staff
LASC
Jean Metcalfe
Jean Metcalfe
Staff
Staff
Karen Le Van
Dallas Embry
Jean Metcalfe
Jean Metcalfe
Dallas Embry
Staff
Diana Black
Industry Review
Paul Moffett
Music Business News
Staff
Staff
Paul Moffett
Staff
Staff
KYANA Blues Society
Rocky Adcock
Cartoon
Dan Colon
Louisville Homefront
Dallas Embry
Staff
Sara Pratt
Staff
Staff
Staff
Staff
Blogs
Got Shows?
Send Them To Us
Bookmark Louisville Music News.net with these handy
social bookmarking tools:
Available RSS Feeds
- Top Picks
- Today's Music
- Editor's Blog
- Articles
Add Louisville Music News' RSS Feed to Your Yahoo!

Issue:

Second Thoughts
MasterWorks: The Glory of the Russian Empire
It will soon be time for a special treat for Louisville music lovers. The Louisville Orchestra's' upcoming "MasterWorks" concert on December 6 is entitled "The Glory of the Russian Empire." The inspiration and content are Russian to the core and features the work of a second generation of composers (he came here with his father when the Louisville Orchestra played the latter's compositions), Alexander Tcherepnin. His Grawemeyer Award-winning entry of 1996 will be performed by two of the more talented members of the U of L Music School Faculty.
The adjective "Russian" means various things to various people in different times and places. The selections for this concert will remind music lovers that Russian music is neither confined to or dominated by Peter Tschaikowsky's 5th Symphony or his Nutcracker Suite.
For instance, take this Concert's opening number, Rimsky-Korsakov's Suite for Christmas Eve. Tschaikowsky himself declared that the composer was Russia's master par excellence of orchestration. Rimsky-Korsakov was a cosmopolitan if any composer ever was, as he literally traveled the Seven Seas as an officer in the Tsar's navy. At least once, he was in this country.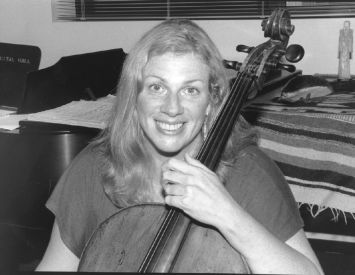 Nelila Hunkins
When listening to Rimsky-Korsakov's music, pay special attention to the instruments' interactions, especially the strings. The music is, at various times, lively, colorful, simply beautiful and is always great fun to hear.
Next, one can hear Tcherepnin's Grawemeyer-winning Concerto for Violin and Cello. Louisville Music News talked with the two soloists for the work, Peter McHugh and Nella Hunkins, who noted "we fell for the piece the first time we played it." It is not easy to play but it is simply beautiful.
Both performers have a rich musical heritage and thorough musical education as well as superb teaching credentials. The winner of a Fulbright Scholarship to the Paris Conservatory, Ms. Hunkins won the envied Prix du Conservatoire. McHugh is a former Concertmeister of the Louisville Orchestra.
The final piece, Pictures at an Exhibition, was composed by the 35-year-old Modeste Mussorgsky after he was profoundly impressed by a posthumous exhibition of architectural drawings, theatrical sketches and watercolor paintings by his friend, Victor Hartmann, all of which made rich use of Russian themes. Originally written for the piano, Maurice Ravel orchestrated this work almost 50 years later after transcribing it for orchestra. It's a powerful but dramatic work.
"The Glory of the Russian Empire" is scheduled for 10:30 a.m. and 8 p.m. on Saturday, December 6 in Whitney Hall at KCA.
A Successful "Dare"
Introduced to local audiences with the tantalizing title, "Do You Care," the latest Louisville Ballet performance was highly successful – and then some!
The "Do You Dare Festival" featured four works, two by the noted choreographer David Parsons.
Parsons was in Louisville with one of his chief aides, Patricia Kenny, as the Louisville Ballet prepared for its first performance of two of Parson's more popular works, "Envelope" and "Sleep Study." Both emphasized that "you [in Louisville] have a wonderful ballet company here with ample talent. We very much enjoyed working with Alun and everyone here."
Though born in Chicago, Parsons grew up in Kansas City, where he began what has been a lifelong romance with the dance. "I went to New York at 17, where my big break was becoming a member of the Paul Taylor Dance Company. I didn't have many opportunities to learn much about classical music in Kansas City but working with Paul more than made up for that. I started my own company in 1984."
Parsons' two works are good-natured comedies which delighted the audience. Rossini's lively music was a natural as the dancers pantomimed the arrival and dispatch of the volumes of paper work which confronts office staffs.
"Sleep Study" was both whimsical and amusing. One can easily see why Stage Manager Patricia Kenny said that athletic ability is most useful to ballet dancers.
Regarding the other two pieces, Alun Jones made very effective use of the music by Erik Satie and Bohuslav Martinu, both 20th century composers. "Frescoes" was particularly helped the Michael Ford's lighting. "Frescoes" showed in a particularly dramatic way what a wealth of talent the local company has.