February 2015 Articles
Cover Story
Paul Moffett
Features
Eddy Metal
Columns
Sue O'Neil
Martin Z. Kasdan Jr.
Eddy Metal
Blogs
Got Shows?
Send Them To Us
Bookmark Louisville Music News.net with these handy
social bookmarking tools:
Available RSS Feeds
- Top Picks
- Today's Music
- Editor's Blog
- Articles
Add Louisville Music News' RSS Feed to Your Yahoo!

Issue: February 2015

Jazzin'
PRELUDE:
R.I.P., Rachel Blanton
Louisville lost a wonderful violinist and dedicated teacher when Rachel Blanton passed away most unexpectedly on Christmas morning. She taught my daughters violin, first Suzuki, then private lessons. She was a sweet, delightful person, who played virtually every type of music (except I never knew her to play in a jazz setting).
RECENT CONCERTS
January provided an intriguing look at the art of jazz saxophone from two very different stylistic perspectives. Ken Vandermark played a solo concert of very adventurous, frequently freestyle saxophone at Dreamland, while Mike Tracy embraced the warmth of the styles emanating from Brazil in performance at the Clifton Center.
Ken Vandermark at Dreamland
Dreamland presented a fascinating evening of solo music on January 17. Opening was Louisville electronic musician Connor Waldman, who was followed by Bloomington drummer/percussionist Tyler Damon. The evening closed with a spirited set by Chicago-based Ken Vandermark; an abbreviated version of my interview with Vandermark for LEO is at www.leoweekly.com/2015/01/b-sides-ken-vendermark. Waldman's set delved into ambient moods, reminiscent of early Tangerine Dream. Damon utilized his drum kit and some electronics to explore sonics, not falling into a trap of just doing a lengthy drum solo. Vandermark impressed me during both the interview and on stage as a person of warmth, not aloof as some avant-garde players have sometimes seemed to me. He opened by talking of a trip to Albert Ayler's grave site, then playing a piece evocative of Ayler's deep blues-meets-outside playing. Through the rest of his set, he switched off between tenor, baritone and clarinet. A highlight was the concluding piece, an improvisation with drummer Damon, whose playing on this reminded me a it of Rashied Ali. It was great to see a good turnout for music which breaks boundaries. At this writing, while Vandermark has an extensive discography, his relatively recent Mark In The Water would be the closest in feel to his performance in Louisville.
The Mike Tracy Brazilian Ensemble
Mike Tracy is a saxophonist and serves as Director of the Jamey Aebersold Jazz Studies Program at the University of Louisville School of Music. He deftly combined playing and audience education as he led his Brazilian Ensemble through almost two solid hours of music at the Clifton Center on January 29. He was joined by two Brazilian musicians, pianist Diego Lyra and bassist Andrey Goncalves, and two from the region, guitarist Brandon Coleman and drummer Zack Kennedy. Early on, Tracy mentioned that Kennedy had studied in Brazil, and his apparent ease with the many rhythms from the area showed he had spent his time well there. As Tracy stated in my LEO interview (www.leoweekly.com/2015/01/b-sides-mike-tracy-brazilian-ensemble), and again on stage, many North Americans seem to think Brazilian music began and ended with Antonio Carlos Jobim, but he presented a wide range of songs from not only Jobim, but Moacir Santos, João Donato and others. Santos' "April Child" featured a drum solo, while Jobim's classic "Once I Loved," arranged by Tracy's friend Renato Vasconcellos, featured the leader's especially lyrical saxophone. Throughout, Coleman's liquid guitar, Goncalves' rich bass (and whistling on one song) and Lyra's skillful keyboard work enhanced the presentation.
ON THE HORIZON
University of Louisville Jazz Festival: Alan Broadbent and Vincent and Derrick Gardner
Pianist Alan Broadbent and brothers Derrick and Vincent Gardner are the featured performers for the 2015 University of Louisville Jazz Festival. Broadbent was a member of Charlie Haden's Quartet West, and has toured, recorded with, and arranged for artists ranging from Diana Krall to Natalie Cole, as well as working with pop icon Paul McCartney and others. He has a substantial discography of his own, with recent solo and big band recordings. He plays Friday, February 27. Vincent Gardner was here recently with the Jazz at Lincoln Center Orchestra, holding down first trombone and also contributing occasional vocals. Derrick plays trumpet, and leads a hard bop ensemble The Jazz Prophets. The Gardners play Saturday February 28. Ticket information is available through the University of Louisville School of Music, (502) 852-6907. More details on the event may be found at http://louisville.edu/music/academics/areas-of-study/jazz/2015-jazz-fest.
Irma Thomas: Blues at the Crossroads: The Soul of the Blues at the Brown Theatre
I'm real excited about this show. Irma Thomas, known as "The Soul Queen of New Orleans", is that rare artist who combines soul and class. I've seen her countless times in New Orleans,, and here at the Lonesome Pine Special Series in the late 1980s. One of the earliest American hits by the Rolling Stones was their cover of her song, "Time Is on My Side." She's headlining a revue which also features soul singer Lee Fields, The Dynamites, and Eric Krasno, the guitarist and founder of Soulive. The show is at the Brown on February 28. More information is available at http://www.kentuckycenter.org/Kentucky-Center/14-15/Blues-At-The-Crossroads-The-Soul-of-the-Blues/12473#tab-show-information-link.
Jane Monheit at the Clifton Center
Kudos to the Clifton Center, for bringing back singer Jane Monheit. She was last here three years ago, presenting a concert heavy on the Great American Songbook. This time around, Monheit performs "Hello Bluebird: Celebrating the Jazz of Judy Garland," on Sunday, March 1. The Clifton Center's page currently includes Monheit's press bio from her website, focusing on her 2013 release, The Heart Of The Matter. Unfortunately, a quick look at her website revealed nothing about her Judy Garland show. Nonetheless, ticket information is available at http://cliftoncenter.tix.com/Event.aspx?EventCode=702539.
SELECTED CLUB AND OTHER LISTINGS
The Laughing Derby at The Comedy Caravan, 1250 Bardstown Road, Louisville, KY 40204, 502-459-0022, http://laughingderby.com. The Don Krekel Orchestra will continue its gigs there on the third Monday of each month, which will be February 16. Also, the club will now offer a menu of sandwiches, salads and more. Please contact the club for any post-deadline information.
The Nachbar (969 Charles Street, 502-637-4377, www.myspace.com/thenachbar)features "Nachbar Jazz" on Wednesdays, with Jacob Duncan. Check the club for updates or changes. The club also has a Facebook page with occasional updates.
HAPPY 20th ANNIVERSARY To The Jazz Kitchen (5377 N College Ave., Indianapolis, IN 46220; phone: 317-253-4900; www.thejazzkitchen.com), presents nightly offerings of local and regional jazz; check the website for the full schedule and updates. A road trip might be advised for: blues guitarist and singer Dave Specter, who records for Chicago's well-respected Delmark label, on February 27. The rest of the month features the best local and regional talent, followed by Jim Snidero and the Steve Allee Trio on March 6; later special appearances for March we'll cover next month.
Please sign up for updated local jazz listings: The Louisville Jazz Society provides weekly e-mail updates for local jazz happenings. Be sure to sign up for the e-mail "Louisville Jazz Society's "Jazz Insider" at www.louisvillejazz.org. A monthly calendar of local jazz events is at the Louisville Jazz Society's website: http://louisvillejazz.org/calendar. It is both impossible for me to try to provide complete listings here, and it would be duplicative of the weekly listings in the Courier-Journal and LEO and the Louisville Music News monthly music listings, www.louisvillemusicnews.net.
EIGHTH NOTES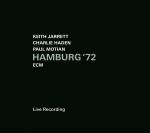 Jarrett/Haden/Motian - Hamburg '72
Keith Jarrett, Charlie Haden, Paul Motian
This is the first time this music has been officially released, and it's quite a treat. A little research shows that this concert was originally broadcast on German radio and television, and that there is additional music which might still be released. In the meantime, let's check out what's here. Jarrett plays not only piano, but soprano saxophone and wood flute. Four of the six pieces are by Jarrett, who begins the opening "Rainbow," by his then-wife Margot, with lovely solo work, before being joined by Motian and Haden, who then solos. Jarrett follows with a solo in which he teases out variations on the theme, seemingly engaged in a call-and-response with himself. Next is "Everything that Lives Laments," a Haden feature with accompaniment by bells and wood flute until Jarrett switches to piano after about five minutes. "Piece for Ornette" spotlights Jarrett's soprano sax playing; at this stage of his work, it's clear that it wasn't just something he picked up as an afterthought. The next piece also showcases a side of Jarrett that's rarely heard - his soulful, R&B piano work. Indeed, a casual listener to "Take Me Back" might think of Les McCann. "Life Darn" is a short trio romp, which leads into the magnificent Haden opus, "Song for Che." At almost 15 minutes, it never flags; Haden leads off with a solo, with drums and subtle piano, with Haden's eloquent work continuing over castanets, a segment which leads into more of Jarrett's emotional and vocal saxophone playing. Haden begins an arco solo accompanied by percussion and chimes, which moves to an eloquent Jarrett solo with bass and drums, then back to Haden's bass with the castanets. The trio concludes to sustained and well-deserved applause. Overall, this captures music which is rich and profound, even while it occasionally ventures into playful territory. This is a gem of an album, and I, for one, hope that the entire concert will one day see release.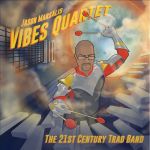 Jason Marsalis Vibes Quartet - The 21st Century Trad Band
Jason Marsalis Vibes Quartet
Jason Marsalis, the youngest of Ellis Marsalis' musician sons, came up through the ranks as a drum set player, but now concentrates more on his vibraphone and marimba work. This is his latest recording to feature his working group, with pianist Austin Johnson, bassist Will Goble, and drummer David Potter. As he did on his 2013 release, In a World of Mallets, Marsalis mixes his own pieces with compositions by band members and others, although unlike Mallets, 21st Century does not cover pieces by those outside the band and friends. Similar to Mallets in a different respect, there are some short pieces which evoke M'Boom, almost studies more than songs. Nonetheless, Marsalis and company fulfill the title by blending blues and contemporary touches in a way that stays true to tradition without being mired in it. In fact, without being imitative, Marsalis' work here frequently seems like a forward-looking extension of the Modern Jazz Quartet.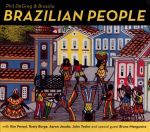 Phil DeGreg and Brasilia - Brazilian People
Phil DeGreg and Brasilia
Brazilian People (self-released, available through cdbaby.com)
Our Cincinnati neighbor, pianist and educator Phil DeGreg, has long immersed himself in not only jazz, but also Brazilian music. This is his latest release, with trumpeter Kim Pensyl, vibraphonist Rusty Burge, bassist Aaron Jacobs, and drummer John Taylor; guitarist Bruno Mangueira (featured in the 2014 U of L Jazz Fest) guests on two tracks. The repertoire includes both originals by band members and works from renowned Brazilian composers. They open with a bouncy, happy rendition of Hermeto Pascoal's "Valley of the River." Next up is one of three Jobim compositions, "A Felicidade," a warm bossa nova. The title track, composed by Rio de Janeiro native Marcos Silva, bubbles along, a showcase for Burge's vibes and Pensyl's muted trumpet, with a brief drum solo accented by bass. Another Jobim song, his classic waltz, "Double Rainbow," spotlights Pensyl. My personal favorites come near the end of the album, the band's in-concert renditions of Jobim's "Double Rainbow" and "Triste," the latter taken at a quick pace. Wouldn't it be great if DeGreg could bring this band to Louisville one evening?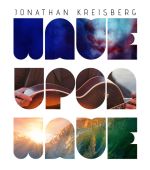 Jonathan Kreisberg - Wave Upon Wave
Jonathan Kreisberg
Wave Upon Wave (New for Now Music, jonathankreisberg.com)
Guitarist Jonathan Kreisberg has been on the scene for years, putting together a substantial discography as both leader and sideman, yet he seems to be less well known than his talent deserves. His most recent release features his working group, consisting of Will Vinson (saxophone, piano on one track), Rick Rosato (bass) and Colin Stranahan (drums), with guest pianist Kevin Hays on four of the eight tracks. Kreisberg elicits a clean, ringing sound from his instrument, mostly forgoing distortion or effects. The title track, a midtempo waltz, opens the disc, Kreisberg and Vinson playing essentially in unison until the leader begins his solo. Next up is another original, "Until You Know," an uptempo, adventurous (yet not "outside") workout. One of only two standards, "Stella by Starlight," follows, and this is a fresh, invigorating update - not your grandparents' "Stella." "Wild Animals We've Seen" is upbeat, closing with a climactic buildup and release. The pace slows for "Being Human," a lovely, unhurried ballad, followed by two more originals, "From The Ashes" and "The Spin," the latter with stop-time and straightahead segments. Kreisberg closes with a tribute to the late Horace Silver, a beautiful rendition of "Peace." Interestingly, Kreisberg delivers a rapid-fire solo while the band maintains the slower tempo of the composition. If you hang on, there's a hidden track, number nine (think about that, Beatles fans), which is silent for about two minutes before turning into what sounds like an outtake from the "Strawberry Fields" sessions. It's a curious end to an album which primarily explores crisply modern small group jazz.
LOCAL JAZZ CONTACTS
With two now-sixteen-year-old daughters, it's hard to get out as much as I would like to hear music. As a result, picking and choosing which performances to catch sometimes require that I postpone seeing some of the local musicians and singers in order to not miss the one-night-stands from out-of-town artists. Invariably, I feel guilty, so in an effort to assuage my guilt and, more positively, to provide more exposure to our community of great local jazz performers, I am initiating this feature containing website and e-mail contact information. I am only including those artists who have given their permission to me; some have indicated a preference for website listing only; others have only e-mail addresses. If you wish to be included, drop a line to me with your permission and preferences, at mzkjr@yahoo.com. I reserve the right to edit and to exclude those whose connection to jazz is, in my opinion, tenuous; and this feature may end up online if it begins to take up too much space in print.
MIKE TRACY: www.michaeltracy.com, michael.tracy@insightbb.com, saxophonist and teacher Mike Tracy
UNIVERSITY OF LOUISVILLE JAZZ PROGRAM: www.jazz.louisville.edu
BOBBY FALK: www.myspace.com/bobbyfalk, drummer and composer Bobby Falk;
WALKER & KAYS: www.walkerandkays.com, singer Jeanette Kays and guitarist Greg Walker;
JENNIFER LAULETTA: www.jenniferlauletta.com, singer Jennifer Lauletta;
JEFF SHERMAN: jeff.sherman@insightbb.com, guitarist Jeff Sherman;
RON JONES: www.ronjonesquartet.com, rjmusic@ronjonesquartet.com, saxophonist Ron Jones;
STEVE CREWS: www.jazzcrews.com, jazzcat@iglou.com, pianist Steve Crews.
CODA
1) I am always interested in your comments. Contact me at mzkjr@yahoo.com.