February 2015 Articles
Cover Story
Paul Moffett
Features
Eddy Metal
Columns
Sue O'Neil
Martin Z. Kasdan Jr.
Eddy Metal
Blogs
Got Shows?
Send Them To Us
Bookmark Louisville Music News.net with these handy
social bookmarking tools:
Available RSS Feeds
- Top Picks
- Today's Music
- Editor's Blog
- Articles
Add Louisville Music News' RSS Feed to Your Yahoo!

Issue: February 2015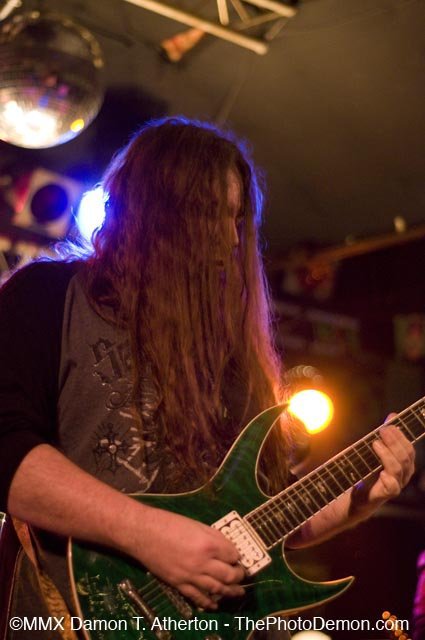 News From the Pit
Tales From The Hood 2015
This part of the year sucks! There isn't much to do, our scene goes into hibernation somewhat, shows dwindle, bands take a little break (both of my bands are taking short breaks to write), and it's colder than a Siberian witch's titty outside. Unfortunately, the idiots next door have had the nerve and gall to bring their Pitbull (that almost killed my Yorkie last July) back to that house and let it run loose again, even after a court order to remove it to a new home, so that has created some seriously unwanted drama once again. The Pitbull almost attacked me this time, and a friend of mine! Had I had my dog with me, the little guy would have surely gotten attacked AGAIN.
It's unreal how some people are in this world. Pray that you never get neighbors like I have now. They are by far the worst neighbors I have ever had. You cannot reason with such people. And I have tried till I am blue in the face. No more. Nice guy time is over.
So I called Animal Control again (despite the thug's threats if I call authorities), and they came and took the dog away. Now my neighbors want to kill me. No joke. It has went from threatening physical violence to death threats. Apparently me not wanting to have my dog mauled to death by a Pitbull that keeps getting loose over and over and over, and me complaining to authorities about garbage being dumped in my yard for two frikkin' years, after me repeatedly asking my neighbors to stop, is enough for this gangster family to give someone death threats. Unreal.
And these were not idle threats. These people are dangerous and extremely dumb.
That's okay though, because no scummy renters will run me from my home of 20 years!
They will have to kill me.
A certain cool Louisville Police Sergeant, a man who has listened to me from the beginning of this mess, even went over there to try to talk sense into these people, but the dog's owner ended up pretty much almost attacking the police Sergeant. The frikkin' police Sergeant! But you do not mess with the police, as the owner soon found out. police have told me that dude is dangerous and to be ready for him when he comes at me, and believe me, I am! I'm packing and will defend myself at all cost. I pity the fool that comes at me with murderous intent. It's very convenient that my Concealed Carry Deadly Weapon Permit came in on February 2, after waiting three-and- a- half months for it to go through. Gee thanks, Kentucky! I could have already been dead, thanks to the slowness of this long, drawn-out process. What good is that permit if you need it now? In an emergency like thugs who want to kill you? It's no good to me if I receive it after I'm buried!
Also, I just read that Wave 3 News is running a negative story on the Louisville Police Department. I want you folks, my readers to know, that since my neighbor problems began and the threats/thug problem started, the LPD has been there for me 100%.
I would probably be dead if it wasn't for them truthfully. They cruised by often, watched out for my area to make sure everything was okay, and even stopped and talked to me when passing by to see if I had been harrassed/threatened again. Imagine that! They even gave me their numbers to let them know if the thug does anything else. So hearing about Wave 3 News smearing these brave souls, makes me madder than hell. A truly classless move, Wave 3!! Uncool in the extreme.
My neighbors have held this neighborhood in fear for two years almost (old people have been robbed, people have been stabbed by them, etc.), and made it a more dangerous place than ever. Good folks were scared of these people (a few moved away) and the hoodlums that converged upon the location and were ready to move, but me standing up to the thugs and staying strong and seeing things through, despite many threats, have no doubt made my neighborhood a much safer place for decent people, and their small pets. I can't help but feel like I have done the community a huge service. Many folks when threatened by such people, would have moved or backed off and let the hooligans do whatever they wanted. Not me. I have pride and the necessary courage to fight back for my property, safety, and my pet's safety. Intimidation didn't work on me. It only pissed me off worse.
There is an upside to this story that isn't quite over yet. Throughout this ordeal, I have; remained calm in situations where I was almost ready to explode numerous times, did my homework getting info on these people, documenting their offenses and paperwork, police reports, waste management violations, animal control violations, and FINALLY their landlord has agreed to remove the tenants.
They have to move out now! Yay!!!
I got to thinking about that poor Pitbull that was taken by Animal Control, about how it never had a chance in life with owners that didn't care enough about it to keep it locked down and to not be a nuisance to neighbors and their pets. Will the poor thing be put down because I called on it's owner? The dog had the worst owners a dog could have. You should see the other dog these people have! It looks like it hasn't had a bath in a year. I truly feel sorry for the other small dog they have.
No matter what that Pitbull had done to my Yorkie, I felt bad for it.
I am a dog person, after all.
Thinking of all this, I have decided to try to help find the Pitbull a true home.
A home with human beings! A home that isn't a chaotic mess. So I put word out about this situation, and after much response, a man who trains Pit's and Rottweilers, has decided to open his home to this Pitbull in need. He has high privacy fences, big animal cages, so there is no way the Pit can hurt anyone or other pets under this guy's care. We have contacted Animal Control and as of now, are waiting to find out if this can be done. I would hate to see that dog put to sleep because of some shitty owners. I am happy to report that we have done all we can do to save the Pitbull from termination. It now rests in the hands of Animal Control Services.
I hope they make the right decision.
The Metal Grapevine
Terry Harper's New Local Music Showcase At Expo 5:
Promoter Terry Harper has a new local music showcase at Expo 5 for local unsigned talent. Every weekend for the next few months, he has live bands playing Expo 5. Every kind of rock/metal you can think of will be playing. Get out to these shows, Expo 5 is a real good place to see a concert, and for bands to play at (I've played both stages and it's cool!!) and they are owned by very good people! It's $10 to get these shows. Support local music!
Devil And The Darkness To Record:
Louisville metal veterans Devil And The Darkness will be recording soon at their own studio and will be recording two six-song E.P.s. A few of the tracks are titled "Simulacra," "Cicada's Hymn" and "The Fool." This is supposed to be some brutal stuff, so keep your ears open for the release date.
Flaw/Hellfire Militia/Creed502 Review:
I went out and supported some Louisville live music not long ago when I attended the Flaw/Hellfire Militia/Creed show at Diamonds on January 16, and I had a blast. Whiskey had me hungover bad the next day. Omg.
Creed reunited (Louisville's Creed, not the lame radio band clowns!) and played a show after more than ten or fifteen years! They kicked ass, too. It was sooo cool seeing old friends get back onstage after so long a time, and totally rock out! I even remembered a few of their songs from way back in the mid 90's. Vocalist/bassist Timmy Meeks played and sang as if it still was 1995 and this shitty thing called today's music didn't exist. Of course Andrew McCallister and Kevin Hart kicked butt on guitars. Anyways, the band was tight and plenty of people came out to pay their respects to a great band like Louisville's Creed. It was a reunion of all sorts. Good music and good people. It was almost like the mid-Nineties all over! Creed had a ball playing out, and I wouldn't doubt that they get back together to have some fun and play some more shows this year!
Next up was Hellfire Militia, and, boy, did they tear shit up. Those guys are awesome. Every one of them. Jason Proctor is a beast on drums, JD is a damn good brutal metal vocalist, Todd Conn is a bass demon, and Jeff Toy is a monster on metal guitar. I've looked up to that guy as a musician forever it seems. He is one of the first metal guitarists I can remember playing out in the scene's early metal years.
These days Jeff is a riff master and seems to constantly come up with killer riff after riff. He is the Tony Iommi of Louisville. I was watching some of his new riffs from up close and that shit is hard to play. Stuff that will just melt your face off. Hellfire Militia was killing it, no doubt.
Flaw came up last and played another rockin' set. I admit it kinda sucked seeing Flaw without Lance and Chris, but I understand all about when it is time to move on. Sometimes it's the best, and only thing you can do.
I noticed guitarist Rich Brown wasn't with Flaw this time around. Turns out that he was just filling in for a while. I thought Rich might have had a shot at becoming a permanent member. New drummer Corey Sturgill kicked some ass this night, and is a great choice for Flaw. Congrats to Corey for landing the gig! The band is now recording their next album in Nashville, that is set to be released this summer.
Flaw plans on a full U.S tour starting this March or April.
I'll hit you up when I know more.
Here is some LIVE Creed502 for ya!
Savage Master, Mastering The Metal:
This mysterious five-piece metal band is from Louisville but I know nothing about them other than they get around a bit playing many out-of-town shows. The band is fronted by a chick called Stacey Savage, and the guys in the band wear executioner's masks and black leather, chains and wear metal-studded armbands. They are as oldschool as you can imagine, going way back to the early Eighties metal look in appearance. Enough about the gimmicks, let's talk about the music of Savage Master. Gimmicks and appearance is fine, but can they deliver the goods? "The Ripper In Black" is a good song that rocks pretty well, using an opening pull-off riff similar to the breakdown in Slayer's "Angel Of Death." The song is pretty cool, both thrashy and doomy, with good chunky guitar parts. Stacey Savage sounds better live than on the demo I'm listening to. I'm not a huge fan of the vocals, but hey, everyone has their own tastes. She is doing something right because the band is planning on going to Europe in late April to Germany for the Keep It True Festival. Impressive!
Very cool. I wish Savage Master a great trip.
They are very tight/professional as a band and seem to have some good gear to work with. Stacey Savage almost comes across vocally as a little bit of a punk chick as well as metal. A rockin' fusion of both. She reminds me of female metal legend Betsy Bitch, kinda. Stacey does have a certain in-your-face attitude that is cool. She doesn't lack confidence, that's for sure. Her timing is good, and the band certainly has something about them that is fun to watch. They seem to know each other and play well together. Guitarists Adam Neal and Larry Myers jam out. Nice, fat, metal guitar tones and some skilled riffing. Me likey. Solid drumming and bass playing too. The bottom end seems to be pretty damn tight.
Imagine a metal-loving dominatrix-looking frontwoman, large menfolk in medieval executioner attire, loud frikkin' guitars, a wall of amps with pentagrams on them, and good wholesome satanic fun. Then you have Savage Master! They aren't Winger!
It's pretty twisted, but twisted apparently sells in today's jaded phuckin' world. Amen.
I'll get my chance to hear new SM very shortly, because SM is working on releasing new material soon, so I will keep you informed. I think it's cool that a band so true to their roots is doing something special. Two thumbs up to Savage Master for making it happen.
Gravemouth Release New E.P Featuring New Vocalist:
I'm checking out the new Gravemouth E.P that just came out These guys n' gals have been busy lately working in brand-new vocalist Gabriel Genuis and finishing this recording. "Necroticism" is faster than the last Gravemouth offering, if I'm correct. The guitars start out with a short, clean, intro that leads into speed metal mayhem. Death metalish. Oldschool stuff. Kinda reminds me of some old Dimmu Borgir or some Norweigan Death.
The slower parts sound heavy as phuck. I love when the fast slows down to slow/heavy. Gabriel Genuis is a death metal monster. He can sing the high-pitched Dani Filth screams as well as some good lows.
"Frontal Lobotomy" starts out with a cool double-guitar layering that I love. Eerie soloing over thick crunchy riffs. Sweet. That is one thing I have always gotten into, me being a guitarist myself. Gravemouth does it often, I remember that from the last demo. It makes the music all that much more dramatic. The vocals in this one are a little too much like the previous song, perhaps. And the low growls seem kinda thin sounding on the mix. You really wanna crank up the bass on those low vocal parts mixwise! (Or it could be that my computer sound system sucks ass!) That is some pretty phucking weird metal though. Unconventional and a bit different. It's cool. The drumming of Troy Edlin is rockin'. The guitars of Cristyn Edlin and Eric Sparks work well together and there is something there! Creativeness is there! "A Traitor's Death" is another attack on your senses! With killer lyrics and brutal twisted music, Gravemouth sends you to Hell with every riff they throw your way. If Hell had a house band, it would be Gravemouth. I like how the high and low vocals alternate ever so fast. I bet that would be a bitch to do live. I'm digging the lyrics, too. I like to listen and read the words at the same time, to check out the syllable pronunciation. Check out these lyrics to "A Traitors Death."
"Welcome to the South
"where the liquors strong and men are stronger
"Not afraid to take back what is ours
"We will endure your reign no longer
"We'll strip you of your power
"And unleash the beast we have welling inside
"Take a shot, take it back, or die
"Our lives, wives and homes won't be compromised
"Raise your drinks up one last time
"Before we die ending you for your crime
"Put your mouth upon your bloodied gravestone
"With my heel on your skull crushing every bone
"Now get up, go on and show us what your made of
"This is your last chance to prove your worth
"Show us your conviction or lack thereof
"So that we can sink you into the earth
"You forfeited your guts and
"Spine when you ran
"So I've returned to
"Rip them out of you where you stand
The song has a cool moment where it slows to a beautiful melody, but I wish they would have highlighted the lead with more effect. It's a bit too dry for my tastes. It would have brought the lead out well. There are some nice riffs, rhythms that destroy, and some sweet, layered riffs in Gravemouth, but no real super-duper guitar virtuoso leads going on. But ya know what? You don't need to be an all-out guitar genius like Chuck Schuldiner or Alexi Laiho to put out some twisted phuckin' music! The best most popular music is usually the easiest to play. And no, I'm not saying Gravemouth is easy to play at all, because it's not. It's some fast, brutal chit that requires precision and excellent timing. Altogether it's a fun demo to listen to, and I get tired of a lot of death metal pretty easily these days. Good job to the new singer Gabe. He does a good job and mixes things up nicely.
Check out the new Gravemouth. It's sick! In a good way.
Old Fashioned Field Party Hopefully Coming This Summer:
Back in the day, when I used to live in the East End, we used to have some serious field parties. Bonfires, kegs, live bands set up on a tractor trailer bed, a few hundred kids partying bigtime, it was cool. How I miss those days of yore. Me and my singer were thinking about the old Dawson Hill field parties, and we are probably going to try to have a big field party w/ live music all day, on a Saturday sometime this summer. The big thing is finding land to have it on! Somewhere private, where we won't be disturbed. Don't go expecting no huge event with booths and vendors and all kinds of unnecessary stuff that would cost a fortune. We will be going oldschool. Music, kegs, port o' let. There will probably be camping, too. If anyone has a location in mind, that don't mind a nice lil party, please let me know! Eddy 502-367-2080
Snorecastle 2015:
Yaaaaaawn. I just read the lineup for Snorecastle 2015, er, um, Forecastle I mean. It's July 17 – July 19 at Waterfront Park here in Louisville. Bands playing are: Sam Smith (who?); Widespread Panic; Modest Mouse; Kentucky boys My Morning Jacket and Cage The Elephant; First Aid Kit; Sturgill Simpson; Houndmouth; The Tallest Man on Earth; Shovels and Rope; Tweedy; Desaparecidos; RL Grimie; Portugal. The Man; Big K.R.I.T.; The Word; Cold War Kids; The Gaslight Anthem; St. Paul and The Broken Bones; Cherub; Kiesza; Over the Rhine; The Lone Bellow; People Under the Stairs; The Barr Brothers; Alvvays; Milo Greene; The Steeldrivers; Field Report; Speedy Ortiz; Son Lux; Jeff the Brotherhood; King Tuff; Noah Gunderson; Twin Peaks; Cathedrals; Fly Golden Eagle; Diarrhea Planet (good name pal! ha.); The Revivalists; Empires; Broncho; Knox Hamilton; Parker Millsap; White Reaper and Twin Limb.
Out of all those bands, the only one I would be interested in seeing would be Cage The Elephant.
All I have to say is "Thank God for Louder Than Life, and God Bless Promoter Danny Wimmer!"
Musician Of The Month, Connor Hill Of Johari:
This month's props go out to a rockin' young man who is a credit to our music scene. A good person, and a darn good vocalist/songwriter as well.
Be sure to check Mr Hill's feature and learn more about the man behind the metal!
Here is some of Connor's music. Enjoy! These guys are wicked.
The Tunesmiths, Ready To Rock:
Here is a band I've heard about, but had never heard before. I love checking out new bands and giving my opinion. This four-piece rock band is Daniel Jackson on vocals, Bryce Gill on guitar, Cal Reed on bass and Jason Ferguson on drums. The band has the sound of a different era, mainly the Sixties and Seventies. "Led It Out" is a bluesy rockabilly venture that is as energetic as it is fun. Daniel Jackson has a great voice and some strong range as well. It's Jane's Addiction meets Zeppelin! The demo quality is pretty good, I must say. It has a strong basement type sound that works quite well. The music is chock full of rock guitar riffs from throughout the ages. Good clean rock n' roll fun. You don't see too many bands like this anymore, and that is sad. You can just tell these guys don't give a farg about image or trends, and I love that. "Full Time Hustle" kicks off with some bass riffage.
Interesting stuff with soul and feeling, almost to the point of funk music! It has a good groove and the chorus is cool. The riffs are pretty easy, but who gives a crap? The vocals are not so easy. Nice guitar solo! This guitar tone works well for this type of rock. This music has an awesome groove to it, and the background female singers sound really good! I'm impressed! Bass guitarist Cal Reed would have to be a badass to keep up with this riff. Just awesome guys! Every member is quite skilled it seems. There is no weak link.
"Chocolate Milk" is a heavy jazzy type riff. The backup singers are present in this tune as well. I'm digging the lead riffs in this song. I'm ready to do a show with these guys upon hearing this demo! Eastwood Studios is to be commended for this recording. Sounds pretty good. And it suits the band's sound perfectly. The vocals at the end of the song are crazy! Wow. "El Mundo" is badass too. Love the opening guitar solo with wah. Guitarist Gill is a classic rock powerhouse, it seems. Those are some powerful riffs reminiscent of Stevie Ray, Chili Peppers and Jimi Hendrix. You can tell Gill is a huge fan of classic rock guitar giants. The Tunesmiths are a force to be reckoned with, and I want to now go see them in concert soon! That would be some good fun, I bet. So if you like Hendrix, Stevie Ray Vaughn, Zeppelin, The Red Hot Chili Peppers and bands with soul, funk and good catchy classic riffs, then be sure to check out The Tunesmiths. Genuine Louisville rock n' roll. They rock!
Regional Metal Compilation Seeking Past/Present Metal Bands:
A guy named Thaniel Lee is putting together a compilation CD from unsigned bands from Louisville/Lexington/Cinci bands that existed from 1985 – 1995. His goal is to have volume 1 out by March 15, so Each volume will include a photo and a bio of each band and a printable cassette j-card. If your interested get in
touch with him at thanielionlee@gmail.com. The deadline for submissions is March 1st, and he will accept demos, live recordings, and garage tapes, but I need everything in a high quality .wav or .aiff file. He will also need a bio of the band and a good photo.
Guitarists, Check Out This 14 String Guitarist From Venezuela:
On Saturday, February 21 a guitar virtuoso from Venezuela will be in town for a concert at PHT. The dude plays a fourteen-string guitar! Crazy. Felix Martin is the guy's name and he is a beast on guitar. It's pretty amazing what he does with fourteen strings! You might wanna check this guy out if you love guitar as much as I do. It starts at 8 p.m. and it's in The Saloon.
Bands, Send me your Youtube "Live" Videos:
Bands, send me some live footage of your band kickin' some butt on video. And if I like it, I'll put it online in Louisville Music News. Have many people see your band live in action, where it counts the most! Nothing beats a live performance. Please make sure the sound quality is decent. If it's not, I cannot use it. Send video links to: EDDYMETAL1@aol.com
Check out my band Krosjoint opening for Prong!
Upcoming Shows
Big Shot's
Saturday, February 7 – Tameless.
Brewskee's
Saturday, February 7 Amongst the Waves and Candlefly.
Friday, – February 13 Corrupt the Masses, Ocularis and The Truth.
Saturday, February 14 – The Just Luckies (from Michigan) and TBA.
Saturday, February 21 – Last Question, Atomic Thrill Ride, Hello Agony and A Rumor of War.
Friday, February 27 – Annual Lingerie Party with Gorilla Red, Dead by Design, Redhed, Grave Mouth, Kingslayer and Candlefly.
Expo 5
Friday, February 6 – Mindless Giants w/ Hot Prowlers, Youth at Heart, Forgetting Scarlett, Dark Horse and Less Dead. 7:30 p.m. $10
Saturday, February 7 – The Pale Sky w/ When Hearts Fail, Prices On Our Heads, Outline In Chalk, A Rumor Of War. 7:30 p.m. $10
Friday, February 13 – Mad Luck, Unbroken Silence, Rosewater, Fallen From Nowhere, The Yat Machines. 7:30 p.m. $10
Saturday, February 14 – Trust Divided, Hurt circle, Better Than Salem, Manic Method, Amongst The Waves, Ocean city. 7:30 p.m. $10
Tuesday, February 17 – Flyleaf, Adelitas Way, Framing Hanley, Caducus, Begging Victoria and Fit For Rivals. 7 p.m. $20
Friday, February 20 – Eye Ov The Storm, Fatal Step, Pinfeather, Kingslayer, Dead By Design and The Imagest. 7:30 p.m. $10
Saturday, February 21 – Dahmers Closet, Creature Of Exile, Lethean, Hellfire Militia, In Fears End, Tomorrow Never Ends. 7:30 p.m. $10
Friday, February 27 – Some Kind Of Saint, Monkeygrip, Sincaid, Old Soul Envy, Hello Agony and Lame. 7:30 p.m. $10
Saturday, February 28 – Seclusion, Bury the Wicked, Untold Rellik, Day Of Ruin, mild Trauma, Heart Of Kings, Empyrean Asunder, Consider This, Creature Of Exile and Spontanious Internal Combustion. 7:30 p.m. $10
Sunday, March 1 – Littledidweknow, Order Of Leviathan, Internal Spontanious Combustion, Granshaw, sons Of Medusa and Intercession. 7:30 p.m. $10.
Friday, March 6 – 10 Years w/ Otherwise, The Glorious Sons and Luminoth. 7 p.m. $15
Sunday, March 8 – Mod Sun, Dillon Cooper, Blackbear, KR, Karisma and DJ Gnash. 7 p.m. $15- $50.00
Tuesday, March 10 – Memphis May Fire, Crown The Empire, Dance Gavin Dance and Palisades. 6 p.m. $18
Friday, March 13 – Popkiss Chainsaw, Audible Point, Sounds Like A Lawsuit, Six 2 Six, Decanted and Left In Despair. 7:30 p.m. $10
Sunday, March 15 – Lazy Sunday, , The Formalities, Hoosier, Powell, Belladonna and Before The Streetlights. 7:30 p.m. $10
Saturday, March 21 – Silent From The Struggle, Gravemouth, Shines Negative, Reign Of Revelation, Rockaway Drive and Deviance. 7:30 P.m. $10
Tuesday, May 12 – Nightwish w/ Sabaton and Delain. 6 p.m. $35 - $170.00
Gilbert's
Saturday, March 14 – Redline.
Headliners
Thursday, March 26 – Circa Survive, Balance And Composure and Chon. 7 p.m. $20
Khalil's (Dixie Highway)
Sunday, February 22 – Jimmy V Foundation Benefit w/ Darkness Before Light (acoustic set).
The Levee
Friday, March 20 – Atomic Thrillride.
New Direction
Friday, March 6 – Redline.
New Vintage
Thursday, February 19 – The Tri Tones.
New Albany Production House
Friday, February 13v Overload, Kingslayer and All But Dead.
Saturday, March 14 – Code Orange, Harms Way, Eternal Sleep, Knocked Loose, Drowning, 2x4, Sons Of Southern Darkness. 6:30 p.m. $12
Phoenix Hill Tavern
Friday, February 6–Original Rock Showcase Series fea. Maloik, Seasons Decay, Driving Beast Daisy and Last Question.
Saturday, February 7 – Velcro Pygmies and Unleashed.
Thursday, February 19 – Atomic Thrillride, Untold Rellik, Pale Walker, and The Dark Order.
Saturday, February 21 – Prosthetic Records guitar virtuoso Felix Martin w/ Barishi and Pazuzu. 7:30 p.m.
Friday, and Saturday, February 27/28 – Redline.
Friday, March 6 – The Dammit, Left Hand Twist, Manic Methed, Clowncar.
Friday, March 13 – Lethean.
Spillway Bar and Grill (Bowling Green)
Friday, February 13 – Bury The Wicked, Granshaw and Beyonduplication. 8 p.m.
Wick's (Baxter)
Saturday, March 14 – Unleashed.
Wick's (Goose Creek)
Saturday, February 21 – The Dammit.