August 2014 Articles
Cover Story
Paul Moffett
Features
Eddy Metal
Columns
Sue O'Neil
Martin Z. Kasdan Jr.
Eddy Metal
Blogs
Got Shows?
Send Them To Us
Bookmark Louisville Music News.net with these handy
social bookmarking tools:
Available RSS Feeds
- Top Picks
- Today's Music
- Editor's Blog
- Articles
Add Louisville Music News' RSS Feed to Your Yahoo!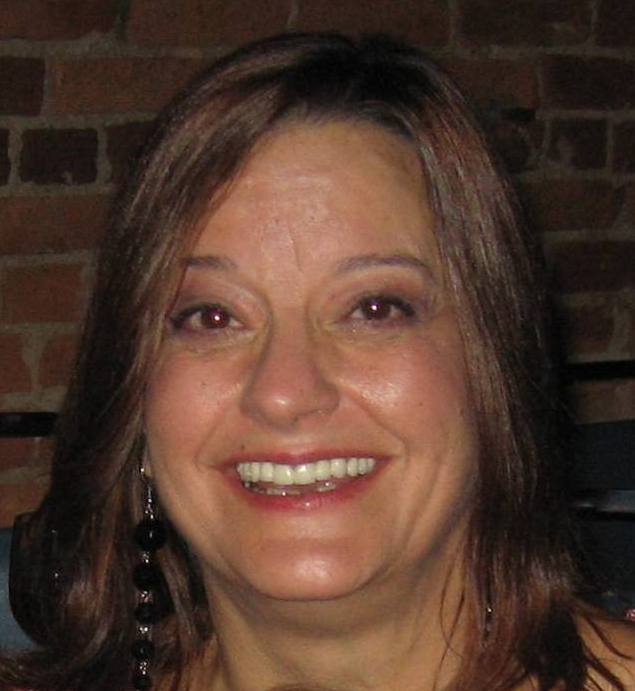 I've Got A Mind To Ramble
Amy Schweitzer Johnson - Many Years, Much Music
The Louisville Blues scene was hopping pretty good around 1987 and 1988, with several clubs that booked Blues bands regularly, including the Cherokee Blues Club, The Rudyard Kipling, Barry's, Fat Cats and The Blue Bird. There were a lot of good Blues bands and a lot of people hanging out, soaking in the musical magic that mixed so well with the smoke-filled rooms and alcohol.
There are only a couple of Blues bands from that era that have survived the years, and only one club, but many of the same musicians are still out there, playing the Blues and beyond.
During those glory days, a young girl named Amy Schweitzer found her way into some of those joints and was introduced to the Blues. She was following bands like The Saints, Da Mudcats, and The Blue Birds. She affably credits deceased Louisville Blues guitar icon Ricky Mason with that introduction by inviting her to sing with his Blues band, The Blue Birds.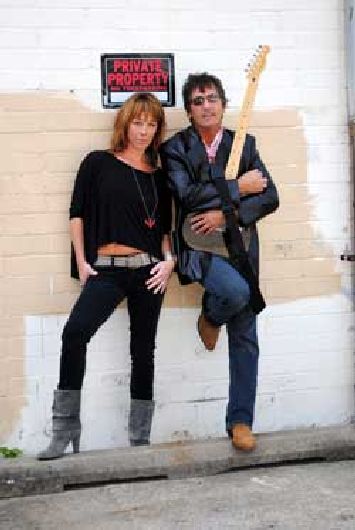 Little T&A
Ricky mentored her and introducing her to Etta James, Bonnie Raitt, Lou Ann Barton, Delbert McClinton, Eddie Hinton and much more. While working on her Blues chops, Amy found herself playing with local "A-listers" like Jimmy Brown and John Burgard when she was 19 years old.
It was during that time, I first heard Amy singing the Blues with The Blue Birds at the Rudyard Kipling one evening. She was obviously very young - much younger than the musicians who accompanied her - but her stage presence and vocal ability impressed me as much more mature than her years.
After knocking around Louisville with The Blue Birds, Amy moved to Nashville in 1989, by herself at the age of 21, waitressing for a while, then finally landing a job in the early 90's as a receptionist at a music publicity company. Once there, she worked her way up the ranks of the administrative team to assistant to the president.
It was there she got to see first hand how artists lived and died by the record labels wishes. She witnessed how an artist could be the hottest commodity one day and out the door the next if they didn't move enough units. She soon came to realize that there was much more to the music business than stepping up on stage and showing them you can sing. She realized how ridiculous it was that an artist's self worth was dependent upon the opinion of some executives and the number of units you moved.
Although a little jaded, Amy decided to give it a shot and formed a band and started writing some songs. In Nashville, she explained, no one wants to come see a cover band; they want to hear original music, so she wrote and eventually her writing stirred interest from some record labels, which landed her a development deal with Mercury records.
The development deal with Mercury included her leaving the bandmates behind to work with the company writers, where she was literally placed in a room with a musician that she didn't know and told to write a song. This was not the ideal creative inspiring situation that she was comfortable with but she adapted and wrote a few songs.
Amy learned quickly that the company wants to change everything about you and all the previous years of developing a style and writing songs was not necessarily the artist they wanted her to be. So, as the record company was grooming her and developing her, Seagram's bought them out and everyone was dropped, which left her to start over.
Even though ten years in Nashville gained her a wealth of experience in the music business and taught her a lot, Amy was ready to move on. She came back to Louisville in 1999, not planning to stay, but to regroup and decide whether to move on to Austin or Los Angeles and continue her career writing songs and performing them.
It was around this time that she met her now husband, Luke Johnson, and moved to Colorado with him for a couple of years to work at a ski resort. They returned to Louisville, married and started their family.
Around 2004, she joined a Top 40 band and worked with them for a few years before she was ready to make a change. Ideally she wanted to lead her own band so she could sing the songs she wanted to sing and write.
This realization came to Amy when she went to pay her respects to Ricky Mason at his memorial. Realizing that life is too short and she needed to be playing the music she loved, Amy set out to form her dream band, a band where she had control of the material it covered and one that afforded her the ability to write and perform original music.
She began going to jams and networking with local musicians, soon catching up with old friends that she knew before she left for Nashville, and connecting with players interested in working with her.
Amy began working with guitar player Tony Tkac as she gathered a few more musician friends to form the dream band. Finally pulling it together, she was pleased to see that she was working with some of the same musicians that she used to sneak into bars to hear play back in her formative years. Amy said that she was humbled and amazed that she was now the boss of these same great musicians and that she was going to get to work with them.
Subsequent to hours of rehearsal, endless networking and social media hype, Amy's new dream band, Little T&A, hit the clubs in 2010.
She said it was hard to find gigs at first, because none of the club owners knew anything about her but she continued to go to jams and push herself out there. She worked hard, taking care of the bookings, scheduling the rehearsals, picking the songs, and taking care of details for the band. After playing a few gigs here and there, Amy and her band quickly became a Louisville favorite and continue to thrill and entertain audiences around town.
When asked how she felt about being inducted into the Stevie Ray's Hall of Fame and being placed on the wall, she was humbled and graciously said that she felt very honored and good about it. Like anyone who is out there in front of people and who gets publicly recognized by peers and fans, she is aware that some people did not think she deserved such an honor. Much to the contrary, I am honored to be in her company on the wall and I venture to say so are the other musicians up there because they recognize that she is a true artist.
Amy has worked tirelessly through the years, promoting her bands, booking gigs, hiring musicians, writing songs and performing. She has been pursuing her dream in the music business since she was seventeen and has spent countless hours away from her family to entertain at summer music festivals, local clubs like Stevie Ray's, doing benefits, supporting her fellow musicians, and running jams. So yes, she deserves all of the recognition that she gets.
As a singer, songwriter and performance artist, Amy puts her own stamp on everything she does. Her voice is simultaneously powerful and sultry and she has a unique hybrid style that melds her musical influences from a diversity of American genres. In a live performance she is contagious as she fills up the stage moving with the music, toying with her band mates and encouraging the audience to dance along.
When asked about her writing, Amy stated that she has always written as long as she could remember, keeping journals, making up songs and stories. Her song writing skills are well honed, to put it lightly.
Amy performs a few original songs with her band, and she wrote the lyrics on " Bourbon For Breakfast," a song that Da Mudcats recorded for the Louisville Blues Compilation Volume II CD, produced by the Kentuckiana Blues Society this past year.
She presented me with a collection of unreleased works from her Nashville days and I was both surprised and delighted by the songs on the CD. Knowing only the original songs that I have heard at live shows and the Little T&A CD that has the Blues-infused "Break These Chains," nothing prepared me for the jazzy, breezy musical styling of her song "You and Me." And the cleverly written lyrics that weave a story of star-crossed lovers wanting to be stars together she writes, "You're my Romeo and I'm your Juliette and no matter what, we'll be together till the end. Let's be movie stars!" Strikes an excellent chord with me.
A personal favorite from the Nashville days recordings is "Honeysuckle Road," a melodic romp where she pleads for freedom, singing, "where the milk and honey flows, down on honeysuckle road, red and blue and pink and green and I can breath." This song is a potential hit in my opinion.
After listening to the twelve songs on Amy's Nashville days CD, I am certain that we have only scratched the surface of what she has to offer musically and will have to wait to see what comes next.
As for current projects, Amy is leaving the Thursday Night Throw Down crew after two-and-a-half years of hosting jams at Stevie Ray's Blues Bar to be around more for her family. She stated that she was so grateful to all of the people and the musicians that came out to listen and play music over the past two years and that she is going to miss them. Amy also said that she will be popping in at the jams from time to time to hang around.
You can catch Amy with Little T&A gigging around here and there. They are currently booked at the Kentucky State Fair in August and her trio of musicians, Tony Tkac, Mark Hoekstra and Mike Williams, can be seen from time to time at Mulligans.
Tre Bella is another project Amy has been working on with Patty Cain and myself, so we should be knocking around a bit in the near future.
Getting to know and work with Amy Schweitzer Johnson has been both a privilege and a pleasure. To be associated with the caliber of talent and experience that she brings to the table and to the Louisville music community is the gift of true artistry and musicality. Thanks Amy, you are a Louisville treasure.