January 2014 Articles
Cover Story
Paul Moffett
Features
Eddy Metal
Columns
Mike Suttles
Martin Z. Kasdan Jr.
Eddy Metal
Blogs
Got Shows?
Send Them To Us
Bookmark Louisville Music News.net with these handy
social bookmarking tools:
Available RSS Feeds
- Top Picks
- Today's Music
- Editor's Blog
- Articles
Add Louisville Music News' RSS Feed to Your Yahoo!

Issue: January 2014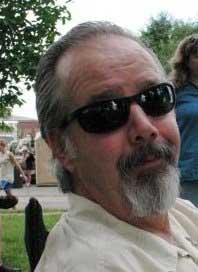 I've Got A Mind To Ramble
The KingBees Drop Hoodoo Moon
Blues music as we know it today has morphed into a grab bag of different sounds, most all of them rooted in the blues. At any given time, you can hear inflections of other genres regardless of what band you're hearing that's playing the blues.
The KingBees have worked tirelessly over the last few years to establish themselves as a go-to band when you want a blues night out. Their following has grown immensely and the appearances at local and regional blues festivals have helped them cement the reputation as a band to be reckoned with.
Hoodoo Moon,released last month, is an on-the-spot representation of The KingBees. The record consists of ten original tunes that paint the whole canvas of the blues. It all starts with "Blues Confusion," an up tempo song that opens with a guitar riff reminiscent of the Paul DeLay Band. Rick Cain's harp playing shines on this one and the backbeat laid down by Mike Taylor on bass and David Marasco on drums kicks in and never lets up throughout all of the songs. Every band deserves to record a record with a rhythm section like this. They adeptly bob and weave on all the songs, giving the rest of the band that foundation to build upon.
Next up is "Gimme Me Money Back," another danceable tune that features the slide guitar of Jim Haswell. Along with the piano fills and this beat, it's easy to hear shades of Little Feat. "Go Anywhere" continues the theme of tunes that invites the listener to move to the music. Beginning with a New Orleans-style piano harking back to the Professor, the harp, rhythm section and Haswell's guitar mesh perfectly as the song continues to remind you of a night in the French Quarter.
"Tears in the Rain" slows down the tempo and has become one of my favorites of the record (it wouldn't be out of place on an Allman Bros. album). Cain told me that he got the title from a line in the movie "Blade Runner." "Tears" features Rob Brown evoking the sound of a Hammond B3 on his keyboard. Toss into that some soul-like background vocals and you could close your eyes and think maybe this one was recorded in Muscle Shoals. It reminds me of the self-titled Boz Scaggs disk recorded there that features Duane Allman. The record follows up with "Circlin The Drain," another song that slows things down and features Haswell's guitar playing. If you weren't aware of it before now, this record will establish Haswell as one of the most underrated and underappreciated guitar players in the city. He easily adapts to whatever the song needs. He is heavily influenced by the blues he has heard over the years from the Allman Brothers.
"Ain't Got You" is again a showcase for Haswell. The song didn't reach out and grab me until he started laying down his part. Everytime I listen to Hoodoo Moon, I pick up some subtle lick that he plays that has me asking "Did he just play that?"
The title song features some outstanding vocals and harp playing by Cain. This is a straight-forward blues song that once again is anchored by the bass and drums.
"I Got My Ex Paid Off" is the song that made me sit up and take notice of The KingBees. I heard it at a festival a while back and realized that these guys had somehow never made it onto my radar screen. The title comes from the former guitarist in the band, the late John Carby, when he walked into a room after a contentious divorce was finalized and told the band that finally, "I got my ex paid off." This is a raucous number that celebrates what many feel after getting out of a nasty situation.
"I'm Thinkin'" begins with a very brief guitar intro that evokes some of Muddy Waters' best work but it lasts only about two seconds before giving way to a barrelhouse piano. It sounds similar to something from Jerry Lee, Marcia Ball, or maybe even Rod Piazza. While the song continues in the same vein that most of the record does, I can't help but feel this was a missed opportunity for The Kingbees to add a true blues song that might have stood out among these others.
The record ends on another song that would have fans up and dancing. "Younger Girls" is one of those songs that is best heard live. (Cain told me that the band is hoping to put out a live record sometime in the near future.) "Younger Girls" would be an excellent selection for that one. Cain wrote seven of the songs on Hoodoo Moon and collaborates with Keyboard player Rob Brown on another one. Brown is credited with writing "I Ain't Got You" while he and Cain share the credit for "I Got My Ex Paid Off" with Haswell, Donna Carby and the aforementioned John Carby. The writing on this record can easily stand on its own with other local blues bands.
Hoodoo Moon was recorded at La La Land Studios here in town, mixed, mastered and produced by Steve "Catfish" Wilson. Wilson has done a fine job working with The KingBees to put out a really good record. It showcases the many influences the bandmembers bring to the table. The playing can compare with the best Louisville has to offer. An outstanding rhythm section, good songwriting, subtle harp and keyboards that fill in where they should and that fine guitar work of Jim Haswell.
The KingBees have done themselves proud.