November 2013 Articles
Cover Story
Paul Moffett
Features
Eddy Metal
Columns
Nelson Grube
Martin Z. Kasdan Jr.
Eddy Metal
Blogs
Got Shows?
Send Them To Us
Bookmark Louisville Music News.net with these handy
social bookmarking tools:
Available RSS Feeds
- Top Picks
- Today's Music
- Editor's Blog
- Articles
Add Louisville Music News' RSS Feed to Your Yahoo!

Issue: November 2013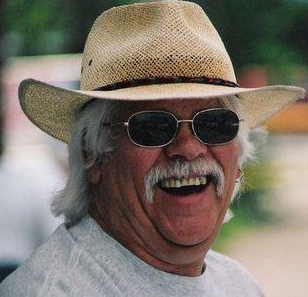 I've Got A Mind To Ramble
Byron Davies Talks
Byron Davies, bass guitarist for the Lamont Gillispie & 100 Proof Blues Band was presented the Sylvester Weaver Award at the Garvin Gate Blues Festival on October 12, 2013. This prestigious award is presented to a deserving individual who exemplifies the goals of the Kentuckiana Blues Society. I recently met with this latest award winner at Heine Brothers Coffee Shop on Shelbyville Road. They were most gracious about our taking up a large table and sitting there for hours, talking.
Byron began by talking about Lamont Gillispie and the fact that they both have cancer. Byron said, "I am feeling a lot better today and that's why I am going to the hospital to see Joey today. They've been getting him up to try to get him to cough and breathe deep breaths. I try to get him to sing with me 'So long, since you been gone.' I told him he looked like a little bird and he managed to give me a 'double bird' and that was the best bird I've seen in many a year."
The rest of this interview could be entitled: "A Proper Musical Apprenticeship."
Byron was born in Los Angeles and lived between Austin, L.A. and Monterrey. He played football in the sixth grade and throughout high school. At age five, he started playing drums. At eleven, he was the singer and drummer for a band. When they got a new drummer, Byron became the drummer and the singer for The Nightriders. They made hundreds of junior and high school fans, playing skating rinks and high school functions. His dad bought his first bass guitar, a Silvertone bass and amp – the Sears & Roebuck special. His favorite guitar later became an eight-string Haegstrom. Byron played it for five years – turned the treble off and finger picked it, doing two part harmonies and chorded that bass like it was a guitar neck.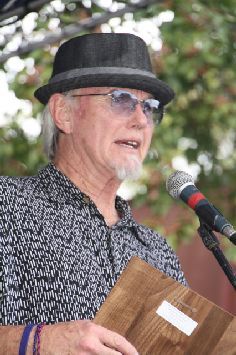 Byron Davis. Photo courtesy Kentuckian Blues Society
Byron's dad was a piano player. He would sit underneath that upright piano and watch his dad's feet work the pedals and figured out there was more than one way to sustain a note. His dad played everything from ragtime to Louie Armstrong to The Mills Brothers to classical Chopin (Polinaise #5 in b-flat minor) to Jerry Lee's "Whole Lot of Shaking Going On."
Byron thought his dad was a Green Beret in Special Forces but instead his dad was in Special Services. His dad was an emcee and comedian who introduced stars like Bob Hope to the troops and told jokes in between acts. When he got out of the service, he worked for Siegfield and Minsky's Follies, doing reunion shows. One afternoon, a showgirl showed Byron "where in the world they were" and that changed the reasons for everything, all things lined up, made sense – except how to get there.
Telling his parents that he was going to stay the night at a buddy's house, Byron and some friends took off for Texas some 300 miles away. They went all the way to Houston to meet up with a musician friend he had known before. They ended up seeing some of the top bands of that time: Fleetwood Mac (with Peter Green), Joe Cocker and the Grease band, and the Jethro Tull band with Glenn Clarke on bass. The next day, they strolled into a skating rink and stood arm's length from Frank Beard and ZZ Top as they played. He had his eyes opened to the three-piece blues-rock thing.
The Cellar Circuit meant playing in Fort Worth, Dallas and Houston. They played for a week in The Cellar Club in each city, moved on to the next city for the next week and the fourth week you had off. And then you started the Cellar circuit again. The guy who ran this operation had a huge house painted gray and all of the windows in the house were bricked up. Pat Kirkwood was their agent. The band was Fat Albert. Pat was a Herb Alpert freak, so the band carried a trumpet with them at all times. When Pat came into where they were playing, the band would stop the music and break into "The Lonely Bull." Pat would give each member of the band a $100 bill. But you couldn't do this with any success twice in one night.
Byron officially moved to Austin in 1967 or '68. Things were great – there cannot be a better place than this – it does not exist. The band house was on the second floor and there were two hookers that lived there. He never did learn their names (!) but one of them got nicknamed "Dirty Legs." That is what they called the band.
The Sevenites found Byron in a band called the Shades. They were quite well known and cut some now-lost-forever, 45s. They were exploring and experimenting with all different kinds of musical stuff. That band became Little Jimmy and the Skyscrapers. Playing at the Armadillo, they opened for the Police during their first trip to the States and opened for the Ramones and the Talking Heads first tours.
The Austin Opry House had rehearsal halls in the basement and Byron met Willie Nelson, Ray Benson of Asleep at the Wheel, Stevie Ray Vaughn, and the Thunderbirds. Stars like Chuck Berry and Kim Wilson could be seen walking those halls at 8 p.m. or 4 a.m. –made no difference. At this time, Austin's comradery was the strongest, with all kinds of music being equal. They played at Antone's on Fourth Street and at Club Foot where The Thunderbirds and Jimmie (Vaughn) called up his brother to play. That was Byron's first exposure to Stevie Ray.
Byron was completely amazed by what happened to Tommy Shannon and John Turner who played with Johnny Winter. Well, they got fired from Mr. Winter. There they were playing all over the world with one of THE best players around and then poof! Nothing! Tommy went from living in the heights to searching out his bottom. Byron was so sad for him. He thought Tommy would never make it back from there. But he did bounce back to play with Van Wilkes. Then, not surprisingly, he was playing with Double Trouble again. If he could bounce back from that low to that high again, anybody could.
Byron got a phone call from a fellow Texas drummer who had gone to L.A. and had a band. When the band needed a bass player, they thought of Byron. They sent him a one-way ticket on a Greyhound bus. His bass rig (a big 8 x 10 amp) had to go underneath the bus with everybody's luggage. It turned out that it would fit only on one end of the bus. Byron had to get off at every stop to get the luggage for those that got off and to load the luggage of the new people. And sometimes they changed buses, too. Austin to L.A. took three days, with hardly any sleep.
There were two guitar players with this group. Clive Taylor, who had played in Amen Corner and had toured with the Beatles and with Hendrix, was from the industrial part of Brighton, England. Count Ian Blair did all the lead work on "The Rocky Horror Picture Show" and was from the London's artsy part of England. And Byron was a "pig farmer looking for a lawn mower!" They rehearsed together for three months and there were probably 30 fights among them all. Clive and Count never could see eye-to-eye, because of their opposite upbringings. Byron tried to stay out of it but got sucked into the arguments one way or another. After three months, Byron got back to Austin on a plane – not a bus – as they had been drawing good pay just for rehearsing – $200 each weekly per diem – and the bass rig was sent back freight!
Byron was back in Texas for his next band. A bass player named Jesse Sublit had worked with a legendary Austin band The Skunks and also with The Violators an all-girl band, except for Jesse. When Jesse left the Violators to be with the Skunks full time, Byron was asked to join the Violators. He says "we were the best unsigned band in Texas" for two years running. Carla Olson was the band leader and later was with Bob Dylan, Tom Petty and others. Cathy Valentine played guitar and later had a long career with the Go-Go's.
Around this same time, Stiff Records out of England would have their artists down in Austin. They managed Elvis Costello, Nick Lowe, and Paul Carrick – that whole scene – people like Patti Smith and Chrissy Hines of the Pretenders – all would be down in Austin. Jake Riviera owned Stiff Records and would bring all his groups to Austin. They would play Raoul's Club and be the "in crowd" while they were there.
The Violators wanted to move back to L.A. but Byron had to say no them due to his becoming a father. Byron married "his baby's momma" (they would separate and divorce six years later). Her family lived in Michigan and Louisville and her sister was Harvey Sloan's secretary. His "baby's momma" moved to Louisville and Byron followed them in 1990.
Before Bryon left Texas, he had quit playing music to make sure that he could pay his child support. He was a music promoter in Dallas for Townsend Productions, a division of EMI. He booked everyone from Greg Allman to Ronnie Montrose for a three-state area. Montrose went on tour with Buster Brown and an unknown band out of Fort Worth, Pantera, a glam rock band who "played just for the fun of playing." Pantera was a very successful heavy metal band whose lead guitar player, later known as Dimebag, was murdered on stage.
After moving to Louisville, a drummer kept asking Bryon to come play with them and he kept turning them down. But after six months without playing music, he gave in and said yes. When he showed up, the guitar player was Allan Phelps of Buster Brown. Allan was now the lead player for Crazy Train and he needed a bass player "right now." Byron had a month to listen and learn all of the band's songs. He learned every Black Sabbath and Ozzie Osbourne song that he'd never heard before! And they were on the road to Texas, Florida, and New York. Byron learned that when he got out of his comfort zone – that that was a really good place to learn. And they were voted #1 Ozzie Osbourne Tribute Band in the country. Byron did that tour for a year-and-a-half and when his child support was all paid up, he quit the band and went to Louisville. From Austin to Louisville and he knew no one to play music with in the Louisville area.
Five weeks after leaving Allan and the tour, Byron was in the Dixie Music/Bass World Stores. He met his "to be wife" Debbie. They got together because she thought he was a bass fisherman, too, since he was toting a magazine with the name Bass on the front.
Byron met Larry Ferguson, who was putting up an ad for a bass player. Byron said that he could play blues for the rest of his life and that he'd had all the heavy metal that he could stomach. Fergie gave him the phone number of Mark Stein of Lamont Gillispie and 100 Proof Blues band. When Byron and Debbie sat down at Stevie Ray's Blues Bar, they saw on stage Tony Tkac on drums, Mark on guitar and Rick 0'Neil on bass. Byron was hooked from the first song. He thought 100 Proof was on the edge of hard blues when he thought he heard Lamont sing "Ain't no needle that'll go in any further, brother." He turned and told Debbie that these guys are pushing the envelope with songs like that. Then they figured out that the song was a Little Walter song named "Go No Further".
Byron was told that they wanted him in the band, but he got confused and stayed confused, because they never practiced. He wasn't sure that he was in the band, so he asked Mark about it. Mark assured him that he was in and what time to show up for the next time that they played. That was fifteen years ago, just about the time Lamont had his first surgery. He went to see him during his recovery and he told Lamont, "I want to be your bass player –no matter what – no matter how long it takes you to heal." And he says that Lamont said to him, "You are my bass player, Buck." (Lamont calls Byron "Lil Buck" – a family name – and Byron likes it because it is more personal.) Lamont introduces Byron as "from Dallas, Texas – Lil Buck Davies" – although Byron made his bones in Austin.
Byron is a family man. His son graduated from Atherton High School, also graduated University of Louisville, and is now a lieutenant in the US Navy. Byron is proud of his son's accomplishments and says that he is the "greatest thing that happened in my life." He moved where his son was – and got to see that happen. Byron met Debbie here in Louisville and they have been together for twenty years. She has seen all this stuff with him and has been with him since his son was five years old. Debbie is a native Louisvillian and would never move away – so Byron can never move away.
According to Byron, October 12th was, on many levels, one of the best days that he can remember. He played at the Garvin Gate Blues Festival and that is always special. This would be the last show Lamont and Byron would play together, until after Lamont's surgery. His "baby's momma," Sally Davies, and his son and his wife were there to see him play. He was selected as the 2013 Sylvester Weaver Award winner – which everyone kept a secret! The biggest thing about that whole day for Byron was that it was his dad's birthday; he passed away 17 years ago.
A memory shared by Byron: "I was in Fort Worth visiting my aunt and uncle that lived there and they took me to see a concert. Featured on the show were Little Jimmy Dickens and Porter Wagoner and at nine years old - seeing that show with all those "Shiny" stars - I knew that I wanted to be on stage in the band instead of in the audience."