January 2013 Articles
Cover Story
Kevin Gibson
Features
Eddy Metal
Columns
Berk Bryant
Mike Stout
Paul Moffett
Djinn Shockley
Sue O'Neil
Martin Z. Kasdan Jr.
Eddy Metal
Alexander Campbell
CD Reviews
Martin Z. Kasdan Jr.
Blogs
Got Shows?
Send Them To Us
Bookmark Louisville Music News.net with these handy
social bookmarking tools:
Available RSS Feeds
- Top Picks
- Today's Music
- Editor's Blog
- Articles
Add Louisville Music News' RSS Feed to Your Yahoo!

Issue: January 2013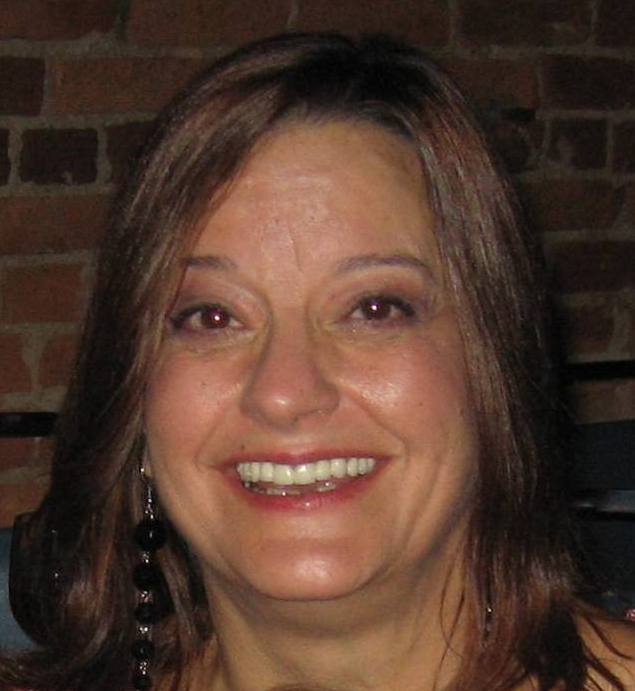 I've Got A Mind To Ramble
Buy Me Some Blues
It's five days before deadline and I am lamenting the fact that the article that I planned to write for the January issue is not going to pan out. I was telling my dear friend Jennifer Lauletta about my dilemma and she simply said, "write about that picture you have hanging on your wall."
I marvel at the proverbial nose in front of my face. "Buy Me Some Blues," by artist Jimi Claybrooks, is an offset lithograph that was given to my husband Rick and me as an anniversary gift from Kathleen O'Neil, my wonderful sister-in-law.
She bought it at Furnish, my favorite vintage furniture (and other cool stuff) shop on Preston near Audubon Park, knowing that I had been watching it for a few months, waiting to make an offer when I could afford to. Don't know what she gave for it but we now have this priceless treasure hanging on our family room wall and I gaze at it often for inspiration.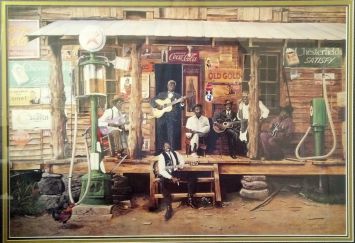 Buy Me Some Blues
"Buy Me Some Blues" is a blues tribute celebrating the Mississippi Delta Blues tradition, from 1900 to the present. It features the likenesses of seven Blues Legends: Sleepy John Estes, Lead Belly, Riley B.B. King, Muddy Waters, Robert Johnson, Howlin' Wolf and John Lee Hooker. The bluesmen are sitting on the front porch of what looks like some sort of juke joint/general store holding their guitars. When I look at it, I try to imagine what it was like to be on that dusty storefront. How did it feel? Better yet, how did it sound? Oh, how my mind wonders when I take my imaginary trip to the Delta.
John Adam Estes, "Sleepy John Estes," 1899-1977, is the gentleman sitting in a rocking chair at the far left on the porch. He was a guitarist, songwriter and a poet. According to Wikipedia, his epitaph reads "ain't goin' to worry Poor John's mind anymore" which was derived from his song, "Someday Baby Blues." His active career spanned from 1929-1977 and his songs have been covered by everyone from Led Zeppelin to Bob Dylan.
Huddie William Ledbetter, "Lead Belly," 1888-1949, is the man standing in the doorway of the storefront. He was known for his strong vocals and most commonly played the twelve-string guitar, but he could also play the piano, mandolin, harmonica, violin and accordion. He used a finger-picking style to play his guitar and had a catalog of folks songs, He wrote about the topics of his day in songs such as "The Titanic," and performed songs like "Midnight Special," which he probably learned in prison. His music has been covered by Creedence Clearwater Revival, Tom Petty, Frank Sinatra, Johnny Cash and many more.
Sitting on the steps of the porch is Riley "B.B." King, born in 1925 and still performing here and there. He has received countless honors and is ranked No. 6 on Rolling Stone Magazine's list of 100 greatest guitar players of all times. He is credited with introducing a sophisticated style of soloing based on fluid string bending and shimmering vibrato that influenced virtually every electric blues guitarist alive.
McKinley Morganfield, "Muddy Waters," 1913-1983, is sitting to the right just above B. B. King next to Lead Belly. Muddy is credited with electrifying the Blues and inventing the Chicago Blues sound. He, too. has influenced more contemporary Blues and Rock artists than anyone can count.
Robert Leroy Johnson, 1911-1938, is on the porch sitting next to Muddy Waters. Robert was an itinerant musician and today is considered a master, particularly, of the Delta Blues style. He had superb guitar skills and displayed a wide variety of styles. His vocal style incorporated the use of micro tonality, which explains why his singing conveys such powerful emotion. Eric Clapton described Johnson's music as "the most powerful cry that I think you can find in the human voice."
Chester Arthur Burnett, "Howlin Wolf," 1910-1976, was a singer, guitarist and harmonica player. In the picture, he is standing slightly behind the porch support next to Robert Johnson. Wolf was an imposing presence with one of the loudest and most memorable voices of all the "classic" 1950s Chicago Blues singers. A number of songs written or popularized by Burnett, such as "Smokestack Lightnin'", "Back Door Man", "Killing Floor" and "Spoonful," have become blues and blues rock standards.
Seated on the far right end of the porch is John Lee Hooker, 1917-2001. He was a highly influential Blues singer-songwriter and guitarist. Hooker developed his own unique style of what was originally an individual brand of country blues. His music was metrically free and could be said to embody his own particular genre of Blues, often incorporating the boogie-woogie piano style and a driving rhythm into his blues guitar playing and singing. His songs have been covered by Buddy Guy, Cream, and Van Morrison to name a few.
In the midst of doing my research and brushing up on these great Blues icons in this picture, impressed by their accomplishments, whom they influenced and who influenced them, I began to wonder how our own Louisville Blues players have been influenced by any one or more of these legendary men.
I enlisted the opinions and insights of three of Louisville's own iconic Blues guitar players, each possessing their own distinctive style, and highly regarded by their peers. They are Mark Stein, a former band member of mine and currently the leader of the Rib Tip Kings; Screamin' John Hawkins of The Predators fame and Rob Pickett, former band mate and member of Da Mudcats.
When asked if he was influenced by B. B. King, Mark Stein simply said, "Every electric guitar player that plays rock or blues, whether they know it or not, have been influenced by B. B. King." Elaborating, he said that B. B. was the first to use the hand tremolo properly, which was a method of bending the strings so the notes would waiver. In Mark's mind there would be no Eric Clapton without B. B's influence.
Mark also sites Muddy Waters as a huge influence since he is the man who invented electric blues and developed the Chicago Blues sound that many Blues guitar players try to emulate.
Mark credits Howlin' Wolf with being the greatest blues singer that ever lived. Mark said that he makes futile attempts to sound like Howlin' Wolf, and enjoys covering a lot of Wolf's tunes such as "Smokestack Lightning," Back Door Man," "Worried About You Baby" and "Little Red Rooster."
Screamin' John Hawkins stated that Muddy Waters, Robert Johnson and Howlin' Wolf were huge influences on him from the age of 17. He went on to say that when Ear X Tacy was in its first location, he would search for vinyl and managed to purchase the Chess Collection album, where he learned the classic licks that everybody was stealing. This was when he first realized where these classic sounds that the likes of Eric Clapton and other contemporary players were coming from.
Like most creative guitar types, Screamin' John would learn what he could, try to emulate and ultimately cut his own path that defines his current Blues style.
John started researching other people that he read about, but never heard, so he would dig deeper into the Blues catalogs, which is where he discovered treasures from Robert Johnson and Howlin' Wolf.
Rob Pickett, like Mark and Screamin' John, didn't cite Sleepy John Estes and Lead Belly as much of an influence, though they all stated that they appreciated the talent and the contribution that they made to the Blues.
Rob specifically mentioned how much he enjoyed how raw and emotional their music was, that it was authentic and free form. There were sometimes more than the standard 12 bar blues – there may be some extra bars thrown in here and there.
Rob's high school playlist included Muddy Waters and John Lee Hooker. He enjoyed listening to them before school, when he had some time to kill before getting out and about.
John Lee Hooker's boogie style was fun for Rob to learn, but the fact that Hooker sometimes had non-standard timing and made changes at random times was perplexing.
Rob sited B. B. King as probably the easiest guitar player to quote because it is more structured. He likes the way that B.B. would tag the root note up high at the beginning of a phrase or the end of a phrase. Like both Screamin' John and Mark, Rob takes what he can from these Masters and puts a bit of himself into his playing.
Even though this was not the article that I had planned to write, I will have to say that I have really enjoyed pulling it together. I learned so much about our Blues forefathers that I did not know. This was truly a labor of love. So, until next time, Peace, Love and the Blues, Hippies.