October 2012 Articles
Cover Story
Kevin Gibson
Features
Eddy Metal
Columns
Berk Bryant
Mike Stout
Paul Moffett
Djinn Shockley
Mike Suttles
Martin Z. Kasdan Jr.
Eddy Metal
Alexander Campbell
Blogs
Got Shows?
Send Them To Us
Bookmark Louisville Music News.net with these handy
social bookmarking tools:
Available RSS Feeds
- Top Picks
- Today's Music
- Editor's Blog
- Articles
Add Louisville Music News' RSS Feed to Your Yahoo!

Issue: October 2012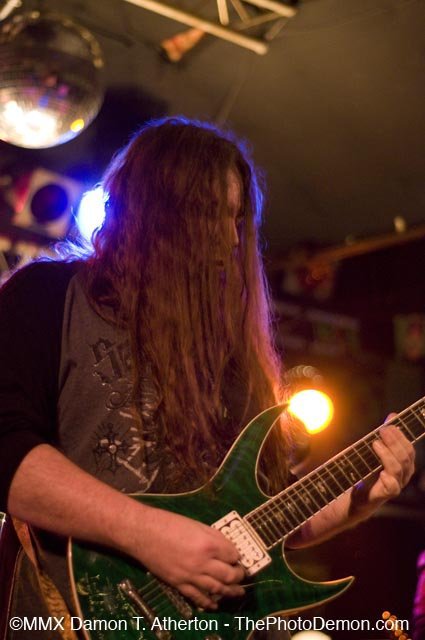 News From the Pit
Holy cow, my lady friend and I had an amazing time on our vacation to Gatlinburg, Myrtle Beach and Charleston, South Carolina. I really needed to get away and have some fun and adventure and, boy, did I ever get that and then some. An encounter with a wild bear whilst attempting to skinnydip, UFOs over Myrtle Beach (before you call me nuts, check out some footage on YouTube!), crazy flooding in Myrtle Beach, carriage rides in historic Charleston, a killer view from our 8th floor balcony overlooking the beach and a last minute concert at The House Of Blues in Myrtle Beach by none other than the beast of a guitar player, the guy who played the devil's guitar player in the movie Crossroads, Steve Vai himself (Check out review below). Sometimes a person just has to get away and unwind a bit. And believe me, I needed it!
Be sure to check Eddy's Pick For Upcoming Shows Not To Miss. We have a slew of rockin' concerts coming our way, a new venue to check out, and Headliners is now having metal shows again! We've got some killer new bands like The Whiskey Riders and 449, as well as older Louevil music veterans still kickin' butt and making noise! Yes, things are looking up indeed.
Now that I'm back, it's all business as I plan my Annual Rock For Kosair Benefit Concert at Phoenix Hill Tavern on Friday, November 16, to raise toys for the less-fortunate children of this region for Christmas, so every child has a toy! Three stages! Guitar Giveaways! 14+ bands! This is going to be fun. I'm now looking for experienced people to help me run the event. I'm glad and proud that so many Louisville bands have made this such a popular event over the last 7 years. People seem to think that us rockers do not care about anything but sex, drugs, and rock n' roll. While it is true that some of us prize these things rather high on the list, the popularity and results of these benefit concerts prove without a doubt that we rockers do have a heart. We have raised over thirty-four-thousand dollars worth of toys in the last seven years. In shopper's terms, it's about ninety-eight full-sized shopping-cart loads overflowing with toys. Kosair Charities has come to depend on our contributions every year and I do not want to let them down. A lot of poor children are going to need our help. So if any of you can take a minute or two of your time, please pass around the info/details of this excellent concert of Louisville's finest rock bands, and the wonderful cause we are supporting.
It's looking to be a pretty good lineup. For the first time, I have invited some of the region's top rock cover bands to perform. So far we have Grindstone, Jefferson TARC Bus, Scary Uncle, Signal The Revolution, Unleashed, Thunder Tribe, BoneJinn, Po Brothers, Jet Black Orchid, The Whiskey Riders, Krosjoint, Rock Brigade and more to be announced next month. I am extremely honored and proud of these excellent musicians that have stepped forward to donate a performance, and have even lost out on potential cover band money, all to help raise toys for the cause. You guys rule!
BTW … things have been worked out with both of my bands, and we look forward to playing out again very soon! My next show is Friday, November 16 at RFK VIII w/ Krosjoint. I'm very excited to be playing with such talented bands. Let's do this!
And to those bands who have dissed playing the event for selfish reasons, from the band who canceled last year because they didn't like the stage/timespot – to the top bands who didn't even answer my invite, because no money is in it for them? You are pathetic. There is much more to life than money and good time spots, and ego-trips. This is about humanity and doing some good, once a fargin' year.
So Merry fargin' Christmas to you, and I hope Santa takes a dump down your chimney.
The Metal Grapevine
Rock For Kosair VIII, on November 16 at PHT:
The date is set and it's a go people. Rock For Kosair VIII is Friday November 16 at Phoenix Hill Tavern, the whole club, every stage! Proceeds go to buy toys for the needy and poor families at Kosair Charities for Christmas, so those kids will not have to do without. Every year we take about 14 shopping carts full of toys to Kosair Charities to help them get the toys to those who really need them and at a time when a simple gift of a toy means so much to a child. I will have at least 15 bands playing this event, and they will be rockin' bands, I promise you that! We will have our infamous guitar giveaways as usual, so you folks have an extra reason to come to the show to help us help the kids. So far Uncle Sams James, Willis Music in Jefferson Mall, and B-Mart will be contributing guitars for the giveaways, so be sure to get there early to get a FREE DRAWING TICKET (while they last, as we are only giving out so many, so you got to be early). Soundman Challon Holt will be providing sound for free in the tap room so much props to him for his time. Laura Bostic Wood will be doing photography at the event, so thanks to her, too. She did great last year!
I'm going to need some help running this event, so if any of you have any ideas or just want to help out, then contact me at eddymetal1@aol.com
I am looking for street teams, so contract me ASAP.
To date, bands performing include Grindstone, Jefferson TARC Bus, Scary Uncle, Signal The Revolution, Unleashed, Thunder Tribe, BoneJinn, Po Brothers, Jet Black Orchid, The Whiskey Riders, Krosjoint, Rock Brigade and more.
Steve Vai in concert at the House Of Blues in Myrtle Beach, plus Bears and UFOs:
So my vacation was a very cool experience on many fronts. Some strange things happened, so read about it at the bottom of this writeup. Musically, it was Steve Vai's instrumentals with simply amazing guitar parts. One badass song was just one big whammy bar riff that went way too overboard, in a good way. The ricks and crazy styles Steve uses are out of this world and are rarely seen being played by us average guitarists. The whammy song blew me away. At one point, Steve came onstage in an alien light-suit costume of some kind, with built in laser lights on his head and hands and on the very odd looking alien guitar that he pulled out for this part of the show. The alien guitar was very long, black and had a futuristic looking shape to it. It didn't even have tuning keys on the headstock. Steve Vai plays Ibanez guitars and had a slew of them at his disposal, including his own signature line. Vai tried to sing a song or two, but thank God, he only did that for a few minutes, because Steve cannot sing very well. Steve knows this, though, and was a good sport when his drummer, who came out with a pimped-out drum pad walking mini-drumset/drumsuit complete with lights and power, started in on Steve's bad vocals. The two in turn proceeded to insult each other as only longtime friends/bandmembers do. You could tell they were having fun up there goofing off. Then Steve grabs a few chicks out of the crowd and gets them to come up onstage to make up a song. He tells one chick to make up a guitar riff with her mouth, which she does. Steve asks to bassist to play the sound she made. Then he gets the other girl to make up a vocal melody, to which she replies "give me your guitar and I'll show you a melody." Vai hands her the guitar and she starts noodling around on the guitar. She wasn't very good. Ha. So the whole band kicks in and they have a goof-off fest for a few minutes. I've never seen that before out of a national touring band.
Then it time for the harp (the multi-string variety, not harmonica) solo by Deborah Henson-Conant. She had a classical stand up large harp strapped on like a bass drum in a marching band. She started off with pretty classical music and then she hit the distortion pedals and what we got was electrified metal harp. Then she starts flipping these switches on the harp's tuning keys (well at least I think they were tuning keys), and then some weird sounds kind of like a whammy bar emerged from the amplifiers. Very cool and different.
When you see a Steve Vai concert, be prepared for different.
Vai's rhythm guitarist Dave Weiner has to be a great guitarist himself to even be able to keep up with Vai.
The Steve Vai Band played a long set to a very happy crowd of about 2000 South Carolina rockers. There were some cool people at that show, and I am glad I was able to go.
I was hoping that Steve would do some Jack Butler riffs, or the ending solo in Crossroads, but he didn't. I was able to get a few decent pics from about 20 feet away, I hope you enjoy the pictures. And if you ever get a chance to get down to The House Of Blues in Myrtle Beach, be sure to drop in, because it is one cool venue. I wish we had something like this up here in Louisville. Thanks again to the awesome staff at House Of Blues for their kindness to us here at LMN on our vacation down south.
Our Myrtle Beach UFO experience – one night in back of our hotel on the beach we saw three strange lights floating over the pier towards the beach. This thing was traveling much too slow to be a plane or ultralight (this was hovering and silent), so I was quite puzzled by it. I brought this to the attention of others out back, so we all watched this thing move towards the beach/hotels with much curiosity. Then I hear a voice behind me from people on their balcony who said "so you see it too, we've been seeing these things the last few nights." The craft was about 30 to 40 feet long with one red light in the center and two white on the ends. I tried to make out a shape, but the lights were very bright. It had gotten very close to the beach and hotels along the beach so I was thinking "if this is a man-made object then this would be very illegal to be so close to the buildings and beach." Then the thing turns while it's hovering and at a stop, and heads inland and out of sight behind hotels. The way it turned was crazy. My girl said she made out a triangle shape to the craft. Here is the kicker though!! When I got home to Ky, I researched UFOs in Myrtle beach and find out that it is apparently a UFO hot spot. And that the very next day after we had left to come home to Louisville, there was a mass sighting right on Myrtle Beach, and it was even caught on camera! So before you start thinking I'm nutty as a fruitcake, check out Myrtle Beach UFO August 26, 2012 on YouTube. Or any UFO reports in Myrtle beach. There are many!
Eddy's Bear Encounter in Gatlinburg – One night we decide to take a midnight romantic swim with no bloomers on. So we are at the closed pool about to sneak in, when we hear a "CRASH!"
I'm like "WTF was that?" So I say "maybe it's someone slamming their car door." Then we hear it again, louder, along with a ripping sound. So about that time my curiosity has spiked, I decided to venture up the trail to the parking lot to see what was making that racket so late at night.
It was a fargin bear, trying to get in the dumpster to get food. There was a wooden plywood dumpster guard surrounding it, so the bear was on its hind legs pulling at a piece of framed plywood trying to rip it off! On its hind legs, standing up, the bear was every bit of 8 feet tall or taller. Then this little old woman who lived next door to the hotel came out and asked us if we were okay, and if we wanted her to shoo it away. Ha. She said that the bear is always nosing around her house and the hotel, once "even spying on her from around a corner while she worked in the garden." The bear got frustrated that he couldn't get in the dumpster, so he walked on down the street to find some grub.
Introducing Diamond Pub and Billiards, The Review:
There is a new club in Louisville people, and it is nice. The Diamond Pub and Billiards is where Jillian's used to be, at 630 Barret Ave.
You all remember Jillian's right? I've seen some wicked shows there years ago, and I really liked that club, and was upset when it closed several years back. Since then it has sat unused and going to waste. Well, thank goodness, all of that is over now that it has been bought by the Diamond Pub and Billiard company (they also have a location in St Matthews that is packed frequently). I went to the club yesterday to talk to the guy in charge of booking, Jared Matthews, and he was a good dude who has some cool plans for the club. The place is the top floor of the building, it has been remodeled and looks fantastic. They have probably 20 new top notch pool tables in there. And let's face it, when have you seen pool tables in clubs where bands play anymore these days? Hardly ever.
The stage wasn't as big as I thought it would have been, but it was adequate and looked good. The PA System in there was sweet. New gear. Jared said they have some new cutting edge technology in the PA System and that fans can be assured that they mean business when it comes to having good sound at the club. One of the things I did not like at Jillian's was the sound in the concert hall downstairs. The concrete walls killed it. The Diamond Pub won't have that problem since they are upstairs with proper sound acoustics surrounding the stage. The PA System is a whopping 16,000 watts I was told.
They have nice modern stylish furniture in there, a sweet bar, a VIP room for the bands, and a capacity of almost 800 people in their concert hall. It's very classy. For those who love sports, they have several nice TV screens, one of them is about 15 feet long. It's massive. They serve food as well.
A club like this brings back fond memories of a time when you could go see a show, maybe play some pool before or after, get some good grub, and wander around the place to different areas to schmooze with friends alike new and old. I like the place, and I urge all of you to get your butts out to The Diamond Pub and Billards. If they don't get the business they should, then we, as a town who desperately needs places like this, might lose out on another Louisville concert hall/place to see shows and have a good time, not to mention a place to see awesome local talent, both original and cover bands.
Who could ask for more? So get your lazy show deprived rumps to Diamonds and say hello to Jared and Co.
The Whiskey Riders "Live" Review:
Wow, these guys were impressive live. I caught their set at PHT not long ago. Their CD was good, but in my opinion, this newer Louevil band really comes alive when onstage. It's bluesy, rockin', soulful, stoner, groove rock that gets the blood pumping and feet stomping. This music makes you wanna chug a fifth of Kentucky bourbon in an hour. Vocalist/ guitarist Johnny Goebel is a talented bloke who plays lead, rhythms and sings at the same time. Impressive lead guitar playing, and his vocals are good as well. Actual singing. Screaming gets on my nerves now, it seems. Too many bands do only that nowadays. It's not easy to play and sing at the same time all the time. Some stuff part of the time maybe, but all the time, never stopping is pretty difficult, but Goebel pulls it off in style. The band is tight as a unit and delivers a performance well. Many people at the show had not seen them before and were instantly new fans of the band. My old bassist from the band Inhuman, Erich Otto, who loves stoner groove rock was like "man, this band is good, Eddy!" I agree.
The other guys in the band kick butt as well and have a certain personage that was born to the stage. Bassist Chris Armstrong is the son of an old buddy of mine that I used to work with, and he learned music from his poppa well, because dude was wailing away on that bass like it was his little bitch. Reminded me of some Geezer Butler type stuff, which made me happy. I liked their set so much I added them to my Rock For Kosair VIII show at PHT on November 16. These guys have got good attitudes and were happy to be able to make some new fans, which they certainly did. The music is emotional and groovin' and it's Kentucky roots are evident as they lay down a soulful tune one after another. I like the song "Sunshine" a lot. This is a new band from Louevil that is a must-see if you like stoner groove rock/metal with a Southern edge. Check these guys out on Facebook.
Lamb Of God and Hatebreed Coming!
These two bands are wicked. I'm glad LOG vocalist Randy Blythe got out of that bogus murder rap in Europe. I bet he was really sweating bullets during that whole mess. I've seen LOG and Hatebreed several times and they both kick some serious butt. Especially the guitars of LOG! They almost melted off my face a few years back at Rockstar Mayhem Festival in Cincinnati. Very impressive machine gun-like consistency in their guitar riffing. I love Hatebreed just as much. They have morphed into one monster of a metal band over the last twelve years! Awesome stuff. Brutal guitar tones in both bands, too. They will both be here on Monday, November 12 at Expo 5 with In Flames and Sylosis. Tickets are $35 and it starts at 7 p.m.
Headliners having Metal again? About friggin' time:
Well, well, what have we here? Metal at Headliners again? All I have to say is it's about fargin' time. That whole deal of them banning metal really steamed my dumplings there for a while. Headliners was a classic venue in Louisville for seeing some damn good metal and rock bands. And let me tell you, it angered a lot of people the way they dissed us rocker folk. I have seen hundreds of concerts there and many were very memorable indeed. Thank God they came to their senses and decided it was time to give us rockers our venue back. We really needed it. Many people were becoming extremely tired of and frustrated at the venues that operate now here in town, me being one of them. Hopefully, we can start getting some more original rock shows there again. I haven't played there in three years, and I would love to grace that stage once again. I forgive you Headliners and will be happy to help get you business. But please show us rockers the respect that we deserve. We have supported you through thick and thin and will do so again.
Lexington's Society's Plague Returns!
Those rockin' heavy metal youngsters from Lexington, Society's Plague, will be back in Louevil for one night only on Friday, November 2 at Phoenix Hill Tavern, so if you love ass-kicking regional original metal, come get your fix.
Talk about getting some stuff done! These metalheads have toured, opened for numerous nationals and have an amazing 10,812 likes on their Facebook page, all at a young age, too. That is pretty impressive, in my opinion, but I knew these guys n' gals were good from the get go when I met them several years back. Great attitudes, pro gear, no drama or egos, and their music absolutely rocks. It's been a few since they have played Louevil, so I figured it was time to bring these Central Kentucky metal masters back to da Ville. Check them out on Facebook, peeps!
80's Metal Powerhouse Accept coming to PHT October 9:
Accept, German power metal rockers from the Eighties, will be making a rare stop in Louisville on Tuesday, October 9 at Phoenix Hill Tavern. I think it might be their first show in Louisville since 1984 at Cardinal Stadium with Ozzy and Motley Crue, if I'm correct.
That is a long fargin' time. I was there at that show and it was beyond wicked.
Make no mistake, this band is amazing live. They are right up there with The Scorpions, Helloween, and other German metal bands. Sadly, vocalist Udo Dirkschneider is no longer with the band, but I hear good things about new vocalist Mark Tornillo, formerly of TT Quick. The band just released their second album in fourteen years, entitled Stalingrad. If you love Eighties metal guitar, then you do not want to miss these guys. They are unreal musicians. I will have to check this one out, and do a review. Maybe an interview!
It will be weird seeing Accept without the fat little midget Udo running around the stage grunting and rasping away to his heart's content. I'm sure Accept would not get some chump on vocals, so you should try to make this show at all costs. It's going to rock, I already know.
Local rockers Assisting Sorrow and Rockaway Drive will be opening for those guys, so be sure to get there early because these Louevil bands slam!
ZZ Top in Louevil on October 9th:
Eighties boogie / blues / pop / rock Texas badasses ZZ Top are coming to one of my favorite venues in Louisville, Louisville Palace, on Tuesday, October 9. I cannot recall if I have seen them before. Somewhere in that deep clouded thing called my past I seem to recall having seen them in concert a long, long time ago, probably when I was between 17 and 20 years old. I am not sure this is correct (I've seen thousands of concerts in my life), so I say it might be time to refresh my memory and see these Texas rockers once again (if I ever saw them in the first place). There's no doubt that the Palace is one cool venue, so it should be a heck of a time for lovers of the bearded madmen. And it's a blues guitar players dream! I predict one cool show, so get your tickets now!
After all, how often does ZZ Top come to our fair city? Hardly ever.
Two Pump Chump, Louevil Rock Veterans:
I would like to stop and give credit where it is due. I recently saw Two Pump Chump in concert for the first time in a while and I have to hand it to those guys. They got it going on. Good musicians, good showmen, and they market themselves pretty well. Vocalist Scott Cook was most impressive as he sang his way through a very energetic performance. Scott has become quite a frontman and sings very well these days. His vocals were right on the money and he is a good entertainer who can work a crowd. A nice guy as well. Heck, all those guys are cool. Not like the majority of ego-laden Louevil bands. These guys have been around at least 10 years I'm thinking, and I would like to say "Keep it up fellas, our scene needs rockers like you to keep things real, rockin', and down to earth."
Underwater Seeking Bassist:
Louisville progressive Alternative hard rock band Underwater is searching for a bassist. This is a cool opportunity for those bass players wishing to be in a talented band without having to build it up from scratch. These guys are raring to go and sound incredible, so if I were you, I would seriously think about trying out for this rockin' band. Excellent musicians and some great original riffs. I saw them several months ago and was really digging it. If I played bass professionally, I would try out myself. Interested bassist contact Tim Flaherty at Timmyhac@Facebook.com
Krosjoint and Year Of The Gun get Lead Guitarist Back:
I learned one thing about Louisville from losing our lead guitarist two months back: finding professional musicians who have their stuff together in this city is HARD! I tried hard but it seemed everyone had issues, was too busy, didn't have professional gear, or were just plain full of crap (there were several of those). Luckily, things got worked out with our long-time lead guitarist Matt Roeder, so it's looking like Both bands will be back jamming before you know it.
Krosjoint already has a show on November 16 at Rock For Kosair VIII at PHT. We are stoked!
And Year Of The Gun has a new bassist (he also plays with Krosjoint), Marcus Goldsmith, formerly of Caldera, 13th Level and Ky Deathwish. Welcome to YOTG, bro.
Upcoming Shows
Expo 5
Monday, November 12 – Lamb Of God, In Flames, Hatebreed and Sylosis. 7 p.m. $35
Headliners
Wednesday, October 3 – Static X w/ Emmure and Ill Nino. 7 p.m.$20
Wednesday, October 24 – Machinehead. 7 p.m. $20
Saturday, November 3 – Deicide w/ Abominant, On Coke With Thor, Radiation Sickness and Ophiuchus.
7 p.m.$20
Friday, November 23 – Epica w/ Alestorm, Insomnium, System Divide and Destiny Potato. 7 p.m.$20-$60
Thursday, November 29 – Every Time I Die w/ The Chariot, LetLive and Kills and Thrills. 7 p.m. $15
Monday, December 3 – Cannibal Corpse w/ Misery Index and Hour Of Penance. 7 p.m.$20
Phoenix Hill Tavern
Thursday, October 4 – Powerman5000 w/ Signal The Revolution, Popkiss Chainsaw, 449 and The Hiding. 7 p.m.$12
Friday, October 5 – Fall Of Dusk, Johari Window, 18-XRay, Stripmind502 and Redhed.
Tuesday, October 9 – Accept w/ Two Pump Chump, Assisting Sorrow, Stagecoach Inferno and Rockaway Drive. 7:30 p.m. $25
Friday, October 12 – Mobile Deathcamp w/ Sever This Illusion and Succumb To Demise. 8 p.m.$10
Saturday, October 13 Some Kind Of Saint and others TBA. 8 p.m.
Friday, November 2 – Maltese Cross, Branded By Hate, Societies Plague, 449, Rockaway Drive. 9 p.m..
Friday, November 16 – Rock For Kosair VIII Benefit for Kosair Charities for Christmas. 15 bands, guitar giveaways, live music on 3 stages! 7 p.m. – 3 A.M $10
Saturday, November 17 – Six Feet Under w/ Cattle Decapitation and Wretched. 7 p.m.$15
Union Station
Friday, October 19 – Wild Sallee (Oklahoma)
Vernon Club
Monday, October 8 – Hopsin w/ Dizzy Wright, Swizzz, Jarren Benton and DJ Hoppa. 7:30p.m.$25-$30
Sunday, October 14 – All Shall Perish w/ Deez Nuts, Sea Of Treachery, When Hearts Fail, Left In Despare and The Art In Desire. 7 p.m. $12
Wednesday, October 17 – Blackguard w/ Esoteric Burial, Theories Of The Apocalypse, Devastation Device and Witches Oath. 7 p.m.$10
Tuesday, October 30 – Into it, Over it w/ Owen, Hostage Calm and Black God. 7 p.m. $10
Thursday, November 8 – Brokencyde 7 p.m. $15
Saturday, November 10 – Anchors For Eyes w/ EmbrySquare, Endeavor, Our Final Hour and The Fight Night. 7 p.m.$8
Sunday, November 18 – Kung Fu Vampire w/ Mars, Liquid Assassin, Mr Grey, Sik Mob, Freelance Assassins and Bukshot. 8 p.m. $10