August 2012 Articles
Cover Story
Kevin Gibson
Features
Eddy Metal
Columns
Berk Bryant
Mike Stout
Paul Moffett
Djinn Shockley
Sue O'Neil
Martin Z. Kasdan Jr.
Eddy Metal
Alexander Campbell
CD Reviews
Kevin Gibson
Blogs
Got Shows?
Send Them To Us
Bookmark Louisville Music News.net with these handy
social bookmarking tools:
Available RSS Feeds
- Top Picks
- Today's Music
- Editor's Blog
- Articles
Add Louisville Music News' RSS Feed to Your Yahoo!

Issue: August 2012
si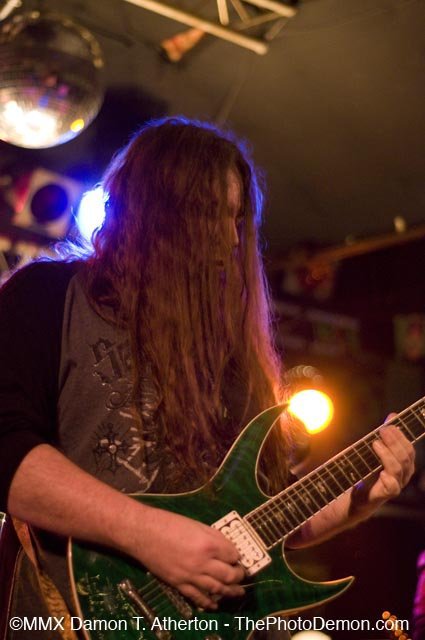 News From the Pit
Deflect Negativity!!! Life Is Too Short. Be Happy.
Things have been crazy around here lately. Brutal record-breaking heat, hideous storms, hideous evil women, a tree in my front yard falling over into the street and some seriously negative drama within the band ranks have put a damper upon my musical endeavors (for the moment anyways. we are looking for an awesome lead guitarist, see below). I now understand why Frank Karaglanis has started his Anti-Negative concept No Neg Nix. Before I get into that stuff, I'd like to talk about a few killer shows coming up that you should attend. I just found out that Eighties rockers Cinderella and Sebastian Bach will be playing a free show at the Kentucky State fair on Thursday, August 16. I saw Cinderella last year in Lexington and they were great! And you know Sebastian Bach (formerly of Skid Row) is a helluva singer and puts on a great show. Thank god the Fair board actually got some decent bands on there. I remember when Jackyl played the fair last year, it was absolutely terrible. I hope they got a different sound company this year, because the sound system last year was atrocious. Sounded like a bunch of distortion and the drums were way too loud.
I just got back from seeing Iron Maiden in Indianapolis, and it's a review you do not want to miss reading (see below). ZZ Top and Lynyrd Skynyrd will be at Riverbend on September 14, And Motley Crue /Kiss will be at The Yum! Center on August 1.
Oh yeah, I'll soon be looking for bands, and also for some help with my Rock For Kosair VIII show in November. A lot of the top bands don't exist anymore or are too good for the show, so I'm open to suggestions on any ideas you peeps have for me. Read my info below on what I'm needing to help the kids for Christmas.
I'm soooo mad that I didn't get a chance to play Metalfest and Rocktopia, but I would rather cancel the events than have to deal with a crazy woman (not my woman, I don't play dat chit. . . ) who destroys everything she touches. I recently had to get rid of people in my life that constantly carried drama and trouble with them everywhere they go. It was to the point where it was bringing me down. So that is why I am now a fan of Frank Karaglanis' Deflect Negativity concept. Life is too damn short to take a bunch of BS from very negative people.
I want to be happy. So from now on, it's only the positive for me!
I was going to attend Metalfest and get some pics and do some band performance reviews for you folks, but I got a bad summer cold and was very sick that whole week. I feel like a total butthead for not attending my friend Allen Ashbaugh's big Metalfest show, but trust me, I would have been hacking on everyone and getting other people sick for sure. It was gross. Heck, I'm still sick as I write this column. Who gets a cold in the middle of summer? Me, apparently. Ridiculous.
That's okay though. This month I am going to take a vacation with a female friend. We are going to Gatlinburg and Myrtle Beach, South Carolina, maybe even hit a Southern plantation or two. I've never been to Myrtle Beach before, so that should be an adventure! Sand all up in your butt crack.
All I know is with all this negative drama from idiots that were in my life, it will be good to get away for a few days. I can't wait.
When I return, it will be business as usual. Finding/working in a replacement lead guitarist (we have several interested awesome guitarists who want to try out), booking Rock For Kosair and getting back on track so I can play some more shows. I love playing music and no one will stop me from writing and performing. I may not be the most popular, prettiest or best musician, but I love what I do, and I will continue to do this stuff as long as it makes me happy. To me, creating and playing my own music is an amazing experience. It's what life is all about. It's almost as good as awesome sex.
The Metal Grapevine
Iron Maiden in Indy Review – Eddy's Trip To Hell And Back
I wasn't planning on going to this event because I've been kinda broke and I forgot to contact my LiveNation contacts in sufficient time. But I got lucky and got two tickets from my good buddies Dwight and Charlie at Clear Channel Radio. BTW, they should get extra props for all the FREE tickets these guys get to you fans out there. I've been listening to WQMF lately and I'm seriously shocked by the sheer number of tickets they giveaway to you listeners. To some cool shows! So show some love the next time you see those guys! They take care of you people. Thanks a lot guys! We had an amazing time and the show was a top 5 all time rocker.
The Trip.
Things did not go smoothly, though. First we got a late start and getting out of Louisville proved to be a nightmare, thanks to the Kentucky Highway Department, who closed ALL the lanes but one going into Indiana on I-65. If I had to commute through that crap everyday, I would be furious at those people. We tried rerouting going through New Albany, but that was equally bad, so we lost an hour due to those idiots trying to fix a road that doesn't even need fixing, all to save their precious allocations that they would lose should they not find something to work on. On this day, bad lightning storms were all about the region, even way up north into Indiana. I don't know what I was thinking. A normal person would have given up and went home, opting to stay dry, but not me. Seeing Iron Maiden outdoors at a bad-ass venue like Klipsch Music Center (formerly Deer Creek) was an opportunity I did not want to miss. I have been to that venue many times and saw many great bands and partied with rock stars there (I met and hung out with Slayer, Disturbed, Primus, System Of A Down, Fear Factory, Motorhead, ), so I knew exactly what an excellent place it was to see metal icons like Maiden in action. If I had to get a little soggy, so be it.
The drive up was insane, dodging storms, pounding rain and bad drivers. A few times we had to pull over because we could not see the road 10 feet in front of us. My girl was trippin'.
At one point I almost gave up and said "We are going home!" But since we were 2/3 the way there we hung tough. THEN I got a phone call from my roommate, who told me that the storms had cut off power to our house and that a big tree in our front yard had toppled over into the street, blocking it. I was like, WTF. What the hell is next? Finally we hit Indy, and miraculously the storms passed and it cleared up. We got to the Klipsch Music Center about halfway through Alice Cooper's set. We got out of the car and I could hear Alice Coopers anthem "Eighteen" from about half a mile away. He sounded great.
My date is an Alice Cooper fan and she said he sounded in rare form this night, and I agreed. We got in the venue and it was pretty crowded. I've never seen so many Iron Maiden shirts in my life. Alice was ripping it up, rocking to "No More Mr Nice Guy, " "Feed My Frankenstein, " "Poison, " a few songs I didn't recognize, and he wrapped up the night with a school bell ringing ever so loudly for "Schools Out. " For an added bonus, parts of Pink Floyd's "Another Brick In The Wall" were thrown in for good measure. A good mixture for sure. Alice Cooper looked old, but he sounded great and had a bunch of energy and some very cool stage antics going on, including a giant Frankenstein that was about fifteen feet tall, running around the stage during the song. Cooper also had a guillotine, which he stuck his head in and had it cut off. I still am wondering how he pulled that off. It looked pretty darn convincing. One second his head was in it, and it was his real head, and then the next thing you know he was beheaded and his head fell in a basket.
It looked very real. Very good effects I must say. Cooper also rammed a mic stand through the torso of a stagehand or one of the road crew. Cooper's band was a lineup of young, good-looking musicians, including a sexy female guitarist with long blonde hair who jams pretty darn good. Alice sure knows how to pick them. I've seen Alice Cooper a few times before, including seeing him with Guns N' Roses on their Appetite For Destruction tour, but this time everything seemed to click a little bit better, and the sound of the guitars was quite a bit crunchier/heavier than what I remember, which is a good thing. The showmanship, antics, stage props, goofy costumes all made for one interesting show indeed. I've never really been an Alice Cooper fan, but after this concert I think I might finally be changing my tune.
"Scream For Me Indianapolis!!!"
Next up was the metal icons themselves. Iron Maiden! Anticipation was high, and every person in the venue had a huge smile on their face. The place was crowded. Then it started. Maiden kicked in with a song I did not know, which is strange. On this tour the band is bringing back the 1988 album Seventh Son Of A Seventh Son. I like how bands are doing that nowadays, playing old albums almost in entirety. It's a great album, but I would have been happier if it was my favorite, Piece Of Mind. The sound system at Klipsch is awesome, but the first few songs were a tad rough. Bruce Dickinson's voice was a bit distorted at first, but the problem was solved in a timely fashion. The Klipsch Music Centers big screens were wicked. Excellent picture quality. Even though we were on the lawn, we could see everything because of the huge movie screens. The band played "Moonchild, " "Can I Play With Madness" which is one of their more popular songs off that album, "The Prisoner, " and some stuff off of some of the other albums, like the title track off the album "2 Minutes To Midnight" which really got the crowd going. Then they launched into "The Trooper" off of Piece Of Mind (and maybe their most popular song ever!). Bruce had on a British uniform and was waving a huge British Union Jack flag for the guitar intros. Talk about cool. You gotta love Bruce and all his theatrics. If you didn't like this, then there is something seriously wrong with you. This song is a lung buster and I was wondering how Bruce would hold up to the intense and super-fast vocalizations the song demanded. Well, I am very happy to report that Bruce did very well. He pretty much nailed it. Bruce is a vocal genius and knows exactly when to breathe, when to sing, and how to conserve his range, all of it. He had a little help from the very loud fans in attendance. This was a very loud bunch of people singing. They were very much into the show and knew the songs like the backs of their hands. The double leads in the solo were sweet. This song blew doors!!!
Then bassist extraordinaire Steve Harris (who looked very young, amazingly. The guy looked just like he did back in the Eighties. Very odd. Has he perhaps sold his soul or found the fountain of youth?) started off with a cool bass solo that led directly into "The Number Of The Beast" while a huge fifteen-foot-tall horned devil emerged from behind some amps. Fire erupted into the air and it was the Eighties all over again, when metal was the king. Guitarist Dave Murray was in fine form this night as he soared through solo after solo. Dave did look old, but who cares? Dave is a guitar master, and his tone was superb. Then they played "Phantom Of The Opera" off their first album. I'm not too familiar with this album. The song was long and melodic and very deep. By this time, the sound coming forth from the speakers was like a fine wine. It's been a long time since I've heard sound this good, and the musicianship was outstanding. Then they rocked out another tune off of The Number Of The Beast album "Run To The Hills, " which featured a twenty-foot-tall Eddie dressed in full cavalry attire complete with huge sword, running around the stage while sparks shot up 25 feet during the guitar solo. Bruce's vocals were great on this one.
"Wasted Years" was next as Adrian Smith launched into the very memorable opening guitar riff. I love this song. Bruce sounded a bit winded on this one, but it still sounded great. But really, who wouldn't be winded singing Iron Maiden vocals? Bruce did get annoyed with some dude texting in the front row, and proceeded to call him out in front of the whole venue. It was funny. Bruce was like "Oh, for F**k's sake, you've been texting the last three F**king songs! That is very rude, you wanker. "
The crowd roared their approval and the show continued on.Then they returned toThe Seventh Sonalbum to play the epic title track "Seventh Son Of A Seventh Son" and "The Clairvoyant. " Bruce must have gotten his second wind, because he rocked "Seventh Son. " The slow breakdown in "Seventh Son" was entrancing. At times I thought I wasn't at a concert, but an epic opera or huge Las Vegas Classical Experience. The moods that Maiden runs you through are many and are almost past the term metal. It's an experience you have to see to understand. These guys are masters at what they do, and there is a reason why they are one of metal's top bands, ever.
"Fear Of The Dark" was next and the crowd sang along loudly, and for a moment the crowd almost equaled the Europeans at singing along. It was maybe the loudest I've ever heard a crowd sing along. "Iron Maiden" off of their sebut album was next, and if there is one song I don't like by Maiden, it would be this one.
The lights went down and the show was over. Well, not really.
Iron Maiden had three more for an encore. Winston Churchill's infamous speech came on while wartime footage was shown on the screen, and "Aces High" (a song I love) came on like a freight train. The chorus in this tune is badass. classic Maiden! Next up was "Can I Play With Madness. " The crowd went nuts. The last song was "Running Free, " off their debut album. During the breakdown Bruce introduced the band. By this time we were exhausted and left to try to get to our car and get on the road before the stampede. I had to get up for work at 5:25 a. m. , so I was pretty much screwed regardless. I was sooo tired the next day, but it was worth it times ten.
The Maiden guys are up there in age and yet they delivered a show that should go in the record books. The energy, talent, skills, theatrics, different moods, vocals, lyrics, songwriting of this exquisite band are beyond compare. Very few metal bands can match these British icons. It was much better than when I saw them in 2003 in Columbus, Ohio. My girl loved the show as well, and wouldn't shut up about it.
The band has apparently kicked father time in the ballsack and bullied on past him giving him a wedgie as they passed, for they looked damn good for as old as they are. I still can't get over how bassist Steve Harris looks so young. Weird. The guitars of Adrian Smith and Dave Murray were good enough to raise hairs on a man's head.
They hit every note, it seemed, and their guitar sounds were super sweet. And yes, the new guy on the extra guitar, Janick Gers, has finally won me over. At first, years ago when he first joined, I was like "Who the f**k is this clown?" But now I see that Janick is perfect for Iron Maiden and brings forth a new level of showmanship that makes Maiden even better! That guy is a madman. I've never seen anyone move like he does when he plays guitar. It's like he does 10 grams of cocaine before each song. Dude was everywhere. Throwing his guitar, swinging it around like Hendrix, windmilling, dancing, jumping off amps while playing, kicking – dude was off the hook. And he does all this while not missing a note somehow. Crazy!
Well done, Mr Gers. You have won me over. Drummer Nicko McBrain is a beast, and the guy supposedly does not use double bass pedals at all. Out of the whole show, the band only messed up one time from what I can tell, and it was for only a millisecond. The band was tight.
Last but not least, Bruce Dickinson must work out every day for hours on end to keep up with such a grueling setlist/performance almost every night. He is in great physical shape and was all over the stage, singing his butt off, scurrying on and off, changing outfits and costumes. Unlike a lot of singers live, Bruce tries his very best to recreate the notes he sings on the albums. I love that about him. He might not sing the notes quite as long, mind you, but he does hit them. All in all, it was a hellacious show, and a top five concert. And you can only imagine how many shows I've seen over the years being on the radio and working for the newspaper and all. Thousands. The Klipsch Music Center was great as always and is a top place to see a concert. I wish we had a place just half as cool here in Louisville. I left the place happy, stinky, tired, semi-buzzed, and my undies had rubbed my butternuts in a bad way, therefore I was red as a fire engine down there in the groin region. I walked bow-legged out to the car and went home.
Signal The Revolution Demo Review
I'm sitting here checking out the brand new Signal The Revolution music. For those of you who don't know, STR are from the Brandenburg area. Some country boys.
I can already tell after a few seconds that this is some good stuff. Killer sound quality. "Dichotomy" is the first tune. This is radio-friendly but still has some grinding metal riffs going on. The vocals of Josh Carter are very good. He has a an emotional voice that works very well with the music. Melodic and well done. I like actual singing, and this is nothing but that.
I'm digging the chorus. Pretty catchy. The muted guitar picking is cool as well. Fans of Sevendust and similar to that should like this new STR. New guitarist Chris Marple said he thinks this is his best recorded music ever, and I think I agree with him. This music has something for everyone. Hardcore metalheads might not like this though. The guitar tones are rockin'. Tasty effects too. "The I In Hate" starts out with a melodic riff that sounds great. Then it kicks in like a punch to the face. I'm really liking this recording studio. Sounds fantastic. This song is slower but it sounds excellent.
I'm liking the vocals better in this song. The laid-back mood is perfect. I bet a lot of chicks will like this song.
Great songwriting, great musicianship. This is the best local music recording I've heard in a good while.
The solo in this song is killing. And during the solo the music gets pretty heavy. A good mixture of laid-back, heaviness and emotion. This new STR is rockin'. Getting Chris Marple in the band was a very wise move.
The drums and bass guitar sound great too, no complaints here. These guys should be touring or something!
"Still Crawling" has a lovely clean guitar part that sounds nice. I'm a fan of clean effects driven guitar parts, so this works well for me. I have one complaint. The vocals do tend to sound the same on the songs though. I can hear a scream or two, or maybe some backup screams during this song when it heavies up towards the middle, but no scream comes. Bummer. That would have made it a bit ballsier in my opinion. It's still a good song, though. I like the vocal effects on this tune. There is maybe an emo-ish type sound on this one. A bit trendy.
"Circumstance" is slow and moving. I like the drum sounds. The vocals in this one are badass. Nice lyrics and vocal melody. Kind of reminds me of Terry Harper's old band, Of Sound Mind, a band I liked very much.
I think I probably like the vocals on this song the best. On this song, Josh Carter sounds a lot like "E" Frazier of Of Sound Mind and Outspoken.
This isn't usually my type of music, but I hear some very talented players in this original music. Every member has excelled in their art form. It's easy to see these guys are professionals. This music is too good to be sitting around the Ohio Valley doing nothing, that is for certain. Rockers the world over would probably love to get a taste of some STR. Like I said, this is the best original music I've heard coming out of Louevil for a good little while. It's got rockin' sweet sounding guitars, metal riffs, girly emotional parts, shredding solo's, pretty clean guitar parts, lovely vocal melodies, sullen emo-ish parts, slammin' drums, pounding bass and a very nice sound quality recording that I am going to have to look into. Year Of The gun will be recording a song or two soon. I'm going to have to give those people a call. And heck, I might have to try to get these guys on the Rock For Kosair Benefit in November.
Check out Signal The Revolution's four-song demo. It's good.
Rocktopia, a Benefit Concert for the Tornado Victims of Eastern Kentucky
On August 3 and 4 at Gamble's Campground on Hwy 172 between Paintsville and West Liberty Kentucky, over 28 regional unsigned bands will be playing to raise money for the victims of the March 2 tornadoes that swept through Kentucky and caused the town of West Liberty to be pretty much wiped out. All proceeds (minus show expenses) will go to the townsfolk tornado victim fund.
There will also be seven walkers from the hit AMC show "The Walking Dead" and Verlin "Snake Man" Short and family from The Animal Planet show "Snake Man of Appalachia, " JD Feigelson, who wrote and created the TV movie "Dark Night Of The Scarecrow, " plus a lot more actors and even some wrestlers.
There will be three stages and this place is supposed to be very cool.
Promoter Mike Wilkerson has put together an intense lineup of rockin' bands from all over the region and beyond. He has bands from Kentucky, West Virginia, North Carolina and Ohio playing, and even one band from Arizona.
Hopefully all you rockers from across the state will converge to saver a town, and hear some good down home rock and metal!
Friday's lineup: Edge Of Celestia (West Liberty, Kentucky), Doug Shrout (Sharpsburg, Kentucky), What Drives The Weak (Morehead, Kentucky), Rise From Ruins (Mount Sterling, Kentucky), King Tank, Echofuzz (Phoenix, Arizona), Beautiful Tragedy (Ashland, Kentucky), Downtrend (Pikeville, Kentucky), Kentucky Blue Collar Band (West Liberty, Kentucky), Another Lost Year (Charlotte, NC).
Saturday's Lineup: 5:42 band (Huntington, West Virgina), Luie Brangers (Elizabethtown, Kentucky), In Ashes (Campton, Kentucky), Shangri La, (Paintsville, Kentucky), Into The Grey/Tree Meets sky (Radcliff, Kentucky), Beneath The Black (Prestonsburg, Kentucky), Madmans Addiction (Campton, Kentucky), Darkcast (Olive Hill, Kentucky), One Pretty Minute (Columbus, Ohio), The Number Six (Charleston, West Virgina), Tears Of The Dying (Steubenville, Ohio), Dreamcult (Grayson, Ohio), Lucid Grey (Lexington, Kentucky), Zeroking (Huntington, West Virgina).
Up Close w/ No Neg Nix Founder Frank Karaglanis
Eddy: Frank, tell us about No Neg Nix and how/why you came up with this Deflect Negativity concept?
Frank:When I was fourteen, I had a football injury and I had severed all the nerves in my left arm. I was told I would never have the use of my arm again and to just accept it. I refused to accept that and I deflected it. I began to visualize myself doing all of the normal activities just as I had full use of my arms. In nine months I had recovered fully and it was considered a miracle. I had virtually healed myself through positive belief. This is the way I choose to live my life and I want to give this gift to all people.
My philosophy is to live each day positively and be grateful that I am alive and healthy. Every time I turn around, there is always something negative being broadcasted, and people focus their attention it. What you focus on materializes in your world. I had a vision of a universal character that would remind people to stay positive and live their live within the realm of positivity and gratefulness. You yourself choose the way you feel, and some people choose to acknowledge the negativity in the world and this is why they feel the way they do. What I am doing with noNEGNIX is creating a universal symbol that stands for deflecting all negativity and always being positive. When anyone sees this symbol, they are reminded to live in the positive no matter what is going on in life. Simply put, noNEGNIX is my gift to the world to live positively and enjoy your life the way you want to.
"Deflect Negativity!"
Eddy: You kind of took a break from the scene for a minute. You went through some drama with a few bands you thought were your friends. You experienced some very negative people in our scene. Tell us your view on our scene thesedays.
Frank: Well, I have stepped back with my involvement in the music scene immensely, Eddy, I made a conscious choice to myself to be positive in my life and to do that and live drama-free life. It is certainly a hard task, almost impossible when working dealing with bands and artists. I have witnessed first-hand some extremely negative stuff in my time: backstabbing, lies, wishing bad upon others. The only bands that I remain and still do project work for have a positive, mature attitude and live in gratitude. They make a conscious choice to stand for a purpose in life. The music talent pool in the state of Kentucky and southern Indiana is immense and deeply rooted, most of the talent will not support others, which is a shame; too much jealously and negativity and wanting themselves only to be the big fish in the very small pond. Which actually works against them, since the universal law is an echo of what you say comes to you. I love music I especially love and support Louisville artists and wish all the bands and artist nothing but success, I believe that we all need to pull together. This is Louisville – support your town to the fullest if you want support back to you. When there is an event for a charity and bands are needed, help out. Example: Toys for Tots. Reflect back and give back; no band is too big. Step up to the plate and volunteer even if you had a song or two on the radio. If you think you are too big, then you're crazy. Grow up, look in the mirror, be human and stand for something. Life is too short, smile and laugh and welcome everyone.
When you give, you receive, once one figures that out, they will leap forward to bigger things. Until then, you reap what you sow. You can't escape the law of cause and effect. It's like gravity, Eddy, what's goes up will surely come down.
The one thing I will speak out about is the lack of local radio support for all the talent in this town That is the most negative thing in Louisville. Question for you: Why do they even have program directors anymore at these big radio stations? They REFUSE to play any local unsigned artist or even signed artists, unless it's done at a corporate level. Zero support from your radio stations, the BIG ones, the ones that our community supports. People should quit advertising with all stations that refuse to play and will not support proven bands or give them a chance. Heck, the stations around here would not even play Cage the Elephant when they broke loose in England. Now they are played all over the world. Louisville had to wait till the world embraced the music. I have words that will help all of us!
Eddy: What advice would you give to someone who has very negative people that are close to you in your life? and cause nothing but drama and trouble?
Frank:I would say that the person is attracting the trouble to themselves and they need to look within to find out what negative feelings they have. They need to change their thoughts – FLIP THE POSITIVE SWITCH! You can't change other people, you can only change yourself. Picture in your mind a drama-free relationship with those people over and over again.
Eddy: What can you say about your No Neg Nix Night event on Friday, September 7 at Phoenix Hill?
Frank:As you know I got together with Clark Cranfill and Greg Huff from Lucid Grey to write a positive song – "Deflect Negativity" and I wanted to send some positivity to the music industry. I feel there is too much negativity in the music industry today. I am excited that Lucid Grey will be headlining the show
Eddy: Where can people go to find No Neg Nix gear and info on the subject?
Frank:You can go to our website at http://www. noneg101. com and check out our swag athttp://www. noneg101. com/shop. We have positive t-shirts and other gear for purchase, and we will have more products in the fall, such as dog tags and wrist bands. An animated web comic/cartoon series and video game is currently under development. We also have a Facebook page at http://www. facebook. com/noneg101 and our character noNEGNIX has a page that you can friend. Follow him for frequent positive messages and inspiration.
Frank and I will be having a "No Neg Nix -Deflect Negativity Night at Phoenix Hill Tavern on September 7.
We will have several rockin' positive bands playing, like Lucid Grey, 2 Pump Chump, Boozer, The whiskey Riders and Drucella. It's free before 9 p.m., so come on up and hang out with the positive crowd.
New Band Alert, The Whiskey Riders
The Whiskey Riders is a new band that sounds great. They remind me of Down or something of that nature. Heavy and bluesy, they reek of alcohol-induced mayhem. You can tell these guys like to have a good time just by their name. They label themselves as "Dirty Southern Blues Stoner Rock" and I agree wholeheartedly. I'm digging this stuff! A friend told me they kick some serious butt, so I contacted them to do a review, and I'm glad I did. "Here Comes The Whiskey Riders" is the first track and I can tell right away that these guys know their trade. It has a blues-laden, heavy riff with soulful singing by vocalist/guitarist Johnny Goebel. He has has a rough, bluesy, gravelly voice perfect for this type of redneck stoner rock. It reminds me of Down a lot. I'm liking the guitar work of Johnny Goebel and Jon Cox. Sweet solos. "Sunshine" starts out with some clean Southern guitar before kicking in to a nice soulful southern melody. Redneck Kentucky rock in the house! Actually, these guys are from KentuckyandIndiana. This song kinda reminds me of "Blue and Black" a little bit. Very nice Southern guitar solo! I like the guitar tones in this band.
These guys can play! If you like Clutch, Down, and Southern metal-influenced bands, then The Whiskey Riders should be right up your alley. I like them enough to book them on my September show at Phoenix Hill.
It's so cool to find new bands that you like. These guys seem to have character and soul. I like that. They are different. I like their recorded stuff, but I'm thinking that they probably really shine live in action.
I will do a live review after I see them play live. So until then, be on the lookout for a very good stoner rock blues band called The Whiskey Riders. They rock.
Lynyrd Skynyrd and ZZ Top to Rock Riverbend
On September 14 at the infamous Riverbend Music Center, two awesome classic rock bands will be performing some of their greatest hits! I would like to see this show, but I'm afraid I will be a bit too busy working in a new lead guitarist for both my bands. You people will not want to miss seeing the South's #1 band, Lynyrd Skynyrd, not to mention those Texicali boogie woogie madmen ZZ Top.
That would be one interesting show. And to see Billy Gibbons of ZZ Top let loose on some mean geetar? Oh, yeah. And by September 14, things should be much cooler for an outdoor concert like this. No roasting to death.
So don't mess around, get those tickets asap, because this might sell out.
Rock For Kosair VIII, Help Wanted
It's almost time for me to start looking for bands for this year's Annual Rock For Kosair Benefit for Kosair Charities. I have to be honest. folks. Because of a lot of the city's bands actions the last year or so, I have had my doubts about whether I should continue on with this event. Cancellations for stupid reasons, fighting over time spots, threatening to pull out if they don't get a good time spot, some of the more popular bands not wanting to participate because there is no money in it for them, it has just gotten plain ridiculous.
This has nothing to do with making money for your band! This annual rock showcase was created to help poor families with children to have a better Christmas. Some of these families have no money to spend on their kids for Christmas, so we bands were to lend a helping hand. But just like No Neg Nix founder Frank Karaglanis said in his interview above, "There is too much negativity and selfishness in our beloved music scene anymore." And I agree with Frank, from firsthand experience. Who would know this better than me?
Despite all this nonsense behavior from the bands, I have decided to continue on and do my best for the good people and children at Kosair Charities, who count on us every year now. We may not break any records this year, but every cartload of toys we take to Kosair will make several families happy, and reduce holiday stress tenfold.
I can use all the help I can get, so I am looking for Street Teams, PR people, Graphic Designers and last but not least, some bands that will take this seriously and do the best they can to help the cause.
Special thanks go out to those bands who just want to help and will play anytime/anywhere I put them.
Contact me at Eddymetal1@aol. com or 502-367-2080.
R. I. P Terry " Beartooth" Watkins of Rockaway Drive
Our scene lost a very good person recently. Terry "Beartooth" Watkins, former bassist of the metal band Rockaway Drive, passed away of an aneurysm at the young age of 58. Terry will be greatly missed by his sons Mick and Nigel. He was a huge part of their lives and musical endeavors/influences. Guitarist Mick Watkins comments "For my 24th birthday, he gave me his 1974 Gibson Les Paul and he taught me all of my first chords and licks." I met and talked to Terry once or twice and he was a very nice guy. The Watkins family is devastated by this tragedy and my deepest sympathies go out to their entire family in their time of grief.
Terry didn't give a damn that he was so much older than the rest of the band members, he got up there and did his thing, and was a rockin' bassist. Terry never let his age stop him and he should be an example that age is of no matter. Our scene lost a damn good person in Beartooth. If only we had more people like him in our scene, it would better all around. R. I. P., bro.
Year Of The Gun and Krosjoint on Regional Hunt for Lead Guitarist
It is with great sadness and regret that I announce that both of the bands I play in have had to part ways with our lead guitarist. I lost a friend of 24 years and a helluva guitarist, all because of one of the worst human beings I've ever met in 42 years of life. Not the guitarist, but his junkie psycho of a woman, who purposely tried to break the band up. This sick woman actually pitted and played band members against each other, starting trouble with a smile on her face. Because of her, we had to cancel three big shows that I was looking forward to playing. She made us look bad. Unreliable, which we are not. Anyone that knows me know I never cancel shows.
I shall not let someone like that get the best of me and my musical projects, so BOTH bands are on a regional hunt for a screaming lead guitarist with pro gear, who is reliable and wants to play with some talented professionals with NO DRAMA, who have been rocking this city for years. We have a secure, free heated/AC practice place and a decent PA.
Serious enquiries only! Look up Krosjoint and Year Of The Gun on Reverbnation for a sample of our music. We are also on Youtube as well. Contact us at Eddymetal1@aol. com or 502-367-2080.
P. S. Krosjoint bassist Marcus Goldsmith will be filling in on bass for Year Of The Gun. Welcome to the crew, bro!
Journey, Pat Benatar and Loverboy to play Kentucky State Fair
Friday, August 17 at the Kentucky State Fair.
These Eighties rockers are pretty cool. This should be an interesting show, indeed, and yes, I like some Loverboy songs. The guy is a heck of a singer, even to this day. I'd like to see if Pat can still sing the high notes like she used to, and everyone wants to see the Filipino singer for Journey, Arnel Pineda.
The guy is wicked. I've seen some videos. I wouldn't mind seeing some Neal Schon guitar solos.
The guy is fantastic, and plays with such emotion. Emotion in ones playing is the ultimate goal.
Upcoming Shows
Expo 5
Friday, August 10 – Attack Attack, We Came As Romans, Woe Is Me, Abandon All Ships, Texas In July, In Fear And Faith, Secrets, Glass Cloud, At The Skylines. 4 p.m. $22
Saturday, August 18 – Summer Slaughter Tour w/ Between The Buried And Me, Job For A Cowboy, Periphery, The Faceless, Veil Of Maya, Goatwhore, Exhumed, Within The Ruins and Cerebral Bore. $20 5 p.m.
Sunday, September 30 – August Burns Red w/ The Color Morale and Overseer. 7 p.m.$18
Headliners
Saturday, September 22 – Morbid Angel, Dark Funeral, Grave, Vadimvom. $25 7 p.m.
Saturday, November 3 – Deicide w/ Abominant, On Coke With Thor, Radiation Sickness and Ophiuchus. 7 p.m.$20
Irish Exit
Saturday, August 4 – Branded By Hate, Succumb To Demise, Devil And The Darkness and Open Grave. $5
10 p.m.
Saturday, August 18 – Devil And The Darkness, Old Vikings, Beverly Hellfire and Kentucky Goddamn. $5 10 p.m.
Lisa's Oak Street Lounge
Saturday, August 18 – Ohlm, Underwater and Satellite Twin. $5 10 p.m.
Phoenix Hill Tavern
Friday, August 3 – The Original Rock Showcase series: Deliver Us From Evil, Krosjoint, Unleashed, Chasing The End, and more TBA. Free before 9pm! Only $5 after 9.
Saturday, August 4 – NonPoint w/ Call Me No One featuring Clint and Morgan of Sevendust and Eye Empire. 8pm. $15 adv/$18 day, of show.
Friday, September 7– "Flip The Switch- a No Neg Nix Event" w/ Lucid Grey, 2 Pump Chump, The Whiskey Riders, Drucella and Boozer. Free before 9pm, and only $5 after 9.
Thursday, October 4– Powerman5000 w/ Signal The Revolution, Popkiss Chainsaw, The Hiding and 449. 7:30 p.m.$12
Rubbies
JDRF Fundraiser w/ Ohlm and Rifle. Free. 9 p.m.
Vernon Club
Saturday, August 4 – Voices Of Adria, They Came Bearing Arms, Jovian and Endeavour. 7 p.m.$8
Wednesday, August 8 – Russian Circles w/ Chelsea Wolfe and Marriages. 7 P. M $13
Thursday, September 6 – Fozzy. $10 8 p.m.
Sunday, September 23 – Melvins Lite $15 7 P. M
Wednesday, October 17 – Blackguard w/ Esoteric Burial, Theories Of The Apocalypse, Devastation Device and Witches Oath. 7 p.m.$10