January 2012 Articles
Cover Story
Kevin Gibson
Columns
Berk Bryant
Mike Stout
Paul Moffett
Gary Sampson
Martin Z. Kasdan Jr.
Eddy Metal
Alexander Campbell
CD Reviews
Martin Z. Kasdan Jr.
Kevin Gibson
Interviews
Eddy Metal
Eddy Metal
Blogs
Got Shows?
Send Them To Us
Bookmark Louisville Music News.net with these handy
social bookmarking tools:
Available RSS Feeds
- Top Picks
- Today's Music
- Editor's Blog
- Articles
Add Louisville Music News' RSS Feed to Your Yahoo!

Issue: January 2012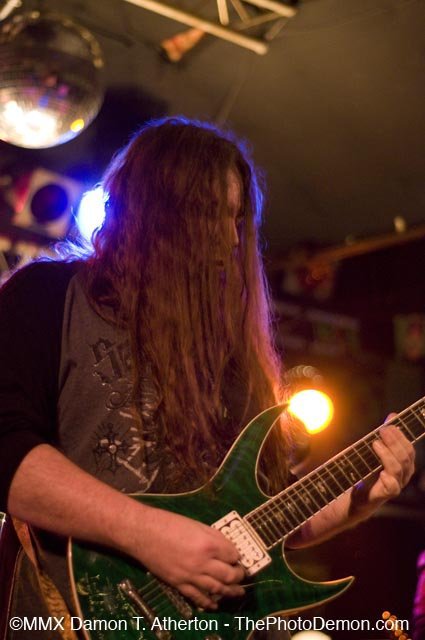 News From the Pit
Huge news people! Old-school metal legends Anthrax and Testament are coming to Louisville! A lot of people are stoked about this show and I am one of them. We've got some tickets for you to win, so be sure to check out the giveaway info below! These tickets shall be gold when the show draws near!
Van Halen Returns to Louisville after 28 years: Live at the Yum Center Saturday February 18. It has been 28 years since Van Halen last played in Louisville. I know because I was there! I was 14 and it was Van Halen and Autograph at Freedom Hall. The 1984 tour was a classic that gave us such hit's as "Panama", "Hot For teacher", "Jump"& "I'll wait." It was an unbelieveable show for such a young person to see, and really left a mark on me, and a memory I'll take with me to the grave. So yeah, I am an authority on Van Halen and their music! David Lee Roth is back and the guys are making some serious noise with this concert happening right here in our own backyard. It is a sweet feeling, and I for one welcome it. There are questions abound. Can Roth still sing? Does Eddie still have his mojo? Can Wolfie sing Michael Anthony's backups? These questions and more will be answered on Saturday February 18th at Yum Center. Get your tickets now before all the good ones are gone! I'm quite stoked about covering this event in the newspaper & getting some pictures for you folk's. I hope I don't get dissed like I did for Rush. After I helped with getting the band some excellent advance exposure for months leading up to the show. I wasn't too happy with my treatment with that event. I have to be honest people, Kool & The Gang opening the show is a huge mismatch that people aren't too thrilled about at all. But it's Van Halen who people want to see, so the people who are complaining can just show up late! Ha. Hopefully I will have an In-Depth Review & pics for you next month in the March Issue. Get those tickets before you are too late people. These guys do not come around very often. Don't miss out!>
I've been so busy I haven't had time to breathe! Two bands, the newspaper, promoting, Xmas shopping, getting and delivering the Rock For Kosair toys (which went well, thanks to Toys R Us and U-haul,who donated a truck, for being very cool), a big-boobed wench, and my full-time warehouse job which has had me working overtime every day, is kicking my fargin butt. I think I need a vacation. I'm super stressed.
And my birthday was on Christmas!! Arrrrggghhhhh. I am now 42.
Since the world is supposed to end on December 2012, I guess I better take one last vacation from hell.
I'll probably take my lady friend out West this coming summer, which sounds like just what the doctor ordered. If only I could come up with the cash. Like everyone else, I've been broke as a joke and having to pay to get tags and taxes on both vehicles because it's my birthday is the double whammy o' lameness! Oh, well, that's life I guess.
I got some some crazy stuff for you this month!
I got a few interviews that are supposed to happen soon, so be sure to check us out online periodically all during this month, because I hopefully might be ADDING interviews with Anthrax, Testament and Five Finger Death Punch that I will be throwing online as soon as I get them. Stay tuned. I plan on doing a lot more interviews in the future now that I finally have a decent digital recorder.
A lot of you must be wondering why I didn't do a "Best Of 2011" award this year? It's been a poor year scene-wise and many top bands disbanded or quit so, I thought it was best to bypass it this year.
It's awful tough being a critic in this town. Don't get me wrong, I love what I do, but man, oh, man, does it take some balls to do what I do. Being a critic has a tendency to put you in the firing line of those who don't like what you write about them. Several times I have been the target of angry people who can't handle the truth, or who don't like being exposed. Remember the time I got into it with the guy on WLRS? It was Fargin' War! But in the end, his own boss admitted I was right, and he fired the guy for not listening. Recently. I talked about a few bands who acted like douche bags because of the way they handle things (very inconsiderately) and one of them even had the gall to try to turn things around on me and and make me look like the bad person. This dude attacked me on Facebook and ran his mouth to all his friends, vowing to get me back because I told the truth regarding what they did. I told the truth. OMG, I'm soooo horrible of a person! Maybe you shouldn't treat people like crap. This is not a new thing, though. I've been verbally attacked probably two or three times every year. Sticks and stones may break my bones but your online ranting will never hurt me.
To all those who can't deal with my honesty, who don't like my comments about your band, guitar tone, horrible attitude, inflated egos, whiny vocals, and so on and so forth? My message to those people is "too fargin bad." This is what we writers/columnists do. We are paid to spout off our honest opinions. regardless of who they anger.
I am not here to kiss your heinie and say exactly what you want to hear or to withhold information that you did something that was inconsiderate and wrong. I am here to tell the truth and to report the goings on of our rock scene. I'm phucking real. I don't sugarcoat everything like these other publications do here in town. I am trying to build this music scene back to the way it used to be, when it was rockin'! When bands didn't cancel shows because they merely stubbed their toe. When bands actually helped each other. Our poor scene has been infested with negative and extremely petty individuals and I'm sick of it. The reason I call MF'ers out is to try to reduce the negative stuff in our music scene. And believe me, I think long and hard about whether I should even mention some of this stuff. But I assure you, my readers, that if I write about something on here, then you are going to be getting 100% of the truth! Topics that I make 100% sure are correct! If I say your guitar tone is lacking, then chances are other guitarists will agree with me. If I say a band has gotten far too big for their britches and are acting like a-holes, then chances are that many other people are thinking the same thing. If I say your singer sounds like a dying cat with laryngitis, chances are your singer isn't very talented. So don't kill the messenger, huh?
Our scene is the worst it's ever been. Show attendance is at an all-time low. Everyone is broke. No one helps anyone anymore, and many bands are just plain unreliable. I've been in this scene for a very long time, and have had so many amazing experiences that I cannot begin to tell you, so yeah, it actually means something to me! And I refuse to see our scene come to this BS without a fight to the death!
So to all you good people out there who actually do care for our city's music scene, thank you for the support and for reading my words. It means a lot to me. We have many new people in our scene who are good people who want to get involved and help, so I think we can eventually recover and kick some serious butt once again. Hopefully, together as a team, we can climb out of this dark hole into the sunlight once again. Hopefully 2012 will be better, if we don't get annihilated. Ha.
And to the petty chumps: sticks and stones, MF
The Metal Grapevine
Win Free Tix To Metal Titan's Anthrax/Testament/Death Angel At Expo 5 On Jan 29
Unfarginreal. Two of my all time favorite metal bands are coming to Louevil's Expo 5 on Sunday January 29th. Anthrax, Testament and Death Angel. Pant pant, le heave. Whew~ I'm getting worked up just thinking of this show. Seriously, though people, this is a show of gargantuan proportion.
Testament is the epitome of Bay area thrash metal and encompasses all that is metal. Besides, they are a personal favorite o' mine! So is Anthrax, the inventors of moshing, to whom I grew up listening. The great chunky guitars of Scott Ian and the very original wailing/lyrics of Joey Belladonna are truly classic. What a combo. I saw them with Megadeth and Slayer on the American Carnage Tour and their set was fantastic, (Joey was particularly good) but it was far too short for an old-school Anthrax fan like me. This time, we Louevil folk will no doubt get a much longer set, so I'm psyched.
And I get to see them up close with Anthrax's original vocalist Joey Belladonna? Not to mention Southern California's Death Angel to boot. Like I said. Unreal. We got lucky by getting this show.
There is no way we would have got this event without promoter Terry Harper, so thanks to Terry once again. For true metal lovers - this is a must-see concert, and I will be covering this event for sure. You might want to get some tickets before this monster of a show sells out, and yes, it WILL sell out!!!
Terry gave you some free tickets to win, so thank the guy when you see him. He is always hooking you readers up with tickets. TO WIN Anthrax/Testament tix, email me at EDDYMETAL1@aol.com on Sunday, January 22 at exactly 9 p.m. In subject line put "Titans of Metal." The first one at exactly 9 p.m. wins the tickets!!! Good luck.
Hatebreed/All That Remains Review
This was a darn good show. I love Expo 5! I got there as a local band was finishing up. They were terrible and I was glad they were done. OMG. Then Louevil's Sever This Illusion came on. Plagued with lineup changes one after the other, STI frontman Trevor Lee Harbolt does not know the meaning of quitting. I totally admire that! Sounds kind of like, um, me! It had been a while since I saw STI, so I was looking forward to seeing the new stuff/lineup in action.
Unfortunately for STI, the soundman destroyed their sound for four/fifths of their set. The band was fine, nice and tight; they sounded good with some rockin' metal riffs chock full o' groove, but the sound was atrocious. The drums were too loud, and I could hardly hear any guitar and bass at all. What guitar I did hear sounded thin and tinny. I think maybe it was the amps they were using. That and the soundguy having the guitar so low in the mix killed any chance of it being crushing like it should have been. I felt bad for Trevor and the guys, even though it was a nice crowd! They had all the elements to destroy right then and there, but the sound ruined them.
STI drummer Darren Garriott is a beast and his stuff sounded great, but it was a hair too loud. Trevor's voice is growly and aggressive with mucho attitude. He has gotten better as a frontman. Definitely more confident! Finally, about the last song or two, the soundguy finally got it right to where you could hear some guitar. I still wasn't too crazy about the guitar tones though. If you are going to be opening for such crushing bad-ass bands, you have to be equipped to kill, or be left behind in the dust of the earth-shattering guitar tones of the big boys. While STI's guitar tunes were a bit muddled and muffled, the last song was rocking!
STI is a good young band with plenty of promise. I like how they promote themselves. Not bad at all. It's work ethics like that that can make stuff happen for you! If they had some Engl or Bogner guitar amps, it would make a world of difference to the average listener. Then STI would be a wrecking ball.
Hatebreed was up next and I was excited. I hadn't seen them in a bit, and they destroyed then!
When the first guitar chords were hit, a wall of distortion and tone that you could almost cut with a knife assaulted the ears of everyone at Expo 5. Instantly, the sound system was magically right back on track for an excellent sound. Now that is guitar tone! The way it should be.
I really enjoyed hearing Hatebreed kick some butt. The heaviness of it all was all encompassing.
As usual, the band was tight as all hell, and all over the stage. I don't know the names of the songs very well, but I'm pretty sure they played "To The Threshold," "Perseverance," "Everyone Bleeds Now," "In Ashes They Shall Reap" and probably my favorite Hatebreed song, "Destroy Everything," which absolutely killed. I'm not a fan of Jamie Jasta's vocals, but he isn't thaaaaat bad. The music more than makes up for Jamie's unending "cookie monster" vocals. Despite being classified as such, Hatebreed is not a punk band now. When I first heard them back in the late Nineties they were very hardcore and a bit punkish. I'll be honest, I didn't like them that much. Maybe they started out punk, but somehow along the way they slowly became an anger machine of metal destroying all in their path with molten lava guitar riffs from hell. You get a feeling that you are listening to Slayer, Lamb Of God, or one of the other big boys on the block when you hear their music these days.
The band played "Hold On," "This Calling," "Six," "Last Time," "Won't Go Quietly," "Some Of The People All Of The Time," and closed out the show with "2 Weeks."
There is just something tangible about the music of Hatebreed and the grooves they come off with. It's powerful and makes you want to punch someone in the beak.
Then it was time for headliners, Massachusetts' own All That Remains! I like this band quite a bit, too. Actual singing in choruses, heavy intricate guitars with complex soloing, chicks screaming like demons, and off-the-wall drumming? Count me in!
These guys and gals have refined metal into a complex and intricate art. No roughhouse, brutal lyrics and mouth farting here. Every note is accounted for. Actual singing is achieved. All musicians are very talented and able topnotch players! Seeing them is seeing close to perfection in their art. It was almost too perfect, actually! It had the big rock arena feel to it.
It was almost too polished or something like that. Some of the fire was gone, that I had seen several years ago. Sure, they were still heavy and playing great, but something was amiss. Maybe it was the lack of metal attitude or heavy-as-hell groove, after seeing Hatebreed wail for an hour. I dunno.
I always enjoy watching guitarist Oli Herbert let loose on guitar. He is one mean guitarist, all right. Dude just looks po'ed all the time. He seems like he could be a major grump. Oli is a certified guitar hero now, though. The other guitarist, Mike Martin, wasn't near as good as Herbert and a few times a guitarist friend Chris Marple and I winced at Martin's riffs. Maybe he should not do dueling solos with Herbert. The band played an energetic, enjoyable set of music and rocked the semi-packed house. Some of their newer songs that I haven't heard were wicked. One sounded like Down or something. Sludgy and slow. I was trippin. It was rockin'. The female bassist is Jeanne Sagan, a fiery little wench who sings backups like a banshee and wails on some technical bass. Impressive! She has a crazy voice when she wants to. Sounded like a demon in pain. It was a sweet metal scream. It sent chills up my spine!
The guitar duo of ATR was spectacular. Martin maximized Herbert's solos with humble rhythms. Herbert went through every aspect of showing off his considerable guitar skills as he went from emotion to emotion to heavy and back again. It was a fargin roller coaster of guitar playing! One minute, heavy chugging, the next it was a solo with great melody. Then you might get a classical clean guitar solo! You never know what you will get with some Oli lurking about growling and sneering and such. One thing is for sure, it was a guitar lovers paradise, for Oli was all over that guitar neck, front, back, sideways, and even backwards! It was quite a six-string showcase.
I was a bit surprised at Philip Labonte's vocals, which were dry the whole set. I was thinking that with him singing more than ever, that he would incorporate more effects into his vocals, but he went pretty dry. A slight reverb and delay wouldn't have hurt. Labonte has a good singing voice, so why not capitalize off of it? He did sound decent the way it was, though. I noticed he didn't quite try as hard as you might think he would to hit the notes and sustain them just like on the CD. It's very close, though! Other than that and a couple of sour notes by Martin, their set was wicked. It was a wicked show! And just what the doctor ordered for this stressed out/overworked/overjammed/oversexed rocker!
Instrument awards of the night go to All That Remains phenom guitarist Oli Herbert and drummer Jason Costa!
Meanest Groove of the night goes to Hatebreed for the no-nonsense guitar grooves from hell that seem to suck you in.
Vocalist of the night goes to ATR vocalist Philip Labonte and ATR bassist Jeanne Sagan for the demon screams! As I said, Jamie Jasta doesn't impress me vocally. He does have good razor sharp timing, though.
Van Halen Returns to Louisville after 28 years:
Yup, that's right peeps. Eighties iconic rockers Van Halen (w/ David Lee Roth!) will be kicking off their 2012 tour right here in Louisville!! It's February 18 at the Yum! Center w/ special guests Kool & The Gang. I saw the real Van Halen at Freedom Hall in 1984 when I was 14 and it was awesome! I still remember it like yesterday. It was one of the better shows I've seen and I have seen hundreds of to- notch shows. It was VH in their prime. I am quite stoked to see them once again with David Lee Roth. I was never a fan of the Van Hagar era, even though I like Sammy's solo stuff. The only bummer now is that original bassist/backup vocalist Michael Anthony ( a critical VH element in my opinion ) will not be there. Michael Anthony's backups and bass playing were great! Hard to replace. Eddy Van Halen's son, Wolfgang Van Halen, will be on the bass guitar. Despite the bands brand new single "Tattoo" receiving bad reviews, I believe it won't matter because I'm sure the band will bring out all the old classics once onstage. That is what everyone wants to hear them play. "Panama," "Running with the devil," "Unchained," "You really got me," "Pretty woman," "Jamies cryin," "Jump." The question is - can David still sing? I hope so. I still haven't been to the Yum! Center yet, so I am hoping to finally see/review a show there. I was very disappointed by not getting to see Rush at Yum! Center, especially after I plugged the heck out of the show for them in the newspaper. Hopefully that will not happen again. Because VH is the perfect opportunity for me to review a classic rock band and great new venue. Tickets go on sale January 16th! Make plans now to see a truly legendary American rock band in action at a brand new Louevil venue that supposedly has a sound system so wicked, that it would even make Steven Spielberg cream his pants. Don't miss this one folks!
Children Of Bodom Coming to Louevil:
Finland's melodic black metal merchants Children Of Bodom will be returning to Louevil on Friday February 24 at Expo 5 with Eluveitie, Revocation and Threat Signal. If you are a lover of wicked guitar playing, then you don't want to miss guitarists Alexi Laiho and Roope Latvala in action. I like COB! I was checking out some of their instructional videos on guitar playing and man, these guys can wail! Simply amazing! I got to see them with Lamb Of God outdoors at Expo 5 a few years back and it was great, except I missed two thirds of their set because they started early. I was so mad! I won't make that mistake this time. Hopefully, I will get to do an interview with Alexi for you folks/guitar freaks, and I'm sure we'll have a few tickets for you readers to win. Terry Harper always hooks you peeps up with free tickets. I have heard many great things about the band Threat Signal, and I am really looking forward to seeing them in action for the first time. So I'll be getting there early for this beast of a metal show. Stay tuned on how to win tickets to one of Finland's best selling artists of all time!
Kentucky's Original Powerhouse, Pownd, Ties for # 1
People from Louevil don't know the name Pownd just yet, but If I have anything to do with it they will. For a while now, I have been saying the best band in the region is Evansville's Deliver Us From Evil, but I now think that Lexington's old-school metal band Pownd ties DUFE as the region's best original project. I recently had Pownd play my showcase and they absolutely ripped it up! I used to do shows with these guys many years ago, but now they have really come into their own and are shredding like you would not believe. The super-high-ranging vocals of Michael Duncan are hard to beat. The guy can hit the last notes in Pantera's "Cemetery Gates" better than Phil ever could. The killer guitar duo of Ronnie Duncan and Rick Sargent are badass, especially Sargent. That guy made love to his Ibanez guitar and had peoples' jaws on the floor. I don't know what it is, but his playing style has much emotion and a river of feeling flowing from the strings. It is a thing to see for sure. It almost had like a Steve Vai/Joe Satriani feel to it or something. Heck, the whole band was awesome. The songwriting, the endings, the musicianship, these guys got it all.

Pownd has been around since 1996 and will be visiting Louevil once again on Friday, February 3rd at Phoenix Hill Tavern. Yes, I am bringing them back. So do not miss the return show of one of Kentucky's best original rock/metal bands!
Louevil Metalheads The Stonecutters to Tour Soon:
Louisville's own Stonecutters will be hitting the road on January 26, playing dates in Chicago, Indianapolis, and Michigan. Afterwards, they will be entering the studio to record a third full-length CD (and the first with super shredding guitarist Chris Leffler!) in mid-February. I like these guys' music quite a bit. Always have! I can't wait to hear the end result of the new CD with Leffler on it. Brian Omer and Chris Leffler, two great guitarists, together on CD, should be an interesting listen, indeed! Sign me up, I'm already there. Hopefully, the guys will kick some major butt up north representing the Ville! Good luck up north, guys!
New Band Alert, Strike First
I'm sitting here checking out a new band from Nashville called Strikefirst, a band that plays out around here and features Hot Action Cop bassist and Louevil native Juan Chavolla. The first song is called "Walk Through Fire" and is a pretty good tune. It sounds modern, energetic and like it could do some good stuff if given a chance to be heard. It's upbeat and kind of catchy. The recording sounds good. Quality stuff here. I'm digging the guitar tones, too! Amazing huh? We all know how picky I am about guitar tone.

No complaints here. This is professional all the way.

Caleb Enyart's vocals are real good. He has a certain quality that could take the band far. He has a perfect voice that is just right for what's going on now in today's music. He has a good, clean sound that mixes with a bit of a raspy/Southern feel from time to time. He has good vibrato technique, mixes his styles well and uses his syllables in a masterful manner. "Wasn't Enough" is a slow ballad that sounds great. The songwriting seems like it comes from the heart with Strikefirst.

When I heard the name Strikefirst, I thought it might be a little heavier, but it's pretty light so far. This kind of lighter, upbeat, modern music is quite popular now. I really need to hear them live to make a better judgment. Anyone can doctor up stuff in the studio, but live is where the true magic happens. I'm sure it sounds great. I've heard some good stuff. I'm having trouble playing this CD, so I only have two songs to review. I might have to get back to this review when I can get access to all the songs recorded. But what I hear so far is great. Very talented and there is some serious promise there. I can hear this stuff on the radio and selling some records. Hopefully, I can get these guys on one of my showcases in the next few months if they aren't too busy touring. Congrats on your new band, Juan!
Deadstandstill To Make Debut On January 6 At My ORSS 12 Year Anniversary Bash:
Deadstandstill, the brand-new band featuring former My Own Victim guitarist Jeff Toy will be making their Original Rock Showcase debut on Friday. January 6 at Phoenix Hill Tavern. The band consists of Josh Holcomb on vocals, Jeff Toy on guitar, Todd Conn on bass and drummer Jason Lakes on drums. Talented musicians from many a band in Louevil history. Too many bands to list or even remember! This new project is all about the rock 'n' roll groove, and not so much the heaviness of the music. It's all about the feel with Deadstandstill. Hardcore got boring to the guys, I think. They needed a change.

Josh Holcomb is a good singer and has improved quite a bit from when he started. The dude has some soul to him. Do yourself a favor - because these guys will be ready to rock come January 6, come see some Louevil music veterans doing what they do best. Rock out! It's also my original rock showcase's 12 Year Anniversary party. Yup, I started the first one in January of 2000!! I have 16 Bones on the bill, as well as my band, Year Of The Gun, Stone Line Blue and The Cigarittes! I might get drunk that night after I play. It's been a good long time since I've had an alcohol buzz, so why not?

I hope to see you all on January 6 to party your butts off, and to pay respects to the longest running original music showcase in Louisville history! It's FREE before 9 p.m., too!
Gerstle's - A Possible New Original Rock Venue?
My band Year Of The Gun had the opportunity to play there and it was a pretty fun night. We got to play with some bands who were considerably lighter than our Southern rock sound, so the response from our set could have been a little better, but we did gain a few new fans that night! And it's great to get out and play a new venue! Next time, I'd like to play with some bands who work better with our style of music. I'm talking to the manager about booking some original rock there from time to time, so we will see how it goes. It won't be heavy metal, but more likely some of Louevil's lighter, more alternative/hard rock type bands that I know. I may be called Eddy Metal, but I have met and worked with a plethora of great lighter bands who won't scare away the classier crowd that frequents the place. The stage and PA system was adequate, and although I couldn't hear anything onstage, people said it sounded good out in the crowd. The soundguy was cool and had some skills in that department. The place was nice and had some cool people working there. Cute females were all over the place. The food was good, too. (The chicken wings were the funk!) My goal would be to have an original rock showcase maybe once a month there, to showcase the region's best talent in the St. Matthews area. Kind of like my Phoenix Hill thing I have had going on since 2000. With so many darn promoters operating at PHT now, I'm needing to expand my involvement with booking at other venues! And this is one that I would be willing to work with. So if you are reading this Gerstle's. Let's do this, and make Gerstle's a home for Louevil "original" rock. And maybe one day the shows there will be as infamous and well-known as my long time PHT showcases have become.
Uncle Sam's Jamms News
I have some news from my Original Rock Showcase Sponsors, the music store Uncle Sam's Jamms! Uncle Sam's Jamms now has an online store on their website where you can buy gear (guitars, amps, drums) directly. I've been waiting for that to happen and it finally did. I checked it out online and it's pretty cool indeed. So now you can shop from home, and then have your goodies delivered! Ah, the wonders of modern times! Don't forget, you can also finance gear there, as well as have your equipment repaired in their repair shop. The guy there, Frank Fenley, is pretty darn good at fixing stuff. He has hooked me up a few times.
New Promoters, Moshpit Promotions
Two good-natured supporters of Louevil rock/metal, James Boaz and Bobby Moser, have started Moshpit Productions in hopes of rekindling our city's music scene and get things back on track. They specialize in rock and metal and, in my opinion, are just the type of people that we need in this scene right now! These guys went out of their way to help me with Rock For Kosair and even went to help get the toys and deliver them to Kosair! They worked hard and expected nothing in return. They cared about helping the kids and that goes a long way with me!

Like myself, they don't care one iota about the money aspect of things, they just want to help our scene! These guys should have some good stuff going on very soon, so if your band needs exposure or shows, then give the guys a shout at either bmoser328@gmail.com, or jamesboaz@yahoo.com.

You couldn't ask for more easy going people to work with.

Tell them Eddy Metal sent you!
New Venue, Class E Lady to Rock
Jay Mills from Jays Needful Things, a familiar face to lots in the scene, has been a supporter of Louevil rock for a long time and even sponsored shows to get word out about the scene and his businesses. He is a helluva guy and a true friend to our scene. Jay is back, my friends. He has bought a new club and wants to start doing shows and events there. The club is the infamous strip club Class E Lady! But Jay has renamed it Club Scene!

Remember the old strip joint Class E Lady on 7 Street Road? I do. I used to, um, date one or two of the chicks up there about 9 million years ago. It was a Louisville strip-club landmark. I don't go to strip clubs anymore, but when I was younger I was there quite a bit. Horny. With a dollar bill in one hand and a drink in the other!

The place is pretty cool and with a little work/exposure and maybe a PA upgrade (that Jay says he will take care of), we could have a cool new venue to play shows at. If you are interested in putting on a event there, or party, call Jay and you and he can figure out something. Jay Mills 502-650-7925

*EDDY TIP - This is a good opportunity for you promoters!
Upcoming Shows
3rd Street Dive
Friday, January 13 – Overload and Rifle.
Club 21
Friday, January 13 – Trust Divided, Bonejinn, Stone Line Blue and TBA. 9 p.m.
Expo 5
Sunday, January 29 – Anthrax, Testament and Death Angel. 7 P.M. $25

Friday, February 24 – Children Of Bodom, Eluveitie, Revocation and Threat Signal. 630 p.m. $15 - $20.
Gerstle's
Friday, January 6 – Point1zero's.
Gilbert's Bar and Grill
Sunday, January 22 – SnowEdfest III featuring David La Duke. 5 p.m.
Phoenix Hill Tavern
Friday, January 6 – The Original Rock Showcase 12 Anniversary Bash w/ 16 Bones, Year Of The Gun, Deadstandstill, Stone Line Blue and The Cigarittes. Free before 9 p.m.. Starts at 9 p.m.. $5 after 9 p.m..

Friday, January 13 – Lively's "Ringin in the New Year!" w/ Boozer and bands TBA.

Saturday, January 14 – Those Sensational Bastardz reunion show! Year Of The Gun's drummer Chuck Skibo is in this band, so be sure to check out the one-night-only reunion bash with these guys!

Friday, January 20 – High Hats "Music Mayhem."

Saturday, January 28 – The Velcro Pygmies.

Friday, February 3 – The Original Rock Showcase Series: BoneJinn; Some Kind Of Saint; Krosjoint; the return of Lexington's Pownd; Southern Solstice. Free before 9 p.m.. Starts at 9 p.m.. $5 after 9 p.m..
Wick's on Baxter
Saturday, January 14 – Point1zeros.
Wick's on Hurstbourne
Saturday, January 28 – Unleashed.
INTERVIEW w/ Legendary Anthrax Vocalist Joey Belladonna
Wow. You don't get to interview your influences very often, so I figured I needed to do this one for sure. It's a singer who made his own mark in the musical world with attitude and an original vocal style usually not used with metal, a singer whose lyrics will stick with me till the day I die. Joey Belladonna: is a vocal hero and inspiration to many of us metal fans the world over. Anthrax has been super-busy touring in support of their new album Worship Music. But I was able to catch Joey as he was relaxing at home a few days before Christmas.

Eddy: Joey! I got your new album Worship Music and it rocks! It's great to hear the original Anthrax sound back on disc. What's it been like these last few years since you've gotten back with the guys? Is it just like the old days? Or has anything changed?

Joey Belladonna: Of course there have been some changes in the lineup throughout the years, but overall I still go about it the same way. Everyone has become smarter, the musicianship has gotten better, as well as the songwriting and delivering them live. We are much more together as a band and wiser.

Eddy: Ma,n you guys sound better than ever!

Joey Belladonna: Thank you, and thank you for plugging Worship Music.

Eddy: I got to see Anthrax with Slayer and Megadeth last year. Dude, you hit every note! Your energy and range was impressive! A lot of vocalists lose their mojo as they age, but you, my friend, sound better than ever. What is your secret?

Joey Belladonna: Well, I really don't have anything in particular, if anything, I'm singing now more than ever now that I have a cover band going as well as the Belladonna solo work.

Eddy: You have a cover band?

Joey Belladonna: I have a cover band called Chief Bigway that plays classic rock covers. I play the drums and sing. We play Queen, Boston, Foreigner, Pink Floyd, Cream, Deep Purple, Rush. We don't play really big places yet, but we get to play in some pretty interesting layouts. We cover mostly 70s music and arena rock, but we do do some metal like Priest, Sabbath, Dio and we also do some recent stuff.

We cover a wide spectrum of classic rock from the 70's to the 80's and beyond. People like to dance, so we try to mix it up well. It's mostly just for fun, we pack up the PA and drums and rock out upstate New York. But as far as your question goes, no, I don't have a secret. I just stay busy singing more than ever and working on what I do. Chief Bigway has some stuff on Youtube if you want to check it out.

Eddy: On to Worship Music. What is your favorite song on the album? And why?

Joey Belladonna: I guess maybe "In The End" is one of my favorites at this point. It's one of those songs that was so unbelievable when we did it. This song came together in one day and knowing that it was about Ronnie James Dio and Dimebag Darrell made it mean something to me. I just love the tune itself, it has a lot of great groove to it. There are a lot of great songs on Worship Music, but that one comes to mind first.

Eddy: What do you like to do when you aren't on tour? And do you have any hobbies?

Joey Belladonna: I have three Rottweilers, so when I'm not touring they keep me pretty much busy.

My hobbies right now are my cover band, that kind of thing. I'm not into skiing, shooting hoops or into golf. I do like to watch TV! I like recording concerts and talk shows. I do love watching football and watching my team, the Minnesota Vikings, even though they have had a rough one lately.

Eddy: What has been your best show since rejoining the band?

Joey Belladonna: Ya know, there are so many shows, that it is really hard to pinpoint anything. One sorta runs into the other. Many times we've had crowds who take it up that extra notch certain nights. Plus I've forgotten a lot of shows! The festivals in Europe are always fun, it's a different atmosphere over there and with all festivities and people hanging out, the band camaraderie is good, and a lot of cool stuff is going down.

Eddy: What do you think of today's music? Is there anything you really like? Or is it just a bunch of "Plastic People"? ( Eddy: it's a reference to Anthrax's song "Imitation of life")

Joey Belladonna: Good one man! I like a lot of new stuff to check it out. I'm pretty open. What I listen to depends on the mood I am in. I probably don't own as much new stuff as I should/could. I listen to some weird stuff. I could listen to Filter in the morning and Seal in the nighttime. I wonder how people come up with stuff. I take a lot of time studying music, the way people write and learning. I just love to listen to music and learn.

Eddy: You have a show here in LouEvil on Jan 29! A lot of peeps are excited. What can we expect, and what would you like to say to your fans here in Kentucky regarding your upcoming show?

Joey Belladonna: Well, get ready for a good night of metal, that's for damned sure! We are gonna have a great night together and I'm sure everybody is looking forward to it as much as we are. We've ripping out a pretty lengthy decent set depending on the local curfews there. We plan on playing as long as we can! We are just very happy to be out there and covering your market.

Eddy: Well we definitely can't wait to see you! I want to thank you for taking the time to chat with me Joey. I wish you a great Christmas and Happy New Year. I will see you January 29 at Expo 5!

Joey Belladonna: Thank you, and God Bless. Have a Merry Christmas and Happy New Year.
INTERVIEW W/ Five Finger Death Punch Bassist, And Former Kentuckian, Chris Kael
Hey Chris, Congrats on the success of your band FFDP. I've been a fan for a few years now and have covered your shows whenever you are even near Louisville. I can honestly say that FFDP is one of my favorite newer metal bands! I had almost given up on good new American metal until I heard FFDP. That makes it all the more cool that one of their members – you - are actually from Kentucky. This state hasn't bred too many rockstars as of yet. Until you, dude.

Thank You for taking the time to do this interview (when you are so fargin busy stomping ass every night) and letting everyone in your home state know whats up with you.

Eddy: Let's talk about your upbringing in Kentucky, Chris? Lexington, right? Where did you go to school there, and did you get good grades? And what are some of the things you used to do there as a kid/teenager? Were you a wild destructive kid who carried brass knuckles? And now you have one on your bass! Cool –.

Chris Kael: Yessir! Born and raised in Lexington. Went to Lafayette High School but ended up bowing out about a year early, as I was spending more time writing and playing with other musician friends in my parents' attic than I was actually making it to class! So I'm living proof that dropping out and following the dream can work! Though I don't recommend it for most.

During those years, I spent a lot of time going to all-ages shows at The Wrocklage. Once that shut down, I was pretty instrumental in bringing all-ages shows with James Flax into The Millennium (though now the entire block has been torn down!). All-ages shows growing up were extremely important to me in both my social and musical upbringing. Gave me nice solid base for what I'm currently doing now.

As far as being a destructive kid, I was always the type that looked pretty intimidating but, was the exact opposite once you actually approached me and got to know me. Someone actually described me, and fairly accurately I believe, as the nicest scary guy they've ever known. That pretty much hits it right on the head.

Eddy: Do you still have family here in Kentucky, and do you get a chance to visit when you come in for a show? And does your family ever come to see you play? If you like, tell us metalheads about your family –any characters, goofy uncles, a mammaw, etc.

Chris Kael: Oh yeah. Most of my family is still back in Kentucky. Once I moved out to Vegas about ten years ago, they've been out to see more than I've been back to Kentucky to see them. Given the chance to hang in Vegas, I'd take coming out there too! Though, I do try to get back every now and then - usually at least once a year. It's been great seeing friends and family out on the road with Death Punch when we come within driving distance. After all the years of putting up with me pursuing this dream, it feels nice to be able to extend a little VIP courtesy to all of them. I certainly haven't forgotten my roots. And, I'm STILL an avid UK fan. If it's on TV, I'm watching it. Hoping to make a trip back to see a game or two in the downtime this January. I'd love to address the team with my story as there's a lot to be said in never giving up, listening to that inner voice, and going after whatever it is you want in life.

Eddy: Did you play in any original bands in Kentucky? If not, then how did you get started at playing music? And who were your influences growing up?

Chris Kael: I picked up my first bass at age 15. It was some cheapie that I'd picked up from one of the guitar stores on Southland Drive in Lexington (Willcutt's Guitars is STILL my favorite guitar store. Period.) My first "real" bass when I really started getting serious a year or so later was an Ibanez Rickenbacker copy.

The bass that most people back home from that era will remember me with was my B.C. Rich Warlock. That's the bass that I always used when gigging out. Hated the tone; but loved the look! Nikki Sixx played one in "Looks That Kill" and I knew I had to have one the moment I saw it. After mowing grass over a summer, the bass was mine.

Spent many years gigging with various bands between Lexington, Louisville, Cincinnati, Columbus, Dayton, Nashville and Huntington. Shared bills with a TON of great bands from that area growing up like Chum, Crone, My Own Victim, Flaw, Supafuzz, Ted Bundy's Volkswagen, Kinghorse - SO much good music was coming out of the area at that time. I l look back quite fondly knowing that I had the chance to be in Kentucky during a very special time musically. So many great musicians there. A lot of those guys are still playing today as well. The move to Vegas, luckily, worked out for me. Ten years after moving to Vegas, here I am touring the world with Five Finger Death Punch. It still amazes me.

Eddy: You live in Las Vegas now, which is like another world from here. Tell us about your life in Las Vegas! Wife, kids? Big-ass house? Stacks of music gear out by the pool? Hot little Vegas rocker chicks lounging half naked? Lol. What'cha got cookin' out in Vegas bro? What do you do for fun out there?

Chris Kael: Vegas has obviously been a life changing move for me. Rather than being the big fish in a small pond, I took the leap and immediately was thrown into Lake Mead as a guppie. I've always been one hell of a networker, so I made a ton of musician friends out here and started up a couple of projects. I did some regional touring through California, Arizona, Utah and what not. Basically just plugging away and continuing to develop my playing, songwriting, vocals and stage presence.

After not having done anything live in a while, I met the guys in the Sin City Sinners. I was going out to see them damn near every week at The Dive Bar here in Vegas when one of my friends told them that I played bass. They invited me up to play a couple of covers and I caught the live bug again. Those guys are great friends of mine and I credit them with initially getting the ball rolling in my getting back off of my ass and back into music. I've had a ton of support from a ton of people and I sincerely can't thank them all enough.

Eddy: Let's get to the band stuff. I recently got an email from your label, you've just put out an album that is doing very well for only the few short months it's been out, as well as selling out in many venues on this current tour! I'm glad to hear it Chris. That's awesome.

So it's obvious you'll be touring for a while in support of Amercian Capitalist, but after that what's next for FFDP? You guys have been super busy it seems for years now. It has to be exhausting at times.

Chris Kael: We just finished up the Share The Wealth tour in support of our latest release, American Capitalist. It was mind-blowing be out there on my first real tour, playing venues ranging in size from 2,000 to 8,000 seaters with my (now) friends in Hatebreed, All That Remains and Rains there in support. It seems that nearly 90% of the shows were sold out. Just massive crowds with such passionate responses. Couldn't have asked for a better first run for me with Five Finger Death Punch.

I'm now at home in Vegas on a bit of a break to kind of recover from the road! The travel alone is the hard part. It just gets draining, physically moving from spot to spot to spot. You give and give while you're out there; so it's good to have that time at home where you can find some time for yourself before you set out to do it all again. I'm certainly not complaining though as it beats serving drinks to tourists at the Hard Rock on The Strip; which, is what I was doing six months ago!

From here, the current plan is to start touring again in February and stay out on the road until close to the end of the year. The guys will be writing while we're out on the road and I'll be contributing in whatever way they think will make Death Punch stronger. I'm a beast live; so, I know I've definitely helped there. Looking forward to seeing where the next phase takes us.

Eddy: Last question; Chris, what are some of your most memorable moments in FFDP? Give us home state fans two stories that you will never forget! And don't hold back on us!

Chris Kael: One of the biggest memories for me will always my first sold-out arena rock show in Denver. That's the one day-sheet and ticket stub that I saved from the whole tour. A lot of great shows but looking out and seeing that arena filled with fans there to see us was an incredible memory that I'll take with me to the grave.

As for great stories, I'll give you one that's suitable for print. The rest you'll have to wait for the book. I think we were playing in Texas when this one went down. At one point in the show, Ivan sometimes invites a handful of kids and their parents up onstage to celebrate the future of rock and heavy metal. They're all lining up onstage and this one TINY little kid is walking around by herself. From the looks of her, she couldn't have been more than three years old. One of our security guys, Case - a massive, straight-out-of-prison-scary-looking-MF type guy (though, like me, is scarier on the outside than once you get to know him) picks up the baby and holds her at arms length yelling, "Who's phucking baby is this? Who the fuck leaves a baby onstage?" The baby then opens its mouth and responds, "Put me down, a-hole. I'm a midget - not a baby! I'm thirteen!" The combined expression of terror, amusement and embarassment on his face was enough to make my first tour with Death Punch a memorable one.

Eddy: Once again, many thanks to you Chris Kael, for doing this interview even with a busy schedule and the holidays right around the corner!

We are gonna have to hang out when you come this way!!! I'll let you buy me a beer for all the shameless plugging I've done for you guys) Ha ha!

Chris Kael: Thanks Eddy for the Interview/Shameless plugs. You can follow the band at www.fivefingerdeathpunch.com, on Facebook, and on Twitter @FFDP. You can find me on Facebook at www.facebook.com/officialchriskael and on Twitter @5FDPChrisKael. As for the beer, you can take the boy out of Kentucky; but, you can't take the Kentucky out of the boy - I'm still a bourbon guy at heart! Be ready for a shot or seven of Maker's Mark on me my friend.

Eddy: You've got a deal!!!

(A mindblower - While doing the interview, I noticed Chris' real name on the email, and I was beyond shocked. It turns out that I knew the guy from a long time ago! I used to play his band on the radio and I brought them to louevil a few times to do shows with my band/concerts I used to put on at The Toy Tiger and other various clubs.

It was just plain weird finding out that a bigtime band that I really like has a guy in it from Kentucky, that I know from ages ago! I had no fargin' idea he was in FFDP. What a small world. Chris remembered me as well once I refreshed his memory.)