December 2011 Articles
Cover Story
Kevin Gibson
Features
Eddy Metal
Columns
Berk Bryant
Mike Stout
Paul Moffett
Keith Clements
Martin Z. Kasdan Jr.
Eddy Metal
Alexander Campbell
CD Reviews
Martin Z. Kasdan Jr.
Performance Reviews
Gretchen Stein Henry
Blogs
Got Shows?
Send Them To Us
Bookmark Louisville Music News.net with these handy
social bookmarking tools:
Available RSS Feeds
- Top Picks
- Today's Music
- Editor's Blog
- Articles
Add Louisville Music News' RSS Feed to Your Yahoo!

Issue: December 2011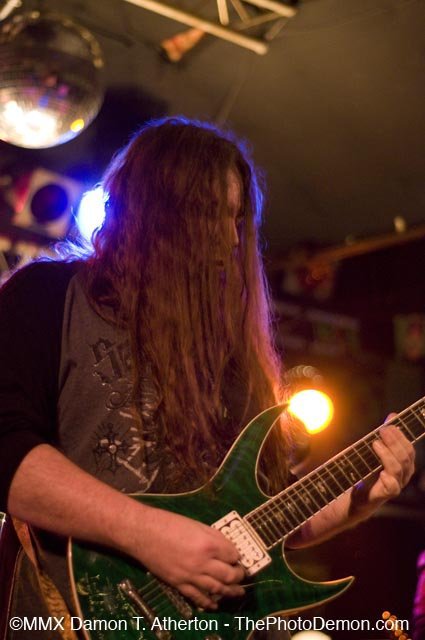 News From the Pit
ROCK FOR KOSAIR VII: REVIEW/RESULTS
Merry Xmas all, and happy holidays! First and foremost, I want to talk about Rock For Kosair VII and all the good-hearted people who came together to do some good for our fair city, people who actually cared and had the will to do something good and noble in this jaded mofo'ing day and age.
The feeling it gives me to be able to do some real good for our community is overwhelming, and I owe it all to you people for supporting the cause.
The show was a blast and everyone had another great time. The city's rock scene were one this night, all in the hope that we could make some underprivileged children happy during the time of the year when they need it the most. Although I felt online support was a bit lacking, the show was a success and broke the RFK record by a slim margin. The net income after everything was $6330! That is going to be a lot of toys. We'll be going to get and deliver the toys in a week or so. I'll keep you informed and get some pictures of the stockpile of toys we deliver.
First I would like to thank the bands who donated their time to play the show: Recourse To Reason; Elephant Room; Centerfold; The Louisville Crashers; Superunknown; Trust Divided; The Zoo Kings; Some Kind Of Saint; Krosjoint; Lucid Grey; Shatterstone; Popkiss Chainsaw; 16bones; Diverbird; Seize The Day; Stripmindand the PO Brothers.Secondly, I want to thank Phoenix Hilland 93.1 The Foxfor their support. The fox guys really hammered it home for the kids, just like I knew they would. Thanks Charlie, Dwight, Mudd and Chris. You guys rule! Thanks to Uncle Sam's Jamms, Professional Music Centerand Willis Music J-Mallfor donating guitars. Thanks to Karen Ernspiker at Kosair Charities for the banners, shirts and mucho support! You have a great voice, too! I'll have you bring up more bands next year for sure.
I also want to thank the following people for their contributions: Angel Hall for doing a lot of the phone work/behind the scenes stuff, because I have been super-swamped lately and barely had time to do anything. You rock, Angel, and were RFK's Angel on our shoulder. Thanks to my RFK helpers who helped run the show. There was no way I could have ran three stages alone! Jeanette Lively, Allen Ashbaugh, James Boaz, Brad Akridge, Bobby Moserand PHT soundguys Shaneand Travis . The beautiful Kosair Donations Girls ( Jenny Hill, Charlene Satoriand Jennifer Russell ) for collecting $$$ at the show to add to the pot. The band Reign Of Revelationfor contributing $100 even though they didn't play the event! Such a noble and caring gesture! That is what we need more of in this scene. Photographer Laura Bosticfor setting up a cool RFK photo center and contributing $100 to the cause. Make no mistake, because of The Kosair Girls, Laura Bostic and Reign Of Revelations support, we were able to break the record this year by a thin margin. Thanks to my extra equipment loaders for helping make a smooth and quicker transition between bands, Jacob Edwardsand Shawn Richmer.Thanks to my Tap Room soundguys ( Big Al of Boozer , Kenny Phelpsand Eric Starkeyof Stripmind ) who came in on short notice (and brought a PA, too!) when the original soundguy flaked out on us at the last minute. Thanks to videographer Ray Hastewho came in on short notice and did a little filming. Any bands need a video, you might want to contact Ray Haste on Facebook. He has the goods!
Highlights : The shows highlights were definitely Recourse To Reason, The Louisville Crashers and Centerfold. I wasn't too familiar with The Louisville Crashers or Recourse To Reason, but I finally got to see what all the hubbub is. Wow. Both bands are great. Now I see why there is a great buzz about both bands. Recourse To Reason blew me away this night. They sounded good at The No Kill Benefit, but at RFK they were on fire. They brought some pro sound guys with them that did them great justice. Todd Whitener's voice was excellent – I didn't know he could sing that well – and the music was catchy and tight, with nice melodies. This band should get signed soon!
The Louisville Crashers brought the house down, too, with their exceptional renditions of cover tunes from Bon Jovi, AC/DC and Lady GaGa. Such talent and showmanship. Now I see why they do so well on the cover band scene. New Louevil rockers Centerfold proved why they deserved a good spot on the bill even though they are brand-new. This is a darn good new Louevil band that could do well if they get the right breaks. And Lexington's Superunknown always put on a good show! These guys are big in other towns and do very well for themselves, so I'm extra glad they decided to come to Louevil to help out with RFK and give Louevil a taste of some Superunknown. All the bands did well.
All are appreciated for their time and effort.
Poor Behavior/Downers:All went well, but there were a few small nuisances/poor behavior that had me stressed. A few bands canceled the show. One even canceled the day of show, with one of the lamest excuses I've ever heard in 17 years of booking bands and it threw the schedule into chaos. They actually said "I'm working overtime and I'm gonna be too tired by the time I get off work." They called me six friggin' hours before the show started. Very disappointing, indeed, to hear that coming from people I consider friends. This show has been set in stone for well over a month! One would think you would certainly make arrangements at work for such an occasion. I know it was a bit more than that, though, because I heard they were complaining about the stage they were assigned to. I can understand not liking the stage, but it's something we bands have to deal with (I played the same stage last year) , especially when the end result benefits kids for Christmas! You have to take one for the team. I even did so myself by playing last on a packed bill. And yes, I have been working overtime, too.
I'll be honest with you, I was soooo tired that I was barely able to play (to a thinned-out crowd by then) with my band Krosjoint at 2 a.m.! Heck, everyone was dog tired! Yet we ALL toughed it out for the kids. As showbiz's famous motto goes, "The show must go on! "
Another band canceled a month ago, and vowed to pay $100 to the RFK fund for canceling, but they never did. TIP: If you are going to cancel, and say you are going to donate to a children's benefit, then - At Least Keep Your Fargin Word Regarding The Donation!! Unreal.
The sound system in the Roof Garden had some problems, but was eventually fixed. Thank god.
One band made the schedule late by not being ready/anywhere around when it was their time to play.
They were off gallivanting while they should have been loading equipment onstage. Thanks for screwing the last band and ignoring my plea to respect your fellow musicians. The soundguy that was supposed to run The Tap Room canceled on me, and left me in bad spot trying to find a soundman AND PA system in only a few days time. I had heard the guy was unreliable, but I ignored it and gave the guy a chance. Seems like I should have listened after all.
Poor attitudes and excuses. These have no place at the Rock For Kosair event.
I hate to call people out, but I'm not one to let some bullcrap slide. When will the canceling and a-hole attitudes stop? Only when there are consequences to your actions. If nobody cares or does anything, then pretty soon everybody would be a-holes and would be canceling every other show.
Needless to say, all these issues stressed me out badly, so badly I almost went bonkers.
Next year I will at least know who to trust and count on when I make my decisions regarding bands, helpers, extra soundguys. You live and you learn, I guess.
What can I say about the year 2011 as a whole?
Well, it's been a pretty slow year. Maybe one of the slowest. What a time to try to make a musical comeback, huh? I honestly feel sorry for the young bands of today to have to survive/exist in this doody economy/time we live in. I try to tell you young musical folk nowadays about the scene several years ago, at how shows were packed and it was nothing to get people out to the shows. Bands were more supportive of each other and it was just all around better as a musician and fan of Louisville music. But we are tough, we persevere! We will try to set things to right. We lost a lot of our top bands this year, but a few new bands have popped up to take their place. Hopefully, 2012 will be a better year for the Louisville Rock/Metal scene. I know a lot of you out there are broke and can't afford to attend many shows anymore. I understand that. But if you happen to get an extra few dollars, please try to come out to one of the many Louisville promoters shows to support Louevil rock. Thank you!
The Metal Grapevine
ANTHRAX, TESTAMENT & DEATH ANGEL
ANTHRAX, TESTAMENT & DEATH ANGEL are coming to Louevil Jan 29th: HELL YEAH!!! Two of some of my favorites bands are coming to Louevil's Expo 5 on Sunday January 29. I'm beyond stoked!
Testament is the epitome of bay area thrash metal, and a personal favorite o' mine! So is Anthrax, whom I grew up to, and I get to see them up close with Anthrax's original vocalist Joey Belladonna? Fuggettaboutit! Not to mention Southern California's Death Angel to boot!
This is a must see concert, and I will be covering this event for sure. I've been waiting for this tour to pass through. We got lucky! You metal fans might want to get some tickets asap, before this sells out. And yes, it WILL sell out!!! Thank God for promoter Terry Harper, once again!!! I'll try to get you readers some free tickets! We have one mean MF'ing metal show of gargantuan proportions! So make plans now~!!!
Win Tickets to All That Remains/Hatebreed:
All out metal mayhem will be at Expo 5 on Thursday, December 8 as two great headliner metal bands invade on one bill: hardcore titans Hatebreed and newcomer heavyweights All That Remains! This is a must-see show. I've seen them both live and I'm telling you, this should be a molten metal good time! I haven't seen Hatebreed since Ozzfest several years back! I used to not dig them so much in the beginning, but over the years they got waaaay fargin' better, and now they are destroying! I'm really digging the guitar tones/riffage of the newer material. And what can you say about All That Remains? Frikkin badass.
I love the melody, the heaviness, and sweet guitar solos, and the catchy choruses. It's a no-lose situation at this show. You can bet on that!
Terry Harper has once again agreed to do some giveaways for this event, so email me at Eddymetal1@aol.comon Sunday, December 4 at 9 p.m. sharp for a chance to win. First one at exactly 9 p.m. wins! Only one email allowed, so be on time. In subject line put "All that breeding!" Get your tickets now, this will sell out! Don't be left out in the cold on December 8.
R.I.P Steven "Steve" Edward Osborne 4/3/1966 - 11/16/2011.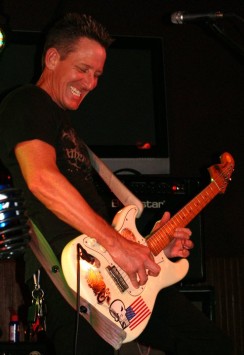 Steve Osbornel
One of Louisville's finest guitarists has passed away. Steve Osborne was in a number of bands in his day, from 1980s hair rock band Sullen Vex (who I first saw play Carl Casper's Custom Auto Show's infamous and now defunct Battle Of The Bands way back in the mid 80s) to playing guitar for the awesome Christian rock band Bride and various cover bands about town, including 99 MPH, Speed Of Sound and also filling in for Wax Factory, The Big Rock Show and others. I didn't know Steve very well, but I knew him a little bit and what I saw always left an impression on me. Steve used to work at a little music store in the East End a million years ago (It was '86 or '87, I think.) and my broke, bleached-blonde spiked-haired butt used to frequent the store to get strings and whatnot. Steve would be sitting there in the store, shredding like you would not believe, even way back then! I was amazed. Blown away. I sucked at guitar and often asked tips of Steve, who wasn't stuck up at all, unlike most awesome guitarists. He was a genuinely friendly, down-to-earth guy who clearly did not give a crap who you were. If you were cool to him, he was cool to you. That was what I really liked about Steve. Over the years, we remained friendly when we saw each other, but Steve was always a busy man, moving from band to band, wherever the opportunity to showcase his skills arose. And boy, did they ever. Steve joined semi-famous Christian hard rock band Bride and the band did well and had a huge following in Brazil. Bride's last album, Tsar Bomba, got great reviews. I even tried to get them to play one of my showcases, but, sadly, it never happened.
Steve started on guitar at age 12 at Bob Schmidt's music in Jeffersonville. He considered himself a true musician and was totally dedicated to his love of playing guitar. It showed when the guy played, too. Not too many people in town were as good as Steve was. You can probably count them on one hand. Steve's brother David says of Steve "Steve was a great brother and uncle, who overcame a lot in his life. He was not only a great musicians but a phenomenal ICU nurse as well."
I heard the memorial was so packed you could not even get in. The guy was popular and definitely left an impression on other people as well. Steve even fought off cancer, but it eventually relapsed and other problems in his life were apparently too much for him to handle. Steve will be missed by many many people, including myself. Our rock scene had a very talented and good man at the forefront.
Somewhere up there in heaven there are a lot of angels rockin' out to some heavenly guitar playing by Steve. Rest In Peace, bro.
Jackyl Coming to PHT December 17:
Yup, that's right. Those crazy Southern hard rockers Jackyl will be in town on Saturday, December 17 at Phoenix Hill Tavern. It will be the perfect time to escape the Christmas madness of family, kids and shopping with some good old-fashioned, good-time party rock 'n' roll, and – oh yeah – chainsaws. Jackyl frontman Jesse James Dupree's son Nigel Dupree will be opening up the show with his own band, The Nigel Dupree Band. So you will get a double dose of Dupree that night. Be early. I'll See if the Hill will give away a few tickets to this show, so stay tuned.
This is sure to be a Southern hard rock guitar lovers dream, so don't miss out on some ball-busting rock 'n' roll guitar this night! The Duprees don't farg around when it comes to geetar playin'. (I had no idea Jesse James was so good on guitar!)
Brand New Music - Some Kind Of Saint:
I'm sitting here checking out some brand-new Some Kind Of Saint, and it sounds quite good. Very polished and well recorded. The song "Alcatraz" is upbeat and sounds a bit like stoner groove music, while the vocals remain busy throughout, in a bright positive way, as vocalist Corey Robinson lets loose with his melodic style. I like the groove and guitar-scratching going on in this tune. Well-written music, this is. It has somewhat of a funky rhythm guitar throughout, too, which makes for good listening. Nice song. Quality recording, too. "Stepping Out" starts out with some cool, hipster-type drumming, then comes the groovin' bass riff , then the all-out rock begins. I really like the songwriting in these two songs. The arrangements work out well. The guitar riffs of Justin Browning and Rhian Smith are catchy and likeable. They work well together as a double guitar attack, and it sounds smooth, well-planned and like something that could appeal to many types of people. There is some pop to SKOS, as well as a little punk and alternative and indie, and maybe a dash of 80s rock for flavor! SKOS is a melodic rock ride with a positive message and upbeat groove. The songs aren't that long, but they tell a good tale in that short a time.
"All Smiles" starts out with a pretty clean guitar part, then jumps into a punky thrashing with very busy vocals. Corey's vocals are good, but they seem kinda high-pitched on the CD. Very polished in a radio-friendly sort of way. He does have a great higher singing voice, complete with vibrato and various vocal techniques. Not many singers in town sound that way, that's for sure! It's fresh and sounds good.
He is not a barker or monotone growler, thank god. Corey is very non-threatening on vocals though. You won't catch Corey sounding like Pantera anytime soon. The mix might have a hair too much treble in it. Maybe some more bass should have been added to this mix. The riffs and songwriting are very good. I'm impressed with this latest effort in a band that has been around a good many years. You can tell the experience these guys have when they hit the stage, because they don't mess around. Very professional, and I never have to worry about bullchit issues when it comes to booking these guys. Every one of them is talented in what they do. I like "Alcatraz" the best of the three, because of the stoner groove beats and cool tones of the guitar and ballsiness of the riff.
I would like to hear a little more guitar soloing in their music, but they seem happy with the way things are going. It does sound pretty darn good. Props to SKOS on a rockin' demo. Look these guys up online! Oh yeah, congrats to SKOS drummer Dallas Tyler on his wedding that's coming up soon!
New Band Alert, DeadStandStill:
There is a new sheriff in town, and his name is Deadstandstill. Former My Own Victim guitarist Jeff Toy has formed a new band with drummer Jason Lakes, bassist Todd Conn and singer Josh Holcomb. Jeff wanted to do some music that is a bit different than what he has been doing all these years with the hardcore metal thing, so he enlisted a darn good singer in Josh Holcomb, and the result is good old fashioned rock with feeling. I guess the guys got tired of playing hardcore, and wanted to play some hard rock with a more commercial appeal. Gone are the super-heavy, metal-laden riffs and hardcore vocals of yesteryear, replaced by a more complex and melodic endeavor. It's pretty groovin, I checked out a few live videos online. You can't go wrong with a lineup of this caliber. All of these guys are talented musicians, and Todd Conn is one of the most underrated bassists in Louisville! The guy rocks. Jeff's guitar tone and equipment is awesome, and top-notch. I really admire the stuff he has come up with over the years. These guys can't wait to get out and start taking the Louevil rock scene back to where it once was several years ago. God knows, we need all the help we can get these days! The band doesn't have a recording yet, but I'm sure that will be remedied soon. You can see their Original Rock Showcase debut on January 6 at Phoenix Hill with 16 Bones and Year Of The Gun.
Caldera/Surviving Thalia Reunion/IIattatime Debut:
I got to see the Caldera/Surviving Thalia reunion a few weeks ago and boy, was it a good show. Louisville death metal merchants Caldera didn't have much time to practice leading up to the show but it was all good, as they ripped it up anyway. They sound pretty tight for not having jammed in several years except maybe twice leading up to the show. Guitarist Chris Marple (who last played with Flaw) was excited to be jamming again after almost a year, and you could tell he was stoked as he jumped around like a madman. Vocalist Todd Proctor was much better on vocals than I remember. He has been doing his homework it seems. His vocals seemed much more concentrated and clear than before. Much better. I've never been a big fan of death metal vocals but the new stuff Todd is doing is pretty brutal, indeed. Reminds me of some Suicide Silence or something similar. A death metal band that I actually like! Todd's (and Lance and Andy's from Flaw) new band IIattatime will be debuting at PHT on December 2nd at my showcase. I'm anxious to hear what these guys have been cooking up musically. Todd is super-stoked about being back in the scene, doing his thing. Overall, Caldera was relatively tight and seemed to have a ball as they jumped around in skullpaint and shredded. I thought it sounded good.
Surviving Thalia came on and played, and I'm telling you, this is one of the best metal bands in Louisville history. I know, I know, a lot of people see some others as top dogs as far as historic Louevil metal bands go, but I'm an experienced musician and I say that these guys should be right there at the top. The musicianship and songwriting, and great vocals by David "Sailor" Bryant are tough to beat. Guitarist Mike Taylor's tone and sound is wicked. Everyone knows how picky I am on guitar tone, but I've nothing to complain about regarding Mike's tone/sound. That chit was so heavy and thick sounding, you could have cut it in the air as it hung over the stage. Mike also does some impressive backup vocals. Heck, he could have been a lead vocalist, easily! With the mean guitar and cool, double-vocal attack that switches over every so often, it's a pretty hard combo to beat. It's been a long time since I've seen ST and I'm glad I was able to check out this cool metal reunion show. Thanks to Jeanette Lively for booking it. I'm thinking they should get back together for a few more shows. I would surely be there.
I got to see the band formerly known as Descention play. They are now called The Devil and the Darkness. Not much has changed, except that they have a new drummer now who isn't quite as good as the last guy (who was a beast on drums) . I like these guys' metal chops. They can play well, and they come up with some good rockin' riffs. But I still have the same old complaint regarding their sound, and I'm not the only one, either. A few people were not digging their guitar tones/sound. The amps they use do not do them justice in any way, shape or form. In fact, it hurts their sound bigtime. The tone sounds thin and tinny and over-distorted to the point that you can't make out notes very well. I dig the music and playing, but the amp sounds completely ruin it for me. If these guys had Engl or Bogner amps, or even Marshall amps, then it would be a world of difference to their sound. They would be crushing then! So if you hear me guys, this is no insult to you at all, just a friendly bit of advice. Find an amp that does your music justice. I promise it will be a hundred times better.
Upcoming Shows
3rd Street Dive
Friday, January 13 – Overload and Rifle.
Expo 5
Thursday, December 1 – Asking Alexandria and Black Veil Brides. 7 p.m. $20
Thursday, December 8 – All That Remains and Hatebreed. 7 P.M $20
Friday February 24 – Children Of Bodom, Eluveitie, Revocation and Threat Signal. 6:30 p.m. $15 - $20
Highland Tap Room
Saturday, December 10 – Rifle.
Phoenix Hill Tavern
Friday, December 2 – Metal Invasion – .w/ IIattatime (featuring former Flaw members!) , Pownd (from Lexington) , Evansville's Deliver Us From Evil, Columbus' Maltese Cross and Rockaway Drive. Free before 9 p.m.. Only $5 after.
Friday, December 9 – Mayhem, Keep Of Kalessin, Hate and Abigail Williams. 7 p.m. $15 - $50
Friday, December 16 – Bizkit's Jingle Balls w/ Signal The Revolution, 2 Pump Chump, Ofhuman, Snow Black Sunday and Slugger Boyz. $10 10 p.m.
Saturday, December 17 – Jackyl w/ The Nigel Dupree Band. $20 8 p.m.
Friday, December 23 – Better Day Parade, Tri-Tones and others. $10 10 p.m.
Friday, January 6 – Original Rock Showcase 12 Anniversary Bash w/ 16 Bones, Year Of The Gun, Deadstandstill, Stone Line Blue and The Cigarittes. Free before 9 p.m.. $5 after 9.
Union Station
Saturday, December 3 – Stripmind and TBA.
The Vernon Club
Saturday, December 3 – Artifex Pereo w/ Uh Huh Baby Yeah, Consume Consumer and Jovian. 7 p.m. $8
Friday, December 23 – Our Lucky Stars w/ Aesthetic Versus Architecture, Talk Of Spring, Aim For The Skies and The Tomorrow Boys. 7 p.m. $8