December 2011 Articles
Cover Story
Kevin Gibson
Features
Eddy Metal
Columns
Berk Bryant
Mike Stout
Paul Moffett
Keith Clements
Martin Z. Kasdan Jr.
Eddy Metal
Alexander Campbell
CD Reviews
Martin Z. Kasdan Jr.
Performance Reviews
Gretchen Stein Henry
Blogs
Got Shows?
Send Them To Us
Bookmark Louisville Music News.net with these handy
social bookmarking tools:
Available RSS Feeds
- Top Picks
- Today's Music
- Editor's Blog
- Articles
Add Louisville Music News' RSS Feed to Your Yahoo!

Issue: December 2011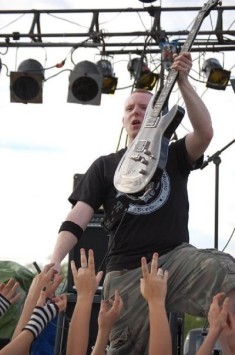 Bobby Naelitz
Name: Bobby Naelitz
Instrument:Lead
Guitar
Age:26
Band/Former Bands:Current band is Centerfold, last band was Embertide. Check us out at www.centerfoldmusic.com or hit us up on Facebook!
How long on instrument:13 years
Equipment:My daily driver is my Ibanez SZ720FM, but I'm a Gibson guy through and through. I have a Les Paul Studio and a Les Paul Custom Voodoo, plus three acoustic guitars: a Dean, a Takamine, and twelve-string Guild. Live. I use a GT-8 Multi Effects processor with both my Marshall 4x12 cabinet and Marshall valve-state head, or a 4x12 Peavey Cabinet with a Peavey Bugera tube head.
Influences:Zakk Wylde, Andy McKee, Todd Whitener, Dimebag, Eric Johnson, Johnny Rzeznik, James Taylor, Kirk Hammett, Jim Croce, Slash and Mark Tremonti among others. I have a lot of family members on both sides that play music and they have been big influences on me as well. I love Nickelback, KSE, Metallica, Karnivool, Staind, Bone Thugs N Harmony, Breaking Benjamin, The Eagles, Brian Mcknight, Tantric, Daughtry, Goo Goo Dolls, Lady Antebellum, Gin Blossoms, Incubus, 311, Alice in Chains, Nonpoint, Alter Bridge, Rascall Flatts, Seether, The Band Perry, and Shinedown.
My first gig:My first REAL gig was opening up for Terry Harper's band SEN for their CD Release Show at Tek World back in the day. I was fifteen years old and Terry was definitely a cool guy to give a young band an opportunity.
Hobbies:Aside from habitual guitar playing and songwriting, I get into sports pretty heavy and I closely follow NBA basketball. I also play a lot of Call of Duty and now that Modern Warfare 3 is out, I don't even know if I'll be showing up at Centerfold's band practices for a while.
Favorite movies:I'm a horror buff for sure and I'll watch just about anything from that genre. I also like to watch a lot of documentaries.
Favorite food:Anything my momma cooks! I'm a big fan of hot wings and I put Ranch dressing on pretty much everything. I also want to give a shout-out to the best place in the world, Northeast Ohio's Mr. Hero. Roman Burgers FTW.
Favorite place:I love being on stage and performing. It's what I live for and it's the one way I can truly let loose. I also love the recording studio. It can be stressful at times, but for me, being in that environment inspires creativity.
Bad habits:My fiancé would tell me that my worst habit is Call of Duty, but the truth is she plays as much as I do, so it kind of works out!
What I'm listening to nowadays:I'm always listening to something new or something different. I've actually been on quite a country kick lately. The new Lady Antebellum album is incredible. I've always been a sucker for great vocal harmonies and that band pulls it off so well.
Coolest thing I've done: Overall, I couldn't narrow it down to one specific thing. I will say that I've been fortunate enough to meet and collaborate with a multitude of talented musicians and engineers here in Louisville. Our city is definitely full of unique and gifted artists and I can honestly say that I have learned something from each and every one of them. Centerfold is planning to tour soon so maybe we can do a follow up? From what I hear though, what happens on tour stays on tour, right?
Most embarrassing moment:I've got two. I won't get into heavy detail here, but I had a "wardrobe malfunction" while walking through Target one time. Not sure if anyone saw or not, but thank God it was windy in there! For the second one, let's just say Ivan Arnold + Rubbing Alcohol + Fire = bad times.
Who do you love:My beautiful and talented fiancé, Brittany, Mom and Dad, my friends and family, my nieces Skylar and Jaedyn, and my brothers in Centerfold! I wouldn't be the person I am today without them.
When/where did you first get some:I'm shooting for tomorrow but we'll see how it goes…