March 2011 Articles
Cover Story
Kevin Gibson
Features
Eddy Metal
Columns
Berk Bryant
Mike Stout
Paul Moffett
Keith Clements
Martin Z. Kasdan Jr.
Eddy Metal
CD Reviews
Kevin Gibson
Kevin Gibson
Kevin Gibson
Performance Reviews
Mike Stout
Blogs
Got Shows?
Send Them To Us
Bookmark Louisville Music News.net with these handy
social bookmarking tools:
Available RSS Feeds
- Top Picks
- Today's Music
- Editor's Blog
- Articles
Add Louisville Music News' RSS Feed to Your Yahoo!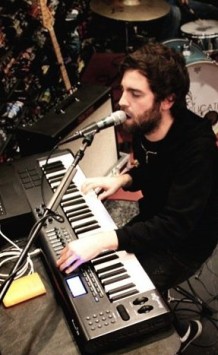 Michael Sanders
Name: Michael Sanders
Age: 26
Instrument: Guitar, Piano
Band/Former Bands: THE DELICATE, Michael Sanders (solo)
How long on instrument: 21 Piano, 13 Guitar
Equipment: Kurzweil 2500x, M Audio Axiom61, Fender 72 re-issue, Tele, Fender Standard Telecaster, Fender '61 Showman 100w head, Orange, 412ppc cab, Fender Hot Rod Deville 212, Fulltone Disortion Pro, Ibanez, TS-808, Boss DD-3 & DD6, Boss RC-20, Electro Harmonix Holy Grail, Fulltone FatBoost
Influences: Matthew, Jeff Buckley, Brian Mcsweeney, Jimmy Eat World, Sigur Ros, Copeland, The Juliana Theory, Chevelle.
My first gig: Playing piano at church when I was 9, haha
Hobbies: Movies, Web Design, Writing songs on cheap tiny keyboards.
Favorite movies: Donnie Darko, Wonder Boys, Eternal Sunshine Of The Spotless Mind.
Favorite food: Texas Roadhouse rolls.
Favorite place: Daytona Beach
Bad habits: I have a chronic... CHRONIC hair twirling problem. I've been like this my whole life. I twirl and make knots in my hair that have to be cut out occasionally.. Crazy.
What I'm listening to nowadays: The new Interpol record is good, I LOVE Brandon Flowers new record. The lead singer of Dishwalla, J.R. Richards, put out a cool solo record.. Alittle JayZ here and there.. I listen to alot of pop because of all the random artists I produce.
Coolest thing I've done: I won a songwriting competition when I was 15 and got to play in front of 5000 kids at a conference in Knoxville, TN.
Most embarrassing moment: When I tried to pee in a cup in the backseat of my parents car on the way to a family Christmas party when I was 10 and the cup became full and I managed to get urine EVERYWHERE. Had to walk in the party covered in pee.
Who do you love: Jesus, my girlfriend, drummers that play hard with big cymbals.
When/where did you first get some: A gentleman doesn't tell ;)
THE DELICATE's new record will be out in April.