October 2010 Articles
Cover Story
Kevin Gibson
Features
Eddy Metal
Columns
Berk Bryant
Mike Stout
Paul Moffett
Keith Clements
Martin Z. Kasdan Jr.
Eddy Metal
Terrabeat
CD Reviews
Hunter Embry
Hunter Embry
Kirk Kiefer
Blogs
Got Shows?
Send Them To Us
Bookmark Louisville Music News.net with these handy
social bookmarking tools:
Available RSS Feeds
- Top Picks
- Today's Music
- Editor's Blog
- Articles
Add Louisville Music News' RSS Feed to Your Yahoo!

Issue: October 2010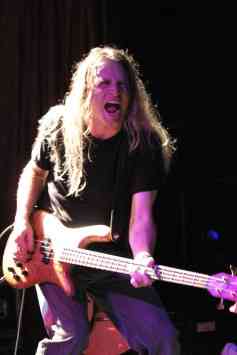 Chip Adams
Name: Chip Adams
Age: Yes.
Instrument: All kinds of bass. Songwriter guitar.
Band/Former Bands: Current; Strumbeat, AvantgardeDog, Full Contact karaoke, Sonoma Red, Bryan Fox, Jaime Duvall.
I sub for Big Rock Show, Wax Factory, Nineball and others.
Former: Edenstreet (A&M Records), Spanky Lee, Lovesauce and Soulbones, Shake Anderson, Henry Lee Summer (Epic Records), Jimmy Ryser (Arista Records), Derby City Freakshow, Velcro Pygmies, Aaron Crane, Greg Foresman, Eargasmic, many more. I do lots of freelance recording and producing.
I have been a hired gun for acts such as American Idol's Ruben Studdard, and Margot Reymundo, etc.
How long on instrument: Been a long time, been a long time, been a long.....
Equipment: Fender Am Deluxe basses have been my workhorses of late.
Fender Am Dlx Jazz (My wifey!), P bass Dlx & fretless Jazz Dlx. Other fenders; 2 '78 Precisions, '78 Jazz, '73 Tele Bass, 2 '80 Precision Special, P-Bass Ac/el fretless, 50's Paisley P RI, Aerodyne Jazz. Am std Jazz. '68 jazz w/Modulus Fretless neck. Ernie Ball Musicmans; 2 Stingrays, Sabre, Sterling. Lakland; 4-94, 55-01, 55-01 fretless.
Wal Mk ll Bass. Pedulla Proto Fretless. Modulus; 12 string bass, Prime 5 Stg. Alembic 8 String.
Rickenbacker; '85 4003S, Custom Ftlss. Spector; NS-2 Pre Kramer, NS-2O USA, NS-2 CR.
Dean; Pro 4, Pro 5, and Pro CR. Clevinger Elect Uprite. Tom Pike Custom Piccolo Bass. PV T-40.
Schecter; 2 80's P-Bass, USA P-Bass. Kramer; Ferrington, USA Ftlss. Robelli 8 String. Many more.
Bass Rigs; Ampeg; Pro-5 Head, Pro-3 Head, 70's SVT Head, 70's V4B Head, 70's B-15N Fliptop, SVT 8-10 cab-Purple, SVT-ll Preamp. G-K; MB500 Head, Neo 4-12 Cab, RBH 2-10 Cab. Avatar 2-10 Cab. Volcano 2-8 Cab. Mesa Boogie; 2 RR-EV 2-10 Cabs. 1-15 EV Cab. EV; 4 TL-606 EV loaded Cabs. Fender Bassman 150 1-12 Combo. SWR 1-10 Practice Combo. Yamaha 2 PB1 Pres.
Demeter VTBP Pre. Carver Power amps. And a sock monkey.
Pedal board: Boss; TU-2, OC-2, CE-2, CE-20, GQ-7, MXR Phase 100, Barber Burn Unit. Many other pedals for studio use etc.
Guitars: Fender; 2 Am Std Strat, Am Dlx Strat, Custom Alumitone Strat, Tele 140 Ac.
Alvarez 12 stg. Taylor; T-5, 314ce, baby. 2 LaPatrie Nylon. Washburn Nylon ac/el.
Parker USA Nitefly. Ernieball Axis, PRS SE Soapbar. Dano 12 Stg. Washburn Mando. Several others.
Gtr Amps; Mesa Rocket 440, PV Delta Blues, Ampeg V7 w/ Marshall 4-12. Gibson GA40 RVT. Fender; '76 Princeton Reverb, '63 Champ, Acoustasonic 30. My toy box is my tool box!
I am endorsed by DR strings, and Hipshot Music Products.
Influences: Pino Palladino, Guy Pratt, Mars Cowling, Mark King, Wyzard, Willie Weeks, Chuck Rainey, Jimmy 'Flim' Johnson, T-Bone Wolk, Verdine White, Geddy Lee, Chris Squire, Nick Beggs, Miroslav Vitious, Dug Pinnick, Stanley Clarke, Edgar Meyer, Mark Winchester, Jaco and Many more..
My first gig: Choir at age 8. First paying gig was at a strip bar/rock bar at 14. That was fun! Ruined me for life!
Hobbies: Cooking, wine tasting-collecting-drinking. Hoarding gear. Target shooting. Travel. Beaver watching. Beaver grooming. Dining out for sushi. Threesomes. Working in the yard. Candlelight dinners.
Favorite movies: Kiss Kiss Bang Bang, Religulous, Walk Hard, A Mighty Wind, V for Vendetta, JFK, Happy Feet, Crash, 1000 Corpses/Devils Rejects, Almost Famous, Team America, Natural Born Killers, All Dirty Harry Movies. Many more...
Favorite food: Sushi. Italian. Beaver.
Favorite place: Lake Tahoe/Wine Country CA. & my home.
Bad habits: Hoarding gear. Too many Cokes/Dews.
What I'm listening to nowadays: King's X!, Norah Jones, Pat Metheny, Toy Matinee, Jason Mraz, Imogen Heap, John Mayer, Steely Dan. There's simply not much new stuff I can wrap my head around. So I listen to the stuff from the days where music was music! Music is ALWAYS on at my place.
Coolest thing I've done: Playing Farm Aid was badass. Flying on Mellencamp's private jet. When Glynn Johns told me my bass "sounded f**king great was a moment! It's hard to pick. I have been fortunate to work with many good people and do many cool things. So I pick them all!
Most embarrassing moment: Falling in the rocky bank of the Ohio river, giving my buddy a piggyback ride on the boat slip, drunk off my ass, at Capt Quarters in front of a packed house during the dinner rush.
Who do you love: My dog Zoie, The Afghan Hound, all the wonderful musicians in this great city we live in. SO much talent! I think I love Adrianna Lima too... And my future ex-girlfriend, and her girlfriend. I love my students and fellow teachers at my business, The Louisville School of Rock!
When/where did you first get some: Last night! My first trip to the promised land was at the ripe old age of "AHEM-teen". In her parent's basement while they were upstairs walking around. It was terrifying! She was 10 years older than me but still lived at home. Or were you asking the first time I had sushi?