September 2010 Articles
Cover Story
Tim Roberts
Features
Eddy Metal
Columns
Berk Bryant
Mike Stout
Paul Moffett
Keith Clements
Martin Z. Kasdan Jr.
Eddy Metal
CD Reviews
Hunter Embry
Martin Z. Kasdan Jr.
Hunter Embry
Blogs
Got Shows?
Send Them To Us
Bookmark Louisville Music News.net with these handy
social bookmarking tools:
Available RSS Feeds
- Top Picks
- Today's Music
- Editor's Blog
- Articles
Add Louisville Music News' RSS Feed to Your Yahoo!

Issue: September 2010


I've Got A Mind To Ramble
Meet Blu Mule
"There's another mule kicking in my stall," sang Muddy Waters in his song "Long Distance Call." Actually there is another mule kicking in Louisville. While Woody Chancy was celebrating ten years of his "Roadhouse" program at the Vernon Club and Jon Bon Jovi was making his first Louisville appearance at HullabaLou, another musical event occurred that night at 718 S. 44th Street: Blu Mule had a coming out party at the Christ the King Hall on July 23.
They touted themselves as "A Kickin' Ass Blues Band" and kick-ass they did in the spacious, dimly lit basement room of the church. The revolving mirror ball cast reflected moving beams on the block walls and the multicolored ribbon lights were wrapped around the overhead pipes. Vibe's Production made sure this venue had all the class it needed, with set ups for drinks and a generous spread of soulful food.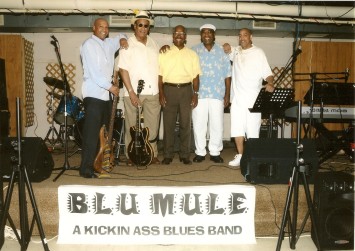 Blu Mule
Even though most of the musicians had played together in the band Night Breeze, they have been rehearsing since spring to work up a set list of twenty blues songs. That night they brought a wealth of musical experience together. Ed Chestnut, Jr. carries on the guitar tradition of his dad, Ed, Sr. Twenty years ago, Ed, Jr. played country music with the Hays family and he went on the road briefly with Boogie Morton. Ed plays with a delicate blend of blues and jazz, mixing B. B. King's riffs with Wes Montgomery's chords. You can hear his guitar on Mary Ann Fisher's 2002 Songbird of the South CD. Ed shared vocals with Joe Spalding, who also added his harp to the mix.
Spalding formerly handled the bluesy vocals with Night Breeze. He is working on his version of "Long Distance Call." Al Wickliffe is the younger brother of Gene Wickliffe, da Mudcats' drummer and founding member. Al's keyboards gave the band a full sound. The rhythm was provided by Paul Evans on bass and the steady drumming of Hubert Griffin. During the break Hubert said he has been playing since he was thirteen. He was a part of the Tommy Walker Band at Club Louisvillian. Besides playing the blues, he also has a jazzy side gigging regularly with pianist, Steve Crews.
The ass-kickin' started promptly at 10 p.m. with Joe singing "I Ain't Goin' To Raise No More Cotton." Instead he raised the ceiling with his down-home Delta approach to the blues. Ed answered back with "Rock Me Baby" and really tore it up when he closed the set with "Black Cat Bone." After a plate full of baked (not fried) chicken, green beans and macaroni salad, I was ready to get my ass kicked again with Joe singing "Caldonia." Ed got deep down into some serious slow blues with Lucky Peterson's "Nothing But Smoke.
Occasionally the band would slip in a funky or soulful instrumental like "Before Dawn" to round out the world premier of Blu Mule. They selected that name to reflect the deep roots and rich heritage of their music.
It is very gratifying to see another blues band emerge from Louisville's West End. If you want to lay back and kick ass Blu Mule style, contact Ed Chestnut at edwin734@bellsouth.net for a gig.
Liz and Doc Made A House Call
The tradition of musicians entertaining in a home goes way back to the juke joints in the country and house rent parties in the city. Les and Susan Reynolds have been hosting a series of house concerts for several years in New Albany, Indiana. For the latest concert on August 1, they enlisted the help of their neighbors Ben and Heather Gregory to share their adjoining properties and assist with the food. When I learned that Liz Pennock and Dr. Blues would be performing, I was anxious to renew old acquaintances.
I had first seen Liz and Dr. Blues (Paul Shambarger) backing 93-year-old "Diamond Teeth" Mary McClain at the 1996 Chicago Blues Festival. (I made a brief mention of their set in the July 1996 issue of LMN.) A year later, Liz and Dr. Blues performed at the Rudyard Kipling. The only announcement of the event was a tip by Ken Neuhauser in the Courier Journal. That night, the audience consisted of myself, my wife and Bob Cox who had recently moved to Louisville from Birmingham, Alabama. Bob would later become a board member of the KBS. We had our own private party at the Rud that night, with two full sets of rollicking piano blues and boogies by Liz and some gripping slide by Dr. Blues on his Dobro. As I said in my August 1997 LMN article, "With only five of us in the back room there was no separation between the audience and the performers. We all became one, joking and singing together."
Les was able to book Liz and Doc traveling between gigs in Bloomington, Indiana, and the Cincy Blues Fest, where they have performed at the last sixteen festivals on the Boogie Woogie Piano Arches Stage. They travel in a compact purple Chrysler PT Cruiser that holds all their instruments, equipment and clothes for five weeks on the road, plus this amazing duo.
Before the music started, Liz and Doc said on August 27 they would be playing at the Diamond Teeth Mary Fest in Huntington, West Virginia. Mary died in 2000 at 97 and they will be spreading her ashes along the railroad tracks where a memorial marker honoring Mary will be placed. Mary claimed to be Bessie Smith's half sister. While in her teens, she hopped the railroad at that spot dressed as a boy to begin her long, colorful, musical career. She first sang in the traveling medicine and minstrel shows during the Twenties and Thirties. Later she toured with the USO and performed at the Apollo Theatre, the Smithsonian and the White House. Liz and Doc heard many stories from Mary while touring and backing her for ten years. In 1953 Mary was on the program at the Cotton Club in Cincinnati with Duke Ellington and Billie Holiday. Mary said, "Billie was snorting that coke and passed out on the floor." Duke got mad and said "She did it again." Mary had to stand in for Billie that night.
Liz and Doc were both originally from Ohio. They met in 1981 and married in 1983. They are based in St. Petersburg, FL, traveling extensively, performing their vast repertoire of over two hundred classic, contemporary and original blues. Following a delicious potluck dinner provided by the hosts and guests, the first set got underway with a chorus of cicadas as backup singers. Liz's voice had mellowed since their gig at the Rud. She sang as sultry as the classic blues mamas but left the high notes for the cicadas.
Liz paid tribute to Mary, singing "Give A Poor Dog A Bone" that Mary had written in 1927. Sippie Wallace was recognized with "Suitcase Blues." It wasn't just interpreting classic blues that filled the warm night. There were plenty of well-crafted originals like "Baby, You Spoil Me," "One Way Ticket Blues," and "He Plays The Boogie," which are all true stories. Liz dominated the 88s masterfully with her six fingers rocking out boogies and barrelhouse runs better than most ten fingered pianists.
When she played "Boogie Woogie Staircase" and the title track from their recent CD, Six Finger Boogie, her Yamaha resonated with joy under the canopy. Dr. Blues complemented Liz's talents with some gritty songs of his own, like "Darken Your Door" and "Shotgun In His Hands," plus tasteful backing and solos on his Carlo Robelli resonator guitar. Dr. Blues got that guitar from Billy Gibson by way of their neighbor and fellow blues troubadour Roy Bookbinder. He sang one of Roy's songs, "Goin Back To Tampa," while Liz played keys and a harp on a rack. Near the end of the second set, they asked for requests. Jerry Lee Lewis's "Great Balls of Fire" got Liz up off her seat but she kept her feet off the keyboards. The delightful evening came to closure with a very personal song by Liz about the recent passing of musicians and fans and an encore of "Got To Get Going." If you ever want to throw a house party, call on Liz and Doc at (727)321-0332 and they will come cruisin'.
'Til Next Month
It must be lucky Friday, August 13, for I have just experienced a powerful show by Janiva Magness at WFPK's Live Lunch and will be attending the first Germantown/Schnitzelburg Blues Festival this evening and tomorrow. Unfortunately, there is no more room to write about it, so it will have to wait until next month.