July 2010 Articles
Cover Story
Kevin Gibson
Features
Eddy Metal
Columns
Berk Bryant
Mike Stout
Paul Moffett
Keith Clements
Martin Z. Kasdan Jr.
Eddy Metal
CD Reviews
Martin Z. Kasdan Jr.
Ronke Oyekunle
Kevin Gibson
Kirk Kiefer
Ronke Oyekunle
Bookmark Louisville Music News.net with these handy
social bookmarking tools:
Available RSS Feeds
- Top Picks
- Today's Music
- Editor's Blog
- Articles
Add Louisville Music News' RSS Feed to Your Yahoo!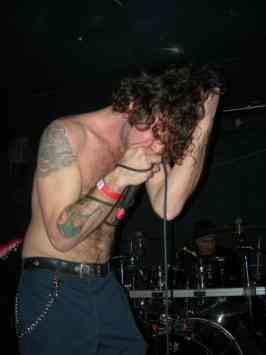 Stem Holder
Name: Stem Holder.
Age: 32
Instrument: Vocal chords.
Band/Former Bands: Carnazar, Menegerie, Incursion, Seclusion, Stem & The Geez.
How long on instrument: Well, ever since I can remember but joined my first band in 1992.
Equipment: He he, what equipment? I'm a vocalist.
Influences: A very wide array of artists from Jim Morrison to Chris Barnes. Philip Anselmo, Dax Riggs, Roger Waters & David Gilmour, Scott Wieland, Layne Staley, Jimi Hendrix… I could go on and on.
My first gig: At a church that I can't remember the name of in 1992 (if you can believe that).
Hobbies: Pharmacological Shamanism, Drinking, Reading, playing basketball.
Favorite movies: The Boondock Saints, Rampage (Just came out. If you haven't seen, do), Goodfellas, the George Romero "Dead" movies, The first two Godfathers, The first three Hellraisers … mostly gangster movies and old school horror flicks.
Favorite food: Chili so hot that it makes you sweat.
Favorite place: Dixie Highway from the '16 to the '72.
Bad habits: hmmm I guess that depends on your perception of bad…I guess smoking cigarettes when I'm drunk, being as though I was supposed to have quit 2 months ago
What I'm listening to nowadays: As of late, a whole chitload of acoustic stuff that Gezuz and I are learning for our acoustic cover project "Stem & The Geez." Acid Bath & The Doors are always a staple in my musical diet, Suicide Silence ever since Nick Houpt introduced me to them, and this comedian named Stephen Lynch.
Coolest thing I've done: I got to stand on the side of the stage at Ozzfest one year while Sabbath was playing…un-f**king-real man!
Most embarrassing moment: He he, good try Eddy. If you want to know that one, you may have to ask me personally, although anyone who knows me well already knows the answer. Kinda hoping it doesn't make it to print until somebody writes my biography when I die … LMAO. (Eddy: Dammit, I was hoping to learn this big secret. )
Who do you love: My family, I'd say my friends but I consider all the people that I call my friends family
When/where did you first get some: I could make something up just to amuse you but I honestly have to say I don't remember. That was entirely too many expended brain cells ago. I barely remember high school and it was a few years before that.