May 2010 Articles
Cover Story
Kevin Gibson
Features
Eddy Metal
Columns
Berk Bryant
Mike Stout
Paul Moffett
Keith Clements
Martin Z. Kasdan Jr.
Eddy Metal
CD Reviews
Martin Z. Kasdan Jr.
Martin Z. Kasdan Jr.
Hunter Embry
Martin Z. Kasdan Jr.
Kory Wilcoxson
Hunter Embry
Blogs
Got Shows?
Send Them To Us
Bookmark Louisville Music News.net with these handy
social bookmarking tools:
Available RSS Feeds
- Top Picks
- Today's Music
- Editor's Blog
- Articles
Add Louisville Music News' RSS Feed to Your Yahoo!

Issue: May 2010


I've Got A Mind To Ramble
Homeward Bound
The idea of Kentucky Homefront Performances was birthed by Louisville musician John Gage with half-a-dozen friends dreaming about showcasing regional music somewhere other than in a bar. With borrowed sound equipment and a commitment from WFPL to broadcast the show live from the Stuart Robinson Auditorium, Homefront began in March 1984. The first show was hosted by Ken Pyle, the heart and soul of the Rudyard Kipling. One-hundred-fifty people filled the pews. John would become the master of ceremonies and raconteur, giving the show a downhome feel, mixing the music with storytelling.
John recalled the memorable Homefront concert with Eddie "Cleanhead" Vinson in January, 1986, which was co-sponsored by the Louisville Jazz Society. Many of the skeptical board members were not familiar with this sixty-eight-year-old honker and shouter. John's persuasion prevailed, with some financial assistance from a Louisville Fund for the Arts grant. A standing-room-only audience (dozens had to be turned away) saw this legend blow his alto sax and sing in his personal broken style. Vinson was backed by Louisville musicians Steve Crews, piano, bassist Tyrone Wheeler and Luis Taylor, drums. The jazz guitar duo of Jimmy Raney and Jack Brengle shared the bill. John could do no wrong after that show.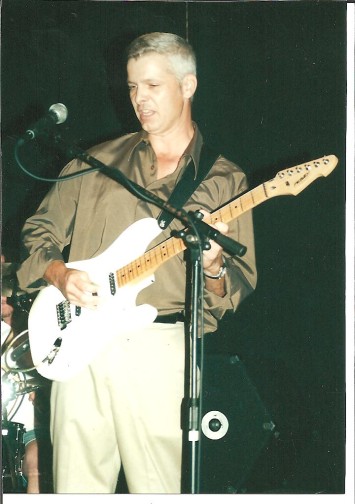 Randy Coven, One Shot Johnny. Photo by Keith Clements
The Kentuckiana Blues Society had its first five meetings at the Rud, starting in October, 1988, when the Bluesday Tuesday jams were going on in the back room and the first Garvin Gate Blues Festival came together for a rainy one-day event. At those early meetings, the Board of Directors was elected, a newsletter was developed, bylaws for the Society were prepared and the Society became incorporated. Homefront had its first double billed blues concert with Henry & The Noisemakers and headliner Catfish Keith on March 11, 1989.
The KBS celebrated its first anniversary Blues Bash in conjunction with Homefront on Bellarmine's campus on February 10, 1990. This blowout concert rocked Wyatt Hall when da Mudcats opened, followed by H-Bomb Ferguson & The Bluesmen. Byther Smith & The Nightriders headlined.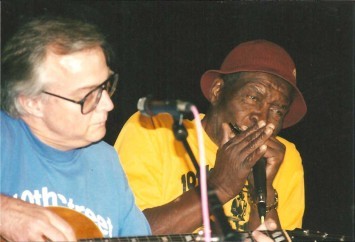 Pen Bogert and Fred Murphy, Ky Homefront, May 12, 2002. Photo by Keith Clements
The blues prevailed again at another Homefront performance in December, 1990 with Yank Rachell and Spencer Bohren. Rachell, the blues mandolin man, entertained with his original and raw style of prewar blues. Bohren came in his Airstream trailer from Louisiana to finger-pick and slide on his wide selection of guitars. Catfish Keith returned to Homefront in January, 1993, with KBS director, historian and musician Pen Bogert, who opened with the Jones Family. During the 2002 Homefront season, Pen returned with Fred Murphy as a downhome duo. They had just collaborated on a CD release, I Heard A Little Rumblin,' where Fred sang and harped his Memphis style of blues with Pen's sensitive guitar backing. The Walnut Street Blues Band followed with their tight, up-tempo and sophisticated sound, led by Arti Well's soulful voice, filling the intimate space of the old Kentucky Theater. There have been many blues acts since then including the late Harry Lewman; Tyrone Cotton; Nick Stump; The Revelators; Sue O'Neil; Joe DeBow; John Burgard & Reid Davis; Sparky Rucker; da Mudcats; Another Mule; Mark Stampley; Hambone; Hellfish; The King Bees and The Stray Cats Band with Greg Martin.
This win-win connection between Kentucky Homefront and the Kentuckiana Blues Society has been a long relationship and it has just gotten stronger. When John Gage attended the KBS February board meeting, the two organizations agreed to have a blues concert during Homefront's spring and fall seasons. The KBS suggested several acts, promoted the event and had a table at the first concert on April 10 at the Clifton Center. The attendance was good and the KBS signed up some new members so it was a win-win evening with some excellent blues.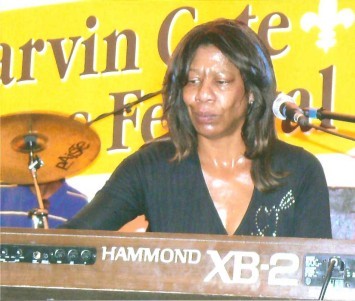 Cheryl Renee, Keith Little Band, 2008 Garvin Gate Blues Festival. Photo by Keith Clements
Kentucky Homefront tapes two one-hour shows during each performance for future broadcasts on Wednesday evenings at 8 p.m. on WFPK 91.9 FM. The April show included Jon Boy Slim and The Beat Daddys for the first broadcast. After Jon Boy won last year's KBS solo/duo contest, I did a follow up interview with him which appeared in the August 2009 issue of LMN. Jon Boy's original music was less bluesy than usual and more upbeat, with songs like "Feelin' Alright" and "Got To Get Away." He played his guitar with a strong strumming rhythm that contrasted with his delicate ragtime chording. He closed his brief set with his sister, Katy Renee, who accompanied him on rhythm guitar and sang "I'll Be Your Woman." Between the acts was the spoken word segment, which featured John Gage and Col. Bob Thompson discussing the benefits of our old interurban transportation system. Poet and storyteller Paul McDonald commented about the state of our bridges and read his poem, "Five Little Marbles." You had to have been there to know what those marbles were.
The Beat Daddys have been road warriors since 1986, led by founding member Larry Grisham. The band has recently reorganized and Pat Worley was featured on guitar at the show. He is also the lead guitarist with Velveeta Jones. Pat's intense solos meshed nicely into Larry's husky vocals, harp and guitar as if they had been playing together for years. Larry was a commanding front man with a personable stage presence due to his size, long curly hair and showmanship. The opening song, "Common Ground," conveyed the trials and tribulations of life, particularly when Larry sang "It's poetry in motion, my life circle isn't round, music is my devotion and the blues is a common ground." This Nashville based band will return to Louisville for the Pitt Bar-B-Q Festival at 6010 Preston Highway on May 15.
The second show opened with Cheryl Renee playing keyboards and singing. Her solo performance was reminiscent of being at a house rent party with a barrel-house piano player entertaining in the corner. She reached way back for songs like "Person To Person," "Drownin' In My Own Tears" and "Ball In The Jack." This was a side of Cheryl I did not see when she competed and won the 2008 KBS band competition with her backup band, Them Bones, and also performed at the 2008 Garvin Gate Blues Festival with Keith Little. Her voice wailed and yodeled as her keys came tumbling down. Cheryl's star is quickly rising; she won third place in the 2010 International Blues Competition for bands last January.
Following John Gage's original "Grassroots Expose," One Shot Johnny closed the evening with a set of contemporary blues. This trio from Magnolia, Kentucky was formed in 1997, and has maintained the same musicians, including Jeremiah Kelly on drums, Joe Shirley, bass and Randy Colvin leading the band on guitar and vocals. Their balanced repertoire included a slow sad song, "Your Eyes Don't Lie," and the infectious, rambling "The Kind of Fool I Am." One Shot Johnny has released four CDs, with their most recent recording, Times Like These, selected by the Blues Foundation as one of the twelve best self-produced CDs during the past year. Stay tuned for the next all blues Kentucky Homefront concert on October 9.