October 2009 Articles
Cover Story
Kevin Gibson
Features
Eddy Metal
Columns
Berk Bryant
Mike Stout
Keith Clements
Martin Z. Kasdan Jr.
Eddy Metal
CD Reviews
Hunter Embry
Hunter Embry
Tim Roberts
Bob Mitchell
Hunter Embry
Blogs
Got Shows?
Send Them To Us
Bookmark Louisville Music News.net with these handy
social bookmarking tools:
Available RSS Feeds
- Top Picks
- Today's Music
- Editor's Blog
- Articles
Add Louisville Music News' RSS Feed to Your Yahoo!

Issue: October 2009


I've Got A Mind To Ramble
Garvin Gate Blues Festival: A Little Background
I was asked by the organizers of the Garvin Gate Blues Festival to write a brief history of the event for their website (garvingatebluesfestival.com) and for a brochure that will be published for this year's festival. As I was writing about each year, it brought back a lot of memories of how the festival developed and who performed. Follow this historical time-line to what has now become the largest free music street festival in Louisville.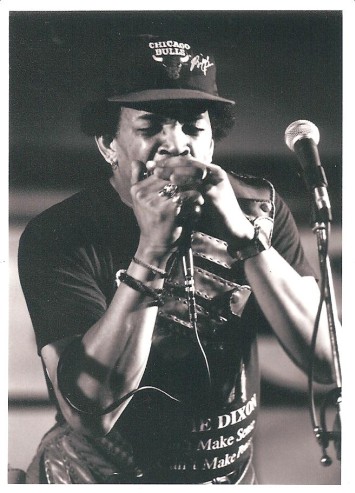 Sugar Blue
1988 – In The Beginning
It all started in 1988 with an idea to have a blues jam in the parking lot of the Rudyard Kipling. At that time the Garvin Place Association was expanding its boundaries to become the Garvin Place Neighborhood Association and they wanted to initiate an annual event. Because the parking lot was so limited, it was decided to have it on Garvin Place by the Gate. The chair of the Association was enthusiastic about the location and got a good response from the neighbors. Within a few weeks it all came together with the sponsorship of the County Judge Executive's Jefferson Discovery Program. The performers were all local bands. Unfortunately, it rained that Sunday in October and only five hundred people came.
1989 – Expansion to 2 Days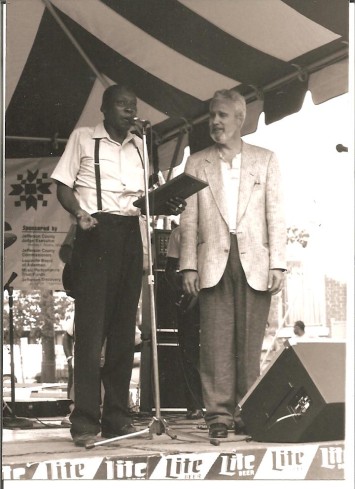 Rocky Adcock awarding Weaver Award to Henry Woodfull
In 1989 the festival expanded to two days, with beautiful weather and ten thousand people attending. Henry Woodruff received the first Sylvester Weaver Award from the Kentuckiana Blues Society. H-Bomb Ferguson and Eddy Clearwater were the headliners. Clearwater jammed in the Rudyard Kipling following the festival.
1990 – Officially Arrived
Because the large crowd had been hard to contain on Garvin Place, Oak Street was closed between Fourth and Sixth and the stage was set up in the intersection for 1990. Scott Mullins, host of the WFPK Saturday Night Blues Party, was the music coordinator. He pulled some strings and there were several exceptional acts including Fenton Robinson, James 'Thunderbird' Davis, Roosevelt 'Booba' Barnes, Phil Guy, Lefty Dizz, Paul Black & the Flip Kings, plus the Jelly Roll Kings. Twenty thousand people came and the festival had officially arrived.
1991 – The Gate and the Rud Host
The 4th Annual Garvin Gate Festival brought Professor's Blues Review (Eddie Lusk) and Maurice John Vaughn from Chicago as headliners on Saturday. The KBS hosted a blues jam that night at the Rud with Rocky Amaretto and Winston Hardy. The Garvin Gate Association produced a slick souvenir program and the cool 'saxy' cat appeared at the gate as the new logo.
1992 – Expansion to 3 Days
The festival expanded to three days in 1992, with Willie Little as the music coordinator. There was a diverse assortment of local talent with a Gazebo Stage located at the other end of Garvin Place for acoustical acts. James "Yank" Rachel, 83, delighted the audience with his mandolin. Lamont Gillespie and the Home Wreckers featured Sam Myers.
1993 – Party Hardy
The lineup for the 1993 festival was mostly local bands with Kent Duchaine, the Louisiana guitarist, headlining the first two nights. Winston Hardy, Mr. Mumbo Jumbo, received the 5th Sylvester Weaver Award. This festival initiated supporting the Kentucky Harvest by encouraging people to bring canned goods.
1994 – Mississippi Meets Chicago
The 1994 festival featured Junior Kimbrough on Friday and Willie Kent & The Gents with Bonnie Lee on Saturday. There was a benefit for local bluesman Henry Woodruff in the Rud with the Dennis Ervin Band.
1995 – Louisville's 11th Largest Event
In 1995 the festival was in its 8th year and had become Louisville's 11th largest event drawing 30,000 to 40,000 people over three days. Three headliners were recruited from Chicago including Magic Slim & The Teardrops, Mississippi Heat with Dietra Farr and Byther Smith and The Nightriders.
1996 – Stage Full of Stars
The 1996 festival had a second Gazebo Stage near Ormsby and following the festival, there was another fund-raiser in the Rud for Lorene Wells, wife of Foree Wells, with music provided by the Metropolitan Blues All Stars. The main attractions were Deborah Coleman, Chubby Carrier & The Bayou Swamp Band and Jimmy Dawkins. Dawkins brought Eddie Shaw's band as his backup so there was a stage full of stars. It was a moving moment when an ailing Jim Rosen sat in to blow his harp with Dawkins. Mary Ann Fisher was honored with the Sylvester Weaver Award.
1997 – Out of Gas
In 1997 Howard Rosenberg had left town and the Garvin Gate Neighborhood Association volunteers had run out of steam after nine years. It is significant to note that da Mudcats performed every year at the Gate and Foree Wells played at all but two festivals.
The event was briefly revived as the Louisville Blues Festival and moved downtown to Theater Square for three years from 1997 to 1999. Even though the talent was great, it just wasn't the same when they put a fence around it and charged admission.
2007 – Resurrection of the Gate
With the return of Howard Rosenberg, financial support from Metro councilman George Unseld and Mike Suttles booking great acts on a lean budget, the Gate was once again alive and well. Chicago guitarists Lurrie Bell and Jimmy Burns headlined Friday and Saturday night with a tribute to Jim Rosen that reunited da Mudcats with Sue O'Neil. Sonny Sitgraves, a local drummer who played with several Chicago bands, received the "Weaver." It was a déjà vu experience after an absence of eleven years.
2008 – Ready for Eddy
This festival picked up more sponsors and had larger crowds. Chicago blues ruled again with Nick Moss & The Flip Tops and Eddy 'The Chief' Clearwater headlining each night. Clearwater, now a 73-year-old-legend, closed his set with "West Side Strut," which hit a groove that got the whole crowd in sync. When Joe DeBow finished his set with Pure Gravel, he was presented with the "Weaver."
2009 – Harp Heaven
Friday, October 9, will begin at 6:54 p.m. with Sue O'Neil and Blue Seville doing a tribute to the late KoKo Taylor, who died last June. The house band at B.B. King's Blues Club in Nashville, The Stacy Mitchhart Band, will mix funky soul and rockin' blues. The headliner will be Lil' Dave Thompson from Greenville, Mississippi. He has been touring extensively this summer, arriving in Louisville following an appearance at the Arkansas Blues and Heritage Festival the day before. At 40, comparatively young for a bluesman, Thompson is a confident and aggressive guitarist in the mold of Albert King. His vocals can be both gruff and affectionate, especially on his show burners. With Thompson you won't get any pyrotechnics or showboating, just solid showmanship that mixes the sounds of Stax, Northern Mississippi and vintage Chicago.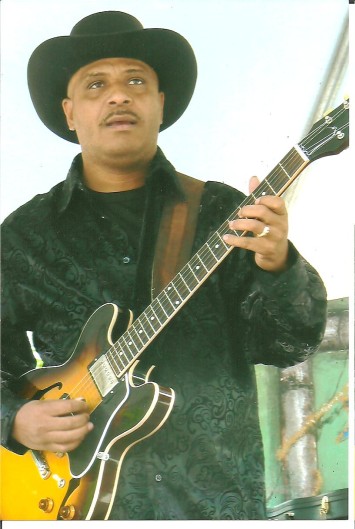 Lil Dave Thompson
Saturday will open at 3:00 p.m. with Dick and the Roadmasters. the winners of the 2009 KBS Band Competition. This seven-piece band from Covington, Kentucky, packs plenty of punch with keyboards, harp and sax. The Jim Masterson Blues Band has been the house band at The Lounge for the jams every Wednesday night. When I interviewed Jim for the April, 2009, issue of LMN, his long history with the Louisville blues scene and his influence on other musicians became apparent. Hellfish, Stella Vees and Lamont Gillispie and 100 Proof will take us into the evening. The outstanding harpmen from each band – Joel Pinkerton, Mark Hoekstra and Lamont Gillispie – will do a first-time ever harmonica jam together before the headliner, Sugar Blue.
Sugar Blue got his name from an old 78 record by Sidney Bechet, titled "Sugar Blues," that he found in the trash. His mother was a singer and dancer at the Apollo Theater and this early exposure to show business set him on a course to be a performer. His aunt gave him his first harmonica when he was ten. He practiced playing along with pop and jazz musicians he heard on the radio. Sugar started playing on the streets of Harlem during the 70s and recorded with Brownie McGhee, Roosevelt Sykes, Victoria Spivey, Louisiana Red and Johnny Shines.
Memphis Slim, the expatriate pianist living in Paris, encouraged Sugar to come to France in 1976. While overseas, Sugar recorded and performed with the Rolling Stones. He can be heard on Some Girls, Emotional Rescue and Tattoo You. Sugar returned to the U.S. In 1982, preferring to lead a band rather than just be a sideman or session player. He learned from the harp masters like Big Walter Horton, Carey Bell, James Cotton and Junior Wells in Chicago. Sugar toured with Willie Dixon's Chicago Blues All Stars until it was time to start his own band in the mid-80s. He has received several Grammy Awards and continues to attract an international audience. Sugar will take us to harp heaven with his technically dazzling style, as well entertaining with his rich sensual voice.
It has been a long time since we have had so much talent together honoring the 'Mississippi saxophone.' This convergence of the diatonic and chromatic reeds promises to be a night to remember.
Mason's Memorial Show
If the Garvin Gate Blues Festival leaves you wanting more, there is another event awaiting you the following day, October 11, at Stevie Ray's. "The Search Is Over Concert" is in memory of the late, great guitarist Ricky Mason. Several musicians have gotten together to stage a benefit to donate an instrument to a young musician in Ricky's name The concert title comes from one of Ricky's favorite songs "My Searching Is Over" by Eddie Hinton from his album Letters From Mississippi. Hinton was as soulful as they come with his gritty songs and Muscle Shoals- flavored guitar. He was dubbed "The White Otis Redding." The all-star line up features several bands from Garvin Gate, including Hellfish, Stella Vees and Lamont and 100 Proof, plus The Saints and The Stray Cats. The doors open at 5:00 p.m., the music starts at 5:30 p.m. and for a modest cover/donation of $5 you can experience Garvin Gate all over again, plus more, for a good cause.