July 2009 Articles
Cover Story
Tim Roberts
Features
Eddy Metal
Columns
Berk Bryant
Mike Stout
Paul Moffett
Keith Clements
Martin Z. Kasdan Jr.
Eddy Metal
CD Reviews
Kevin Gibson
Martin Z. Kasdan Jr.
Kory Wilcoxson
Kevin Gibson
Kory Wilcoxson
Ronke Oyekunle
Blogs
Got Shows?
Send Them To Us
Bookmark Louisville Music News.net with these handy
social bookmarking tools:
Available RSS Feeds
- Top Picks
- Today's Music
- Editor's Blog
- Articles
Add Louisville Music News' RSS Feed to Your Yahoo!

Issue: July 2009


I've Got A Mind To Ramble
And This Is Free
Having attended nearly all of the Chicago Blues Festivals during the past twenty six years, preparing for this three-day event is down to a science. I used to drive to the Windy City but with parking so expensive and the hectic logistics of getting around town, it is so much easier to fly into Midway Airport on Southwest Airlines and take the CTA (Orange Line) into the city. If you have the time, it is convenient to arrive the day before the festival to get settled and do a little sightseeing. Due to the rain, the day before the festival was spent at the recently opened wing of the Art Institute of Chicago, seeing their collection of contemporary art.
A tighter budget has shortened the festival back to three days instead of four and the Louisiana Bayou Stage was eliminated. That still left six stages in Grant Park, which provided plenty of choices to try to keep up with a total of seventy-two acts, begining at noon and end at 9:30 p.m. each day. I try to prioritize the people I want to see the most and set up a sequence of going from stage to stage to see as many musicians as possible. Even with my ambitious schedule, I only saw half of the music that was available because so much of it overlapped.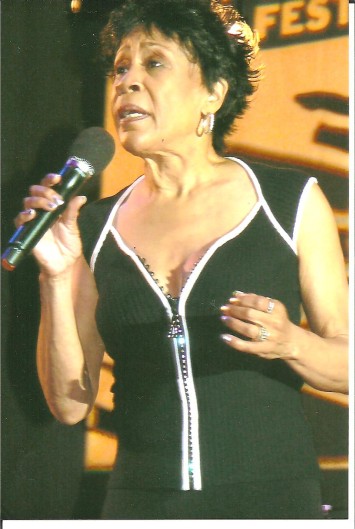 Bettye LaVette, 2000, Chicago Blues Festival. Photo By Keith Clements
This year's festival paid tribute to the centennial of the birth of Robert Nighthawk, with an emphasis on Maxwell Street where he frequently played. Local musicians and singers were more prominent on the schedule, with many lady divas featured. Most of the ladies honored the Queen of the Blues, KoKo Taylor, who passed away on June 3. I heard several versions of "Wang Dang Doodle," KoKo's signature song. A huge memory wall was set up at her booth for everyone to sign and express their condolences
On Friday, June 12, the skies cleared and the cool, crisp air energized me for the first day of the festival. The highlights included Maxwell Street Revisited, which gathered together several lesser-known musicians who had connections to the once-thriving Sunday open air market where they used to busk on the streets. Under-the-radar bluesmen like Smilin' Bobby and Dancin' Perkins (formerly known as Mr. Pitiful) showed they can play as well as the bigger names. Frank 'Lil Sonny' Scott, Jr. was decked out in his usual red, white and blues outfit keeping the beat with his tambourine and rhythm stick while Miss Red sang "I'm A Dirty Old Woman."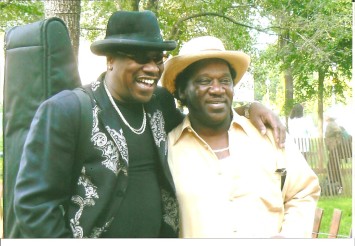 Big Bill and Mud Morganfield, Chicago Blues Festival, 2009. Photo By Keith Clements
West Side Veteran singer Mary Lane was back again this year with her Blues All Stars that included Rockin' Johnny Burgin and Lurrie Bell on guitars, Matthew Skoller playing harp and her husband on bass. She dedicated "I Lost The Best Friend I Ever Had" to KoKo. Big Bill and Mud Morganfield, both of whom are sons of Muddy Waters. These brothers collaborated with a moving set to their father. During the past ten years, Big Bill has released three CDs on Blind Pig Records, where he continues Muddy's legacy on his own terms While Big Bill was energetically playing his guitar, Mud was singing his father's songs with such conviction and the same mannerisms that it seemed Muddy had been reincarnated. There was electricity on the Front Porch Stage at that moment, with Willie 'Big Eyes' Smith sparking the set with his harp and his son Kenny drumming. Pinetop Perkins closed the set and, at ninety five, showed he can still "boogie the woogie" on the piano. Big Bill and Mud need to take their act on the road as the true blues brothers.
A pleasant surprise was the Maxwell Street Corner venue, located on Columbus Drive behind the Art Institute. Just a couple of mikes and monitors were set up in the street by the old blue Down Home Music Bus, similar to how it was at the Maxwell Street Market. From 1:00 p.m. to 4:00 p.m., various musicians would show up to play and sing. "Piano C." Red hosted the Friday show with Johnny Harper, Big John and Gloria Rogers helping out on vocals while Red played the keyboards from his wheelchair. The informal spontaneity of this venue drew a large crowd.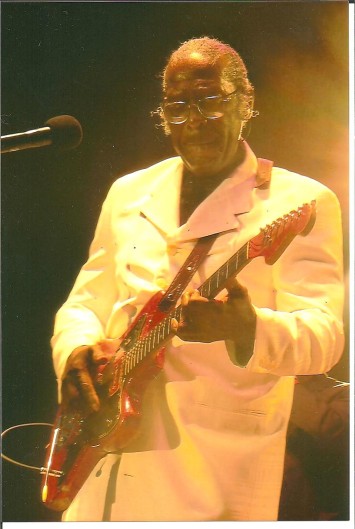 Piano C. Red, Chicago Blues Festival, 2009. Photo By Keith Clements
Texas guitarist Andrew "Jr. Boy" Jones led a tight band at the Front Porch Stage, showing some of his Freddie King-inspired licks. Besides backing King in the 60s, he also played with Charlie Musselwhite during the 80s before he struck out on his own in the 90s. It was appropriate that Charlie Musselwhite followed. Musselwhite's vocals may be laid-back but his harp was inspired and seasoned with years of experience. He lived several years in Chicago during the 60s before moving to the West Coast.
Eddie C. Campbell was the highpoint of the evening shows in the Petrillo Music Shell. He was celebrating his seventieth birthday and the release of his latest CD, Tear This World Up, on Delmark. A blue cake was presented to him and he was serenaded by his daughter and wife, Barbara. Eddie's deep nasal voice and funky chord poppin' guitar has a strong funky feel, filled with shuffles and propulsive runs. Some say his style is from Chicago's West Side but his introspective, sometimes autobiographical, lyrics – as in "Big World" and "Bluesman" – set him apart from the other Chicago journeymen. Success for Campbell has been sporadic since his first release, King of the Jungle, in 1977. I hope this exposure as a headliner and his new CD will rejuvenate his career.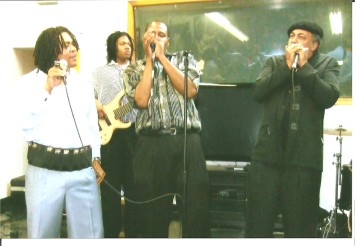 Grady Champion, Steve Bell, Billy Branch at Blues Heaven, 2009. Photo By Keith Clements
The music at the festival ends at an early hour so people can hear more blues in the clubs. It was off to Buddy Guy's Legends to hear guitarist Carl Weathersby, who got some help from Steve Bell on harp and Tyson Bell on bass. Legends is celebrating twenty years at its location on 754 South Wabash. The club will be relocating to a new site, as its lease will soon be up and Roosevelt University wants to use that prime location.
Saturday, June 13, started off rainy and wet, so the walk to Grant Park was delayed an hour. Jerry 'Harmonica" Bean opened the Mississippi Juke Joint Stage with his one-man. band of stomping his foot, picking his guitar and blowing his harp on a rack, playing the more traditional style of blues. As the weather improved, Cyrus Hayes was exciting the rapidly growing crowd with his harp and mellow voice that reminded me of Little Johnny Taylor with a growl. Lady Lee joined Hayes singing another tribute to KoKo. Bobby Too Tough was strutting and singing at the Maxwell Street Corner, wearing a white suit, black wide brim hat and a gold badge. Lil' Dave Thompson, who is a favorite with the Kentucky Blues Society in Bowling Green, did a nice set of contemporary blues. His voice is smooth for a Mississippi Delta bluesman and his mature guitar work belies his forty years. To contrast Thompson's easy style, Ray 'Killer' Allison was tearing it up at the Front Porch Stage. Allison started out playing incendiary drums but has recently switched to playing guitar with the same high energy. Lil' Ed and The Blues Imperials followed and continued the excitement with his houserocking band. When Lil' Ed sang "She's Gone," it doesn't get any bluer and when he did "Hold That Train," the romp barely kept from derailing. There was a cluster of Ed Heads standing by the stage wearing red paper fezzes that matched Lil' Ed's.
The evening shows were dominated by the ladies. Trudy Lynn, from Houston, Texas, did an inspired mix of soul, R&B and blues, with a rousing "I'm A Blues Singing Woman." "Come To Mama" was her tribute to KoKo. Lynn was backed by the Chicago Rhythm and Blues Kings, fronted by sax legend Gene 'Daddy G' Barge. Several of the horn players had originally played with Big Twist & The Mellow Fellows.
The showstopper of the evening was Bettye LaVette. While she is not a pure blues singer, she delivers each song with such expression and intensity that both she and the audience were emotionally spent at the end of the show. LaVette reached deep inside herself and acted out each song to extract all the joy and pain from her lyrics. She opened with a review of her haunting and soulful songs from the 60s and 70s including "Never Change" and "Let Me Down Easy." Her piercing voice cracked through the night chill in the Music Shell deeply touching everyone.
If there was a climatic experience during the festival, it was a visit to Willie Dixon's Blues Heaven Foundation later that night. This was the home of Chess Studios at 2120 S. Michigan Ave. from 1957 to 1967. The building was designated a landmark in 1990 by the Chicago City Landmarks Commission. Marie Dixon, widow of Willie Dixon, purchased the historic property for the Blues Heaven Foundation in 1993. The building was refurbished and reopened in 1997 with tours starting a few months later. The open house included a tour, video of the Chess blues and rock legends, refreshments and live music. The Grady Champion Revue was the entertainment which turned the event into an unforgettable party. This energetic forty- year-old singer and harpist from Mississippi quickly warmed up the guests in the second floor recording studio. Soon Billy Branch arrived and then Steve Bell showed up for what was to be one of the most exciting harmonica jams I've ever experienced. Grady got some tutoring from some of the best harpmen. They sang several of Howlin' Wolf's songs, including "Backdoor Man" and "Killing Floor," which were recorded in the same studio. Marie Dixon was invited to come up to say a few words and wound up singing "I Just Want To Make Love To You" with the band. She admitted when she first heard that song at the tender age of fourteen, she knew what the words meant but hadn't experienced it yet. The displays of pictures and memorabilia, the wall of plaster faces of blues people, the adjacent courtyard for concerts, and the programs that provide assistance for children and musicians all make a visit to the Blues Heaven Foundation a must. It's like visiting Sun Studios in Memphis just to be in the presence of where so much great music was made.
Since I'm rambling much too long, I will cover the final day of the festival in the next issue.