June 2009 Articles
Cover Story
Tim Roberts
Features
Eddy Metal
Columns
Berk Bryant
Mike Stout
Paul Moffett
Keith Clements
Martin Z. Kasdan Jr.
Eddy Metal
CD Reviews
Steve Morgan
Steve Morgan
Bob Mitchell
Hunter Embry
Ronke Oyekunle
Hunter Embry
Ronke Oyekunle
Hunter Embry
Kory Wilcoxson
Hunter Embry
Blogs
Got Shows?
Send Them To Us
Bookmark Louisville Music News.net with these handy
social bookmarking tools:
Available RSS Feeds
- Top Picks
- Today's Music
- Editor's Blog
- Articles
Add Louisville Music News' RSS Feed to Your Yahoo!

Issue: June 2009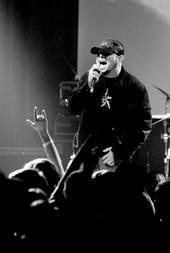 Andy Paul. Photo uncredited
Name: Andy Paul
Age: Old enough to be your daddy
Instrument: Vox
Bands: Current - (intheclear), former - Subtle, Infringe, Factor 9
How long on Instrument: Been singing since I was a kid.
Equipment: Shure mics
Influences: I really do listen to all music, anything that has soul influences me. Life in general, people, movies. I am a student of human nature.
First Gig: Jake and Elwood's, now Saints. I forget who was on the bill with us.
Hobbies: Hangin with friends, 420, movies. I'm always ready for good times.
Favorite Movies: Too many to write, some favs are "Lord Of The Rings," "Boondock Saints," "Step Brothers," any horror flick.
Favorite food: ALL OF IT/
Favorite place: Anywhere with a beach/
Bad habits: Smoking, drugs, dirty sex.
What I'm listening to nowadays: Lamb of God - "wrath", Thomas Medicine, Isis. I just got a copy of some old-school Louisville - Sancred (haven't heard it in years, and still love it just as much.)
Coolest thing I've done: The coolest thing I've done is tour half of this country and meet people from every walk of life. It is by far the best thing you could ever do - travel and rock!
Most embarrassing moment: We (itc) played a show at Coyote's once upon a time, and I happened to drink enough Jägermeister to supply a small village. I blacked out for the last half-hour of the set, forgot all the words and told the whole crowd to go f**k themselves. I guess that's the most embarrassing, but I really don't remember much of it.
Who do you love: I love my family more than anything in the world and my true friends.
When/where did you first get some: I was a late bloomer. I think i was 17 and my girl at the time and I got a hotel room. probably isn't the most exciting story, but all the sexual craziness came with years of practice.