June 2009 Articles
Cover Story
Tim Roberts
Features
Eddy Metal
Columns
Berk Bryant
Mike Stout
Paul Moffett
Keith Clements
Martin Z. Kasdan Jr.
Eddy Metal
CD Reviews
Steve Morgan
Steve Morgan
Bob Mitchell
Hunter Embry
Ronke Oyekunle
Hunter Embry
Ronke Oyekunle
Hunter Embry
Kory Wilcoxson
Hunter Embry
Blogs
Got Shows?
Send Them To Us
Bookmark Louisville Music News.net with these handy
social bookmarking tools:
Available RSS Feeds
- Top Picks
- Today's Music
- Editor's Blog
- Articles
Add Louisville Music News' RSS Feed to Your Yahoo!

Issue: June 2009


I've Got A Mind To Ramble
Muji Fuji For Ya
O'Shea's Irish Pub has been the home of the Kentuckiana Blues Society's board meetings since January 2007. That was until May, when O'Shea's booked our space to another group. We scrambled around at the last minute until Lisa Dolson made her lounge available to us and provided food to soak up our beer. Lisa's Oak Street Lounge is located at 1004 East Oak St.m near the intersection of Oak and Swan. Her venue has hosted many blues jams, benefits and KBS events over the years. The Show Room in the back was recently rearranged so the bands and audience are better oriented to each other. When we met on May 6, it was also "Weird Wednesdays" with Muji Fuji setting up as the Wednesday night band. After the meeting was adjourned several of us hung around to listen and I liked what I heard.
I returned the following Wednesday to listen some more and get better acquainted with the members of the band. Their business card identifies Muji Fuji as a "5 Piece Power Trio." Andy Brauner, Joe Moore, Buddy Hill, Harv Allen and Pat Dice are the pieces that drive this new band of veteran musicians. Andy, Joe and Pat had played with Winston Hardy as part of the Roadmasters. During Winston's shows, he would frequently get into an extended version of "Everyday I Have The Blues" with each phrase getting a little raunchier. Muji Fuji is a censored translation of a lyric that Winston would inject into his X-rated song. As a tribute to Winston, the band took Muji Fuji for their name. Their web page states, "Times on stage with Winston were the things of which legends are made." Their last gig with Winston was a New Year's Millennium Party in 2000 at Pine Grove, Kentucky, where he was attended to by a nurse and required oxygen during the show.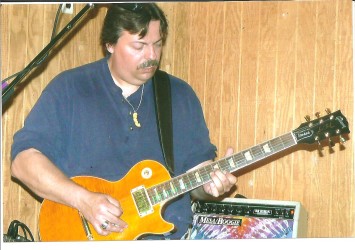 Andy Brauner with Muji Fuji. Photo by Keith Clements
Andy Brauner credits Tom Browning, his guitar teacher, as his first mentor. Andy played with Rocky Amaretto (Adcock) and recorded "Bad Milk" while in his late teens for The Louisville Blues Compilation album in 1988. At the time Rocky's roommate, Tom Flood, had some sour milk in their refrigerator which was the inspiration for the song. Andy briefly joined da Mudcats as one of the founding members and played on the song "Two Man Blues" from the same album. He dropped out of the local music scene when he moved to Bagdad, Kentucky and got married. He is now back playing with a vengeance.
Joe is a distant cousin to Bill Monroe through Bull Monroe who used to wrestle bulls to the ground. When Joe's uncle Bill gave him two albums by the Rascals and Iron Butterfly he wanted a drum set, but his mother nixed that, so he got his first harp at Mel Owen Music. When Joe was down on his luck after getting laid off, a group of friends took him to Dutch's Tavern to cheer and juice him up. Winston and the Roadmasters were playing that night. Joe sat in with the band on "Summertime." Later Winston told Joe, "You sound pretty good on harp. I want to work you in but I can't pay you right now." During the Eighties while with Winston they did a lot of sheet jobs which were union gigs with the city.
Pat grew up in Lexington near the recording studios of Cecil Jones who owned Lemco Records, so there was always music in the neighborhood. In high school, he started playing bass with a band called Love Machine. Later Pat joined his friend Donny Pollard traveling on the road with the Bobby Johns Band. During the early Seventies, he backed the Tren-Dells and in the Eighties, Pat played with Keith Hubbard in a blues band called Annie and The Hubcats. Then he played with Magnificent Seven for a series of reunion gigs. Pat joined the Roadmasters shortly before Winston died. During the past few years he has been enjoying spending time with his now nine-year-old daughter Gabrielle.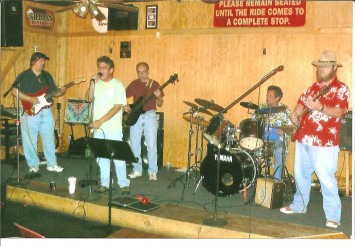 Muji Fugi at Lisa's, May 13, 2009.jpg. Photo By Keith Clements
You may have heard Harv Allen beating his snare drums in the Atherton High School and University of Louisville marching bands when John Hoover was the band director. Harv was hooked when Keith Stonecipher gave him his first pair of sticks. Harv and Pat played together when they backed up Kathleen Hoye at the opening of Fourth Street Live.
Buddy came into the band through Joe, as they had known each other since third grade. He used to help as a roadie for Winston's band, moving Foree Wells' B-3 organ to and from gigs. Buddy's red SG Gibson is highlighted with some pin striping that reveals another love of his life: a white 1964 Cadillac which will soon be painted red.
After Winston passed away in 2000, Joe, Andy and Pat kept the Roadmasters going for a year, featuring Joyce Stewart, Angie "Big Red" Sandig and Jeanette McDonald as singers.
Muji Fuji began to take shape in 2007 when Andy and Pat started coming over to Joe's house and jam. They called this informal gathering of musicians the Freak Brothers. When Harv and Buddy joined the band, they started playing every Tuesday night at Hugh E. Bir's bar on State St. in New Albany. Hugh E's is a two-room shotgun neighborhood hangout with ski ball and an array of instruments on the wall, rather like the old Midnight Ramble backdrop. This gig lasted a year and included an election party for the mayor. The band participated in the Harbours Thunder Party on April 18 to raise money for two Jeffersonville police officers who were wounded in February. After Donny 'Big Daddy' Pollard passed away, Pat, who had played with Donny, inquired with Lisa about replacing his band on Tuesday's. In May they moved to Wednesday night and called it "Weird Wednesdays" thanks to Michael Callahan. Donny Pollard is watching over the band for his ashes are in a box mounted in a glass case on the wall behind the stage waiting to be claimed by his daughter.
As we finished our casual conversation in front of Lisa's before their first set, Harv said, "If there is an audience, we make it a show. If no one shows, it is a rehearsal." That night it was a dress rehearsal for the KBS Blues Competition. Their play list includes over forty songs from hard core blues like "Damn Right I Got The Blues" and "Backdoor Man" to the soulful sounds of "Knock On Wood" and "Soul Man." Andy's versatile fret work transitioned from his Gibson Les Paul to his Fender Stratacaster. Joe's sweet conversational voice changed dramatically when he got behind the microphone to sing in a rough and menacing way and blow his Lee Oskar harps. Harv kept his six cymbals in constant motion hovering above his TrapKat drum set. Keep Louisville weird by checking out the Muji Fuji's on Weird Wednesdays at Lisa's.
Harmonica Red Moves On
The recession has taken its toll on George 'Harmonica Red' Heard. When I wrote about George in the October 2007 issue of LMN, he was riding high touring with his band, the New Heard, plus giving harmonica lessons and substitute teaching in Frankfort to make ends meet. Now most of his students who work in the auto plants have disappeared, the schools have stopped calling and a musician's life on the road is very tough.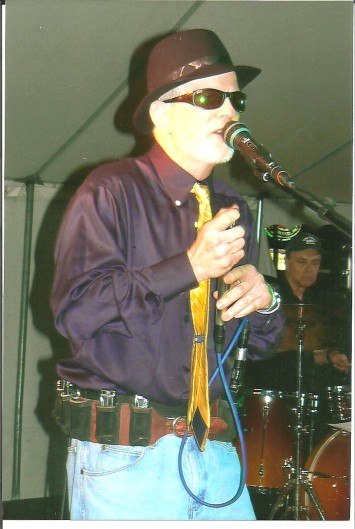 George 'Harmonica Red' Heard at Pitt Academy May 16, 2009. Photo By Keith Clements
George and his wife Suzy have decided to return to his family farm in western Louisiana, near the small town of Pitkin. The 160 acres was originally a self-sufficient working farm with a 19th Century barn and stocked pond. Today it's a tree farm where George will need to clear out plenty of varmints. He has passed the tests to become an elementary music teacher, which provides extra monetary incentives for first-time instructors. George's job, which is funded through an Indian casino, will be in a parish near his farm. His school schedule will free him up during the weekends, holidays and summer so he can continue to occasionally tour. He plans to teach the history of American music, emphasizing its African roots in blues and jazz. Then he will hook the kids with his harp. Next summer, George will work on getting a master's degree in musicology and develop an artist in residence program, but as he said, "That will take a little time." At this time. the school system has no clue about George's musical background. For now this pink energizer jack rabbit wants to recharge his batteries and go teach the little ones.
George made his last appearance in Louisville (for awhile) at the Pitt Academy 25th Annual Bar-B-Q Festival on Saturday, May 16. This was George's second year to appear at the Blues Music Tent and he played that night like it would be his final performance. His set opened with "Samba Ramba" an instrumental collaboration with his lead guitarist, Lindsay Olive. George laid back while Lindsay opened, setting the tone with some subtle chords and then George eased into the melody with several stirring solos. George was all over the musical map that evening, from T-Bone Walker's "Party Girl" to Bobby Troup's "Route 66." It is in the Louisiana bayou's and New Orleans where George's harp and vocals are most potent. He put a voodoo spell one everyone in the tent that night with his closer, "Congo Square." The mystique was thick as damp swamp air when George and Lindsay were trading licks.
George will return briefly this August for a concert in Frankfort on August 7 and an appearance at the Thursday jam at Longshots. He is hoping to book some other gigs in the area around this visit. We will miss you for now, Red.