April 2009 Articles
Cover Story
Tim Roberts
Features
Eddy Metal
Columns
Berk Bryant
Mike Stout
Paul Moffett
Frank Fendley Jr
Keith Clements
Martin Z. Kasdan Jr.
Eddy Metal
CD Reviews
Bob Mitchell
Hunter Embry
Hunter Embry
Martin Z. Kasdan Jr.
Ronke Oyekunle
Kory Wilcoxson
Hunter Embry
Hunter Embry
Performance Reviews
Jason Koerner
Hunter Embry
Blogs
Got Shows?
Send Them To Us
Bookmark Louisville Music News.net with these handy
social bookmarking tools:
Available RSS Feeds
- Top Picks
- Today's Music
- Editor's Blog
- Articles
Add Louisville Music News' RSS Feed to Your Yahoo!

Issue: April 2009


I've Got A Mind To Ramble
Meet Jim Masterson
Louisville blues musician Jim Masterson has been flying under the radar and needs to be recognized. A multi-talented artist who has been playing music for nearly forty years, Jim Masterson is better known to fellow musicians than to the general public.
Jim Masterson was born in Panama and moved to West Point, Kentucky when he was four years old. He learned from his mother that his grandmother had played guitar and piano and his grandfather played drums and saxophone in Panama. This was the extent of the musicians in his family, besides his brother Bill. While in middle school, Jim was inspired to play guitar by the British Invasion era groups like the Beatles. Self-taught in just three months and at only sixteen years old, he formed a band called Satyr, which included his current bass player, John White. The band name changed to Stonehenge, with Alan Morris as bass player and his future wife and vocalist Priscilla. They played covers of Cream, Jefferson Airplane, Mamas and Papas and other pop songs at the school dances.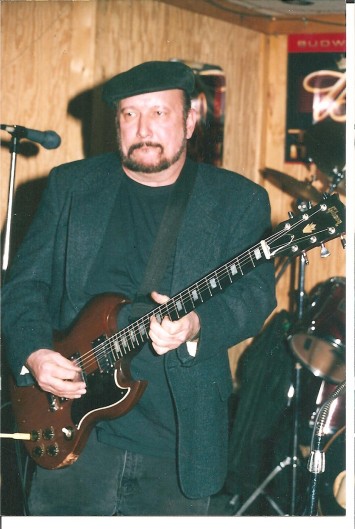 Jim Masterson at Lisa's November, 2004. Photo by Keith Clements
In 1968 Jim moved to Louisville to get a job, get more exposure to music in the bars and enroll at the Louisville School of Art in Anchorage. His father had encouraged him to be a commercial artist rather than a musician. When Jim's father died in 1971, he decided to start a new life, doing what he wanted to do: play music. Jim began listening to local guitarists, including Wayne Young, Frank Bugbee (Soul, Inc) and John Burgard (The Waters). This was the era of Kaleidoscope and Tradewinds, both clubs owned by Randy Guest, and the local blues scene was mostly blues/rock. At the old Armory, now Louisville Gardens, Jim saw Muddy Waters – his hair in a pompadour – and was impressed with his air of confidence. At another show, he saw Lightnin' Hopkins and Albert King. The temperamental King fired two members of his back up band during the performance. These shows attracted a predominately African American audience and the crowd would often dance in the aisles.
In 1973, Jim was starting a group called Rollin' and Tumblin'. He was really into the Allman Brothers and their sound influenced him to listen to classic Blues. It was during this time that he met Joey "Lamont" Gillespie at the Windmill. They became fast friends and Jim encouraged Joey to play harp. (He took to it like a fish to water.) The band played such local venues as Friend in Hand, The Great Midwestern, Faces, 100 Washington St. and the Windmill. One outdoor performance at 100 Washington St lasted for eight hours. Joey took a trip to Chicago and while there, he met Lefty Dizz. This led to Joey booking Lefty at the Windmill where Jim had the privilege of playing with him. During that gig Jim learned a hard lesson about music dynamics he would never forget. When Dizz told the band to "bring it down," Jim kept on playing. Dizz walked over to Jim and grabbed his hand, tightly squeezing his fingers. Jim painfully learned when not to play. Lefty invited them to come jam with him at the Checkerboard Lounge back in Chicago. There were many trips to Chicago for Jim and Joey. Jim got to meet Buddy Guy, Jr. Wells, James Cotton and jammed with Sammy Lawhorn, Muddy Waters' lead guitarist.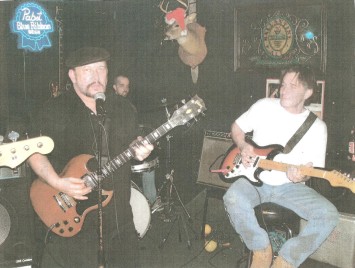 Jim Masterson and Ricky Mason at Lisa's in 2007. Photo by Keith Clements
In 1975 Jim got a house band job at Harold's Club on Dixie Highway. This band included Pedro and Bob Webb. The gig was six nights a week and was where Jim really got his chops. In 1976, Jim answered an ad in the paper for a guitarist for The Kingsnakes. The leader of The Kingsnakes was Chris Dibase and at various times, the band included Steve Bradley, Lin Hurt, Kim Ritchie, Doug Belcher, Joey Gillispie and a fledgling guitarist, Ricky Mason. The Kingsnakes spawned several other bands, including The Stray Cats with Joey Gillispie, Ricky Mason, and Bruce Lively; Red Beans and Rice with Kim Ritchie and Chet Bell; Another Mule with Kim Ritchie and The Masterson Blues Band with Bill Masterson and Steve Bradley. The Masterson Blues Band played venues on Bardstown Road such as The Cherokee Pub, The Blue Moon, The Shoestring Pub, and The Down to Earth Pub.
With the addition of Sis Brown on vocals, they began playing clubs in the West End. Gigs at The Paradise Lounge, The Construction Paradise, and the Postal Tavern were played to an all-African-American audience. One night, Sis sang "Got To Give It Up" and the crowd went crazy. They played it ten times. The Postal Tavern on Seventh Street, near the Post Office, was run by Kitty and Doc, who ran a house of ill repute on the second floor. The patrons and the madams would have to walk across the stage to go upstairs during the sets. It was some floor show.
Bill got the band gigs at Fort Knox, which paid $60 per musician rather than $10 in town. Jim said, "When Ricky Mason played with the band, there was always electricity." Once the soldiers threw a guy off the balcony and he landed on a table.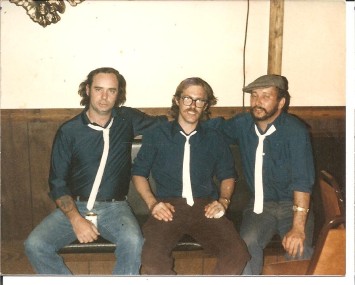 The JimMasterson Band, mid-80s, John White, Gary Grizzle,Jim Masterson.
Jim sustained a bad injury in 1976 when he was playing at Magoo's. During a break Jim was crossing Bardstown Road with a woman he had met. They both got hit by a car, with Jim sustaining the worst, breaking both legs. He was taken to General Hospital. The following week, the band had a gig for an outdoor festival at the Latin American Club which they couldn't cancel. Before the show, they carried Jim up on stage, sat him in a chair with his legs outstretched and turned the spot light off of him. Ricky played his heart out with Jim playing back up and the crowd loved it. When the lights came back up after the show, people looked at Jim and said, "What happened to you?" Jim realized he could still play all propped up. While still in the same condition, they played another outdoor festival at Salt River. Ricky was playing through Jim's amplifier and they blew a fuse. When Ricky stuck a piece of foil in the amp, it caught on fire. Jim couldn't move with his burning amp right behind him, so they laid him on the ground and finished the gig. Jim limped for a long time, taking four months to recover.
In 1978, Jim got a job in Charleston, Indiana at the Pirate House. This gig lasted two years, three to five nights a week. This band included Andy Westbrook. After a few years of playing strictly in Indiana, Jim returned to Louisville and got a job as the house band at The Blue Castle, now Lisa's Oak Street Lounge. He also played at Fat Cats and hosted a blues jam at the Cherokee Blues Pub.
The owner of the Cherokee Blues Pub, Dave Cook, bought a series of oil paintings of blues performers from Jim that he had been working on for a few years. Jim began focusing more on his art, moved to Indiana and began playing with The Steve Price Band, his current band. Today's version of the Jim Masterson Blues Band includes his brother Bill on keyboards, John White playing bass and Gary Grizzle drumming. Jim hosts a weekly jam on Wednesdays at The Lounge, whose owner, Shelby McDowell, occasionally sits in on drums. He also plays a monthly gig at Cal's at the corner of Swan St and St Catherine St. (Their next date is April 11th at 8 pm.)
Jim is starting to work on a CD with some original songs, including a slow blues called "Maso's Blues" to honor Ricky Mason. Jim develops musical blues forms and then lets the words become the song later. By recording at home on his eight-track to work out what he wants, he can go into the studio and not waste any time. In addition to playing his guitar, he also plays keyboards, harmonica, saxophone, clarinet and bass.
Jim's late artistic career has paralleled his musical career. He has painted a series of blues legends, including the three Kings (B.B., Albert and Freddie), Willie Dixon, Sonny Boy Williamson, Little Walter, Muddy Waters, Ray Charles, Eddy Clearwater, Lefty Dizz and T-Bone Walker. The portraits of Sonny Boy Williamson and Muddy Waters are displayed at the River Bend Winery. Jim was also commissioned - along with other local artists - to paint a mural in the U of L Alumni building. He continues to do oil portrait commissions on a regular basis. Recently Jim has been commissioned by Todd Webster of Stevie Ray's to paint portraits of the Stevie Ray's Hall of Fame winners. Last year he did combined portraits of Bob Ramsey and Joey. When we did our interview, he showed me his picture of this year's winners, Mike Lynch and Jimmy Gardner. Jim's artwork can be seen on the KBS Blues Legends tee-shirts which depict Sara Martin, Sylvester Weaver and Helen Humes. It would be timely for Jim to have a one-man show of his blues works, possibly at the KBS 21st Birthday Party in November.
During the daily grind Jim works as a dental technician at Armstrong Lab making and repairing false teeth, where he continues to hone his chops.
Jim summed up our interview with a comment on today's local blues scene saying, "It is growing with more guitar players. People have become more aware of the blues because it is a root of our culture."