March 2009 Articles
Cover Story
Tim Roberts
Features
Eddy Metal
Jason Koerner
Columns
Berk Bryant
Mike Stout
Paul Moffett
Keith Clements
Martin Z. Kasdan Jr.
Eddy Metal
CD Reviews
Kevin Gibson
Hunter Embry
Hunter Embry
Tim Roberts
Bob Mitchell
Hunter Embry
Hunter Embry
Steve Morgan
Bob Mitchell
Performance Reviews
Hunter Embry
Jason Koerner
Blogs
Got Shows?
Send Them To Us
Bookmark Louisville Music News.net with these handy
social bookmarking tools:
Available RSS Feeds
- Top Picks
- Today's Music
- Editor's Blog
- Articles
Add Louisville Music News' RSS Feed to Your Yahoo!

Issue: March 2009


I've Got A Mind To Ramble
Louisville Music News Scores
The first edition of Louisville Music News was birthed in April 1989 as an outgrowth of the newsletter L.A.S.C. Letter, by the Louisville Area Songwriters Cooperative. I took my yellowed copy of Vol. 1 No. 1 to share with Paul Moffett and others at his annual Christmas Tree Decorating Party last December. It was interesting to see what the local blues scene was like twenty years ago. Louisville Homefront Performances had celebrated its fifth anniversary with coverage by LMN co-publisher, Jean Metcalfe, and KBS member, Dallas Embry. Homefront had an all-blues show at the Stuart Robinson Auditorium with the down-home sounds of Henry Woodruff and the Noisemakers and the traditional acoustical sounds of Catfish Keith. I wrote about the Cincinnati-based blues shouter and keyboard player H-Bomb Ferguson and the Medicine Men detonating at the Cherokee Pub. KBS president, Rocky Adcock-Amaretto welcomed readers with an invitation to join our Society for only $5.00. Curtis Marlatt and the Kicks were hosting the Bluesday-Tuesday Jams at the Rudyard Kipling.
Louisville Music News has survived its two hundred and forty issues with an estimated current readership of 15,000 in print and 22,000 on line. Down in my basement there are two boxes of all the back issues along with stacks of Living Blues, Blues Review, and Big City Blues magazines. I could try to recap all the blues events covered in LMN but that would leave no room for our tolerant editor, Paul Moffett, to make his peace down on the corner. But as I perused through the boxes, it was interesting to see the blues personalities that made the cover stories. Henry Woodruff, Jim Rosen with Charlie Musselwhite and The Kentucky Headhunters were featured in 1990. There was no one in 1991 but 1992 had da Mudcats and Kush Griffin. In 1993 I started my Got A Mind To Ramble column and Mary Ann Fisher and Curtis Marlatt were on the covers. Kelly Ritchie and Michael Murphy were showcased in 1994. The blues got most prominence in 1995 when Foree Wells, Winston Hardy, Metropolitan Blues All-Stars and Tanita Gaines made the covers. The April 1997 issue went color with a picture of danny flanigan. Duke Robillard made front page in 1998. There have been very few blues people honored during the second decade of LMN with only Lamont Gillispie & 100 Proof Blues Band in 2001 and most recently Tyrone Cotton and Susan O'Neil in the 2006 issues. Because of the lack of recent blues cover stories, I have concentrated my monthly Rambles more about people rather than events.
Let's hope Paul will throw a big bash for the twenty-fifth year.
The Thrill is Back
When two of the most recognizable names in the blues are paired up for a concert you will get a lot of attention. B.B. King and Buddy Guy have been touring together throughout February and they came to the Palace on January 15, between stops in Kansas City and Detroit. I have never paid so much for a concert ticket, but you never know how many more times you will have the opportunity to see B. B. King perform. Considering the hard economic times we are in, it was good to see such a large crowd in attendance. Since photography and video were not permitted, I had to check my camera and rely on my eyes and note pad from the loge level.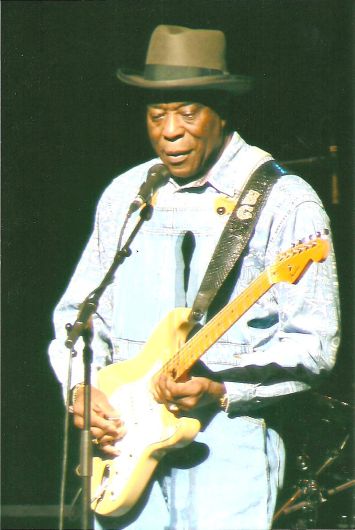 Buddy Guy, Whitney Hall, 11/7/2007, Photo by Keith Clements
A Buddy Guy concert can be like a roller coaster ride, with abrupt changes of emotions plus plenty of unpredictable stops and starts. The anticipation of the ride up the first hill was fulfilled with Buddy coming out on stage on time with no warm up, wearing a casual black and white jump suit. He opened with "Who's Gonna Fill Those Shoes," reminding us as to who is going to carry on the tradition of bluesmen like Son House, Robert Johnson, Muddy Waters, Howlin' Wolf, Willie Dixon, Sonny Boy, Little Walter, Otis Spann, Jimmy Reed and Magic Sam. In the next verse, he included B. B., Albert and Freddy King, plus John Lee, Light'n' and Stevie Ray. It was a powerful challenge to keep the blues alive. During "Hoochie Coochie Man" Buddy's second guitarist, Ric Hall, moved to the front of the stage and picked up where Buddy left off with a stinging solo. The audience responded so well to "Love Her With A Feeling" that Buddy quipped, "If you keep that up I'll move down here." [Actually his oldest daughter lives in Louisville.] "Skin Deep," the title track from his most recent CD, took on a personal meaning about race relations with the repeating chorus, "Underneath, we are all the same." There comes a moment when Buddy has so much pent-up emotion that he has to leave the stage and go out into the crowd to release his energy. He has been known to wander all over the theater, as he did at Whitney Hall in November 2007. Buddy feels he still needs to show he can play the styles of other guitarists like John Lee Hooker and Eric Clapton, which makes me want to yell out, "Play what you do best, play Buddy Guy." His excellent CD Skin Deep has all-original material and proves he doesn't have to acknowledge anyone else.
It is hard to imagine Buddy as an opening act, but he respectfully limited his set to just over an hour. I was fascinated watching the change-over between sets. Buddy's simple four-piece backup band quickly exited the stage. Red tape marked the exact locations for B. B.'s equipment. Four lighted music stands for the horns, a cluster of an organ, keyboards and amps enclosing the keyboard player and a massive drum set on a platform were the components for B. B.'s band. In the middle at the front of the stage was a chair with Lucille, B.B.'s beautiful shiny black 355 Gibson guitar, resting on a stand.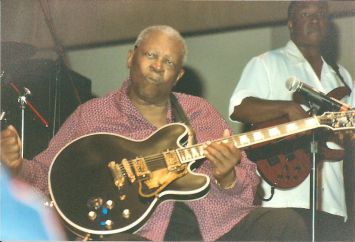 B. B. King, Chicago Blues Festival,2008. Photo by Keith Clements
After two warm-up instrumentals with plenty of solos by the horn section, the King slowly walked to the center of the stage wearing a white coat with an elaborate black brocade pattern. His hair has turned a little whiter, his belly has grown a little bigger and his voice has become a little rougher. B.B. turned 83 last September, which he mentioned several times. When B.B. hit his first chord, filling the huge, ornate theater with his signature sound, it is the magic that only he can do. B. B. is master of the school of minimal notes. As usual, he opened with "Let the Good Times Roll." A legend - and one of his age - can do pretty much what he wants and get away with it. When he said, "People from Mississippi talk too much," that turned out to be too true. B. B. has gotten in the habit of jiving with the audience. His stories have gotten longer, his songs have gotten fewer and his guitar playing has gotten sparser. Occasionally he would start a song like "You Know I Love You," "It's My Own Fault," or "Key To The Highway" and you would crave for more. In B.B,s recent CD, One Kind Favor, he pays tribute to some of his influences like Blind Lemon Jefferson, Howlin' Wolf, T-Bone Walker, Lonnie Johnson, John Lee Hooker and the Mississippi Sheiks. B.B.'s unusual take on Jefferson's "See That My Grave Is Kept Clean" was driven by a back beat drum cadence. During the song, B.B. let the keyboard player know in no uncertain terms that he wanted to hear some church bells ring on his keyboard. This song received a Grammy Award to add to his fourteen others. B.B. Said, "Let me smell my flowers while I can." At one point, the horns and keyboard musicians left B. B. sitting on the stage with his guitarists and drummer. The music got a little more intimate between his stories, with "You Are My Sunshine" dedicated to all the ladies in the audience. B.B. tactfully said "I've never met an ugly woman." The theater lights were turned up so he could see the ladies. The long, two-hour set came to a conclusion with a lively call and response with the crowd on "Rock Me Baby" and a tantalizing too brief "Thrill Is Gone." The lucky people in the VIP seating in front of the stage were showered with guitar picks from both Buddy and B.B.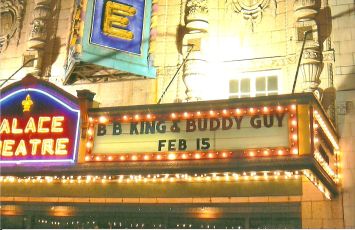 Palace Marquee,Feb.15,2009
When I first heard about the concert, I was hoping, just maybe, that these two legends would play together, but that was not meant to be.