May 2008 Articles
Cover Story
Tim Roberts
Features
Eddy Metal
Jason Ashcraft
Jason Ashcraft
Columns
Berk Bryant
Mike Stout
Chris Crain
Keith Clements
Martin Z. Kasdan Jr.
Eddy Metal
CD Reviews
Bob Mitchell
Kevin Gibson
Martin Z. Kasdan Jr.
Bob Mitchell
Kory Wilcoxson
Martin Z. Kasdan Jr.
Blogs
Got Shows?
Send Them To Us
Bookmark Louisville Music News.net with these handy
social bookmarking tools:
Available RSS Feeds
- Top Picks
- Today's Music
- Editor's Blog
- Articles
Add Louisville Music News' RSS Feed to Your Yahoo!

Issue: May 2008


I've Got A Mind To Ramble
Blues in Bloom
It's May and the blues is busting out all over. Just as the spring daffodils have pushed through the ground to announce their arrival like yellow trumpets, the blues festival season is ready to begin with a blast. This will be the fourth year for the Jeffersontown-Crusade Blues Festival in Veterans Memorial Park. The free event provides a spacious, laid-back family setting for the seven bands that will perform from noon to 8 p.m. on Saturday, May 17.
The lineup of new and familiar local bands will include the Jim Masterson Blues Band, da Mudcats, Pure Gravel Blues Band, Revaneu, Sue O'Neil and Blue Seville, Velveeta Jones (2007 KBS Competition Winner) and the Stella Vees. The Stella Vees recently lost bassist Brian Murphy and harpman Steve 'Fuzzy' Kanopka. Murphy has been replaced by Tim Dennison, who has been playing bass with Louisville Blues. Mark Hoekstra will bring a dynamic new force to the band with his powerful vocals, slide guitar and array of Marine Band harps. Mark grew up in Chicago and, when he was of age, learned from his greatest influence, Big Walter Horton. When Mark lived in Louisville during the late Sixties, he teamed up with Ricky Mason to form the Little Dippers. He got wider recognition playing with West Side Heat, a national band co-fronted by Steve Arvey. Mark also briefly toured with the Legendary Blues Band in their final days, when Willie 'Big Eyes' Smith was still drumming with the band. Mark is back living in Louisville, rehearsing with the Stella Vees founders, guitarist Jason 'Juke' Lockwood and drummer Steve Parrish.
May 17 poses a tough choice for blues fans because the Pitt Academy, 6010 Preston Highway, is holding a Bar-B-Q Benefit from 4 p.m. to midnight that day, seasoned with plenty of blues. This worthy organization offers a holistic approach to education for children with special needs. Lexington's The Party will open at 5 p.m., followed by Louisville Blues from 7:15 to 8:45 p.m.. Bassist Tim Dennison will need some extraordinary string magic to be at both events at the same time. The Longshot All Stars, the house band for the Thursday jams at Longshot Tavern,. will perform from 9:15 to 10:30. These 'stars' include John Burgard, Mike Lynch, Andy Brown and George 'Harmonica Red' Heard. The evening will close out with several musicians from the area jamming together. A dream team would be a harmonic blowout with Mark Hoekstra and Harmonica Red. I will be cruising back and forth on the Gene Snyder to get the highlights of both events.
The KBS will throw a House Party at O'Shea's Irish Pub on Saturday, May 31, on the rear patio. The Jim Masterson Blues Band will warm up the house at 7 p.m. and Pure Gravel Blues Band will keep the embers burning until 11 p.m. There will be raffles for T-shirts and CDs; $5 will get you in. This is a great way to support the KBS so they can continue to preserve, promote and perpetuate the blues.
If you want to mix a little wine with your blues, Elk Creek Vineyards in Owenton, Kentucky, is presenting a blues festival that same day from 5 to 9:30 p.m.. The Sonny Moorman Group will be the opening act. Sonny recently wowed the judges at the 2007 International Blues Competition in Memphis, where he placed second in the solo/duo category. Roomful of Blues will shake the grapes with their rollicking jump blues and the husky vocals of their new vocalist, Dave Howard. Five-time Grammy winner Buddy Guy will ferment the grapes with his high-energy guitar pyrotechnics. It's quite a line up for a little town in the middle of Kentucky. The tickets range from $200 for VIPs down to $30 for general admission.
Finally, the other Harmonic Red, Obie Cox, will be resuming his regular Friday gigs in the corner of Theater Square by BBC from 8 to 11 p.m.. His Old School Blues Band includes guitarist Lee Travin and a drummer to be added later. If you like your blues down-home a la Sonny Terry and Brownie McGhee, check out Louisville's own Harmonica Red.
Buzzin' with King Bee
Three years ago, after the movie "Ray" came out, the Courier Journal's Bob Hill interviewed Jimmy Griffin, who had booked Ray Charles and his orchestra at the Labor Temple in April 1956. I wanted to dig a little deeper with Mr. Griffin, so I contacted him to arrange an interview. He quickly corrected me to address him as Jimmy in his deep, deliberate voice. Jimmy lives with his wife, Mildred, on Greenwood Ave. Jimmy moves a little slower these days due to a recent stroke. Born in 1925 in the small town of Austell, near Atlanta, Georgia, Jimmy was reared close to several small colleges; consequently, he got to see touring performers like Marian Anderson and Rawlin Hayes. Jimmy attended Booker T. Washington High School in Atlanta, where the band director George Washington Jackson, who had been the official White House musician for President Roosevelt, influenced him. He encouraged Jimmy to play various horns instead of the piano, so he could play in the school marching band. When WWII broke out, Jackson, who was also a petty officer in the Navy, got Jimmy to enlist. Jimmy said, "I spent most of that time avoiding torpedoes in the Pacific." Jimmy got to broadcast on the Armed Forces Radio, playing the jazz and gospel that appealed to the soldiers. After the war, he served in the Navy Reserve and attended Morris Brown College in Atlanta, where he got a business degree in 1949. Jimmy was then called back into the Navy during the Korean War.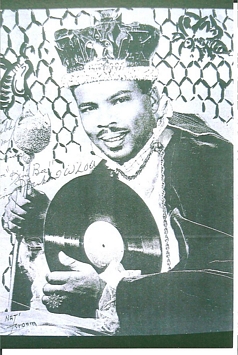 Jimmy Griffin, 1956
Jimmy got back into radio in Atlanta, spinning records for the African American audience over WBGE. At WRFC in Athens, Georgia, Jimmy hosted the program "Hive of Jive" and created his nickname, "King Bee." During this time, he involved himself in community activities, as he wanted to inspire young people to stay out of mischief and go to college.
He started to promote local shows with national talent including Sister Rosetta Tharpe and Bill Doggett. It was Doggett who recorded "King Bee," issued on the King label, for Jimmy. In the early Fifties, Jimmy moved from Atlanta to West Memphis, Arkansas, where the broadcasting company needed help at their station KWEM in Memphis. Jimmy remembers B.B. King, 'Gatemouth' Moore and a young Elvis Presley coming by the studio to listen to the music and watch the broadcasts. Jimmy and Elvis became personal friends when at the start of Elvis career. Jimmy was at Elvis' first recording session at Sun Records.
During the Fifties, there was an economic downturn and the station had to cut back, then was eventually sold, putting Griffin out of work. He subsequently moved to Louisville to work at Mammoth Life Insurance Company. On a trip to Cincinnati, he met some of his old Atlanta radio friends and would up making a radio demo tape.
The owner of several radio stations including Louisville's WLOU, a Mr. Rondaville, liked Jimmy's tape and he was hired to replace Johnny Martin. Jimmy opened the station Monday through Friday with an early show from 5 to 9 a.m.. Jimmy used Franklin, his middle name, for his gospel show, "Heaven's Highway" and later concert productions. Cliff Butler followed Jimmy with a show from 10 a.m. to noon and Jimmy returned with an afternoon R&B show for teenagers. Jimmy said, "The kids wanted to hear something with a beat to uplift them."
Many touring musicians were interviewed on Jimmy's program, including Cab Calloway, Nat King Cole, Little Walter, Muddy Waters and Duke Ellington., of whom Jimmy said, "Ellington was a gentleman extraordinaire personified." Jimmy deejayed sock hops and promoted Doo-Wop shows for teenagers at the Beecher Terrace Gymnasium and gospel shows at Asbury Chapel Church and the R. E. Jones Temple. The big shows were booked at the Labor Temple on E. Broadway. Jimmy remembered the Labor Temple had a large hall downstairs for these single-night stands, which attracted a middle-aged crowd. In January 1956, when he booked Jay McShann, there was a snowstorm before the performance. The show was running late and no one showed up. Jimmy wanted McShann to come back another time, but McShann insisted that the show must go on. They struck up the band and when the word got out, the people finally arrived.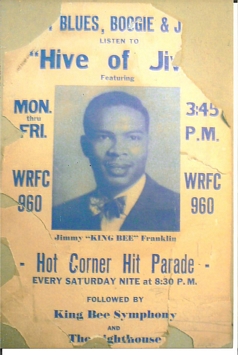 Hive of Jive Poster
Jimmy claims to have introduced Mary Ann Fisher to Ray Charles at the 1956 performance, rather like it was portrayed in "Ray." Jimmy admired Mary Ann's talent. He said, "She was like another Diana Washington - who could sing anything - and Mary Ann could do the same." Talking about the movie, Jimmy said, "It was an economic adventure but not factual."
He showed me several of his colorful promotional posters of those mid-Fifties shows. They were set up by the agents and printed locally.
In 1958, Jimmy left WLOU following a dispute involving a racial matter. He returned to the business world, working as an auditor at for Supreme Life of America for twenty years. During his travels, he added to his expanding record collection.
Jimmy remained close friends with Cliff Butler. Between Butler's broadcasting and religious careers, Jimmy got him briefly into the insurance business when times were tight. Jimmy also helped his old friend Ed Chestnut, Sr. close down the Mammoth Life business in 1985.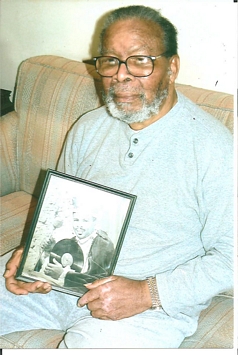 Jimmy Griffin, 2008. Photo by Keith Clements
Since his retirement, Jimmy continues to participate in the public arena as a volunteer. He has been involved with the State Health Department to combat tuberculosis, Boys and Girls Clubs, Diabetes Association, TARC Board, Brooklawn, Black Achiever's, Boy Scouts and has chaired the Board of Zoning Adjustment.
Jimmy feels he is completely out of step with today's popular music, preferring the classic jazz of Duke Ellington and Count Basie. The Bee is still buzzing with lots of good memories, though.