January 2008 Articles
Cover Story
Tim Roberts
Features
Eddy Metal
Columns
Berk Bryant
Mike Stout
Keith Clements
Martin Z. Kasdan Jr.
Eddy Metal
CD Reviews
Bob Mitchell
Bob Mitchell
Kevin Gibson
Kory Wilcoxson
Kevin Gibson
Tim Roberts
Martin Z. Kasdan Jr.
Bob Mitchell
Interviews
Brandy Lee Dixon
Blogs
Got Shows?
Send Them To Us
Bookmark Louisville Music News.net with these handy
social bookmarking tools:
Available RSS Feeds
- Top Picks
- Today's Music
- Editor's Blog
- Articles
Add Louisville Music News' RSS Feed to Your Yahoo!

Issue: January 2008


I've Got A Mind To Ramble
15 And Counting
This article will begin the fifteenth year that I have been writing these Rambles, since January 1993. After LMN co-publishers Jean Metcalfe and Paul Moffett asked if I would do a regular column on the blues, I had no idea where it would go or that I would be doing it this long. These monthly deadlines got me to photograph musicians to illustrate my stories. During these years I have accumulated many binders of pictures and more recently computer files, of local, regional and national blues men and blues women. This photographic resource is available to anyone and will be useful as the Kentuckiana Blues Society celebrates its twentieth year during 2008 with a power point presentation about our history. The Rambles that I most enjoy doing are the interviews with people who have interesting stories to tell.
Meet Ms. Lee
When I used to prowl around town for old blues records in the early Eighties, I would occasionally go by Better Days Records, a little hole-in-the-wall on Frankfort Ave, managed by John Atherton. Ben Jones, who also owned Record Head, teamed up with John in 1982 and eventually bought him out in 1983. Needing more space, Ben moved Better Days to the corner of Bonnycastle and Bardstown Road with popular music on the first floor and dance music in the basement. Better Days monopolized that intersection in 2001 with another outlet on the other side of Bardstown Road. Maintaining three outlets at Bardstown Road and Lyles Mall stretched Ben pretty thin, so the two Bardstown Road outlets were closed by 2006. Ben wanted to concentrate on urban music, specializing in classic soul of the Sixties and Seventies, rap, jazz, gospel, R&B and a little Southern blues.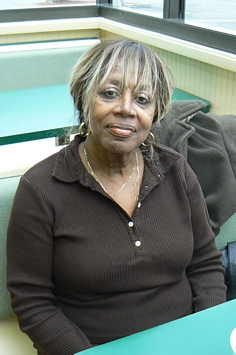 Ms. Lee Drane. Photo By Keith Clements
You hear Better Days before you see it; the music is piped out over the parking lot in front of Lyles Mall at 2600 W. Broadway. When you enter the store a perky little lady affectionately known as Ms. Lee is at your service. She has been working with Ben for eleven years. Everyone had told me 'you need to interview her.' Musician Ron Lewis said, "She has more stories than a cheap hotel." Ms. Lee, whose full name is Lee Drane, said, "my nickname comes with the territory." Her earliest association with music was taking clarinet lessons in school with the perfunctory group recitals. Ms. Lee reminisced about some of the old nightspots when she visited her aunt who lived on 7th St. and Walnut. They would walk by Charlie Moore's at 10th St. and the Top Hat at 13th St. Those were the two main clubs on Walnut Street. Ms. Lee was too young to go in but she looked through the windows. At seventeen she was selling music at Vine Records at 28th St. and Dumesnil. In her early 20s, she sang with the Jack Larue Trio at a private jazz club called Arts of Louisville. Her vocal career started on a snowy night when there were just a few people at the club. She was sitting at the table singing the songs the group was playing, as she knew them all by heart. During the next set, they introduced her as their vocalist. Ms. Lee did what she had to do and got up on the bar stool, closed her eyes and sang her heart out. From then on she had a regular gig.
When she was of age, she would go to Joe's Palm Room - originally at 13th and Magazine, later 1821 W. Jefferson - and Page 4 at 15th St. and Broadway. Ms. Lee remembered seeing name acts like Hank Crawford, Etta Jones, Arthur Prysock and Jimmy Smith. Ms. Lee would frequently chauffeur Mary Ann Fisher around, because Mary Ann didn't drive. Once when Mary Ann Fisher got off a singing gig, she asked Ms. Lee to go with her to the 26th Street Tavern on Garland. That was the main blues joint in the West End where she heard Joe Wells, Fred Murphy and Annie Ophelia perform in that historic back room. You could find Ms Lee every weekend either at Joe's or On Broadway during the early Eighties, following jazz. She said, "On Broadway had an atmosphere and class all its own, with a nice mix of clientele that could be in any big city." During the mid-Eighties, Ms. Lee would visit another aunt in Chicago. While there she went to Theresa's on the South Side and heard legends like B.B. King and Gatemouth Brown sit in after their concert gigs at the Regal Theater. She remembered the mirrors on the outside of that theater, with painted pictures of all the great singers like Ella Fitzgerald, Sarah Vaughan and Ray Charles. Inside, it was like the Taj Mahal, with jewels on the ceiling and was even more impressive than the Louisville Palace. There were the free jazz festivals in Grant Park and after the festivals everybody went to the Jazz Showcase at the Blackstone Hotel.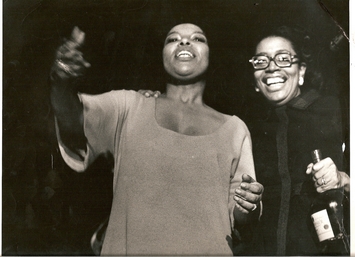 Ms. Lee Drane. Photo By Keith Clements
Ms. Lee's Cinderella story began when she began working with Martin Cohn in 1980. He was the owner of Tiffs Records and one of Louisville's top promoters, booking acts at the Fair Grounds, Louisville Gardens, Palace and Memorial Auditorium. Together they did all the legwork, including advertising, putting up posters and preparing contracts. One night in the early Eighties, Cohn asked Ms. Lee if she would emcee the show for Donny Hathaway and the Last Poets. Once again, she did what she had to do. She continued introducing his shows for twenty years. Because she was knowledgeable about musicians and presented herself well, she was primed for the job. While Cohn was in the box office counting the money, Ms. Lee would open the show.
Cohn took her under his wing like she was his child, though he never married. She became the merchandise buyer for Tiffs, frequently traveling to New York, where they stayed on Park Avenue and went to Broadway musicals. They traveled to Europe together for pleasure, sailing by ocean liner because Cohn didn't like to fly. Europe was Cohn's second home for he was born in Germany. He had taught German in the Jefferson County schools and U of L. Because Cohn also loved jazz, they went to the most progressive jazz clubs in Germany, Austria and France.
While Ms. Lee was at Tiffs at Fourth St. and Guthrie, she worked her way into the recording industry, attending major music conventions like Impact.
She was Billboard's Kentucky reporter for fifteen years, charting the R&B records, based on sales every week. [Today it is all done by scanning]. Ms. Lee also wrote articles for Urban Network, a music trade magazine based in Burbank, California. She co-authored a column called "Speak Up" for all the women retailers. In 1998 Ms. Lee received the Retailer of the Year Award from Urban Network. That honor was presented to her from Queen Latifah at their convention in Palm Springs and now hangs on the wall at Better Days.
Ms. Lee has fond memories of Cohn, who died in an expressway car crash in 2002. She recalled, "He loved people, he loved horses and he loved to give." She got her first car, a Dodge, as a Christmas gift from Cohn, who bought it at Brown Bros. Cadillacs, his favorite dealer. For bonuses, he would send Ms. Lee on cruises to the Caribbean and Mexico.
I asked Ms. Lee to comment about the current music business, since she has sensed the pulse of it for so long. She has seen the medium change from reel to reel, LPs, 45s, eight tracks, cassettes and now CDs. She said, "Today the Pandora box has been opened with the younger generation downloading and burning CDs. They don't buy them, they burn them." She added, "This is the electronic music generation, they aren't looking back to the old days. The music today is not pure with just instruments. It's not a true form any more."
Ms. Lee's contribution to the local music scene is the help and support she has given to her customers, sharing her knowledge about music. She has provided advice on building many jazz collections. Her reward is the gratitude and respect form her clients. Since this is her legacy, we closed out the interview with the desert island fantasy of Ms. Lee selecting her three favorite jazz, R&B and soul albums.
Jazz:
Miles Davis -Sketches oft Spain
Horace Silver - Songs for My Father
John Coltrane - Kind of Blue
R&B:
Earth, Wind, & Fire - Gratitude
Sam Cooke - Live At The Copa
Frankie Beverly & Maze - Live In L.A.
Soul:
Stylistics - The Stylistics
Bobby Womack - Poet II
The Parliaments - Mothership Connection
The next time you go to Better Days Records ask for Ms. Lee and she will set you in the right musical direction.