June 2018 Articles
Cover Story
Paul Moffett
Columns
Eddy Metal
Eddy Metal
Blogs
Got Shows?
Send Them To Us
Bookmark Louisville Music News.net with these handy
social bookmarking tools:
Available RSS Feeds
- Top Picks
- Today's Music
- Editor's Blog
- Articles
Add Louisville Music News' RSS Feed to Your Yahoo!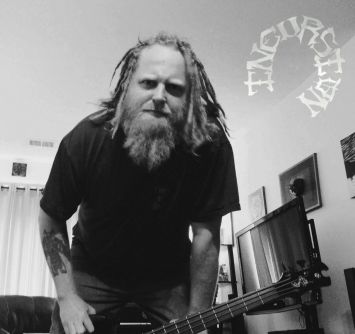 Louis Southern
Name: Louis Southern
Age: 39
Instrument: I play Bass in Incursion but I play guitar, piano, drums and can really throw down on kazoo if the rhythm feels right.
Band/Former Bands: Nothing really notable before A Forgotten Fury. I still kick it with them regularly, check them out.
How long on instrument: 26 years
Equipment: With Incursion, I use twin Tobias 4 strings with active stacked humbuckers, a black one (Bass of Doom) and a red one (502 Blood Bass). In my rack I have an Ampeg B2RE, power conditioner with a behringer tuner. At the practice spot I use Fender BXR 410 & 115. My show cab is a Fender Pro 410 angled.
Influences: I'm a child of Death Metal. Obituary and Deicide are my top two but I also worked on lighter metal to advance my musical experience. Pantera, Slayer, Death Angel, Testament and young Zakk Wylde are still in regular rotation when I jam around.
My first gig: Nothing could've prepared me for what it's like to play with Incursion. I'd say the first gig worth speaking of was at Uncle P's playing with The Black Dahlia Murder. I think it was the night before Thanksgiving in 2016, it was my proving ground so to speak and set the bar for the shows I've played since.
Hobbies: I don't know if women and failed relationships count but I'd rather not talk about that anyway. I'm going to go with art in many forms. My paintings aren't that great and can be disturbing for some but I enjoy different types of sculpting or 3 dimensional styles on canvas.
Favorite movies: Pulp Fiction, Trainspotting, Natural Born Killers, Lord of The Rings as far as classics go. Currently, I'm pretty stoked for the new Deadpool and I'm down for all of the superhero movies that have been coming out.
Favorite food: Burritos, I pretty much live on burritos. No lie..
Favorite place: Home or at the practice spot.
Favorite sports or team: I don't follow sports at all but for some reason, it always feels good to hear Louisville is doing well. That's probably just home town pride.
What I'm listening to nowadays: Monolord, YOB, The Last Ten Seconds of Life, Black Tongue, Wraiths, Spite, Nails, Ringworm. I've been going back and forth with Doom and Grind for a while but I'm down with any as long as it's not country or pop.
Coolest thing I've done: I have a pretty good life and I'm always into something creative. Any time you can complete a project you're proud of, it's and awesome experience.
Most embarrassing moment: I don't embarrass easily. I usually just deflect with comedy and try to learn from it.
Bad Habits: I'm a procrastinator and will wait until the last minute every time. For example, I bet you would have liked to have this response hours ago.
What was your first concert ever: My parents took me to see Dolly Parton and Kenny Rodgers when I was a little dude. The pit was pretty rough..>
If you could meet a Rockstar ( past or present ), who would it be, and why: I'd love to spend a day with Bob Marley. Some of his quotes make him sound like he had shit figured out.
Who do you love: Love is a weakness!!!