March 2018 Articles
Cover Story
Paul Moffett
Columns
Eddy Metal
Eddy Metal
Blogs
Got Shows?
Send Them To Us
Bookmark Louisville Music News.net with these handy
social bookmarking tools:
Available RSS Feeds
- Top Picks
- Today's Music
- Editor's Blog
- Articles
Add Louisville Music News' RSS Feed to Your Yahoo!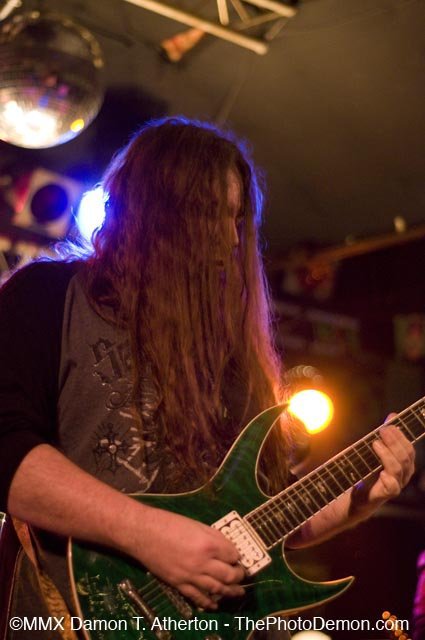 News From the Pit
Happy Spring! Well, it's almost Spring! What a long dreary winter. It pretty much sucked. But lately I've been having a ball. I'm playing metal again! Yay! Don't get me wrong, I love my hard rock band Year Of The Gun, but I also love to go nuts and really let loose with some heavy shit from time to time. So in 2018 I will be rocking the best of both rock/metal worlds.
Twenty-eighteen has already started off rather well, with two pretty good shows. No complaints here. Well, maybe one. The freakin' weather! We were just recently playing a show at Brewskee's and a monsoon came and blew the place away! I swear, I could play the Sahara Desert in the dry season and no more than three minutes after I plug in to play, a torrential downpour would soak the entire vicinity! There was a gear tent outside and it blew away with our drums underneath! Some of the nastiest rain I've ever seen. People were fighting to keep the tent up, but it was to no avail – the storm kicked our asses. Promoter Libbysue Noel was a brave soul as she battled the tent like a roman gladiator, against the wild wind and rain, fearlessly like a true heroine, while we scrambled to get drums in. Libby took a beating trying to keep that tent up though (at one point she looked like the biblical hero Samson holding up the two giant stone pillars that eventually crushed him to death) and when she walked back into the club, totally soaked, she looked like she just saw a baby's head getting cut off. That look scared me. Mouth all open and wailing. Head rolling on her neck. She was about to pass out, and staggering. That storm was a MF. But thank you so much Libby for the tremendous effort to save our drums and the tent!
And thanks to Louie for having these shows! The last three Louie shows I have played have all been FUN. Louie's shows get really wild from the stories I've heard, much wilder than any shows I've ever put on. Thanks to Libby and a few other brave souls, we got it all inside without damage to our gear. We were all soaked though, especially Libby and my drummer Chuck. My ass knew from the start I didn't want my thousands of dollars in gear sitting under a tent in a rainstorm, so I took my shit in immediately upon arrival and MADE room. F**k dat shit. Homie don't play. I take care of my gear. I watch my gear like a hawk at shows, too. I pity the fool who tries to weasel my gear.
Metallica is coming! Hell, all kinds of cool stuff is coming. Just look at the upcoming concert dates I have compiled for you bastages. Local music is on the up-rise, but we need some more go-getters out there! You young'uns! Because you have more energy! FIND us some phucking venues! Make the shit work! Back in the day, we'd find shithole bars and take a PA to the club and have a ton of bands play! We made our own way when venue pickings were slim. You have to search, talk to people, look around! It doesn't hurt to ask. How do you think I got my infamous concert series at The Toy Tiger and Phoenix Hill Tavern? By trying! Get off the cellphone and talk to some people.
Bowling alleys, park amphitheaters, field parties! A club in Cinci is in a Laundrymat!!
A concert is a concert, and we need more kickass shows. Twenty-eighteen is starting off pretty cool, but if we can get in gear and do some damage fast acquiring venues, we could be in for one hell of a ride come summer.
Please get out and support our local musicians/artists.
If you want to c\nome see the new band I'm in, SWP, we will be at Trixie's on Saturday, March 17th. C'mon out, it's a stacked lineup of Louisville metal titans, and will be a barn-burner of a metal show.
Hope to see you there:)
The Metal Grapevine
Metallica is coming to Louisville!
But don't get your panties in an uproar, it's in 2019.
Yup, it's true, March 9 at The Yum Center in 2019. My dumbass saw the announcement and without thinking thought it was this March. Shit, that's a long way off! I might be dead by then. One of the band members might be dead. Well, this should be pretty frickin' cool when it finally comes down. Knowing my luck, I'll plug the crap outta it for over a year and get the flu the night before the show in 2019. This will be a hot ticket when it happens, so you might want to secure your tickets when they finally go on sale. It's been a few years since I've seen them.
Here is a bit of Louisville Rock History for ya! I saw them in 1986 at Cardinal Stadium with Ozzy. And get this - Metallica got booed horribly. Nobody knew who they were, except me. And the crowd was all worked up for Ozzy. They knew not what they did.
In This Moment Review at Louisville Palace (pics by Muah):
Cooped up all winter will drive a man insane. I needed to get out. And this was one good night, I'm telling ya. Great music, seeing friends, getting hit on by cute women (which my GF did not appreciate!), it had it all. And the magnificent architecture of Louisville Palace surrounding me? It don't get any better in Louisville. What a night.
I got some pretty cool pictures too. Enjoy!
First up was Anaheim California's New Year's Day, a band that I didn't care too much for. Yes they are good, and tight, and kinda nu-metalish heavy! But the vocals just didn't do it for me. Too much image, not enough substance. Vocalist Ashley Costello tries hard but does not have the magic that top tier female vocalists Cristina Scabbia and Maria Brink have achieved. She is off to a good start though, for a young'un. She can sing pretty good. Good band, just not my thing.
P.O.D.
I had never seen this San Diego christian nu-metal band before, and I like their hit song "Youth Of A Nation," so I was looking forward to this set. I ended up liking P.O.D's set quite a bit. Bands like this SET trends, not follow them, and I respect that above all. Great musicians all around.
The drums were sounding like cannons. The guitars were beautiful sounding. Guitarist Marcos Curiel has magical tone and great use of effects. Very cool. Bassist "Traa" Daniels is flawless on bass and has superb bass tone, partly because he plays Warwick basses. I have one myself, so I know all about that! He looked like he was having a blast. I am not a fan of rap metal at all either. But grooves and melody this good cannot go unnoticed. When it's real, you respect it! Period. All these guys have been in the band forever, which is rare, so they were as tight as a band can be. Impressive.
P.O.D played "Soundboy Killa," "Boom," "Rock the Party (Off The Hook)," "Southtown," "Alive," and my fave "Youth Of A Nation." I was curious to see if their guitarist could pull off that cool guitar riff/tone live in concert and capture the full effect of the riff in that cool song. He totally did. It was neat. I love that riff. It kinda reminds me of something similar to what I might write. Different.
In This Moment
I never knew much about this wild LA band. I saw them once long ago and they did not stick with me, but when I saw them at Louder than Life last year, they were awesome! I hear they have commercialized their songs a little to be more mainstream, but I'm liking the music that is In This Moment. The guitars are heavy, and the groove solid, and the vocals … Boner Material. Maria Brink is a babe. If Maria Brink was an American President, she would be Baberaham Lincoln. On top of being hot, Miss Brink also happens to have a very powerful, melodic, soulful, commanding, voice. Very different from my favorite female singer, Lacuna Coil's Cristina Scabbia. Maria stays in the lower registers, octave-wise. She does not have those soaring falsetto notes Cristina uses so frequently. Even on the lower notes, Maria weaves her way through emotion and melody, like no other metal singer I've really seen. She has a great soul voice. I swear, on the song "Oh Lord" Maria sounds like Adele! It's uncanny. When metal and soul collide. I'm digging it. I'm also digging the whole theatrical thing they do with the costumes and whatnot. My GF really likes them now, and was very happy to see them live.
The band, you may ask? I haven't seen much of In This Moment's guitar duo Chris Howorth and Randy Weitzel, and I was starting to think they didn't do too awfully much, but I finally got to see them actually play solos this go-round. They had much more time to play, so I was able to see/hear so much more of their guitar skills. Impressive! That short work at LTL did not do In This Moment guitars justice! But the Palace show made up for it. We got to see them have some fun, not be so rushed, and let loose a lil'. The sound system was awesome. The band was tight. Guitars were hammering and shredding. And Maria sounded better than ever. Excellent! I think my GF had a boner for Maria, too, by the end of the night. J/K hun.
The band kicked off with one of my faves "Blood," a pounding anthem of a song seemingly dedicated to bad girls. "River Of Fire" is another hard rocker, back to back. Good way to open a set, two powerful punches to each eye. "Roots," "Lay Your Gun Down," "Monster Jam," "Big Bad Wolf," "Sick Like Me," "Oh Lord" (which features a soulful melody and bluesy style) and they came back for encore with the ole' dunce-hatted "Whore." My favorites were "Oh Lord," "Blood" and "River Of Fire." And finally getting to see the duo guitarists of IN THIS MOMENT tear some heads!!
At one point during the set, the band played a medley of covers like Ozzy's "Crazy Train' complete with Randy Rhoad's guitar solo that sounded great, Iron Maiden's "The Trooper'" Michael Jackson's "Beat It'" adnd Phil Collin's "In The Air Tonight." Odd medley, but it worked and sounded great doing so.
Drummer Kent Diimmel played a badass drum solo, too.
All in all, an excellent night of good music and good people.
Thanks to Louisville Palace for another great time.
Just In - Mushroomhead Coming on May 6 at Trixie's:
An after-Derby bash to not miss. This will sell out, so get yer tix asap.
Slayer Farewell tour stops in Cinci on June 6!!!
Yes, it's true. Slayer is bidding farewell. But before they ride off into the sunset, they want to melt your faces off with one hell of a lineup at Riverbend in Cincinatti on Wednesday, June 6. I love this venue! And the peeps there always treated me like gold. I can't wait for this lineup. Testament, Anthrax, Behemoth and Slayer on one bill? Count me in!! I will be definitely be putting in to cover this one! Slayer killed at Louder Than Life a few years ago, and I'm sure they will again in 2018. Get your tickets ASAP!
Here is Slayer on The Tonight Show!
Uncle Sam's Jamm's Closes:
Louisville music store Uncle Sam's Jamm's has closed its doors after many years of serving Louisville. Owners Jeff and Pam Hillerich served Louisville well, and I wish them the best of luck. Jeff has had health problems for several years and he probably just needs the rest. Jeff was always a good dude to us local rockers. He used to give you stuff with zero down, and if you paid it back within a month, you were good! And if your amp blew up and you needed it fixed fast, he would bump you up in line to help you out. Who does that? It worked for him and he got a lot of customers that way. I spent thousands at his store. It was more than just a music store. You always saw friends there, too! I'm going to miss that place. Thank you for all the years of service, Jeff and Pam.
Alice Cooper at Louisville Palace on March 3:
The king of shock rock returns! Alice is one touring mofo! Dude is always on the road! Does that cat ever rest? He is an older dude, so you think he would wanna take it easy. Guess not! The last time I saw him in 2013 he sounded excellent, so you might want to get tix to this one! It don't get no better than the Palace!
Kamelot coming on Monday April 16 at Mercury Ballroom:
Delain and Battlebeast will be opening. I'm partial to the old singer, but it would still be interesting to see.
Soulfly/Nile coming to Diamond Pub April 17:
Ole' Max is heading back this way, with his brother Igorr in tow! A truly bitchin' reunion. Awesome. I might hafta go see this one! Always been a Max fan. And those South Carolina Egyptians Nile will be here too! They are badass as well. Should be fun!
Texas Hippie Coalition Returns to Trixie's on May 3:
I like this band! Great guys too.
Papa Roach Coming on April 24:
Not a big fan, but peeps do like them! Check it out!
LMN Bad Humor Report
No one wants to see you throw a fit onstage, unless you are a rockstar! Then bring it on.
Udo Coming in April!
Terry Harper, you da man! You can always count on Terry booking some obscure awesome metal that no other promoter would normally touch. The legendary Accept vocalist Udo Dirkschneider will be at Trixie's on April 3. I will definitely be at this one. Udo rocks!
Musician Of The Month
This month it's Jessica Hayes of Elizabethtown's own Prey For Maria. This little lady has a helluva voice and fronts a pretty great band. Be sure to read her feature, and delve into the minds/lives of the regions original music artists!
Lost In Eden's New Video:
Check out Lost In Eden's new video featuring two members of 3 Doors Down. It's some pretty good stuff. Good songwriting. Good vocals! Well done.
LMN Live – Villebillies:
LMN Live – A Forgotten fury:
LMN Live – Mad Alice:
LMN Live – Dark Side Of The Wall:
See them at The Brown Theatre Saturday, March 3.
LMN Live – Vice Tricks opening for The Misfits.
LMN Live – Darkening:
Here's some Cuban metal for ya!
LMN Live – Left To the Wolves:
Eastern Kentucky metal.
LMN Live – Year Of The Gun:
Here is an old one!
LMN Live – Boombox Poets:
Here's another old one!
Upcoming Shows
3rd St Dive
Friday, March 9 – Hannan and Julius.
Air Devils Inn
Friday, March 2 – Rifle, Coverboy and Tycoon$ Of Teen.
Best Friend Bar (Lexington)
Saturday, March 3 – Blood Curse w/ Old wolf and Savage Master.
BJ's
Friday, March 2 – Call Me Monster.
Brewskee's
March 24 – Hallow Point w/ Mariposa, Luther, A Forgotten Fory and Era Of Machines.
Saturday, April 7 – Chadillac Dundee, Cream ENT, Phantom, Zach Lawrence.
The Brown Theatre
Saturday, March 3 – The Dark Side Of The Wall.
Corner Pizza and Pub
Saturday, March 3 – Wisecracker.
Diamond Pub Concert Hall
Saturday, March 3 – The Wilson Brothers
Friday, March 16 – Arctica w/ Gallifrey Falls, Floods, Light Treasons and Summer Youth.
Thursday, Narch 22 – The Devil Wears Prada.
Tuesday, April 17 – Soulfly w/ Nile.
Saturday, June 2 Hammerfall w/ Flotsam and Jetsam.
Magbar
Saturday, April 14 – Hannan.
Micks Lounge
Saturday, March 3 – Testify.
Mercury Ballroom
Friday, March 2 – Satisfaction ( Rolling Stones Tribute)
Friday, March 30 – Pop Evil.
Monday, April 9 – The Sword.
Monday, April 16 – Kamelot w/ Delain and Battle Beast.
Tuesday, April 24 – Papa Roach.
Tuesday, May 1 – Killswitch Engage w/ Hatebreed.
Thursday, May 10 – Parkway Drive and TBA.
New Directions
Saturday, March 10 – The Wilson Brothers.
Nirvana
Thursday, March 10 – End Of Me, Mad Luck and Banshee Child.
Saturday, March 17 – Vice Tricks, Decline Effect.
Russell Springs VFW Post (Russell Springs KY)
Saturday, March 17 – Guerrilla Red, Lethean, Manic Methed. 6 P.M.
Spectators Bar and Grill
Friday, March 2 – River City Rockers.
Friday, March 16 – Rock Brigade.
TK's
Saturday, March 17 – The Wilson Brothers.
Trixie's
Monday, March 12 – Attila w/ Sylar, Verses and Flip the Switch.
Saturday, March 17 – Luther, Sweet Whiskey Pussy, Darkening, Wake Up In Tsunami and Call Me Monster.
Tuesday, April 3 – Udo Dirkschneider w/ Elm Street.
Tuesday, April 10 – Thrill Kill Kult w/ TBA.
Thursday, May 3 – Texas Hippie Coalition w/ Kobra And The Lotus and others.
Sunday, May 6 – Mushroomhead w/ Vyces, Gabriel And The Apocalypse and Ventana.
Veterans Of Foreign Wars ( 155 Owenstown School Rd, Russell Springs KY)
Saturday, March 17 – Guerilla Red, Manic Methed and Lethean.