March 2018 Articles
Columns
Paul Moffett
Eddy Metal
Eddy Metal
Blogs
Got Shows?
Send Them To Us
Bookmark Louisville Music News.net with these handy
social bookmarking tools:
Available RSS Feeds
- Top Picks
- Today's Music
- Editor's Blog
- Articles
Add Louisville Music News' RSS Feed to Your Yahoo!

Issue: March 2018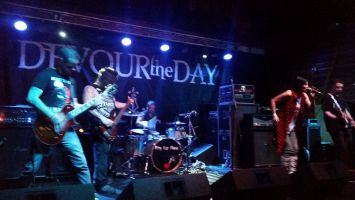 Jessica Hayes
Name: Jessica Clemons Hayes
Age: A woman never tells her age ...lol
Instrument: Vocalist
Band/Former Bands: Prey for Maria - the only band I have ever been in.
How long on instrument: I have been singing since I was 3 years old.
Equipment: Mic Mechanic Vocal Processor, Shure SM58 Microphone, & AKG in ear monitor.
Favorite place: On stage of course! It's hard to explain. I still get nervous sometimes, but it is such an amazing feeling seeing people enjoy our music.
Favorite sports or team: Louisville GO Cards!
What I'm listening to nowadays: Honestly, I listen to little bit of everything. The past couple of months I have been switching between The Birthday Massacre, Kidney Thieves,t.A.T.u, and IAMX.
Coolest thing I've done: I have to say openingup for one of my favorite bands ...The Birthday Massacre. It was such an amazing experience to share the stage with one of my biggest influences. Hanging out with the band after the show was so much fun!
Most embarrassing moment: This is easy...tripping over a crack in the stage and falling backwards into the drums in the middle of a set with all eyes on me! UGH! So embarrassing!
Bad Habits: I over-think everything. It could easily take me 30 minutes to figure out what to say in a simple Facebook post. This questionnaire took me longer than it should have ...lol!
What was your first concert ever: New Kids on the Block when I was in the 6th grade ...yeah, I was totally Hangin' Tough ...lol
If you could meet a Rockstar (past or present), who would it be, and why:
Who do you love: More than anything in this world, I love my 2 kids and my husband. Fun Fact ...I am actually married to our lead guitarist Damien.