February 2018 Articles
Cover Story
Paul Moffett
Columns
Eddy Metal
Eddy Metal
Bookmark Louisville Music News.net with these handy
social bookmarking tools:
Available RSS Feeds
- Top Picks
- Today's Music
- Editor's Blog
- Articles
Add Louisville Music News' RSS Feed to Your Yahoo!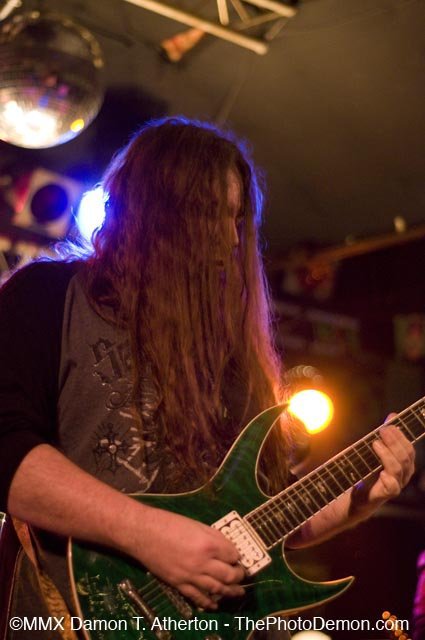 News From the Pit
Hey everyone! What's cooking? I got tons cooking. I'm a cooking fool. Busy busy and extra busy is me these days. Work and play, it's what I live for! I have very expensive tastes in music gear, so lots of work helps solve that issue! Seriously though, things are going great my way. I'm feeling pretty optimistic all of a sudden now that I am playing metal again. My new bands debut show (video below in LMN Live) was pretty awesome, so I'm all gassed up and raring to go as if someone shot a blast of hot pepper up my ass!! After one show, we already possibly have a national gig to be confirmed any day now! You can't beat that. But a lot of experience comes with that as well, so we have definitely earned everything that comes our way in that band. It's great working with such a great group of guys. So easy going. No drama. No pillhead junkies. No unreliable idiots like 90% of musicians usually are! Just responsible dudes who wanna rock! Just my type of band to be in. We have a buzz about us after one gig! I'm excited. My haters must really be super butt-hurt, and there is nothing I love more than that! I'm looking forward to having a sweet 2018 playing out with all you rockin' original bands out there in both of my bands! I'm a lucky guy. Keep me in mind for any spots on any melodic hard rock and metal shows! Hit me up.
The other bands on the bill, Stout, Prey For Maria, and A Forgotten Fury were all awesome, and very nice people. It was a reawakening for me! A shot of hope in a dim, dim world. Stout sounded better than ever before, and the guitarist upgrading his gear made a world of difference in guitar tone. Crushing! Seeee! When I bitch about shit, it usually always leads to better things in the end. Chris Gravel sounded great on vocals, mixing things up nicely. Prey for Maria killed it so much I decided to write a lil' blurb about them below. A Forgotten Fury was heavy as hell, and definitely brought the pain, along with some super sweet guitarwork and drumming. All in all, it was a successful night among friends and peers. Kickass.
I'm also pretty stoked about some upcoming national shows coming through the region. Things are starting to really heat up! It was just announced that Slayer, Anthrax, Testament, Behemoth are coming to Riverbend on June 6. In This Moment at the Palace on February 3 is also in my sights! Alice Cooper is also coming to The Palace. Kamelot, Soulfly, Udo Dirkschneider, Texas Hippie Coalition, Hammerfall, Iced Earth, Killswitch Engage/Hatebreed. Hell, all of these shows sound interesting! I was bitching about getting some new kickass blood that I actually want to get out and go see, and now — all of these are 100% in that category, so I couldn't be happier. I got my wish. I was soooo tired of the same bands, over and over. I was burnt out. I work a lot and get up very early, so it has to be a pretty badass show for me to lose sleep and be tired as f**k the next day at work, so I pick and choose wisely these days. I'm looking forward to getting out to these badass shows and seeing all you crazy mofos. You peeps make me feel appreciated for my work, and makes all I do worthwhile. Thank you.
I did get a chance to get away to St Louis for a few days recently for some well deserved rest. I went there to buy an expensive guitar. Me and my GF stayed at a hotel right by the Arch, complete with hot tub. I just wuuuuv Hot Tubs! I had never been underneath the arch before, and it was really cool, and massive! St Louis is really a fun city. Get this, the numerous museums and world class zoo are 100% FREE. We were shocked. The museums were really interesting. We had no idea the Worlds Fair was there in 1904. It was a massive achievement that's hard to believe actually happened, because the scale was so grand in the pictures! I'm a history buff. I can't help it. Anyways, take a trip to St Louie! You won't regret it.
Like I said, I have a new found optimistic outlook on our music scene. All I can say is get out and go see some of these bands, whether they are cover bands or original music. We ALL work our asses off because we love playing music. Trust me, it's not about money. If it was, I'd be long gone a long time ago. I'm 48 and wouldn't give it up for nothing or no one. Turnouts aren't so great these days, so every person that attends our shows helps! I know in this day and age everyone wants to stay home and play on your phones, but we need you! The Louisville Music Scene needs you! So please, let's all do our part to make Louisville a music mecca once again.
Well, that's it for me this month. Send those showdates and live videos of your bands! You can't beat this FREE exposure LMN provides. You peeps should be very grateful to my boss Paul Moffett for all he has done for our city's musicians. What a guy. Email me at Eddymetal1@aol. com
P. S. I'll be pulling double duty with both my bands on Saturday February 24 at Brewskees. Come say hello, and check out my new band SWP. 10 P. M. Peace out.
The Metal Grapevine
Blizzard Of Ozzy Review:
I got out to see Atlanta's Blizzard Of Ozzy at Mercury Ballroom. I'm a huge Ozzy fan, so I was interested to see what they were like. I kinda feel like I was cheating on my GF or something, because I'm tight with Louisville's version, Crazy Train. I have a long history with those guys. Blizzard Of Ozzy was impressive, but the guitarwork fell a little short in my opinion. Don't get me wrong, dude was a great guitarist much better than m e , but to play in a Ozzy Tribute requires a guitarist to be on a level 10 steps beyond all others. Think about it, that guy has to recreate the solos of three badass top-of-the-line guitarists in rock history, Jake E Lee, Zakk Wylde and Randy Rhoads. Not an easy task by any means. 80% of the solos were good to go, but the other 20% were not up to par. The lead guitarist did look like Zakk Wylde, though, so maybe that had some pull.
Vocalist Mack Mullins does a great job and sounds just like Ozzy. Well done, dude! The stage setup was wicked, and the band boasts that they have over $ 100k in stage/lighting gear, complete with keyboards and everything. They played "War Pigs," "Fairies Wear Boots," "Shot In The Dark," "Mr Crowley," "I Don't Know," "Bark At The Moon," "Flying High Again," "Crazy Train," "No More Tears" and they even played "Close My Eyes Forever. " T hey brought up an attractive young woman who did very well on Lita Ford's vocal parts. I liked that part a lot, but the rhythm guitarist who was playing the 12 string on the song, was sickly out of tune, and I could tell instantly as soon as he started playing it. Talk about a song killer! Those 12 strings are a bitch to tune, yes, but when you are performing on that level, you gotta make sure you are dead on accurate!
The vocals of Mack Mullins were awesome, and he had the Ozzy look down, complete with fake wig. Pretty damn good, indeed. But dude on lead guitar wasn't cutting the mustard on my guitar hero's solos. A Chris Alia (guitarist for Louisville's Crazy Train) he wasn't! As a guitarist myself, it was a bummer for me. Everything else was dead on, though. They should not worry so much about how close to Zakk Wylde he looks like, and concentrate on finding someone who can truly nail those epic solos correctly. I'm thinking it will be one MF'ing hard ass task. Other than that, Blizzard Of Ozzy was awesome! Thanks, Mercury Ballroom! Keep 'em coming!
Slayer Farewell Tour Stops In Cinci On June 6!!!
Yes, it's true. Slayer is bidding farewell. But before they ride off into the sunset, they want to melt your faces off with one hell of a lineup at Riverbend in Cincinatti on Wednesday, June 6. I love this venue! And the peeps there always treated me like gold. I can't wait for this lineup. Testament, Anthrax, Behemoth and Slayer on one bill? Count me in!! I will be definitely be putting in to cover this one! Slayer killed at Louder Than Life a few years ago, and I'm sure they will again in 2018. Get your tickets ASAP!
Here is Slayer on "The Tonight Show"!

In This Moment At Louisville Palace On February 3:
It's almost time, folks! I'm looking forward to seeing this! I just hope I'm over my cold by the time the show day arrives. Opening will be P. O. D, Ded and New Year's Day. Hopefully, I'll see you there. I might have toilet paper stuffed up my nose holes, though.
Alice Cooper At Louisville Palace On March 3:
The king of shock rock returns! Alice is one touring mofo! Dude is always on the road! Does that cat ever rest? He is an older dude, so you think he would wanna take it easy. Guess not! The last time I saw him in 2013, he sounded excellent, so you might want to get tix to this one! It don't get no better than the Palace!
Kamelot Coming On Monday April 16 At Mercury Ballroom:
Delain and Battlebeast will be opening. I'm partial to the old singer, but it would still be interesting to see.
Iced Earth/Sanctuary Coming To The Merc On February 24:
Check out some wicked progressive metal that's coming to town. These guys never come here, so get those tickets now! Sanctuary will still be playing, which shocks me, considering they just lost their "heart" in Warrell Dane. I hear someone will be filling in as a sort of 'tribute' to the late vocal genius. But to me, no one can replace Warrel. EVER! But I love Sanctuary, and out of love for those guys and my utmost respect for the late great Warrell Dane, I may still attend and pay my homage to one of the all time vocal greats. This is one musician death that truly hurt me to the core. R. I. P Warrell.
Soulfly/Nile Coming To Diamond Pub April 17:
Ole' Max is heading back this way, with his brother Igorr in tow! A truly bitchin' reunion. Awesome. I might hafta go see this one! Always been a Max fan. And those South Carolina Egyptians Nile will be here, too! They are badass, as well. Should be fun!
Texas Hippie Coalition Returns To Trixie's On May 3:
I like this Band! Great guys too.
Papa Roach Coming On April 24:
Not a big fan, but peeps do like them! Check it out!
LMN Bad Humor Report - When Performing Goes Bad:
Everyone has had one of those shows, including me! Like the time I swallowed my hair and was gagging whilst trying to sing, or the time I got my guitar tuners snagged in my singer's hair. Good stuff! Funny stuff. Here's some more funny stuff.
Udo Coming In 2018!
Terry Harper, you da man! You can always count on Terry booking some obscure awesome metal that no other promoter would normally touch. The legendary Accept vocalist Udo Dirkschneider will be at Trixie's on April 3. I will definitely be at this one. Udo rocks!
New Guerilla Red CD Review:
These cats are back in full swing and I'm happy for them. Good guys these! Vocalist Steven Stith seems like one cool dude, and, yes, he can sing! These dudes are about to release an E. P soon, so they sent me some jams to check out. "Break Free" is a laidback soothing ballad that kicks into high gear after a short time. I'm digging the use of vocal effects on the chorus. Nicely done. A sweet ass melodic lead at the breakdown woulda been a nice fit though. The song almost calls for it. Hell, I woulda been happy to work with the guys to donate a solo. But the recording isn't quite done yet, so I'm sure they will break out a lead or two before all is said and done. Bassist Erik Marchand is a beast on bass as I've always said. He is always laying down some funky bassline, in evry song. Erik is truly the heart of GR. The song has chunky guitar rhythms and a groovin beat like they always have. I think the vocals in verses could have been a tad wetter, though. Dry vocals are not good, especially on parts where the song could sound so much better. Like this song!
Fight" starts with another kickass Marchand bassline. Nice guitar tones from Matt O' Riorian! Pretty brutal chit. I like this song better. The dry vocals sound better in this tune. There is a hardcore feel to this song. Nice screams, Steven! Eeeeee! Much better than the last song. Now this is more like the GR I know. Short 'n' sweet, quick n' brutal, just like I like it. I bet this song destroys live! We will see soon, as I need to get out and see these f**kers in action once again. And I can finally meet this Steven Stith cat in person. Good job, dude. It wasn't an easy task replacing Fogle, but you did it. Look for the new GR E. P and showdates in 2018! They are playing Brewskees on February 23, so get yer asses out and support! Or Erik will be mean to you and torment you of Facebook!
Prey For Maria, Wow!
I saw E-town's Prey For Maria for the first time on January 27, and I was really impressed. How did this band escape me? Great songs. Great tones. Great vocals. Great people! I wasn't expecting them to be that good. PFM is Jessica Hayes on vocals, Damien Hayes on guitar, Rob Lewis on guitar, Brett Bocock on bass and Scott Gibson on drums. Hearing Jessica sing reminds me of one of my favorite bands Lacuna Coil. The passion, the melody, the ability to come up with great melodies from out of nowhere. She has a versatile vocal technique that oozes confidence and soothes the soul. A very pretty lady with a very pretty singing voice. Well done! The guitar duo of Damien and Rob are searing even though they don't have super expensive amps. Apparently these cats are so damn good and know their shit so good, that they can coax a blistering tone from pretty much anything they run through. Nice lead solos. Nice rhythms. God harmony together. These guys are pros. The band won first prize in 2008's Allbiz Label showcase, and I can see why. They list as influences Evanescence, Flyleaf, Lacuna Coil, Kidney Thieves and The birthday Massacre. So if you want to get a break from the usual give you a headache screamo bullshit that's 90% of the local bands out there now, give Prey For Maria a listen and I doubt you will be sorry.
Musician Of The Month:
This month its bassist Chris Jones from Thunderstruck , the AC/DC tribute band that has had so much success lately. Be sure to read his feature in this month's Edition!
LMN Live — Savage Master:
Louisville metalheads make good!

LMN Live — Prey For Maria:
Great band. Great people. Here is a short clip I filmed at Trixie's on January 27.

LMN Live — Sweet Whiskey Pussy:
Check out our debut performance on Jan 27.

LMN Live-Sounds Like A Lawsuit:
LMN Live — Untold Rellik:
These central KY rockers are back together! Welcome back guys.

LMN Live — Signal The Revolution:
These guys are back in action once again!

LMN Live — Atomic Thrillride:
LMN Live — Manic Methed:
Upcoming Shows
Air Devils Inn:
Saturday, February 3 — Juke Joint Revival, Rust N' Bones and Atomic Thrillride. 9 P. M.
Best Friend Bar (Lexington):
Saturday, March 3 — Blood Curse w/ Old wolf and Savage Master.
Blind Squirrel:
Saturday, February 10 — Gas Money. 9 P. M.
Brewskees
Friday, February 23 — (The return of) Untold Rellik w/ Mariposa, Guerilla Red, Kur, Gotcha and Rebelhalla. 6 P. M.
Saturday, February 24 Year Of The Gun, Despite The Fallen, Sweet Whiskey Pussy, Wyld Ride, Hello Agony, Jason Lewis and JV Country. 6 P. M.
Corner Pizza And Pub
Saturday, March 3 — Wisecracker.
Diamond Pub Concert Hall
Wednesday, February 28 — The Lacs w/ Hard Target, Crucifix and Nate Kenyon.
Tuesday, April 17 — Soulfly w/ Nile.
Saturday, June 2 — Hammerfall w/ Flotsam and Jetsam.
Madison Live (Covington Ky)
Saturday, February 17 Mascots, Signal The Revolution, Commonweather, Mister Mason and Big Smile.
Magbar
Wednesday, February 7 — X Ray Mary and Rifle.
Wednesday, February 14 — Kingslayer, Prowess, Lethal Affection and Gravel and Spiders. 8 P. M.
Micks Lounge
Saturday, March 3 — Testify.
Mercury Ballroom
Wednesday, February 14 — Badfish (Tribute to Sublime).
Friday, February 16 — Led Zeppelin 2.
Saturday, February 17 — Dressed To Kill(KISS Tribute) and Mad Alice.
Saturday, February 24 — Iced Earth w/ Sanctuary and Kill Ritual.
Friday, March 2 — Satisfaction (Rolling Stones Tribute)
Friday, March 30 Pop Evil.
Monday, April 16 — Kamelot w/ Delain and Battle Beast.
Tuesday, April 24 — Papa Roach.
Tuesday, May 1 — Killswitch Engage w/ Hatebreed.
Thursday, May 10 — Parkway Drive and TBA.
Nirvana
Thursday, March 10 — End Of Me, Mad Luck and Banshee Child.
Otts Tavern
Friday, February 16 — River City Rockers.
Russell Springs Vfw Post (Russell Springs Ky)
Saturday, March 17 — Guerrilla Red, Lethean, Manic Methed. 6 P. M.
The Shop (Brandenburg)
Saturday, February 3 — Mad Alice.
Spillway Bar And Grill
Friday, February 2 — Beyond Duplication, Luther, Memory.
Spinellis Downtown
Saturday, February 3 — Wisecracker.
Sunday, February 18 — Deadland, Edorra, Wake Up In Tsunami, Comess and Today, Last Tragedy.
Spectators Bar And Grill
Saturday, February 17 — Hollowpoint.
Friday, March 2 — River City Rockers.
Friday, March 16 — Rock Brigade.
Tim Faulkner Gallery
Saturday, February 17 — He's Dead Jim, Push Start, Gravel and Spiders.
Trixie's
Tuesday, February 6 — Eyehategod w/ stonecutters, Blind Scryer and Hawkbill.
Monday, February 9 — Darkest hour w/ Whores, Extinction AD, The Hell You Say and Comess.
Monday, February 19 — Darkest hour w/ Whores and Extinction.
Tuesday, February 20 — Crazytownx w/ Davey Suicide, Loaded Guns, Sinful Lilly, Prey For Maria and Banshee Child.
Tuesday, April 3 — Udo Dirkschneider w/ Elm Street.
Thursday, May 3 — Texas Hippie Coalition.
Veterans Of Foreign Wars (155 Owenstown School Rd, Russell Springs Ky)
Saturday, March 17 — Guerilla Red, Manic Methed and Lethean.