January 2018 Articles
Cover Story
Paul Moffett
Columns
Eddy Metal
Eddy Metal
Blogs
Got Shows?
Send Them To Us
Bookmark Louisville Music News.net with these handy
social bookmarking tools:
Available RSS Feeds
- Top Picks
- Today's Music
- Editor's Blog
- Articles
Add Louisville Music News' RSS Feed to Your Yahoo!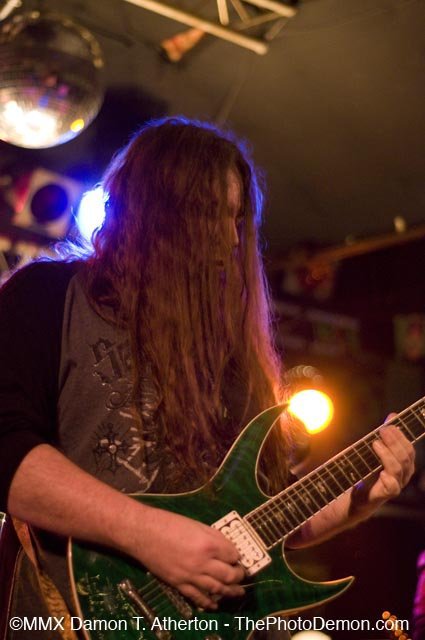 News From the Pit
Happy New Year! I hope you all had a great 2017, and I hope 2018 is a good one for you, too. I had an excellent Christmas holiday. I'm a bit overworked, but that's okay, a little more money in the bank isn't a bad thing. My New Year wish is that I hope our music scene comes back to life because this shit is starting to suck pretty bad. Not many venues anymore. And a few more shitty things have made this scene almost unbearable these days. But I'll not give up! I've come waaaay too far and rocked this MF waaaay too damn long to throw in the towel now! I have a great band in Year Of The Gun, and I also have a brand new metal band, Sweet Whiskey Pussy, that is debuting this month, so I'm very excited about that. I had my doubts at first, about jamming with all new people in my life (as most musicians are unreliable f**ks!), but that has passed and now I am grateful to be in such a rockin' new metal band with such cool rockin' and talented players! And I'm looking forward to recording again with my longtime band Year Of The Gun in 2018. The truth is, I really don't want to play out a lot anymore. Once or twice every few months is perfectly fine by me, as long as the gigs are good and and the bill is nice! My heavy ass guitar gear is a pain in the ass to load and unload, and work is on mandatory overtime, as usual, so I'm in that bind. But I'm ready for whatever 2018 throws at me musically. I still have a lot of offer musically even though I just turned 48 yerars old. I think I have aged pretty darn good for a man who is almost half a decade old! I see people my age that look like hell quite often. I think maybe it's because I have never fathered kids, or smoked cigarettes, been married, or drank a lot of booze, or did a bunch of hard drugs! Yeah, I'm kinda a lame-o for real. I'm cool with that, though. Keeps me out of trouble.
I tried to get my band in a new club on Bardstown Rd, but I've found out they mostly cater to cover bands and other events. What a shame a legendary venue like this, regionally known to showcase original music has come to this. I was told we could have a Thursday night. Nah. I have paid my dues 20 times over in this city over the years and opened for many many well-known national acts in my day, and to be offered a Thursday AND have to sell tickets to that, is insane. I guess I'll have to wait till something else comes along. It will, though. This is just a very slow time of year for playing music, especially originals. So yeah, my column will be kinda short this month.
As far as New Years Resolutions go, I think I'm good to go. I've worked hard, been a good, faithful boyfriend, and kept my weight down as best I could. I've been the best person I've ever been in my 48 years, so I'll have to just live with that, I reckon.
I can't wait to see what 2018 holds for us here in Louisville. If I could find a likely venue, I could possibly be interested in getting some Eddy Metal Production shows going again. I think we need them.
God knows for years and years (since 1996), they were kinda a big thing in this city. People come up to see and tell me they miss them. Just last night someone said they missed it. So we will see what happens this year. Because we lowly original bands need a little help in this day and age. Ha.
Shows shows shows!! In This Moment at Louisville Palace, Avatar, Udo Dirkschneider, Kamelot, Soulfly! Sounds like fun to me! I need to get out more, but like I said a few months back. I'm burnt on seeing the same bands over and over! I need some new blood!! Bring it on...
Peeps – be sure to send me those showdates, news, new music, cheesy gossip, live band videos and pictures. I have made it so you good people can contribute to LMN, so use the free exposure and get me all your stuff you want noticed!
Peace out mofo's!!!
The Metal Grapevine
In This Moment at Louisville Palace on February 3:
Sweet! I saw this band a few times, but the last time at Louder Than Life in Sept was awesome! They were pretty damn good. And vocalist Maria Brink was sexy as hell, so yeah, I'll probably go check this one out. Should be pretty neat. They put on a theatrical show with lots o' props, costumes an stuff. The heavy downtuned extra chunky guitar riffs and the mixture of her sexy soulful and heavy voice makes for a really cool sound. Do yourself a favor and get those tickets!
Avatar Coming to Mercury Ballroom on January 16:
I like these Swedish rockers. I've seen them a few times and they always put on a good show. The last time they played the Merc, it was awesome. I was there! This will sell out, so don't hesitate one bit to get tickets, if you want to see this! BUY TIX NOW!!
Tribute bands a' comin' to The Merc!
The Mercury Ballroom has a slew o' tribute bands coming your way, so be sure to check these bad mofo's out! I'm anxious to see the Ozzy, Metallica and Zeppelin tributes! Tribute bands coming are, Ozzy, Ramones, Zeppelin, Kiss, Metallica, Sublime, Rolling Stones. Look in Mercury Ballroom showdates below for more info!
A Tribute to Warrel Dane of Sanctuary/Nevermore. R.I.P:
On December 13, the world lost a truly gifted singer in Warrel Dane. Warrel was in my top three favorite singers of all time in metal. Warrel was the singer of Sanctuary (formed in 1987 I think) and Nevermore. Two progressive metal bands that never made it big, but that had a huge underground, almost cultish, following because they were so damn good. Warrel's voice was something special in a world where metal vocals nowadays seem nothing more than a bunch of whiney kids screaming at the top of their lungs. No artistry. No singing. No notes to achieve. Warrel was a lyrical genius and a Van Gogh of vocal technique. Creative is not the word one can use to describe Warrel's vocals and lyrics. He surpasses that with ease. It's almost borderline mystical the things that guy did vocally. He was very versatile and could go from low to high in no time, and his vibrato technique was outstanding. He could send chills up your spine with his emotional melodies. The guy was in a league all his own. I can only think of two singers who could match him: Rob Halford of Judas Priest and Bruce Dickinson of Iron Maiden. Warrel's health wasn't the greatest these last few years and you could see it. He was currently in Brazil recording his new solo album when he had the heart attack that killed him. His first big band Sanctuary had reformed a few years ago and was doing well touring the world. I was sooo happy to see them back together and rocking! They played at Diamond Concert Hall a few years back and it was like going back in time to my youth.
This totally crushed me hearing about Warrel's death, as we have partied before once or twice, and was always a great guy with no ego or attitude, even though his voice surpassed those of many many huge rockstars easily. Rest well, Warrel. You have earned your place in metal history for sure. My deepest sympathies go out to his family, friends and bandmembers. I guess this this is the end of Sanctuary, for there is no replacing the irreplacable. R.I.P. my vocal hero.
This one is for you. Warrel.
Kamelot coming on Monday April 16 at Mercury Ballroom:
Delain and Battlebeast will be opening.
Introducing Sinful Lilly:
Hailing from Richmond Ky, comes Sinful Lilly, a guitar driven alternative hard rock band that tries to escape from the norm by providing energy, hooks and passion all rolled into one big joint of rockin' music. Sinful Lilly is Fredi Handshoe on vocals/guitar, Nikki Valklix on bass/vocals, Trey Bledsoe on drums. These guys have experience and have opened for many nationals individually and others, including Black Stone Cherry, Ace Frehley, Jackyl, John Corabi and many others. The band has also recorded covers for tribute albums for such bands as Judas Priest, Metallica and Black Sabbath. The music is a bit different and seems to kick ass pretty good.
Enough about my thoughts though, you check them out and hear for yourself!
I'll let you know more when I know more about these Central Kentucky fellers.
Iced Earth coming to The Merc on February 24:
Sanctuary won't be there now due to Warrel's untimely death, so I probably will not be attending this one. I'd probably get in a fist fight with the guitarist for Iced Earth again, like we did almost 20 years ago. It was a brutal fight in Annie's parking lot in Cincinatti, but I came out on top, whilst Mr Schaffer scurried back into the club like a beeyatch. He was an asshole. We drove 100 miles to interview him for the radio station, and he was acting like we were wasting his time, rolling his eyes and basically being an arrogant douche! So I told his band he was an asshole, which he was! Dude ran out and sucker punched me in the eye! But he hit like a girl, and I was on him like stink on shit. I delivered a roundhouse kick on his shoulder that could have shattered a brick wall (I took Tae Kwon Do in my youth) and he realized I wasn't playing around so he ran back inside. But despite all this ancient news, all you progressive metalheads might wanna check this show out, despite being a dick, he is still an amazing guitarist! I'm just very sad Sanctuary and Warrel Dane (R.I.P) will not be there. I was going to go review this show, despite what happened 20 years ago. But now, I think I'll pass on this one.
Soulfly/Nile coming to Diamond Pub April 17:
Ole' Max is heading back this way! Awesome. I might hafta go see this one! Always been a Max fan. And those South Carolina Egyptians Nile will be here too! They are badass as well. Should be fun!
Banshee Child's new CD:
Banshee Child is Matt Meredith on Vocals, Joshua Catlett on Guitar, Colin Yopp on Bass and Vince Heller on Drums. This Louisville band was formed in March 2016, and considers themselves to be the perfect bastard child of classic rock andd blues with a fresh modern feel added for effect. Guitarist Joshua Catlett states "I feel like if you put AC/DC, Ted Nugent, Kenny Wayne Shepherd in a blender you would end up with my guitar influences and sound. Vince and Colin are big alternative fans so they throw a bit of that in as well. That's why we feel we have the capability to appeal to so many people with our music. I feel like there are a lot of flavors and genres kinda weaving in and out of everything we do." I'm sitting here checking out the new CD these guys put out. Not a fan of the artwork/packaging I admit. But that's not important, the music is. "Don't Need Money" is a rocker from the get-go. I like this. Energetic and catchy. The vocals of Matt Meredith are spot on and have a certain smooth, sexy, blues feel to them with an "in Your Face" attitude and melodies that a person could easily get stuck in your head. Good lyrics, too! I like the guitarwork of Mr Catlett too. Those PRS' he plays sound pretty damn good in the studio. It's a short, driven song, but it hits the spot just right. No need for an epic 10 minute song! Short n' sweet. I likes it! "Now Or Never" sounds a bit heavier. There is some massive groove going on here. And I'm digging the mix, too. The artwork threw me off a bit, but the music speaks for itself. Matt's voice shines once again. If this band breaks up, I'm stealing this singer! The guitarwork is powerful and groovin' like a MF. Good rock tone, not too heavy and not too weak. It's a perfect middle. "Now Or Never" reminds me a little of the newer Guns N' Roses era ala Chinese Democracy. I'm hearing a little 80's rock influence in this tune, and that's not a bad thing. They do mix things up well, as Josh says. Nice drumming by Vince Heller in this one. Fine musicians. Banshee Child are – sorry, I just saw Star Wars. I'm really digging the groove of "Shake Them Bones" quite a bit. Sweet bass lines by Colin Yopp. It's one of my faves so far, that and the first tune! Killer stuff indeed. And I'm pretty much a stickler and a grump about the music I like, so Banshee Child passes the Eddy Test with flying colors. I need to get out and see these cats live, maybe even record a video of them for LMN Live. Here is a sample of their new CD. Enjoy!!
LMN Bad Humor Report – Band Fails:
Here you go! Enjoy the hideousness of it all.
Udo Coming in 2018!
Terry Harper, you da man! You can always count on Terry booking some obscure awesome metal that no other promoter would normally touch. The legendary Accept vocalist Udo dirkschneider will be at Trixie's on April 3. I will definitely be at this one. Udo rocks!
Musician Of The Month – Guitarist Dale Donaldson of Lethean:
Be sure to check out this shredder's feature this month! Dale can play the shit out of a guitar!
LMN Live – Two Pump Chump at Mercury Ballroom:
LMN Live – Boozer:
Here is Big Al in action with his song "Let's Get Drunk!"
LMN Live – Sinful Lilly:
Check out this kickass new band from Richmond KY.
LMN Live – Despite The Fallen:
LMN Live – Vice Tricks:
LMN Live – VAMT:
LMN Live – Year Of The Gun:
LMN Live – Prey For Maria:
See these guys n' gals on January 27th at Trixie's!
LMN Live – Banshee Child:
Upcoming Shows
Blind Squirrel
Saturday, January 6 – Wisecracker.
Boneheadz
Saturday, January 27 – Mad Alice.
Brewskees
Saturday, January 6 – Banshee Child.
Friday, January 12 – Daniel Muss, Flotus, Dark Horse, Evelyn Drive, Granshaw, Lethean, Lurker at The Threshold, Rebelhalla.
Friday, January 12 – Lurker At The Thjreshold, Lehean, Evelyn Drive, Granshaw, Dark Horse, Daniel Muss and Brendan Chase.
The Cure Lounge
Saturday, January 27 – Luther, Rifle and Strigoi.
Diamond Pub Concert Hall
Saturday, January 6 – Velcro Pygmies w/ Doppelganger.
Saturday, January 20 – Social Response, September Mourning and Night Argent.
Wednesday, February 28 – The Lacs w/ Hard Target, Crucifix and Nate Kenyon.
Tuesday, April 17 – Soulfly w/ Nile.
Friday, May 1 – Killswitch Engage w/ TBA.
Saturday, June 2 – Hammerfall w/ Flotsam and Jetsam.
Headliners Music Hall
Satrurday, December 9 – Whatever Will Cancer Fundraiser! 7 P.M.
Magbar
Wednesday, February 7 – X Ray Mary and Rifle.
Mercury Ballroom
Saturday, January 13 – Blizzard Of Ozzy.
Tuesday, January 16 – Avatar.
Wednesday, January 17 – Goodfellas (Ramones Tribute band), Boy Toy Division, and Bite My Wire (Door Tribute band) .
Friday, January 26 – The Four Horsemen (Metallica Tribute)
Wednesday, February 14 – Badfish (Tribute to Sublime) .
Friday, February 16 – Led Zeppelin 2.
Saturday, February 17 Dressed To Kill (KISS Tribute) .
Saturday, February 24 – Iced Earth.
Friday, March 2 – Satisfaction ( Rolling Stones Tribute)
Friday, March 30 vPop Evil.
Monday, April 16 – Kamelot w/ Delain and Battle Beast.
Russell Springs VFW Post (Russell Springs KY)
Saturday, March 17 – Guerrilla Red, Lethean, Manic Methed. 6 P.M.
Spillway Bar and Grill
Friday, February 2 – Beyond duplication, Luther, Memory.
Spectators Bar and Grill
Friday, January 12 – Rock Brigade.
Saturday, January – 13 Mad Alice.
Trixie's
Thursday, January 25 – U.S Bombs.
Saturday, January 27 – Stout, A Forgotten Fury, Sweet Whiskey Pussy (Debut) and Prey For Maria.
Monday, February 19 – Darkest hour w/ Whores and Extinction.
Tuesday, February 20 – Crazytownx w/ Davey Suicide and Loaded Guns.
Tuesday, April 3 – Udo Dirkschneider w/ Elm Street.