August 2017 Articles
Cover Story
Paul Moffett
Columns
Eddy Metal
Eddy Metal
Blogs
Got Shows?
Send Them To Us
Bookmark Louisville Music News.net with these handy
social bookmarking tools:
Available RSS Feeds
- Top Picks
- Today's Music
- Editor's Blog
- Articles
Add Louisville Music News' RSS Feed to Your Yahoo!

Issue: August 2017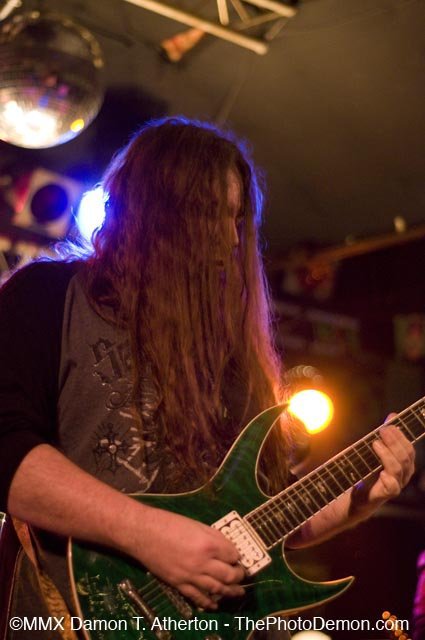 News From the Pit
Sup mofo's! I hope y'all are having a great summer. Checking out shows, hitting the lake, and a lot of you - playing music. Ya miss me? I've been kinda missing in action. Well, not really. I've had a pretty laidback fun summer so far, playing a few shows, but I haven't been to very many concerts recently. I've seen most of everybody a few times already! I'm burnt! I'm a vampire. I need new blood!
I am excited about Louder Than Life. Ozzy and Zakk reunited. Should be a good time, indeed. Ozzy hasn't performed here since '92, I'm thinking. Or around that time period. I love that our city is now able and willing to host some great shows like Louder Than Life, and Guns N' Roses at the KFC Yum! Center. If someone would have told me 15 years ago that this would happen, I would have thought they were full of shit. But here it is, so let's enjoy this! Get your asses out to these shows so more killer ones can happen in the future! I've had a helluva time at every Louder Than Life. It's a pro setup. And yeah, the ticket prices and concessions are pricey, but you got to admit, The KFC Yum! Center is a top joint! I've seen KISS and 55DP/SIXX a.m there and it was pretty sweet. Guns N' Roses should be EPIC. Don't miss it!! Last year in Cinci was amazing!
But before LTL, I'm heading down south for a lil' "real"cajun food in Nola (my first time!), and a few days in a condo on the beach in Gulf Shores. I just need to sit in the sand on the beach for a few days. Maybe take my acoustic guitar. I gotta tell you, my loyal readers, that I am one tired MF. This new job of mine has been a major ballbuster so far this spring and summer, with mucho mandatory overtime, so a little down time is exactly what I need.
But you can bet yer ass I will be back in time for LTL. If I could meet Ozzy, I would shit a brick.
That will probably be pretty darn hard to do, I'm guessing. Meeting Ozzy, not the actual defecating of a piece of masonry.
I dunno, though, last month I got to meet my favorite boxer, Evander Holyfield. So who knows!
Things are supposedly about to slow down at work, so I will have a little more time to do what I love to do most, besides getting freaky.
Music!!
The Metal Grapevine
Just In - Guns N Roses at The KFC YUM! CENTER on Friday November 3.
Big News! G N' R is coming! I can't remember the last time they played Louisville. Surely it wasn't the time when they opened for Alice Cooper on their Appetite tour! I was there. Well, anyways, they are coming here again, finally! Awesome! Before you say "naaahhhhh" hear me out! Me and my girlfriend went last year to see them in Cinci and it was AWESOME! It was a work day, I was tired, hot and sore, but it was totally worth it! Axl was in a zone or something! He really really did well, singing stuff that was recorded damn near 30 years ago! He tried super hard to hit every note, and damned if he didn't pull it off. You know my ass is a stickler of a critic, but I have no qualms or complaints about his performance. It was shocking really. Honestly I didn't think he couldn't reproduce the notes live anymore, and I was prepared for disappointment, but I was eating crow by night's end. The band was super tight as well, and Slash was wicked as usual. What a combo! Slash's emotional riffage, Axl's screeching, Duff's backups and punk/funky basslines. Oh yeah, and the two new guys did good, too! So listen to an old expert, it's good! Go to this concert even though you don't wanna pay those prices. It should be an interesting crowd. I'll probably see you there! Say hello!
Louder Than Life Draws Near:
Awright, my faves are Ozzy, Lacuna Coil, Steel Panther, Mastodon, 55DP. Anticipation is building up, and it's not too far off. People are talking. They are talking Ozzy! Yes, Ozzy returns to Louisville! About damn time too! I'm super stoked about Ozzy playing Louisville again!
Here are the main acts performing: Saturday, September 30 - Ozzy w/ Zakk Wylde, Five Finger Death Punch, Rob Zombie, Mastodon.
Sunday, October 1 - Prophets Of Rage, Incubus, Stone Sour, Rise Against.
Other bands on the bill are: Halestorm, Gojira, The Pretty Reckless, In This Moment, Eagles Of Death Metal, Thrice, Of Mice And Men, Falling In Reverse, Hollywood Undead, Sleeping With Sirens, Steel Panther, Nothing More, Beartooth, Starset, We Came As Romans, Lacuna Coil, Miss May I, Radkey, Badflower, He Is Legend, Black Map, Ded, Through Fire, Palisades and Biters.
Get those tickets, why wait? As always, it sounds like a helluva time. See you there.
Here is some classic Ozzy n' Zakk. BTW, it has been many many years since Ozzy played Louisville!
Let's welcome him back with a huge crowd.
GWAR Rescheduled to November 2!
See these maniacs in concert at the Mercury Ballroom on Thursday, November 2, go up early to check out The Stonecutters opening. I'll never forget my first Gwar experience. I was shot in the face from across the venue with goo-ey liquid that came from a giant jesus costume's giant rubber dick hose! Uncool, but pretty damn funny.
Check out this video of GWAR playing Kansas! Wow.
Danny Wimmer Brings Us A Lighter "Louder Than Life" type Festival called the "Bourbon and Beyond Fesitval"
Set for Sept 23 and 24, the festival features Stevie Nicks, Eddie Vedder, Steve Miller Band, Joe Bonnamassa, Kiefer Sutherland and lots more!
It's at the same place as Louder Than Life! Champions Park. Other bands are - Band of Horses, Gary Clark Jr., Paul Rodgers, Amos Lee, Buddy Guy, Trombone Shorty and Orleans Avenue, Kenny Wayne Shepherd, Jonny Lang, G. Love and Special Sauce, Chris Robinson Brotherhood, ZZ Ward, Nikki Lane, Shawn James and The Shapeshifters, Fantastic Negrito, Kiefer Sutherland, Dave Cavalier, bluegrass favorites curated by The Bluegrass Situation, and more. Yup, Bourbon, top chefs with even more great food than what LTL had, and some killer classic music will take over that weekend here in Louisville Kentucky. All the fans of lighter rock music will be out having a ball!
Danny Wimmer is one smart cookie, I tell ya! I absolutely love what he has done in Kentucky these last few years. And putting the festivals back to back like that at Champions Park is straight up brilliant. Get those tickets, because this is gonna be a winner, too, guaranteed! Hell, I didn't even know Kiefer Sutherland played music! He is a great actor, though. More info coming as I hear it from the promoter! I'll keep you informed.
Metalfest 6 - The Jeremy Wade Noe Cancer Fighting Weekend August 4 and 5th:
Allen Ashbaugh is back! And so is Metalfest!! Live at the Boondocks in Sherdsville, Kentucky. Friday night, it's Ohlm, Year Of The Gun, Stout, Two Pump Chump, Hidden Foundations, Louivillians. Saturday night, it's VAMT, Mistakes In Aviation, Lurker At The Threshold, Granshaw, Cult Killer, Hacksaw Vendetta, Nothings Wrong, Darkening and Luther. Camping, fishing, bonfires! It's located at 3850 Beech Grove Rd. Support Local music! This is going to be fun!
Ice T Plays Slayer!! And Kills it!!
Yes, the rapper Ice T. playing SLAYER! Check this out.
Musician Of The Month - Bassist Verity Vice of Vice Tricks.
Don't miss this months feature! This chick can slappa da bass! She also has a Live Video below in LMN Live!
Just In - Cannibal Corpse Coming in December:
Are you ready to get brutal? See them at Diamonds on Tuesday December 5.
The LMN Bad Humor News Report - Danzig gets KO'ed!
I can't get enough of this video. So here it is once again. Folks, this is what happens when you are shitty to people.
Guitarist Wanted - for Metalcore band The Devils Among Us.
Guitarists! This metalcore band needs a 2nd axeman, so hit them up if you wanna play out soon! No lazy ass unreliable bitches, they said! Contact Thedevilsamongus666@gmail.com
New Band Alert, Hannan:
Check out this newer band. It's pretty good stuff. Good dudes, too. I wanna see these guys live!
Send Me Those Live Videos!!
Let everyone hear you in action! Send those videos! Must be on youtube! Eddymetal1@aol.com
LMN LIVE - Flaw.
Live in Cleveland two weeks ago.
LMN Live - 999Vice Tricks.
Wow! That bassist!
LMN Live - Signal The Revolution.
Welcome back, guys!
LMN Live - Cinci's Zebras In Public.
Great band!
LMN Live - Pikeville's Downtrend.
LMN Live - Lexington's Graveyard Romeo's.
LMN Live - VAMT.
LMN Live - HaNNan.
LMN Live - Kingslayer.
Metallllllll!!!!
Upcoming Shows
The Boondocks
Friday and Saturday, August 4 and 5. - METALFEST 6!! Friday night it's Ohlm, Year Of The Gun, Stout, Two Pump Chump, Hidden Foundations, Louivillians. Saturday night it's VAMT, Mistakes In Aviation, Lurker At The Threshold, Granshaw, Cult Killer, Hacksaw Vendetta, Nothing's Wrong, Darkening and Luther. Camping, fishing, bonfires! It's located at 3850 Beech Grove Rd.
Brownies Shed And Grill
Saturday August 5 - The Michael Adams Benefit - remembering Michael. Bands to preform are Untold Rellik, Jayson William Allen, Rebelhalla, Four Skulls, Turning Point and Hell Came Home. 11 a.m - 10 p.m.
Diamond Pub Concert Hall
Friday, August 18 - Alesana w/ Eyes Set To Kill and The Amatory Murder.
Tuesday, December 5 - Cannibal Corpse w/ Powertrip and Gatecreeper.
The Levee Bar N' Grill
Saturday, August 12 - Gravel and Spiders.
Louisville Billiards Club
Saturday, August 25 - Shuvilhed.
Mercury Ballroom
Saturday, September 30 - Louder Than Life presents Pierce the Veil. Official late night show! 11 p.m.
Friday, October 27 - Here Come the Mummies.
Thursday, November 2 - Gwar w/The Stonecutters.
Magbar
Saturday, August 5 - Gravel and Spiders, Farnsworth and Bon Air.
Saturday, August 19 - Atomic Thrillride, Dead Country Gentlemen and Juke Joint Revival.
O' Sheas (Highlands)
Saturday, August 19 - R.U.O.K?
Shenanigans Irish Grill
Saturday, August 12 - R.U.O.K?
Spectators Sports Bar
Saturday, August 19 - Tameless.
Stevie Rays Patio
Sunday, August 13 - Hank Sinatra and Mike Williams Hippie Reunion.
Texas Roadhouse (Dixie)
Thursday, August 24 - Tameless.
Trixie's
Friday, August 18 - Failure Anthem w/ Despite The Fallen, Some Kind Of Saint and Zeroking.
Sunday, August 27 - Texas Hippie Coalition w/ TBA.
Friday, September 29 - The Unofficial Louder Than Life Pre-Party w/ Verses, Gallifrey Falls, Luther, Caducus, The World I Knew, A Forgotten Fury and You Wont Feel A Thing.
Tuesday, October 3 - Soil w/ Saving Able and Kira.
Tuesday, October 17 - Dirty Rotten Imbeciles w/ VAMT.