August 2017 Articles
Cover Story
Paul Moffett
Columns
Eddy Metal
Eddy Metal
Blogs
Got Shows?
Send Them To Us
Bookmark Louisville Music News.net with these handy
social bookmarking tools:
Available RSS Feeds
- Top Picks
- Today's Music
- Editor's Blog
- Articles
Add Louisville Music News' RSS Feed to Your Yahoo!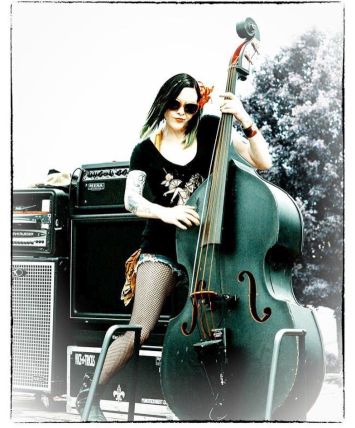 Name: Verity Vice
Age: Eternal
Instrument: Upright Bass
Band/Former Bands: Vice Tricks
How long on instrument: 10 years
Equipment: I have two Englehardt Upright Basses fitted with hardware from Deuce Bridge Company. Sound comes from my Shadow Preamp and Vic Victor upright pickups. In the rack is a Gallien-Krueger1001RB bass head, DBX 166xs Compressor, Line-6 Relay G50 Wireless receiver, & Korg DTR-2000 tuner. All that pushing two GK NEO 4x10 cabinets.
Influences: The Cramps, Joy Division, Batmobile, The Damned, Faith No More, The Quakes, The Stray Cats, Count Basie, Ani Difranco, Gossip, Nekromantix, The Ramones, Devil Doll, Sleater-Kinney, The Cure, Iggy Pop, New York Dolls, X, The Dresden Dolls, Amanda Palmer, The Murder City Devils, Bessie Smith, The Gits, Big Mama Thornton, Betty Blowtorch, The Koffin Kats, Mad Marge and the Stonecutters, The Rolling Stones, The Distillers, Muddy Waters, John Lee Hooker, Slant 6, Howling Wolf, Siouxsie and the Banshees, Bikini Kill, L7, Social Distortion, Agent Orange, T.S.O.L., New Order, Joan Jett, Nick Cave, Falling Forward, The Nubiles, Jack Off Jill, Violent Femmes, Depeche Mode….and your mom!
My first gig: The Monkey Wrench on a hot summer night. I was slick with flop sweat, and surrounded by people whom I love. I am sure we sucked… but everyone has to start somewhere.
Hobbies: Wine, Women, and Song.
Favorite movies: Faster Pussycat! Kill! Kill!, Suspiria, The Last Unicorn, I'm No Angel, The Comedy of Terrors, Creature From the Black Lagoon, Rocky Horror, Some Like it Hot, A Christmas Story, American Werewolf in London, Clue, The Lost Boys, Casablanca, Halloween, Young Frankenstein, The Godfather, Party Monster, Heavenly Creatures, Bound… And, of course, all of The Evil Deads.
Favorite food: Did I mention I like wine? I also like meats…all of the meats…medium rare please!
Favorite place: Meandering the shady back roads on my 78 Suzuki motorcycle… or Trick or Treating.
Favorite sports or team: Demolition Derby is always fun. I enjoy a little hockey Philadelphia Flyers, and The New York Rangers. MMA.
What I'm listening to nowadays: I am currently on a summer diet of trashy true crime audiobooks. As for music I am all over the place. This morning I worked out to Lady GaGa, Rites of Spring, Die Antwoord, James Brown, and Turbonegro….
Coolest thing I've done: Everything and nothing.
Most embarrassing moment: falling ass over tea kettle with my upright….right off stage. It's happened a few times, resulting in many repairs and bruises.
Bad Habits: I am a tiny Godzilla! I fall and break and smash! D'oh!
What was your first concert ever: Little Richard!
If you could meet a Rockstar (past or present), who would it be, and why: I would like for Poison Ivy to raise Lux Interior from the dead and I could meet them both. The Cramps had a substantial influence on me as a kiddo.
Who do you love: I don't kiss and tell…