February 2017 Articles
Cover Story
Paul Moffett
Columns
Keith Clements
Eddy Metal
Eddy Metal
Blogs
Got Shows?
Send Them To Us
Bookmark Louisville Music News.net with these handy
social bookmarking tools:
Available RSS Feeds
- Top Picks
- Today's Music
- Editor's Blog
- Articles
Add Louisville Music News' RSS Feed to Your Yahoo!

Issue: February 2017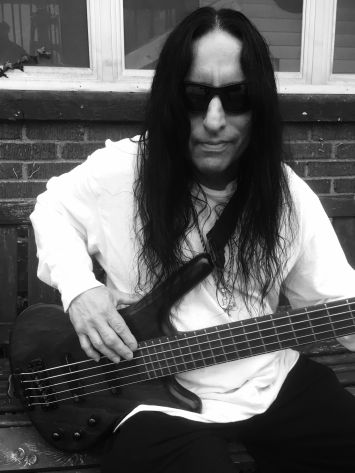 Reuben Sandoval
Name: Reuben Sandoval
Age: 62
Instrument: Bass guitar
Band/Former Bands: Currently with Crazy Train (Ozzy Osbourne Tribute), Live Bullet(Bob Segar Tribute band) and Bloodshot(a cover band.)
How long on instrument: 36 years!
Equipment: Ampeg 500 watt SVT amps & Ampeg cabs, Spector bass, Washburn bass, Ibanez bass. I am a fan of active electronics. Emg's all the way! Effectswise I run a bass chorus line and that's it! Pretty simple, but effective!
Influences: My favorite bassists are Geezer Butler, Michael Anthony, Rob Trujillo of Suicidal Tendencies, Gene Simmons & definitely Billy Sheehan.
My first gig: With my good friend Pat Bereis in Crazy Train it was at Penny Arcade in Rochester NY in 1990, but my very first gig was in 1980 with a band called Centerfield in Casper Wyoming at a place called the Rec Center. It was a very good place and time in my life. Some seriously good times. And I got to play with my Uncle Mark! We played old 70's music like CCR & Beatles.
Hobbies: I like to go fishing bro. In Wyoming I was a fishing MF. But this summer my ass is going back to Wyoming to do some fly fishing with family. I can't wait.
Favorite movies: Scarface, Son In Law, Next Of Kin, RV & Unforgiven with Clint Eastwood.
Favorite food: Mexican food & chinese.
Favorite place: Casper Wyoming snowy range mountains.
Favorite sports or team: I like to Ice Skate. I grew up Ice Skating in Wyoming. Snowmobiling too!
What I'm listening to nowadays: I still love my Ozzy tunes. Bob Segar. And basically a shitload of cover tunes I'm trying to get down!聽
Coolest thing I've done: Deep sea fishing in Galveston Island Texas. I caught 23 huge Red Snappers. We took them home and had a serious party, with beer battered fish & plenty of beer.
Most embarrassing moment: I did a gig with Crazy Train, we were at Harpo's in Detroit and we were playing for 2000 people and my friggin' bass head blew out on me on the first set. Luckily the opening band let me use his bass rig, but until then I was shitting bricks!
Bad Habits: When I drink I smoke cigarettes, but other than that I don't have any bad habits.
What was your first concert ever: Alice Cooper in Casper Wyoming in roughly 1977. That concert was bad fucking ass! They sounded just like their album. I was blown away. That's when I said "It's time to play, and get a band going."
If you could meet a Rockstar ( past or present ), who would it be, and why: Gene Simmons of Kiss because he is a cool MF, he has a beautiful wife & family, and he is straight up.
Who do you love: I love my daughter Jackie, and my family back home in Wyoming. I love my brothers I jam with as well.