February 2017 Articles
Cover Story
Paul Moffett
Columns
Keith Clements
Eddy Metal
Eddy Metal
Blogs
Got Shows?
Send Them To Us
Bookmark Louisville Music News.net with these handy
social bookmarking tools:
Available RSS Feeds
- Top Picks
- Today's Music
- Editor's Blog
- Articles
Add Louisville Music News' RSS Feed to Your Yahoo!



I've Got A Mind To Ramble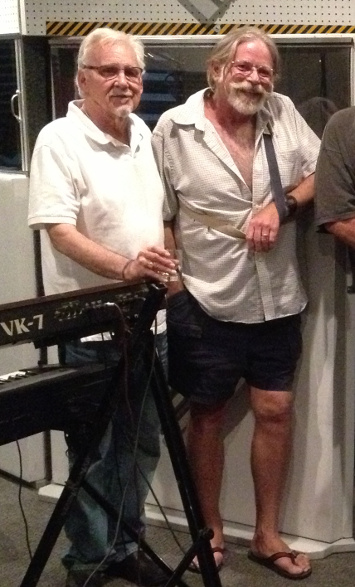 Rocky Adcock, left and Dana Roy, at a KingBees Recording Session. Photo by Gary Sampson
Rocky Adcock, a.k.a. "Rocky Amaretto," 70, died on January 24, 2017. He was a bass player who played with a number of bands around town, most notably with the various bands lead by Winston Hardy. He was also the President of the American Federation of Musicians, Local 6-37, for a period. He was also a co-founder and first President of the Kentuckiana Blues Society.
The following article was compiled from the January and February 2001 issues of LMN and Keith Clements "I've Got A Mind To Ramble" column for those months. We reproduce them here in tribute to Rocky.
Rocky Adcock's Story
The Kentuckiana Blues Society has presented the Sylvester Weaver Award to twelve distinguished people since 1989. This year, the honor went to Rocky Adcock at our annual KBS Birthday Bash at Stevie Ray's on November 19.
Rocky had always wanted to play in a rock and roll band ever since he was a kid. His first paying gig, for all of $5, was in 1961 when he was fifteen. It was a garage band that prided itself in doing "different" music. Rocky was playing rhythm guitar at that time but switched to bass in 1963 when he joined the Aztecs through another musician, Tom Johnson.
From 1964 to 1967, Rocky followed Johnson through three other bands: the Epics. The Mystics and the Bob Thorpe Quartet. They played bars, taverns and sock hops as a racially mixed band to racially mixed audiences. While with the Aztecs, Rocky opened for Ike & Tina Turner and played black venues like the Club Cherry in Lebanon.
The decade of the Seventies was a period of woodshedding for Rocky, with only sporadic activity in music. He occasionally played bass with Jim Smoak, doing country and bluegrass, plus he listened to alternative music. He was also raising two children and working at U of L in their Department of Surgery from 1975 to 1985.
Rocky's long association with Winston Hardy began in 1984 after Winston had returned from his sojourn to San Francisco, even though they had first met during their days at Fern Creek Junior High. Adcock followed Winston's first band, The Pharaohs, mainly to see the lead guitarist, Huey Twyman, whom they called "Lightning." Hardy, who had called himself Johnny Rio before then, left a lasting impression on Rocky with his ego-maniacal showmanship.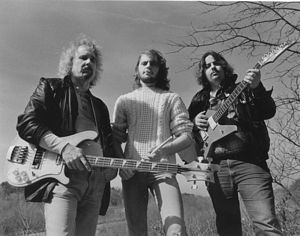 The Rocky Amaretto Band, 1988. L to r, Rocky Adcock, Chris Cahall and Andy Brauner
When Rocky joined the band, it had just changed from the 26th Street Tavern Original Blues Band to the Winston Hardy Original Blues Band. Hardy had wanted a bona fide blues band that included veteran black musicians like Marshall Anderson and Foree Wells to perform before the local white blues fans. The band opened for Robert Jr. Lockwood at the Center for the Performing Arts as well as opening for Red Rodney at the Water Tower Jazz Festival.
There was a falling out with some of the members of the 26th Street group just before Rocky came on board. At that time, there was a resurgence in the blues with the "Bluesday Tuesdays" jams at the Rudyard Kipling. Other clubs like Tewligans, the Cherokee Blues Bar (Blue Bird), Seville, Dutch's, Maier's, Yogi's, Pap's Place (Marmaduke's), Butchertown Pub, Uncle Pleasants and Fat Cats were booking blues bands. Rocky referred to Fat Cats as the "Cosmic Corner" at Speed and Bardstown Road, for that was where musicians met and things happened from 1983 to 1986.
Curtis Marlatt got Fat Cats co-owner Paula White to book him and later his band. Soon other bands followed. Rocky was looking after Henry Woodruff and the Noisemakers then and got Henry his first gig away from the Pleasure Inn at Fat Cats. Many types of alternative jazz and blues were performed at the "Hall of Foam" during that golden era.
In1987, there was an ego tug between Winston and Rocky over philosophical differences as to where each was going individually. So the Rocky Amaretto Blues Band, a power trio with Andy Brauner on guitar and Chris Cahall on drums, was born. They stayed together for two years, recording "Bad Milk Blues" on the Louisville Blues Compilation album. The term "Bad Milk" came from a remark by Ray Charles during a TV commercial, where he reached into a refrigerator for a bottle of milk and said, "Phew, that milk is bad." Rocky mentioned it to his friend Tom Flood, who came up with the title for the song. Tom Cosdon (Cosmo) also recorded the song.
The "Amaretto" came from Rocky's girlfriend at the time, Rosie Brown, who noticed Rocky drinking Amaretto on the rocks. The band broke up when Chris wanted to get married and so Rocky - and Andy, for a while - returned to Winston's band. Rocky performed with Winston until his death in 1999.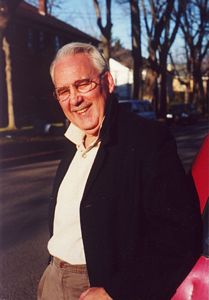 Rocky Adcock, 2000
Rocky has a lot of stories he could - and will - tell about Winston. He noted that Winston was not a drinker but would consume pitchers of beer while on stage, in keeping with his persona. Hardy was a pot smoker and once, when they were driving together through Appalachia to Delaware, Rocky began hallucinating that he was going down a long tunnel with a light at the end. It was from inhaling secondary smoke from Winston's joints.
Rocky has held several administrative positions associated with music. After he left U of L, he took some time off to travel around the south, then return to Louisville to work at the Musician's Union. In August 1988, the Kentuckiana blues Society was formed and Rocky was elected as the first president. We had our early meetings at this office and the first newsletters were printed there. When Roger Wolford, an attorney and blues lover, joined the society, he and Rocky arranged for the incorporation of the KBS. This was another exciting time for the blues, with Scott Mullins hosting the Saturday Night Blues Party as well as producing and recording the Louisville Blues Compilation album. The first Garvin Gate Blues Festival was held in 1988, as were the early KBS fundraisers and concerts. Rocky was there during these groundbreaking events, giving good advice.
We will continue with Rocky's story next month.
Rocky Adcock, recipient of last year's Sylvester Weaver Award, had a few more stories left to tell from our interview last month. Back in 1963, when he was playing bass with the Aztecs, he had a chance to back up Jerry Lee Lewis. The `Killer" had a four-night stand at the Colonial Inn near Iroquois Park. The band got a tape of Lewis' rock-a-billy songs to learn and practice. Adcock said, "that wasn't all too hard, for all the bands were doing this type of music." This was during the post-scandal and pre-country music period of Lewis's career, when he kept a low profile, but he was wild at the gig, playing with his feet and telling the band tales in the dressing room.
Adcock also backed up Chuck Berry in 1986 for a private show for Briggs & Stratton. Tony Ratterman played piano and Steve Hoth was the drummer for this brief gig, which lasted only thirty-five minutes. Berry received $35,000 for a performance that was disappointing. That was also the year Berry was inducted into the Rock and Roll Hall of Fame.
We talked about the first Garvin Gate Blues Festival in October 1988. The Festival was conceived by Scott Mullins, Ken Pyle, Curtis Marlatt, Sue O'Neil and Rocky and they got the support of the Garvin Gate Neighborhood Association and the Kentuckiana (KYANA) Blues Society, which was just getting started. The Festival was a one-day affair, confined to Garvin Place and the Rudyard Kipling. The rains came and it was nearly a wash-out, with very low attendance. Most of the bands that played that first year and long gone.
Adcock recalled that the Hord Brothers, John, Jim and Larry, had the Hord House R&B Band there. He said "John was absolutely fantastic as a slide guitar player. He would take his slide off this finger and play down in the very hinky-tinky registers and still get a slide sound, while still moving up and down the neck." He thinks that Jim and John are living in Florida now.
The second Festival in 1989 got better promotion and attendance. That was the year that Rocky and Scott Mullins gave the first KBS Sylvester Weaver Award to Henry Woodruff. Rocky "believes that one of the biggest pluses of the Garvin Gate Festivals was [that] they promoted racial tolerance. It was the perfect opportunity for black to meet white on an occasional basis and size each other up. It was where the West End met Central Louisville. But later it changed when it moved uptown. They put a fence around the Festival and it became a barrier." With Howard Rosenberg back in Louisville, there are ideas floating around to get the Festival back to Garvin Gate again this fall, if a major sponsor can be lined up,.
Adcock's compassion for others shows with his regular visits to see Bob Rosenthal during Rosenthal's long recovery from serious spinal problems. He said that "Bob and Winston Hardy are the two most honest people I know."
Sam Plays Santa
Sam Meyers was the guest of Lamont Gillispie just before Christmas. Gillispie picked up Meyers, who had just flown in from Texas, at the airport and they went to the studio to record five tracks with the 100 Proof Blues Band, for what will be Gillispie's first, long-overdue recording. Gillispie is planning to overdub horns and keyboards, with a goal of having the CD ready by Derby. The plan is to have a big release party at Churchill's Blues Bar for the Derby crowd.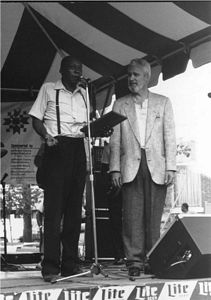 Henry Woodruff, left, received the Sylvester Weaver Award from Rocky Adock at the 1989 Garvin Gate Blues Festival
Early the next morning, Gillispie was going to let Meyers sleep while the band did a sound check at the Public Radio Partnership studio for a "Live Lunch" broadcast on WFPK. Meyers would have none of it, as he wanted to be with "his boys." The studio seating was packed for the lunch and many folks were turned away.
The main jams occurred on Friday and Saturday night at Churchill's, where Lamont Gillispie and the 100 Proof Blues Band is the house band. WDRB's Dick Irby was there Friday to do a live broadcast for Fox 41's Evening News. I was there Saturday and arrived just as Sam and Lamont were getting out of the car. Lamont had a firm grip on Meyers, saying "Anson Funderburgh would never forgive me if Sam slipped in these icy walks."
Inside, there was a table reserved for Meyers in front of the stage, where he sat with his back to the band. He moves and speaks very slowly and deliberately, due to his limited vision, but his motions are very graceful for a man of his large size. When he ascends the stage (with assistance), his presence is felt immediately throughout the room. Whether he is speaking or singing, his deep, resonant voice cuts through the smoke and into your soul. He wore a new black strap for his harmonicas that stretched across his belly, with the initials "SJM" in bold white letters.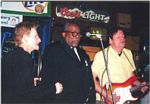 L to r, Lamont Gillispie, Sam Meyers and Mark Stein at Churchill's , Dec. 23, 2000
During his first set, Meyers joked with the crowd, saying he "was going to get laid and invited every one to come and see." Actually, it was going to be in his home town, Jackson, Mississippi, on January 6, when they will be setting a stone dedicated to him.
The band was really hot that winter's night, with Gillispie giving his mentor the chance to stretch out on long sets. Guitarist Mark Stein was a perfect fit, with the straight-to-the-core licks playing off Meyer's harp solos. Bassist Byron Davies kept a tight temp with his aggressive style. Andy Brown is the "new kid" in the band, having played drums with Gillispie for just a few months. Gillispie said that he is hoping to go out on tour this summer and promote his new CD, now that his health has improved.
Churchill's Blue Bar and Grill, 3605 Taylor Blvd (just around the corner from the racetrack) is a friendly and devoted crowd of working class folks who really enjoy the blues and Lamont Gillispie and the 100 Proof Blues Band. I always enjoy going there.