October 1992 Articles
Cover Story
Rick Mattingly
Features
Henry C. Mayer
Staff
Columns
Berk Bryant
Jim Galipeau
Paul Moffett
Alan Rhody
CD Reviews
Steve Estes
Kory Wilcoxson
Mark Clark
Cary Stemle
Allen Howie
Bob Bahr
Allen Howie
Performance Reviews
Paul Moffett
Dallas Embry
Leslie Turner
Cary Stemle
Interviews
Jean Metcalfe
Calendar
Staff
Preview
Bob Bahr
Opinion
Staff
Jean Metcalfe
Photos
Staff
LASC
Staff
Ray Yates
Jean Metcalfe
Wally Stewart
Ray Yates
Blogs
Got Shows?
Send Them To Us
Bookmark Louisville Music News.net with these handy
social bookmarking tools:
Available RSS Feeds
- Top Picks
- Today's Music
- Editor's Blog
- Articles
Add Louisville Music News' RSS Feed to Your Yahoo!

Issue: October 1992
Brooks & Dunn Boot Scootin' and Kickin'
By Jean Metcalfe
Smartly attired in a black-and-white western style outfit, Kix Brooks' pretty wife Barbara welcomed my husband/photographer and me to the U of L Lady Cards' locker room in Freedom Hall where our interview with her husband and Ronnie Dunn — the award-winning country duo Brooks & Dunn — would take place. There was some joking and good-natured complaining about how little time she gets to spend with her husband. Even when he is at home after being on the road, she said, he spends a great deal of time on the phone talking with — Ronnie Dunn.
"They're like a couple of teen-aged girls. They come in off the road and then spend all their time on the telephone."
"I haven't seen my husband since August 6th. I get to the hotel. I'm there from 3 o'clock until we leave at 4. Ronnie called three times." Barbara laughs and sighs at the same time.
Upon Kix's and Ronnie' s arrival in the locker room there was some small talk between my husband and Kix concerning a Corvette that Kix owned when we first met him back in 1987. He joked that when he gets home from a road trip he kisses the wife and kids and then goes out to check on his Corvette. Presumably, he then dials up Ronnie. Just kidding, Kix.
"How did we get together and is Kix your real name," Ronnie and Kix replied in unison to my interview lead-off: "What question do you get asked the most?" The duo were relaxed and in a jovial mood after their sound check at Freedom Hall, where a short while later they would open for Randy Travis at the Kentucky State Fair concert on this Saturday evening, August 22.
"Do you want to answer either one of those?" I inquired.
"Nope, I have no desire to answer either one of those again," Kix said. I wasn't absolutely sure he was kidding and was relieved when he went on to give the answer to the first of the two questions (he didn't get around to the second one).
"We got together as songwriters, you know. Tim DuBois had brought Ronnie up to Tree (Publishing Company). . . where I write songs. . . and we met and said 'Let's get together and try to do some writing sometime. And we did. We wrote 'Next Broken Heart," which was the first song we wrote and a couple of other things and we made demo tapes of them and took them over to Tim's office. Thought we might get us a song cut or something. And he turned off the tape and said, 'Fellas, I don't know if you all know it or not, but I think you might be an act."' Ronnie and Kix laughed heartily at their recollection of how two songwriters, each pursuing solo artist deals, had stumbled into a duo-act deal while trying to pitch their songs.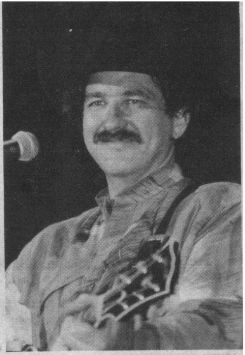 Kix Brooks. Photo by Letha Marshall
Kix had already had considerable success with his songs "I'm Only in it for the Love" (a No. 1 hit for John Conlee in 1983) and "Modern Day Romance" (No. 1, Nitty Gritty Dirt Band, 1985), but Ronnie allowed as how he hadn't had any songwriting success at that time. Kix reminded him that "Boot Scootin' Boogie" had been cut by Asleep at the Wheel.
But Ronnie said that early on he hadn't pitched songs; he had been working in Oklahoma, playing clubs and "hadn't tried the Nashville way yet."
"Which was great for us," Brooks said. "'Neon Moon" would've been out there on a Conway (Twitty) album if he would've," I'm sure.
Said I, "I would've guessed that the question asked most often is 'Which one is Brooks and which one is Dunn?' "Most people know which one is which, they said, but occasionally they are asked for a clarification.
How do they decide who gets to sings what song?
"There's several things," Ronnie answered. "For instance, if I bring one to the table. . . or Kix. . . we'll claim that as our territory and sing it. If there's one that feels like it's undeniably the other's style. . . then we'll just go ahead and [that person will] sing it."
Said Kix, "lt's very rarely that we actually both say, 'Boy, I'd really like to sing that song." lt's happened a couple of times and we run it by our producers at that point: 'What do you think about this?' [And he may say] 'Man, that sounds like a Ronnie song.'. . . We haven't had any arguments about that."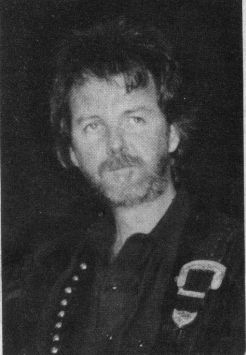 Ronnie Dunn. Photo by Letha Marshall
I recounted that in June of 1987 Kix had conducted a songwriting seminar for the Louisville Area Songwriters Cooperative and had headlined an evening showcase. Not long afterward, he was signed as a solo artist by a major label and released a solo album, with limited success.
"Was it especially devastating when you finally got that record deal and it (the album) didn't become really successful?"
Kix: "It was disappointing. I don't think devastating is a good word. Especially being a songwriter, you get really used to rejection. And you really have to have faith in what you're doing because 'Modern Day Romance' is a perfect example of a song that was turned down by everybody in town and a lot of people told me why that song wasn't a hit. And everybody's got an opinion, you know. It's the same thing if you get in a situation with a record deal and it doesn't happen and you still believe in what you're doing, you can't give up. I just went back to songwriting. I wrote "Who's Lonely Now" (cut by Highway 101) right after I came out of that deal and had a hit going again and said 'Well, things are fine,' and then I met Ronnie and this started falling in place. You just forge ahead."
"You've gotta be real hard-headed," Ronnie added, triggering a hearty laugh of agreement from Kix. "You gotta buck the odds.. .
Kix: "You find a lot more people want to see you fail than succeed, for some reason and I don't know why that is. A lot of people can tell you why you're not going to happen.
When you do. . .
"It's sweet," I suggested.
Ronnie: "Yeah.
It's like you (Kix) said. They'll tell you why it didn't happen. On the other hand, they'll be the first ones to ask you, 'Well, why is it happening?' [And Ronnie will say] 'You tell me, I don't know.'" Laughter erupted.
I asked when the duo would be going in the studio for a follow-up album to their debut Brand New Man.
"We were in (the studio) the whole month of June and got seven songs recorded and mixed for the second album and we're going back in October to cut three more," Kix said.
"Do you have a name for it?" I wondered.
"No," they both said.
"Do you?" one of them tossed back at me.
I didn't, but promised I'd write them a letter if I thought of one.
"We need all the help we can get," they laughed. (I suspect they will be able to think of something without my input.) The songs recorded so far are all Brooks & Dunn originals.
I asked if they had any long-term goals: "We have definite long-term goals," Ronnie said.
Kix interrupted, "We do?" Said I to Ronnie, "Kix doesn't, you do," and we all laughed.
These guys are really having fun with their current success.
"I'll do the goal pl anning for this group," Ronnie said. "We want to be around a long time. We don't want to be a flash in the pan.
There's a lot of things to take into consideration in making that happen, but we want to stick around awhile."
Kix: "It's funny. We're really just now getting to the point where I kinda feel like our foot's in the door and we can start thinking about some goals. After Brand New Man, people were saying, 'Well, now that you've had this success and whatever and it's, like, we both realized with Brand New Man we had a good opportunity but we were a long way from being established. And we're still a new act."
Ronnie: "The market has changed so much. Used to, you felt you could do a good run with three or four hits or something like that. And I think it takes a lot more than that now."
The first four singles off their debut album, Brand New Man, went to No. l. I supposed that might be unprecedented, but they said it had been done by both Joe Diffie and Clint Black. They admitted, however, that it was an "exciting" thing.
How had success changed their lives, for the good and for the bad, I wondered.
"I can't pick al ot of bad out of it right now.
There's the normal things you have to deal with, like traveling andkeeping up with your family and all that stuff. It's a challenge," Ronnie said.
"Do you know where your kids are?" Kix teased.
"No," Ronnie replied and they both laughed.
Kix and Barbara were the parents of a six-month-old daughter when I met Kix in 1987 and they have since added a son.
"They still don't know where their dad is," Ronnie teased. (Ronnie and his wife Janine also have two children).
"That's the down side, definitely," Kix said wistfully. "Missing your families."
"And there are so many up sides," he continued. "And we hear 'The check's in the mail' all the time. I'm sure at some point we'1l make. . . hundreds of dollars (the laughter drowned out the actual number of hundreds he mentioned) doing this."
"It takes a while for it to trickle down, does it?" I inquired.
"Ohh, a while (as in a long time)," they assured me. I congratulated the duo on their Academy of Country Music Awards wins (they won both awards for which they were nominated: Top Vocal Duet and Top New Vocal Duet or Group). I told them how happy I was for them and commented that they had seemed genuinely surprised when they accepted the awards.
Ronnie enthusiastically described his pre-awards behavior: "I had given my wife a big speech in the room before we went out. I said, 'Look, I know we're gonna get wiped out. We're just gonna be there for TV exposure.' "When they won: "We just totally flipped."
Relating how happy I had felt each time their names were called as winners of the two awards — they had beaten out some real heavyweight competition – I asked if they had thought about their friends and relatives watching on TV, cheering when they received their awards.
Kix: "It's funny. My sister works for an ad agency up in Maine and they actually put together two big parties at local bars, Brooks & Dunn ACM Watch parties and they had it organized and everything. So, that's funny that you should say that 'cause I knew when I sat down, I remember sitting in my chair thinking 'they're all back there going "Woooooooow!"
"Kix and Ronnie will soon be going to Tijuana to shoot a video of their next single, "Lost and Found."
Kix: "The chorus kicks off with 'the lost and found in a border town,' and Ronnie and I were in San Diego and crossed the border and Tijuana was just such a fun place. The atmosphere is just real carnivally and nobody to my knowledge has crossed the border to do a video and [we] just kinda said 'shoot, let's go down there, if the government will let us and take a cameraman and see what happens'. . . which has been the well-thought-out philosophy of all our other videos."
Amidst peals of laughter, Ronnie characterized that philosophy: "Brooks & Dunn videos by Wing-It Productions."
Kix: "I think it'll be fun. I hope so."
Any special words for our readers? Kix: "It's just great to have the support in Louisville. I've always thought this was a fine town. And I remember coming up here and doing the songwriter thing when I didn't have much else going on and was made to feel real welcome and it's great to come back, doing this deal."
Ronnie and Kix enthusiastically posed for photographs for this newspaper, joking and entertaining us all the while.
With thank yous all around and a much-appreciated hug for this writer from Kix, we headed for the door.
"It's great to see y'all," Kix called after us.
My pleasure, guys.
Oh, yeah, Kix Brooks is the gentleman's real name. The origin? He was an overactive fetus.
Fans who caught Brooks & Dunn at their recent performances at Louisville Motor Speedway and the Kentucky State Fair would agree that Kix has lived up to his name.