January 2017 Articles
Cover Story
Paul Moffett
Columns
Natalie Carter
Eddy Metal
Eddy Metal
Blogs
Got Shows?
Send Them To Us
Bookmark Louisville Music News.net with these handy
social bookmarking tools:
Available RSS Feeds
- Top Picks
- Today's Music
- Editor's Blog
- Articles
Add Louisville Music News' RSS Feed to Your Yahoo!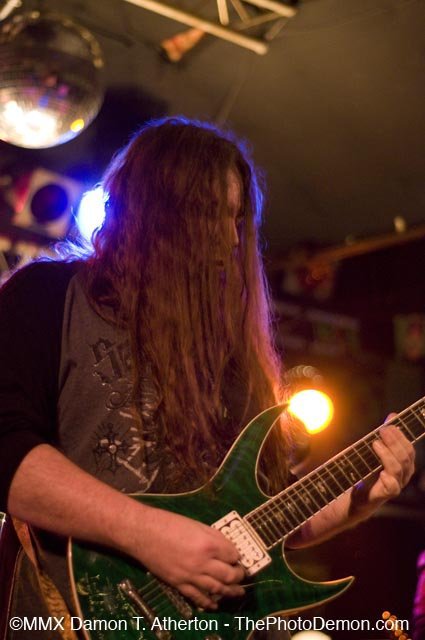 News From the Pit
2017 - A New Hope!
Yeah, I'm a Star Wars nerd. And Pricess Leia's (R.I.P Carrie Fisher) last line in "Rogue One" pretty much sums up this month's rantings! I hope all of you had a great Christmas and New Year! I sure did. One of the best in years! Family is where it's at. Shady-ass people come and go throughout your life, but family is always there for you.
Twenty-sixteen was crazy, idiot protesters, Trump, princess Leia and Ali dying, WTF. I hear people bitching about how they hated 2016, and they wish it would hurry up and be over. Lots of people said that recently. But not me. To me, 2016 wasn't a bad year at all. Sure it had its ups and downs like every year, but it also had some great times with good people. A bitchin' Colorado vacation and darn good shows too! I just played a sweet NYE gig at Trixie's with Flaw that ended the New Year perfectly. If I had one complaint it's about how the scene is now, how hard it has become to get people out to shows anymore. It's like pulling teeth. People just don't like to get out anymore. My Rock For Kosair Benefit show this year proves that. Plus the loss of Phoenix Hill Tavern and our only true rock station was a major blow to our scene's nutsack.
Take my band, for example. We worked our asses off for seven years to get out there and record and get our music out, and finally we got our music on Louisville radio and were making headway, even getting played on regular rotation, which is not very common at all for an unsigned Louisville band! It felt good.
Then whammo! No more 93.1 The Fox radio station. And the one radio station we do have left, WQMF, is classic rock, and they are owned and operated by Iheartmedia, the greediest, most uncaring, selfish a-holes I've come across in my twenty-one years in this music scene! All that work and effort put into our music gone down the drain, as far as Louisville radio goes. It just seems our scene keeps getting kicked down the ladder of success one rung at a time. And folks, we are nearing the bottom of the ladder, I hate to say. Sure, there are still some good shows here and there, and one or two bands still have a draw, but mostly it's not looking too good. I feel sorry for the younger and new bands, how they missed the heyday of the Louisville rock/metal scene, when people used to go out and have adventures.
Hell, even promoters are seeing this decline and commenting on getting out of the show-booking business.
I will admit it, I've been kinda picky about booking shows since this decline. I don't wanna play every little shithole dive that offers a spot. Often, those places have crap PA systems, and I refuse to play on junk. Call me a dick if you want, but I work, and I have expensive music gear that is heavy as shit. It's a damn big chore to do all that. I just want it to be worth my time to do all that work. So if I got to be picky about shows and wait for the right ones, so be it. I would almost rather wait and play national shows only, to be honest. But how often do national shows come around that need an opener? That, too, is declining.
It sucks. But what can you do really? Give up? Quit playing music? Sell all of your gear?
No fargin' way!!
We will take the words from Winston Churchill's (a man I admire) famous WWII speech to heart "We shall fight on the sidewalks. We shall fight in the clubs. We shall fight online. We shall fight on Bardstown road! We shall never surrender!"
Well, he said something like that.
I'm getting up there in age, I just turned forty-seven on Christmas. And I want my few remaining years playing music to be good ones, so I'm not about to give up hope just yet. I've got plenty of fight in me, and I think you do too! So let's do this.
All I can say, is keep going, keep your heads up, and do the best you can!
Make your new years resolution to support our local bands a little more, attend some shows, buy a CD, share bands' new music, comment on a song you like by a local band, "like" other bands' pages, stuff like that. Just be nice to each other. I know it don't seem like much, but it's something we need more of here in town.
Togetherness and less ego.
If we can do this, I guarantee the scene will shape up...
The Metal Grapevine
Rock On The Range Lineup Announced:
Unbelievably, I have never been to this big event in Columbus, Ohio! But this lineup sounds pretty cool. I may have to venture up north next year for a few days. Hmmmnnnn. If it's anything like Louder Than Life, I'm down, and it sure looks like it. I'll review and photograph the mofo. Metallica, fresh off their brand new 'return to real metal' album, headlines! Korn! Deftones. Soundgarden. Volbeat. Primus. The Offspring, Seether, Chevelle, Bush, Alter Bridge, Papa Roach and a bunch of other more commercial radio-friendly bands. Before you get mad, chill. Yes, there is a slew of heavier bands too, like Whitechapel, The Amity Affliction, Amon Amarth, Zakk Sabbath, Gojira, In Flames, Suicide Silence, Dillinger Escape Plan and many more heavies, too many to list. You can see this sweet event on May 19-21. Three days of music. That would be a physical challenge for my old ass, but I'm sure I can hang. Just got to make sure I'm off work for a few days after the show. So there it is. Look it up and see all the bands listed and ticket prices.
The New Vintage Closing at end of January:
Louisville legendary club The New Vintage (formerly Uncle Pleasant's and Flashback) will be closing at the end of January. It will not be reopening at this location, but there are rumors of the owners moving the business to another location. I'm not sure if this is true, but I guess we will see. Makes me sad though. Another one bites the dust. I was offered a show there recently but was unable to accept. Sucks, because I would have loved to have played there one last time!
Steel Panther Review:
Wow, what a show! I've seen these guys about five or six times now and I still love watching them play. It's not just the goofy jokes, Eighties' cheese, or the excellent musicianship displayed by these awesome dudes, it's also the crowd. The peeps that attend a Steel Panther show! They are some cool partying, laidback, fun mofos! There are always some cute women there, too!
One of them apparently knew who I was and messaged me on FB and basically said "You look hot tonight. Lets hook up." Not very shy is she? That's how Steel Panther chicks roll. She was cute so it made me happy. Thank god for Steel Panther.
The band brought up some less-than attractive female patrons who proceeded to get semi-naked onstage. They brought two LARGE females, every bit of 300 lbs each, onstage and was loving on them, even singing to them. Steel Panther does not discriminate against larger women, it seems. Big girls need love too! Wow. That should be a new song title for SP!! Hell, even a grandma-looking chick who was obviously drunk and feeling sexy was brought up. She pranced around and showed her flapjacks! It was foul!! But pretty f**king funny, though. Granny was having the best time ever, though. A song or two later Satchel was bitching about Steel Panther not getting nominated for a Grammy, then bassist Lexxi Foxx said "didn't we have a grammy up here the last song?" Ha! Get it? Yes it's cheesy, but fun.
Excellent musicians all around, too. Great vocals by Michael Starr. I don't think I've ever seen that guy mess up or miss a note or be off key. How is that possible?
As usual the band tore it up, starting with "Eyes Of A Panther" my least favorite SP song. Then they kicked in with "Just Like Tiger Woods," "Asian Hooker" "Let Me Cum In" and then satchel did an amazing guitar solo, mind blowing really, this guy can shred with the best o' them! And he even played kick drum at the same time he played the solo! It was something I had never seen before and was very cool. Every eye in the place was on Satchel as he did this solo. "It Won't Suck Itself'" "Girl From Oklahoma'" "17 Girls," "Glory Hole," "Death To All But Metal," "Community Property" and "Party All Day" was last. Highlights were Satchel's guitar solo (I'm a guitarist, go figure!) and "Death To All But Metal" and "Community Property."
Thanks to Mercury Ballroom!! Great year of shows there!! Awesome times.
I have a Knife Video!
Louisville punk metal monsters I Have A Knife have just put out a cool video that reminds me of Lord Of The Rings meets Rob Zombie meets South Park. I not big into punk, but I frikkin' like this! The animation by Pat Julbert is rad! Singer Sean Garrison is also this month's Musician Of The Month, so check out his feature! Or he will beat you up!
Darkening Debut on January 14th at The Cure Lounge:
The Cuban-American metal band Darkening debuts this night, so check them out! It looks to be some very interesting music. I'm also itching to see the new band Stout as well. I'm going to try to seriously make this one! The future of Louisville metal!
Despite The Fallen in the Studio:
Southern Kentucky's Despite the Fallen are currently in the studio recording a 6 track E.P at Earlygrayce Studios. Jordan at Earlygrace is a really great engineer, so I'm sure it's going to sound excellent. The first single "Beneath You" is expected to drop sometime in January, with "Isolated" to follow shortly. These guys are wicked good. Good guys all around too. Kentucky's cream of the crop. I'll post the new music in February edition!
Tim Flaherty's Solo Album Coming Soon:
Louisville guitarist Tim Flaherty, currently with Hot Action Cop and White Crosses, will be releasing an instrumental solo album soon. It will be 13 tracks of rock, acoustics, electronics and Tim just being himself, playing all instruments! I like and admire Tim. I remember seeing him playing at Tewligans way back in 1991 with Rude Awakening. Dawg was killin' it then, too. He has gotten so much better as a guitarist since then, mixing it up with several types of musical styles. The album will be out in mid to late January. I'll review it when it's ready!
Superjoint Ritual and Battlecross Coming on January 24 at Diamond Pub:
This should be a rockin' good time to work off those extra holiday pounds! In the pit!! Child Bite and VAMT will be opening the show. Tickets are $35 to $30. Phil sounded real good the last few times I saw him. This should be interesting.
Steve Martin and Martin Short Coming:
Saturday, March 18 at Louisville Palace! Yeah yeah, I know, it's not music. Too frikkin' bad! I'll write what I want! Anyways, how can anyone not like actor/comedian Steve Martin? Saturday Night Live, The Jerk, Planes Trains and Automobiles! Great movies. Or Martin Short for that matter. Steve is a frikkin' legend, and Martin Short is funny too! I loved him in that movie Clifford. Funny stuff. Be sure to see this show! It will probably sell out, so get those tickets now!
Tesla coming to Louisville Palace:
Eighties rockers Tesla will be at Louisville Palace on Sunday, February 12. I love these guys! Great band, and good, down-to-earth people. I've interviewed them and they are very nice. Attend this show, it's a must see!! Here's my fave tune by them.
Breaking Benjamin coming to Mercury Ballroom:
Wednesday, January 25, Breaking Benjamin returns to The Mercury Ballroom, but this time they will have full electric versions of their music! Get those tickets now! This will sell out.
Pop Evil coming!
On Tuesday, January 10 Pop Evil will be at the Mercury Ballroom.
LMN LIVE "Blast From The Past" Edition:
This month ALL of the LMN LIVE bands are Blast from the Past bands that no longer exist, but definitely rocked when they were active. I salute you!
LMN LIVE, My Own Victim:
Louisville's hardcore kings of the Nineties.
LMN LIVE, Shapeless Matrix:
Old-school Louisville Nu-metal.
LMN LIVE, False:
Louisville old-school heavies!
LMN LIVE, MSD:
Remember these guys?
LMN LIVE, Pownd:
My heavy metal buddies from Lexington! This band crushed!
Upcoming Shows
Brewskee's
Friday, January 13 – The Capricorn Party w/ Hotstop, Lethean, Guerrilla Red, Klinch, Corpus Malik, Beyond Duplication, Zeroking, Jayson William Allen's Poetry of the Dead. 6 p.m.
The Cure Lounge
Saturday, January 14 – Hellfire Militia, Stout and Darkening. 8 p.m.
Diamond Concert Hall
Tuesday, January 17 – Powerman 5000 and Orgy w/ TBA. 7:30 p.m. $20-$40
Tuesday, January 24 – Superjoint Ritual w/ Battlecross, Child Bite, Astrum and VAMT. 7:30 p.m. $25-$30
Thursday, March 23 Amorphis w/ Swallow The Sun. 8 p.m. $22-$60
Highlands Tap Room
Monday, January 2 – VAMT. 9 p.m.
Magbar
Friday, February 3 – VAMT, Artwork For The Blind, Astrum and Stout. 9 p.m.
The Mercury Ballroom
Wednesday, January 25 – Breaking Benjamin. 8 p.m.
Spectators
Friday, January 13 – Tameless.
Third Street Dive
Saturday, February 4 – Lurker At The Threshold, Hellfire Militia, Artwork For The Blind and ZU Deimos. 9 p.m.
Wick's on Baxter
Monday, January 16 – Unleashed and Doppelganger. 9 p.m.