January 2017 Articles
Cover Story
Paul Moffett
Columns
Natalie Carter
Eddy Metal
Eddy Metal
Blogs
Got Shows?
Send Them To Us
Bookmark Louisville Music News.net with these handy
social bookmarking tools:
Available RSS Feeds
- Top Picks
- Today's Music
- Editor's Blog
- Articles
Add Louisville Music News' RSS Feed to Your Yahoo!

Issue: January 2017

I've Got A Mind To Ramble
The latest offering from Down In The Alley Records brings us a new collection from perennial regional favorite, da Mudcats. For thirty years and counting, da Mudcats were, and are, Susan O'Neil on vocals, Rob Pickett on guitar and vocals, Mike Lynch on bass and vocals, Doug Lamb on keyboards and vocals, and Gene Wickliffe on drums. Recorded live at Mom's Music, this disc contains twelve original songs, all written by members of the group (with the help of a few friends on a couple).
The title of the first track, The Curse, offers a hint about the subject matter. During the recording session, the live audience was interesting to watch as the song played out. Some people connected immediately, and some needed a little help to figure it out. Nuance aside, the song tells a familiar story and is a slick, jazzy swing.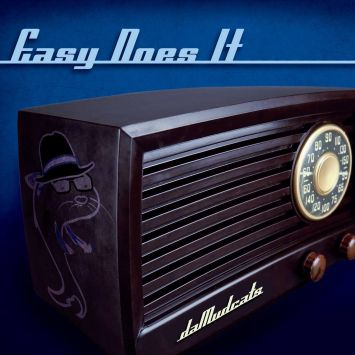 Easy Does It. Photo by John Mahorney of JEM Creative
Track two, "Don't Blame the Blues," was previously recorded on Sue's solo album of the same name. This version is outstanding; the backup vocals really set it off. The next cut, "I Don't Want To Think About It," has kind of a funky, Average White Band vibe. Each of these tracks is just what you would expect from the 'Cats…meaning you never know what to expect. The album keeps opening up like a set of Russian nesting dolls. These first three songs were all written by Susan and Rob, with Sue on lead vocals.
The fourth track, "Bring Me Some Blues," was written by Patty Cain, Amy Johnson and Susan O'Neil, with Sue featured on vocals. Even though, as Sue says, da Mudcats was a "guy band for a long time," this one is beautifully feminine, kind of a torch-song style. It really highlights the cohesive nature of this group, too. I listened several times in a row to follow the different instrumentals.
Number five is the title track, "Easy Does It." This one was written by Rob Pickett; he does the vocals and his funky guitar is up front until Doug Lamb channels Billy Preston on keys. Killer tune. Next up is Mike Lynch's "Touch The Moon," about his lady love. This one is up-tempo, smart and really sweet.
Track seven was written by Patty Cain and Sue O'Neil. "Fooled Again" features great lyrics, sweet harmonies, and Doug's impeccable piano. "World Gone Mad,"By Lamb, O'Neil and Pickett, is a melancholy comment on the state of the world today. It's beautifully written and performed, thoughtful and a little sad. Number nine, by O'Neil and Pickett, "Not Your Mama" is another jazzy little number that will strike a chord with just about everybody. And even if Sue hadn't said so, I would have been able to tell that track 10 was about a real trip "Down To The Delta."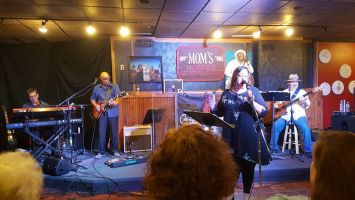 Mudcats recording session. Photo by Cheryl Jaggers
The next song, "Untouchable," was written and sung by Doug Lamb. Besides being a stellar performance by every member of the band, this one makes me laugh every time I hear it…he's right, we've all been there.
And lastly, "Sugar Daddy," a song written by Sue and Rick O'Neil and originally recorded on the Kentuckiana Blues Society's "Louisville Blues Compilation Volume II." This one includes the audience participation part of the show, and, for better or for worse, everyone had a ball singing along.
On every tune, Mike and Gene are rock solid rhythm fusion. They hold everything down nice and tight while everybody weaves in and out, creating multiple layers of aural ecstasy. If you're a fan of da Mudcats, you already have this in your collection. If you aren't (yet)…see me after the next show (say, January 14th at Stevie Ray's at 6:00?) and I'll hook you up. You won't want to leave without it.