April 2018 Articles
Cover Story
Paul Moffett
Columns
Eddy Metal
Eddy Metal
Blogs
Got Shows?
Send Them To Us
Bookmark Louisville Music News.net with these handy
social bookmarking tools:
Available RSS Feeds
- Top Picks
- Today's Music
- Editor's Blog
- Articles
Add Louisville Music News' RSS Feed to Your Yahoo!

Issue:
OnStage: Tom Flood & the Memphis 4
By Darrell Ray Elmore
Often, in a city the size of Louisville, the best gets overlooked. There are countless musicians who have been working the local clubs for years — with bands, and without — patiently humping up the road to the sparkling white light of success. Tom Flood is one such musician.
Unlike the younger, more inexperienced metal/thrash/art-noise/funk bands that so often surface, sign a contract, then break up to return to obscurity, Flood is a member of a group of older, wiser, and more professional musicians; performers like Londa Crenshaw, Tom Browning and Curtis Marlatt. Although many people would suggest that this group have spent their careers in obscurity, I would argue that they are undeniably some of the finest musicians in the Louisville area, regardless. There is no special distinction in playing covers of other people's music, but to do it well, and to bring something to it of your own, takes real talent.
A self-proclaimed Child of the Sixties, Flood has worked with many of the city's more prominent professionals like Dave Evans, harp-player Wally Hill and fiddler Rusty May. Evans is renowned for having a voice that any country music singer would kill for. Many readers will recognize Flood's earlier attempt at group success with the band Nosmo King, a band that played many of the local venues, including Phoenix Hill, The Toy Tiger and several Homefront performances. However, break-ups do happen; Rusty married a bush-pilot and moved off to Alaska, and Tom made a niche for himself playing solo gigs, performing pumped-up Jimmy Buffett covers. It was after this period that Tom split for Nashville to try and make a go of the Big Scene. Tom returned to Louisville in 1990, tired of living out of his car and trying to get the attention of record labels in a town already besieged by scores of talented artists.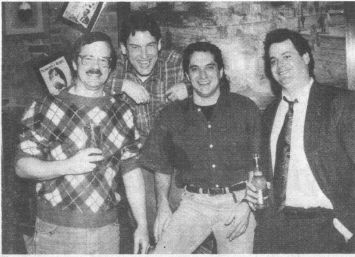 Left to right, Doug Denton, John Goodin, Tom Flood and Rob Whitmer. Photo by Jay Burkart
Flood enrolled at U of L, pursuing a degree in geology (to become a genuine rock expert, I reckon), and while there met Tom Poole, at the School of Music, and soon found himself working alongside Poole as an assistant. He expects to finish up his degree this year.
The night I talked with Tom (at Phoenix Hill), he and his band were playing to an enthusiastic audience in The Taproom. It just happened to be Elvis' birthday, and Mr. Flood was well-dressed for the occasion, festooned with a colorful, painted Elvis necktie. The tie went quite well with the plastic leis. Oh, maybe I'd better explain.
You see, it was Beach Party Weekend at Phoenix Hill (don't ask me why). I tried to kinda slink in, you know — I've always preferred the low-profile approach to most things — but this was definitely not on the schedule for my evening on this particular occasion. Anyway, did I mention the women with the grass skirts yet?
Yeah, there were definitely women in grass skirts, and they wouldn't let me in until I let one of them put a cheap plastic prom-night lei thingy around my neck. In fact, I think she put two around there. I tried to duck past 'em, you know, but this particular beach vixen had a deep voice and spoke with such strict authority that I felt strangely compelled to do just exactly as she said.
Fortunately, the bartender Chris was forthright and clearly a total professional. He served up a beer with such dexterity and flourish that I felt rather guilty for not applauding on the spot. All the while, Mr. Flood and crew were surfing the gamut, so to speak, laying out covers and originals that varied from swing to blues to rock to country, and of course the obligatory Elvis covers (seeing as how it was the big E's b-day and all).
During the break, I got a chance to sit down and speak with Mr. Flood mano a mano. Oh, he's a slick one, this Mr. Flood. Charming, handsome, an infectious smile . . .. But he is quite obviously a musician, nonetheless. There was the usual grousing about money . . . evidently a Taproom gig doesn't pay too well, but when I mentioned that he and his group were already playing the top of the heap (in Louisville, that is), Tom grinned and I noticed a definite sparkle in his eye. He enjoys laying it on (I think) almost as much as he enjoys making music.
And that is what makes Tom Flood & The Memphis 4 such a treat to watch. They all quite obviously enjoy playing together. On several songs, lead guitarist John Goodin (a more unassuming type than is the norm for lead guitarists) whipped out a mandolin, and even though he earlier complained to me that he was "getting too old for this kinda stuff," he seemed spry enough when the chips were down. As did the band's rhythm section, with Rob Whitmer on string bass and Doug Denton on drums.
The guys plan on going into the studio this spring, and Tom assured me that by then they would have plenty of marketable "product." Until then, if you happen to be nosing about Phoenix Hill, go ahead and make the trek up to the Taproom, where the real music is being played.