April 1994 Articles
Cover Story
Rick Mattingly
Features
Staff
Mark Clark
Mark Clark
Paul Moffett
Columns
Berk Bryant
Jim Galipeau
Jan Winders
Paul Moffett
Keith Clements
Todd Hildreth
Darrell Elmore
Duncan Barlow
Elaine Ford
Alan Rhody
CD Reviews
Kory Wilcoxson
Bob Bahr
Kory Wilcoxson
Kevin Gibson
Kevin Gibson
John Goodin
Allen Howie
Allen Howie
Bob Bahr
Allen Howie
Kory Wilcoxson
Kevin Gibson
Kevin Gibson
Kevin Gibson
Performance Reviews
Bill Ede
Jean-Marie Ebel
Berkley Harrington, Jr.
Mark Clark
Jean Metcalfe
William Brents
Interviews
Allen Howie
Mark Clark
Jan Winders
Calendar
Staff
News Item
Staff
Preview
Staff
Bob Bahr
Opinion
Staff
Errata
Staff
Photos
Letha Marshall
LASC
Staff
Madison Steele
Staff
Jean Metcalfe
Blogs
Got Shows?
Send Them To Us
Bookmark Louisville Music News.net with these handy
social bookmarking tools:
Available RSS Feeds
- Top Picks
- Today's Music
- Editor's Blog
- Articles
Add Louisville Music News' RSS Feed to Your Yahoo!

Issue: April 1994
College and Underground
Elaine's Night Out
Only a few weeks of peace remain before the annual nut fest breaks loose for that horse race. The question is, will any of the clubs still be open by Derby? Uncle P's is gone for all practical purposes, and Tewligans is hanging only by threads (again). And what about that house on Highland where the party used to always be? All the occupants have relocated, so last year's party may have been the last.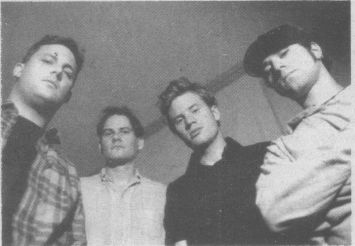 Railroad Jerk will be at the Butchertown on Tuesday, April 19
Still, lots of good shows are coming down the pike, but one must keep one's eyes peeled for them, because they're being booked at all sorts of weird places. Pavement will be at Cliffhanger's on Derby Eve, the same night that Poi Dog Pondering is at the Brewery, and Love Jones will most likely be at the Toy Tiger sometime for a Derby appearance. The Babylon Dance Band will reunite at Phoenix Hill Tavern (Roof Garden) this year, and the Flat Duo Jets will be downstairs at the Hill on the Sunday after Derby. Be certain that the town will be crawling with music industry types. It seems fairly certain that Jim Greer from Spin will be around to write about how cool the Louisville scene is, and a multitude of label people will be roaming around as well.
THE USUAL TUESDAY HYPE:
One of the few solid gigs still around is Tuesday night at Butchertown Pub. I feel awkward writing about these since I'm also the person who books them, but I really can't get around it. What I try to do with these is to showcase up-and-coming/indie label touring bands as they roll through our area. These are the same bands that play the Lounge Ax in Chicago, Sudsy Malone's in Cincinnati, CBGB's in New York . . . you get the picture. So, we in Louisville can go see the same bands, and usually for free. It seems to me that you music lovers would get off your butts and frequent the series a little more regularly, but hey, that's OK. Thank goodness for Gary Shaw . . . he's always there.
I overbooked Tuesdays in April, so you get three bands instead of the usual two for most of the month for the same price. On April 5 we've got Wool from L.A. who's on London/PLG Records as the headliner. Opening will be Morsel (from Ann Arbor), and in the middle will be a new band from Boston called Bulkhead. Bulkhead has an album coming out soon on Shimmy Disc records, the same label who brought us Ween and Bongwater.
On the 12th, another member of the Spanish Fly Records roster visits; Scar Crow is that band, and they will go on first. The middle slot belongs to Silkworm, who is on C/Z. Headlining is Cleveland's Prisonshake on Scat Records. Scat is the Cleveland independent label who has been putting out the Guided By Voices records; you know, Spin magazine's favorite band after The Breeders?
Railroad Jerk is coming on the 19th. I can't wait to hear what Paul Curry thinks about their new Matador EP. I'm sure we'll read all about it elsewhere. Opening is the revitalized Stranglmartin from Lexington and very first will be Sideshow, an unsigned band from Nebraska whose raves from different clubs and agents made me add them to the bill. The last Tuesday of the month is back to normal with (just) two bands. Buttsteak from somewhere down south will open for Janitor Joe, who is on Amphetamine-Reptile Recs.
So all of this was not with the intent of self-hype, it's just that there are a lot of significant bands coming up, and since no radio station in this town will play their music, this is the only way to hear a lot of the groups that get written about in Alternative Press, Raygun, and Spin.
UP THE RIVER IN CINCINNATI:
It can frequently get a little boring on weekends here, so a short drive up I-71 can be a refreshing switch. They've got their own scene going up there, and a lot of the people are really cool when you get to know them. Take Dan McCabe and Lucia Corace for instance. They book Sudsy Malone's up there, and welcomed our own Evergreen on March 27. Finally, Cincinnati digs a Louisville band! Dan even puts up with putting bands up at his place . . . even that 17-year-old Louisville guy who got stranded in Cincy after the Evergreen show and later puked on Dan's floor.
We all know about the Afghan Whigs, Cinti.'s flagship band. But Throneberry is also doing quite well after their Alias Records release Sangria. Singer Jason Arbenz was recently flown to L.A. by Interscope Records to be courted for their publishing rights. Heck, they're even getting airplay here on 1080 AM. They must be "somebodies" now. Maybe people will actually come when they play Louisville again.
The Ass Ponies were/are similarly courted after their Safehouse release months back. Several A&R people from A&M flew in to catch a performance by them at an art gallery last month. Sudsy Malone's staged a showcase for Island Records several months ago, and the Ass Ponies performed. Singer Randy Cheek wound up getting into a verbal fight with the Island folks when they refused to acknowledge their presence.
Punk lives.
Railroad Jerk will be at the Butchertown Pub on Tuesday, April 19.