May 1994 Articles
Cover Story
Bob Bahr
Features
Rocky Adcock
Staff
Paul Moffett
Karen Le Van
Columns
Berk Bryant
Jan Winders
Paul Moffett
Keith Clements
Todd Hildreth
Darrell Elmore
Duncan Barlow
Henry C. Mayer
Alan Rhody
CD Reviews
John Goodin
Mark Clark
Bob Bahr
Kory Wilcoxson
Mark Clark
Mark Clark
Kory Wilcoxson
John Goodin
Allen Howie
Kevin Gibson
Allen Howie
Kory Wilcoxson
Kevin Gibson
Performance Reviews
Kevin Gibson
Kory Wilcoxson
Mark Clark
Jean-Marie Ebel
Allen Howie
Eric Metcalfe
Earl Meyers
Mark Clark
Staff
Calendar
Staff
News Item
Staff
Staff
Jean Metcalfe
Staff
Preview
Bob Bahr
Bob Bahr
Book Review
Steve Eng
Photos
Letha Marshall
Staff
Paul Moffett
LASC
Earl Meyers
Staff
Staff
Jean Metcalfe
Holly Watson
Blogs
Got Shows?
Send Them To Us
Bookmark Louisville Music News.net with these handy
social bookmarking tools:
Available RSS Feeds
- Top Picks
- Today's Music
- Editor's Blog
- Articles
Add Louisville Music News' RSS Feed to Your Yahoo!

a jazzy mixture hits paydirt (mostly)
Jazz in the Present Tense (Chrysalis/ERG)
The Solsonics
By Allen Howie
I get nervous when I see a credit for "programming" in the liner notes of a jazz record, even one called Jazz in the Present Tense. After all, one of the things that makes jazz unique is the probability that the unexpected might happen, that one player's solo will open up a whole new dimension in a tune. So how do you square that spontaneity with the rigid preplanning that programming implies?
The answer leaps to life from the first cut of the Solsonics' new album. Over a deft rhythm track, a sample from trumpeter Ahmad Jamal's "Superstition" fades in and right back out, a straight-faced announcer drolly intones, "What we're hearing now is jazz in the present tense," and the band goes to work. Derrick Davis' flute walks the specter of Jamal out, keyboardist Mike Boito sketches the melody in loose, light-fingered phrases and Davis is joined by Octavio Comacho (both on sax now) as they flesh out Boito's blueprint. Guest Norman Brown steps in, scatting to his own fretwork, then bows back out to give Davis another flute solo. All the while, drummer Willie McNeil and bass player Joe Altruda provide a rhythm bed that's both playful and polite, grounding the track with an urban R&B feel.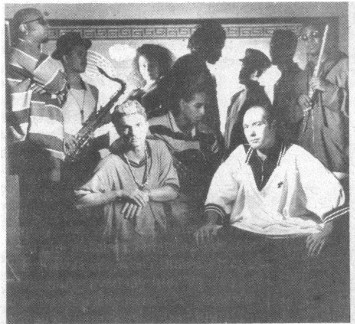 With vocals by Mark Tunkara and Janelle Starks, "Keep the Rhythm Strong" could serve as the group's slogan, especially with Louis Metoyer's tasty guitar licks. "Montuno Funk" mixes island rhythms with some elegant keyboard work by Boito and Jez Colin to fine effect. Elliot Caine's trumpet lingers for a solo, answered a verse later by A. J. Barish's guitar.
The well-intentioned "Blood Brother," with a vocal by Kevin Williams, treads too-familiar ground both musically and lyrically, a preachy and not terribly interesting track in spite of some nice phrasing by Williams. The spicy "Daddy Love" fares better, with Colin's synthesized trumpet eerily on the money and some slinky singing by Karime Harris. Here and elsewhere, McNeil, Barish and Boito are consistently engaging.
The Latin flavor of "Ascension" features some close ensemble playing, especially between Davis and Jim Akimoto, and the group keeps the tune percolating nicely. "Red Clay," co-written by Colin and Freddie Hubbard, is a moody, muscular sojourn spiked by Caine's trumpet, Boito's nimble piano and vocal parts that set Tunkara's reggae growl against Pam Starks' sweetly seductive voice.
"So Much More Together" is straight R&B, and unfortunately shares that genre's current tendency toward numbing repetitiveness. Tougher and more effective is "Now This Is How We Do It," with its sampling (a Gangstarr riff), scratching and echoes of hip-hop, followed by the rap/jazz fusion of "Inside Is a Stride."
The group returns to nature on the last two cuts, the good-natured "Morning After Paradise" with its lush percussion, and the slightly ominous "Mountain Man," a lean, inventive rhythmic excursion.