June 1994 Articles
Cover Story
Jeff Walter
Features
Staff
Paul Moffett
Paul Moffett
Columns
Henry C. Mayer
Berk Bryant
Jan Winders
Paul Moffett
Keith Clements
Todd Hildreth
Darrell Elmore
Duncan Barlow
Alan Rhody
CD Reviews
Michael Campbell
Bob Bahr
Kevin Gibson
Mark Clark
Mark Clark
Michael Campbell
Kory Wilcoxson
Kevin Gibson
Mark Clark
Allen Howie
Kory Wilcoxson
Kevin Gibson
Kevin Gibson
Performance Reviews
Wally Stewart
William Brents
Kelvin Bailey
Mark Clark
Interviews
Jean Metcalfe
Calendar
Staff
News Item
Paul Moffett
Staff
Preview
Staff
Bob Bahr
LASC
Jean Metcalfe
Jean Metcalfe
Blogs
Got Shows?
Send Them To Us
Bookmark Louisville Music News.net with these handy
social bookmarking tools:
Available RSS Feeds
- Top Picks
- Today's Music
- Editor's Blog
- Articles
Add Louisville Music News' RSS Feed to Your Yahoo!

Issue: June 1994
On Stage: Shannon Lawson
Gators — Saturday Night. The second set of the Bar King Dawgs . . . fronted by the new gleam on the Louisville music scene, Shannon Lawson.
Shannon is young (23), cute, vibrant — heck, the guy could do feminine hygiene, or even AT&T slacker/gen x commercials and not offend: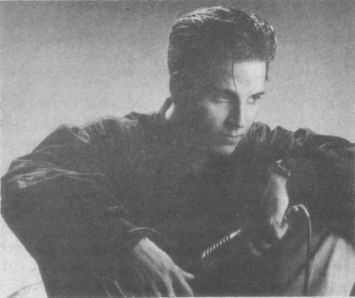 Shannon Lawson
"Have you ever screamed really loud into a live mike onstage at a reasonably seedy, kinda redneck bar? . . . . You will."
I had spoken briefly with Shannon on the phone, and he had advised me to "skip the first set," to provide the band with time to "warm up." I did, and they did. When I walked into the club they were already deep into it, rolling out some kickin' rhythm and blues. Unfortunately, the sound system was pretty poor; I knew immediately that I would not be able to receive the full effect of Shannon's alleged golden throat. His vocals, buried in a seemingly $1.98 P.A., sounded kinda like Marvin Gaye on a bad Blaupunkt radio in an ancient VW bug.
I did detect a little of the rumored power-voice lurking under the snigs and snags of an obviously torn tweeter. There was a hint of soul, but not a bead of sweat as Mr. Lawson dexterously fingered one of the brace of Fender Strats that he had ranged about him onstage. He had no problem belting out lyrics even when his fingers were required to move, move, move. His lead on "Moondance" was not exactly poppin' fresh, but was technically correct. The impression was of one duplicating a series of moves learned by rote, rather than the "laying it all out" feel one gets with a seasoned professional. The guitar playing of a student, a very good student, but a student nonetheless.
By the fourth song of the set things seemed to be falling more into place. I began to hear more of Mr. Lawson's renowned vocal quality coming through the white noise, and during a cover of "Sweet Home Chicago," Lawson's guitar lead was clean and quite snappy. His voice was still the main attraction, however, and during a rendition of "Messin' With the Kid" (apropos, no?) I found myself actually enjoying the bad sound system — it provided a "feel" that mixed nicely with the material being performed.
Guys, don't take your girlfriends to see this kid . . . otherwise you'll spend all night hearing about how gorgeous he is. I asked my companion what she thought, and she replied: "White preppy-boy with a great, sweet-soul voice . . . and he's sooo cute!"
Cuteness aside, I noticed the professional way Mr. Lawson handled himself, both on- and offstage. After a short break, the band returned with the accompaniment of a blues harp provided by a Mr. Roth. His playing provided a pace of its own, and the blues began to roll out more smoothly, like molasses pouring over buttermilk biscuits, baby. Indeed, the addition of the harp mellowed the band, which otherwise tended to rush through some pretty "juicy" numbers.
As I said, this Mr. Lawson is a professional. When Curtis Marlatt showed up and offered to sit in, Shannon wisely turned his Strat over to the man and took a quick break. It's not many 23-year-olds who would have the savvy to relinquish the stage to an old hand like Marlatt; this boy obviously has wisdom beyond his years. He's played in a lot of bands, even switched off leads with Smoketown Red, and has the obvious support of many club musicians twice his age.
I asked Curtis during a break if he saw a little of himself in the young Mr. Lawson, and got a resounding affirmative, so I guess we know part of his allure. My prediction? In two or three more years, after Shannon has lived a few more of the blues that he so ably performs, I think he will begin to receive the kind of ink that is now reserved for big, bad media boys like Ricky Feather, Ethan Buckler, and those guys in Love Jones. . . .
Okay, maybe not — but only because he has (so far) been seduced by the "dark side" of the music industry — the blues, which when taken in context define all that rock 'n' roll is and can be (well, sorta), but which, sadly enough, do not provide for the kind of commercial success that is currently enjoyed by some of the prestigious names so casually tossed around above. The blues, when handled by a master (like Curtis Marlatt) can transcend most barriers of music, or at least bring them crashing down around one's ears. Too bad they are not in as much demand as the more popular/alternative stuff, even though many of the entertainers who populate that scene learn their craft from elder blues statesmen like Smoketown Red. Just like Shannon Lawson. Hmm. Maybe that's his plan. . . .
Anyway, If you wanna see a diamond in the rough, check out Shannon Lawson.