April 2018 Articles
Cover Story
Paul Moffett
Columns
Eddy Metal
Eddy Metal
Blogs
Got Shows?
Send Them To Us
Bookmark Louisville Music News.net with these handy
social bookmarking tools:
Available RSS Feeds
- Top Picks
- Today's Music
- Editor's Blog
- Articles
Add Louisville Music News' RSS Feed to Your Yahoo!

Issue: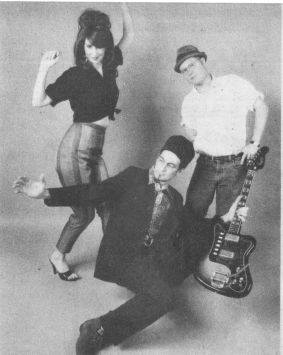 Southern Culture On The SKids
this schtick is more than gimmick
Ditch Diggin' (Safe House)
Southern Culture on the Skids
By Kory Wilcoxson
So I'm flipping through my latest Rolling Stone, checking out the charts, when I see that No. 10 on the Alternative Chart is none other than those bumpin' country bumpkins Southern Culture on the Skids.
If you're not familiar with SCOTS, you're missing out on one of the best little Southern fried whacked-out trios to ever chomp on a chicken bone.
SCOTS reminds me of another completely kooky regional cult favorite, the New Duncan Imperials. Both groups rely on tremendous energy and crude, primitive humor.
On Ditch Diggin', SCOTS offers up more tasty treats than supper on the farm. By crossing Barney Fife with Grandpa from "Hee Haw," SCOTS comes up with gems like "Too Much Pork for Just One Fork," and the boot knockin' "Put Your Teeth Up on the Windowsill."
But don't think SCOTS is just a musical gimmick dressed up in overalls; these folks can downright cut loose, as evidenced by the scorching instrumentals "Tunafish Every Day" and "Rumors of Surf."
The Nashville Network wouldn't touch them with a 10-foot pitch fork, which means the twang of SCOTS is safe for your listening enjoyment.